50th Anniversary Models Span KYMCO 2015 Quad Lineup
Chaparral Motorsports
|
July 17, 2014
SPARTANBURG, S.C. - KYMCO USA said it will have 32 off-road vehicles in its 2015 lineup, including four versions of the new mid-sized UXV 450i SXS, four EPS models in the MXU ATV series and two youth quads. Each series also includes a version that celebrates the company's 50th anniversary.

2015 Kymco UXV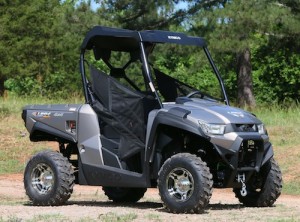 The UXV 450i is a revised design of KYMCO's UXV SXS, featuring a fuel-injected 443cc four-stroke engine. A push button allows the driver to switch between 2WD and 4WD, and the transmission is an automatic CVT system with a differential lock.
The front and rear suspension is comprised of independent dual A-arms with 7.5 inches of travel, and there are 10 inches of ground clearance beneath the chassis. The UXV 450i also has an 8.5-gallon fuel tank and hydraulic disc brakes.

The standard UXV 450i ($7,999) comes in red or blue. The UXV 450i CAMO ($8,499) has camouflage graphics, and the UXV 450i TURF ($8,499) has KYMCO's Tight Turn Turf Control with a front differential lock and an open, selectable rear differential with differential lock. The TURF model also has turf tires and a shaft-mounted parking brake.

The fourth version of the new SXS is the UXV 450i LE 50th ($8,699). Itt has aluminum alloy wheels, a 3,000-lb. winch, metallic gold paint and 50th anniversary emblem.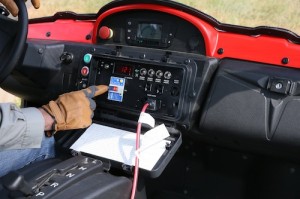 KYMCO has three models in its UXV 500i series of SXS vehicles. The UXV 500i LE 50th ($10,199) and UXV 500i CAMO ($9,999) are joined by the new UXV 500i G ($12,999), which comes equipped with a 5kW generator.

The generator has a GFCI safety circuit breaker and a five-point integrated safety system. The UXV 500i G is available in red, and it comes standard with Tight Turn Turf Control, a soft top and a full windshield.

KYMCO introduced the UXV 700i in 2014, and it is returning with two versions for 2015: the UXV 700i LE 50th ($10,699) and the UXV 700i CAMO ($10,499). The anniversary edition has black aluminum alloy wheels and the same winch and graphics package as the UXV 450i version.

2015 Kymco MXU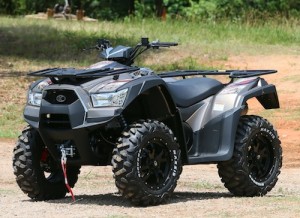 The MXU 500i and 700i ATVs all have an automatic CVT transmission, independent dual A-arm front and rear suspension with a sway bar for over six inches of travel, 100-lb. front rack capacity, 187-lb. rear rack capacity, a two-inch receiver with a 1,050-lb. towing capacity and fender storage compartments.

The 700s include the MXU 700i EPS LE 50th ($8,699), MXU 700i EPS CAMO ($9,399) and MXU 700i CAMO ($8,799). The versions are the same for the 500i series: MXU 500i EPS LE 50th ($8,699), MXU 500i EPS CAMO ($8,299) and MXU 500i CAMO ($7,699).

KYMCO has two versions of the MXU 450i for 2015, including the MXU 450i LE 50th ($6,699) and the MXU 450i CAMO ($6,399). Like the other 50th anniversary ATVs, this one has aluminum alloy wheels - in chrome for the MXU 450i, and in black for the others - along with the winch and anniversary emblems.

2015 Kymco Mongoose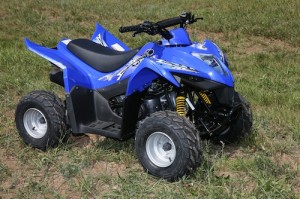 For 2015, KYMCO will have two four-stroke youth ATVs available for young riders. The Mongoose 70S ($2,199) is new, and the returning Mongoose 90S ($2,499) has a new body design and graphics. The Mongoose 90S is designed for riders ten years and older, while the 70cc version is for riders six years and older. Both models have front and rear lights, an auto-stop safety lanyard and color options in red and blue.

Source: Kymco