Kabuto FF-5V Full Face Helmet Protects Street Samurais
Chaparral Motorsports
|
July 14, 2014
Kabuto
is a leading name for motorcycle helmets. Riders are given peace of mind on the road, knowing that their most important piece of gear is of the utmost quality. Kabuto was founded in 1982 in Japan.

"Originally a Kabuto was a helmet used by the well-known and respected elite class of Samurai fighters," read Kabuto's site. "Today Kabuto still stands for the same core values that applied in the past: strength, skills, and quality. As one of the leading helmet manufacturers in Japan, these important values can be found in all our products today, although we believe that even the best can always be improved. This is the unwavering 'Quality of Heart' in Kabuto craftsmanship."

The [mageProductLink sku="382-74-1001-xs" title="Kabuto FF-5V Full Face Helmet"]Kabuto FF-5V Full Face Helmet[/mageProductLink] is a popular choice for riders looking for the ideal balance of safety and comfort. The FF-5V is lightweight, but uses high-strength advanced composite technology to keep a rider safe, while they remain aerodynamic in motion. This innovative design is the primary reason riders choose Kabuto.

Other Advantages
[mageProductLink sku="382-74-1007-xs" title=""]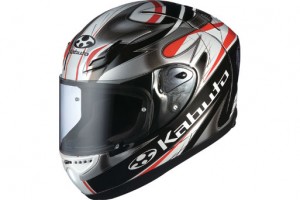 [/mageProductLink]However, aside from their lightweight high-strength design, Kabuto helmets also feature a Top Aero Ventilation system that takes air in at the front and pushes hot inner air outside, keeping a rider cool no matter what Mother Nature brings to the table.

And when some motorcycle gear brands say their products are aerodynamic, they likely don't match up to the level of Kabuto helmets. The company's patented system controls the flow of air around a helmet, perfected by extensive wind tunnel tests. Riders can rest assured they will remain streamlined on the road in a Kabuto helmet. This commitment to technological innovation has been a staple of the brand since its inception.

"Striving for the best products and producing ones that satisfies professionals, Kabuto continuously retains the objective; 'the best can always be improved,'" said Hidehito Kimura, founder and owner of Kabuto. "This challenging spirit has been motivating us to develop more than 100 different types of helmets. 'The Quality of Heart' encapsulates the principal spirit of Kabuto. For safety and trust, Kabuto as a manufacturer progresses with you."

When it comes to staying safe on the road, riders can trust a full-face helmet. This design is ideal in keeping a rider focused on the road at all times. Those shopping for a full-face helmet should look no further than the Kabuto FF-5V Full Face Helmet.