2014 AMA Pro Motocross Budds Creek Race Results
Chaparral Motorsports
|
July 14, 2014
Ryan Dungey, Blake Baggett Win At Budds Creek For Third Year In A Row
[caption id="attachment_32981" align="alignright" width="300"]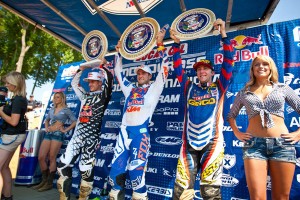 450MX Winner's Podium - Photo: Matt Rice[/caption]

In the shadow of the nation's capitol, the Lucas Oil Pro Motocross Championship, sanctioned by AMA Pro Racing, celebrated 25 years of competition in Southern Maryland on Saturday with the annual GEICO Motorcycle Budds Creek National from Budds Creek MX Park, the seventh stop of 12 this summer. The budding 450 Class rivalry between the Red Bull KTM duo of Ryan Dungey and Ken Roczen continued with Dungey gaining the advantage for just the second time this season, winning for the third straight year at Budds Creek. In the 250 Class, Monster Energy/Pro Circuit/Kawasaki's Blake Baggett duplicated the achievement of his premier class counterpart, winning for the third consecutive season at the facility with his third victory of the summer.

In his third race back from an injury that kept him out for the early portion of the season, Toyota/Yamaha/JGRMX's Justin Brayton grabbed his first Motosport.com Holeshot Award of the season in the opening 450 Class moto. Brayton was closely followed by a large contingent of competitors, led by Team Honda Muscle Milk's Trey Canard and Dungey. Brayton maintained the lead on the opening lap with a hard-charging Dungey on his rear fender, but while that battle took shape Canard took advantage of an opportunity to slip by Dungey and then set his sights on Brayton.

[caption id="attachment_32987" align="alignleft" width="300"]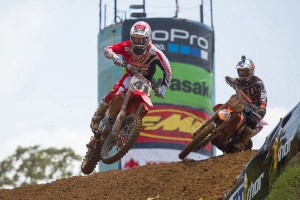 Trey Canard - Photo: George Crossland[/caption]

Canard soon made the pass to take over the lead on the opening lap and proceeded to open a small gap over the field. As that happened, Dungey lost another spot on the track while fighting to get around Brayton, this time to his teammate Roczen. With no riders separating himself and the leader, Roczen set his sights on Canard and chipped away at the deficit, eventually taking control of the moto on Lap 4. Dungey, meanwhile, made the pass on Brayton and was able to close the gap on Canard to eventually take control of second.

With the KTM duo asserting themselves out front and pulling away, Canard fell into the clutches of GEICO Honda's Eli Tomac with the pair battling throughout the remaining stages of the moto. Out front, Dungey was able to close to within a second of his teammate as they approached lappers near the end, but Roczen held him off for the win. Canard withstood the challenge of Tomac for third, with Team Yoshimura Suzuki's James Stewart coming on strong to finish fifth.

After closing in on his teammate at the end of the first moto, Dungey aimed to seize the opportunity in Moto 2 and did just that by racing to the Motosport.com Holeshot Award. The clear track allowed Dungey to set a torrid pace in the early stages and open a comfortable margin over the field. With Dungey pulling away, Roczen needed to work his way into second and after slotting himself in third on the opening lap, he passed Toyota/Yamaha/JGRMX's Josh Grant for second and looked to try and close the gap on his teammate.

[caption id="attachment_32979" align="alignright" width="300"]
Ryan Dungey - Photo: Amy Schaaf[/caption]

Dungey never looked back and went on to post his most dominant ride of the season with a wire-to-wire victory. The former two-time series champion had led just nine laps coming into Budds Creek, but nearly tripled his season total by leading all 17 laps of Moto 2. Roczen followed in second, but had to fend off a major threat from Tomac in the closing laps.

The Red Bull KTM duo posted identical moto scores once again but Dungey's second-moto triumph awarded him the tiebreaker. Roczen's streak of finishing on the podium in every moto this season continued.

"It was tough after that first moto, but I got back, cooled down and was feeling good," said Dungey, who moved into third on the all-time total career wins list. "I thought this [the second moto] was my moment. I got a good start, which that was way, way key and just allowed me to ride my laps. It's good to get this win; it's been since round one. This is a good step."

[caption id="attachment_32988" align="alignleft" width="300"]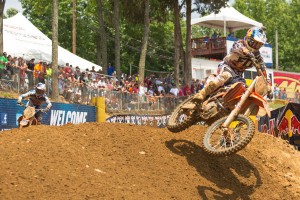 Ken Roczen - Photo: George Crosland[/caption]

"We all have our days. I'm just happy to finish second and keep the points lead the same," said Roczen. "That's all I can ask for. I just wasn't feeling it in that second moto and it's time to put that behind me. It's all about preparation during the week, so I'm going to go back and get stronger."

Tomac's hard charge to close out the final moto helped him steal third overall (4-3) from Canard, who posted identical 3-4 moto scores. Soaring Eagle/RCH Racing Suzuki's Weston Peick finished fifth (6-5).

Roczen's lead over Dungey in the 450 Class standings remains at 26 points. Canard sits third, 63 points behind. With three consecutive overall podiums in his first three career starts in the premier class, Tomac has already moved into 11th.

[caption id="attachment_32985" align="alignright" width="300"]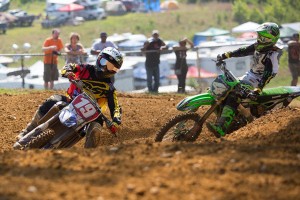 Jeremy Martin - Photo: George Crosland[/caption]

New faces emerged in the battle for victory in the opening 250 Class moto with GEICO Honda's Justin Bogle securing the Motosport.com Holeshot Award, edging out Valli Motorsports Yamaha's Christophe Pourcel. As this pair jockeyed up front, Rockstar Energy Racing's Jason Anderson emerged as a player in the fight for the lead, passing Pourcel and setting his sights on Bogle out front. Neither of the lead pair had ever won a moto in their career, setting the stage for a thrilling battle. After going bar-to-bar in the opening laps, Anderson slipped passed Bogle on Lap 2 and began to open a gap over the field.

With Anderson out front, the battle for the podium intensified with points leader and Yamalube/Star Racing Yamaha rider Jeremy Martin joining Bogle and Pourcel in their fight. Martin made the pass on Pourcel for third on Lap 6 and proceeded to challenge Bogle for three laps before assuming control of the runner-up spot on Lap 9. Throughout this fight, Baggett fought his way forward from a seventh-place start to jump into podium contention. Baggett moved into fourth on Lap 9 and then made the pass on Bogle for third just two laps later.

[caption id="attachment_32980" align="alignleft" width="300"]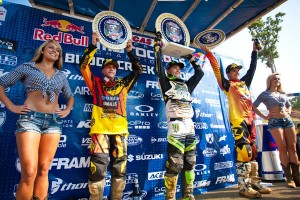 250MX Winner's Podium - Photo: Matt Rice[/caption]

As Baggett pressured Martin for second, the pair started to close in on the eight-second lead that Anderson held out front with all three eventually running mere bike lengths from one another. As the white flag flew to signify the final lap, about one second separated all three riders. Anderson maintained his lines to hold off Martin and capture his first career moto win while Baggett settled for third. Bogle finished fourth with Yamalube/Star Racing Yamaha's Cooper Webb coming from an 11th-place start to finish fifth.

Martin gained the upper hand to start the second moto by securing the Motosport.com Holeshot Award with Pourcel in second and Anderson third. The lead duo were able to pull away from the field but Baggett, who started fourth, began his march to the front, which started with a pass on Anderson for third. As Martin slowly pulled away out front, Pourcel and Baggett engaged in a hotly contested battle for second that lasted six laps before Baggett finally made the pass on Lap 7.

[caption id="attachment_32983" align="alignright" width="300"]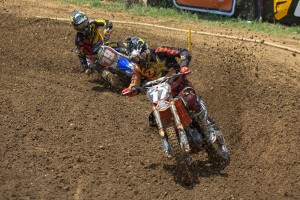 Jason Anderson and Jeremy Martin - Photo: George Crosland[/caption]

Once in second, Baggett faced a deficit of over five seconds to Martin and methodically closed it down to just a matter of bike lengths. With their second and third-place finishes in the opening moto, the overall win would be decided between Martin and Baggett, in which the better finisher would emerge victorious. On Lap 12 Baggett made his move on the points leader and immediately pulled away, taking the moto win to secure the overall in convincing fashion.

"I definitely hope we can keep chipping away towards this championship," said Baggett, whose third straight win at Budds Creek was also the ninth consecutive for Monster Energy/Pro Circuit/Kawasaki at the track. "All that matters is that I have the points lead at the end of the season, even If we have to wait all the way to the last moto then that's what we're going to do. We're not going to stop fighting until then."

Baggett's 3-1 finishes edged out Martin (2-2) by one point when the final totals were tallied. Anderson's first moto win helped him land third (1-7), with Pourcel fourth (6-3) and Webb fifth (5-4).

[caption id="attachment_32982" align="alignleft" width="300"]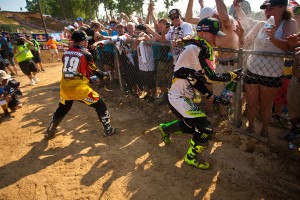 Blake Baggett and Jeremy Martin - Photo: Matt Rice[/caption]

"I got off to a great start [in the second moto] and tried to put on a charge there for a little while and got away a bit," said Martin. "But then we hit some lappers and I could see Baggett was right there closing in on me. He was riding really good and congrats to him today. I'm just having fun and trying to win as many races as I can. I'm getting to do what I've always dreamed of doing."

Martin lost just one point to his lead in the 250 Class standings with Baggett moving into second, 27 points out. Webb sits third, 33 points behind.

The 2014 Lucas Oil Pro Motocross Championship continues next weekend with the eighth round of the 2014 season with the Spring Creek National. Spring Creek MX Park in Millville, Minnesota, will host the world's best riders on Saturday, July 19. Action begins at 2 p.m. ET.

2014 AMA Motocross Budds Creek Highlights
http://www.youtube.com/watch?v=Xtaoi9fk8Fg

Source: Pro Motocross

Ryan Dungey Wins Budds Creek Motocross National, Ken Roczen Second
[caption id="attachment_33022" align="alignright" width="300"]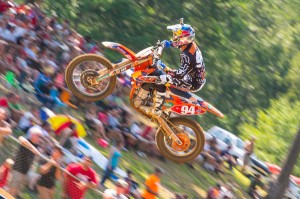 Ken Roczen - Photo: Simon Cudby[/caption]

The Red Bull KTM Team of Ryan Dungey and Ken Roczen topped the podium again, but this time the victory went to Dungey with 2-1 moto scores at the seventh round of the Lucas Oil Pro Motocross Championship held at Budds Creek MX Park.

Ryan Dungey had a good start in the first moto but made mistakes on the opening lap that allowed his teammate, Ken Roczen, to catch up to him. The Red Bull KTM riders battled for the first three laps before Roczen made a pass on Dungey. Roczen continued his push through the pack and soon passed Trey Canard for the lead in a fast outside line down Henry hill.

Dungey followed suit and quickly the two teammates were back together. Dungey never fell far off the pace and was able to stay within three seconds of Roczen throughout the moto. With one lap to go, he slightly closed the gap but was unable to make the pass allowing Roczen to take his seventh moto win of the season.

"I didn't get the best start in that moto," stated Roczen. "Luckily, I made some quick passes and adapted well to the track. The course is getting rough and I know the second moto will be more challenging."

[caption id="attachment_33021" align="alignleft" width="300"]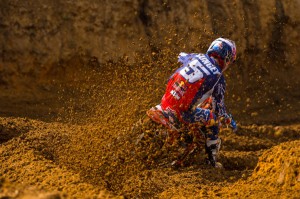 Ryan Dungey - Photo: Simon Cudby[/caption]

Dungey picked up another great start in moto two on his KTM 450 SX-F where he earned the holeshot. Dungey launched out front early, never lost the lead and went on to claim the moto win. His 2-1 moto scores earned him the overall for the day. Roczen started in 4th position in the second moto and made the passes into the runner-up position shortly into the race. Unfortunately, he had allowed Dungey to pull a few bike lengths up front and was unable to close that gap. The two teammates finished on the top steps of the podium once again.

"I was feeling good all day," stated Dungey. "I knew what I had to do to win today and I am grateful I was able to pull it off. I have always liked this race and I think the series did a great job with this track today."

The overall win marks Dungey's third consecutive overall win at the Budds Creek race. With both Red Bull KTM riders' swapping the top two positions each moto, the series point gap does not change. Now seven races in, Roczen leads Dungey by 26 points.

Next Round: July 19, 2014 - Spring Creek National, Millville, MN

Source: KTM North America

GEICO Honda Budds Creek MX Race Report
[caption id="attachment_33018" align="alignright" width="300"]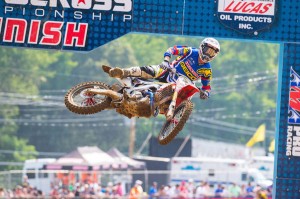 Eli Tomac - Photo: Simon Cudby[/caption]

Hours before the start of the GEICO Motorcycle Budds Creek National on Saturday at Budds Creek Motocross, GEICO Honda 450 rider Eli Tomac wasn't sure he'd be able to race. Beset with nagging back issues, Tomac decided to make a go of it and he raced right to the podium. Tomac charged from a slow start in the second moto to finish third and grab third place overall for his third consecutive podium finish.

"Honestly, at the start of the day I didn't know if I was going to be racing," Tomac said. "To turn it into a podium is awesome."

Tomac returned to the GEICO Honda team three races ago and has contended for victory each week. Not even pain in his back could slow him down.

"The adrenaline and the racing made me not think about it," Tomac said.

[caption id="attachment_33019" align="alignleft" width="199"]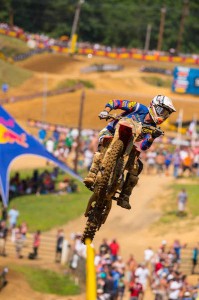 Eli Tomac - Photo: Simon Cudby[/caption]

Tomac started the day with a fourth-place finish in the first moto, holding down the position for 15 of the race's 17 laps. In the second moto, he didn't get a good start and was 11th after the first lap, but by the end of the race Tomac had one of the fastest motorcycles. He methodically picked his way through the field and even closed on second place in the latter stages.

"It was fun," Tomac said. "I got in a good flow and had some good lines out there. Honestly, it was a really tough track to pass on. A lot of the lines drifted into each other, so when you tried to pass, the other guy would kinda cut you off.

"To make a pass, you had to be really aggressive and hope for the guy to make a little mistake, too."

Since Tomac isn't racing for motocross points, he could be aggressive.

"You can, so I don't really have much to lose, and honestly I don't," Tomac said. "I'm just gunning for podiums."

[caption id="attachment_33016" align="alignright" width="300"]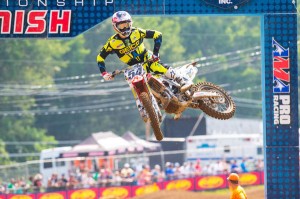 Christian Craig - Photo: Simon Cudby[/caption]

Teammate Christian Craig doesn't have goals as lofty as Tomac yet, though this was only his second race on the 450 bike. The Maryland heat and humidity got to Craig in the first moto, as he faded to 15th place.

"I'm just glad it's over, actually," Craig said. "I haven't been training too hard because I do have a real job, so I knew it was going to be a tough one when I was looking at the weather this weekend. It was really humid.

"I qualified really good and put myself in a good spot in the first moto but I just died. It was tough to hang on, and I just rode it out. I was pretty worn out after that, and I didn't know if I was going to race in the second moto because I was so depleted."

But Craig toughed it out.

"I went out there and just rode around," Craig said. "I ended up doing better than my first moto."

Craig finished 14th in the second moto and was 14th overall, matching his finish at RedBud last weekend.

[caption id="attachment_33010" align="alignleft" width="300"]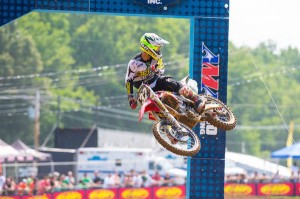 Justin Bogle - Photo: Simon Cudby[/caption]

Justin Bogle led the GEICO Honda 250cc motocross team with a pair of top-five finishes in the GEICO Motorcycle Budds Creek National on Saturday at Budds Creek Motocross.

Bogle finished sixth overall in what was a bit of a disappointment for the 250 Supercross champion in the East Series.

"I got tight," Bogle said. "It wasn't my best display of riding today."

Teammates Matt Bisceglia and Zach Bell persevered through difficult days to finish 15th and 16th overall, respectively.

The day started well for Bogle, as he was fast in practice and earned the holeshot in the first moto.

"I started off the day good in practice and felt good," Bogle said. "For me, practice usually doesn't go that well, so it was a good start to the day and a great start to the first moto with the holeshot. We led for a couple of laps and ran up front for most of the time."

Bogle ended up fourth and was still in contention for an overall podium finish, but he struggled in the second moto.

"Just a really tough moto for me," Bogle said. "I didn't get the greatest start and got shuffled back the first couple of laps. I felt strong and felt good all the way through the moto. I was catching guys at the end, but I needed to make it happen a little sooner."

[caption id="attachment_33026" align="alignright" width="300"]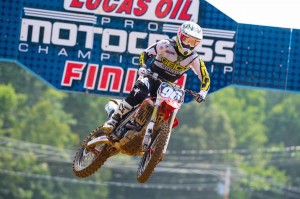 Matt Bisceglia - Photo: Simon Cudby[/caption]

Bisceglia crashed in the first moto, damaging his 250 bike, but he recovered to finish that race.

"I over-jumped the little tabletop in the middle and landed on a kicker," Bisceglia said. "It sent me end over end pretty hard and knocked the sweat into the inside of my lens on my goggles. It bent my bike and my levers up a little bit, and we had to get everything straightened out."

He ended up 26th but had a much better race in the second moto and was pleased with his progress.

"For how bad I spun off the gate and where I was at, I felt like I came out decent," Bisceglia said. "I made a bunch of passes on the first couple laps and was holding my own. It was a good comeback; I just need to be a little bit stronger the last 10 minutes of the race."

[caption id="attachment_33025" align="alignleft" width="300"]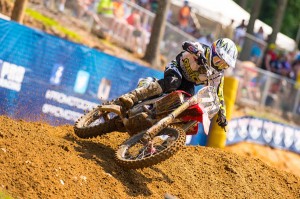 Zach Bell - Photo: Simon Cudby[/caption]

Bell made a good start in the first moto, crossing the line 10th on the first lap, but brake issues caused him to slip back to 17th.

"My back brakes went out on the first lap, so the first moto didn't go as planned," Bell said. "I ended up falling. I was running in the top 10, trying to make my way back up."

His start wasn't as good in the second moto, but Bell began slicing his way through the field before an error caused him to fall back to 15th at the checkered flag.

"I was picking people off and ended up sliding out again," Bell said. "I tried to make a late charge but the guys were too far ahead. Overall, I'm happy and I'm excited for next weekend."

Source: GEICO Honda

Blake Baggett Wins Budds Creek National For The Third Consecutive Year
[caption id="attachment_33012" align="alignright" width="300"]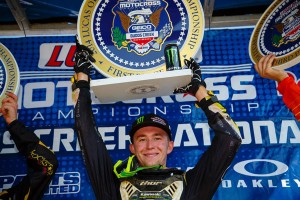 Blake Baggett[/caption]

The Northeast summer heat and humidity pushed temperatures above 90-degrees on Saturday as the Lucas Oil AMA Pro Motocross Championship made their annual stop to Budds Creek in Mechanicsville, Maryland. Monster Energy/Pro Circuit/Kawasaki Blake Baggett beat the heat and put the hurt on the competition in the second moto to take the win by more than 14 seconds securing his third overall win of the season. Justin Hill and Dean Wilson both had one top-10 moto on their way to seventh and 12th, respectively. In the 450 class, Brett Metcalfe battled within the top-10 all day and finished eighth overall.

[caption id="attachment_33014" align="alignleft" width="300"]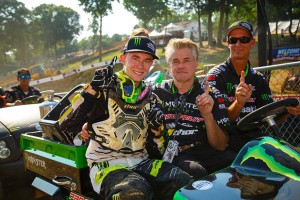 Blake Baggett[/caption]

Three-Year Dominance
For the third-consecutive year, Baggett thrilled the crowd at Budds Creek. In the first moto, he was able to fight his way up from a top-10 start on his Kawasaki KX250F. In the closing laps he dropped his lap times and the top three battled wheel to wheel, crossing the finish line only a second apart. Unhappy with third place, Baggett set out determined and did not let a less than ideal start get in his way. Going two seconds a lap faster than the leader, he was able to reel him in, make a quick pass and leave him behind. His 3-1 score gave him his third overall of the season and moved him into second place in the points standings.

"Today was what I needed," said Baggett. "We came close the past two weeks and this is what I came here to do. The track was rough, the weather was hot, and we were ready for a fight. I ran out of time in the first moto, so I needed to make a statement in the second moto. We're 27 points down but with four rounds to go, anything is possible. We're staying confident."

[caption id="attachment_33023" align="alignright" width="300"]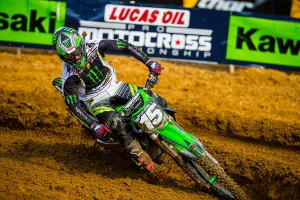 Dean Wilson[/caption]

Ups and Downs
In the first 250 class moto, it was Wilson who got off to a great start within the top five. He battled up front while his teammate Hill was outside the top 15 and trying to push forward. Wilson finished seventh and Hill finished 13th, which left them both wanting more. Wilson once again got a great start but was tangled up in a first turn pile-up which locked on his starting device. He was forced to come into the pit to free it up and had to work his way up from last position. Roles were reversed as Hill was near the front and rebounded to finish sixth while Wilson passed more than half the field to finish in 16th.

[caption id="attachment_33017" align="alignleft" width="300"]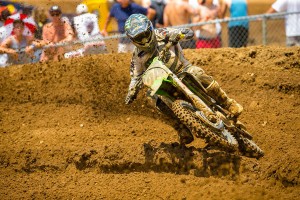 Brett Metcalfe[/caption]

Seeing Progression
Metcalfe started the day by posting the seventh fastest qualifying lap on his KX450F. He lined up for the first moto, confident and ready to battle the rough track and humidity. With a top-10 start, Metty fought throughout the 30-minute plus two moto to finish seventh. In the second moto, Metcalfe was ready to better his first moto and rounded the first turn with another great start, but coming down the first hill he realized something was wrong. His rear brakes had malfunctioned and he was left to race the majority of the moto without them. After the moto it was discovered that a rock had wedged itself between the brake line and swingarm. Despite the issue, Metcalfe rode hard to salvage 11th place.

"It's just one of those things," said Metcalfe. "A rock cut my rear brake line within the first couple of laps and there was nothing I could do, but ride it out. We still scored some decent points and will continue to dig for more at Millville."

[caption id="attachment_33029" align="alignright" width="300"]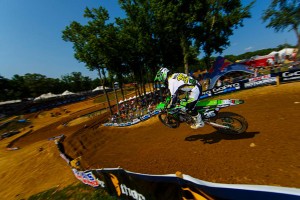 Justin Hill[/caption]

Back in the Saddle
Next week the Lucas Oil AMA Pro Motocross Championship heads to Millville, Minnesota for Round 8. Jake Weimer will make his return to racing after a High Point crash. With Weimer back under the Monster Energy Kawasaki tent, you can expect he and Metcalfe to push each other up the standings. Meanwhile, Monster Energy/Pro Circuit/Kawasaki's injured reserve of Adam Cianciarulo, Darryn Durham, and Martin Davalos have all received positive news. Durham is back on his KX250F and plans to return at Unadilla in a few short weeks, while Cianciarulo was cleared to begin riding on Monday. Davalos has begun walking and cycling following his ankle injury that robbed him of the East Coast 250SX championship and hopes to return to riding in August.

Source: Kawasaki Racing

Jason Anderson Makes It Two Podiums In A Row At Budds Creek
[caption id="attachment_33011" align="alignright" width="300"]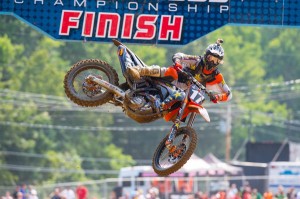 Jason Anderson - Photo: Simon Cudby[/caption]

Rockstar Energy Racing experienced continued success at Budds Creek in Maryland. Jason Anderson carried his momentum from Redbud with his 2nd consecutive podium on a very rough track. In fact all of the tracks from the past few weeks have been much tougher than years past and Anderson is handling the terrain very well.

Jason Anderson clearly found his speed in the 2nd moto at Redbud. It was obvious in the way he was riding and attacking the track. That high carried into Budds Creek as he was on top of the leader board in both qualifying practices. He was just knocked down to second place on the last lap of the second practice. Barely missing out on the bomb award, given to the fastest qualifier.

He started the first moto in the top 5 and quickly moved into the lead after a couple very impressive passes. The first on Christophe Pourcel as he railed around a turn standing up on the outside. The 2nd would put him into the lead as he overtook Justin Bogle. Again coming from the outside, Bogle moved over on him, seemingly giving him no place to go. He scrubbed a bump going up a hill, banked off a wall and still found a way to set Bogle up and move by him. He was able to hold off a hard charging Jeremy Martin en route to his first career outdoor motocross win. His second moto did not go as well in the sweltering heat as he rode his way to a finish outside of the top 5. His effort was still enough to garner him his 3rd podium in 5 races.

Jason Anderson:
"Had a good weekend. Stoked on my first moto win! I just want to keep the momentum going and stay on the box."


[caption id="attachment_33024" align="alignleft" width="300"]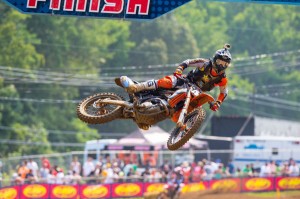 Joey Savatgy - Photo: Simon Cudby[/caption]

Joey Savatgy had another weekend that just didn't go his way. After putting in good lap times in practice garnering him a good gate pick, the day quite simply just went downhill. He got out of the gate good in moto 1, only to be collected in a first turn crash with Marvin Musquin. The 2nd moto, he found himself on the ground once again and coming from the back of the pack. He did the best he could and managed a finish just inside the top 20. The only thing Joey can do is try to stay positive going into next week as well as the rest of the season.

Joey Savatgy:
Weekend was just a struggle. I had a good qualifying time but I ended up in a first turn pile up in moto 1 and crashed in moto 2. I really need to have a better day at Millville."


[caption id="attachment_33015" align="alignright" width="300"]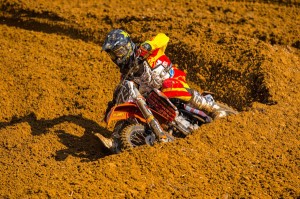 Ryan Sipes - Photo: Simon Cudby[/caption]

Ryan Sipes also had a day with not much positivity. Still dialing the bike in after only one race aboard the team's KTM 450, he was improving a lot throughout practice. He had some confidence going into moto 1, being much more comfortable on his machine. Then on the step up just after the first turn, he landed and his toe caught a rut on the roller just beyond. Sometimes when that happens, it hurts terribly but just goes away in a couple laps. That was Ryan's hope as he continued forward. That was not the case however as he was forced to pull off. He went to Asterisk for x-rays and luckily nothing was broken, but he couldn't even put any weight on that side to walk. He had the doctors tape it up and went out to give moto 2 a go. Surprisingly he was riding really well despite the issue and was inside the top ten. Unfortunately the ankle injury worsened and once again he was unable to finish.

Ryan Sipes:
"This weekend for a lack of better terms sucked. I felt pretty decent and I kept feeling better all day. I was really concentrating on fixing some of my mistakes from practice. I got a fairly good start in the first moto then the very first jump I turned my ankle. I didn't crash, my feet didn't come off or anything, I just turned it and it popped pretty good. It was painful and I sort of aggravated an old injury from 7 years ago. I went and got it taped and decided I would try to gut it out for the 2nd one. I felt pretty good and I passed up to 8th. I flat landed a really small jump and it made it much worse. I didn't get to finish either moto which bums me out cause I hate not finishing. I plan to be back next week for Millville."
The team will now make it's way to Millville Minnesota and the hills of the Spring Creek Motocross track. Anderson who finished on the podium for the first time there a year ago will want to extend his podium streak on a track he really enjoys. Savatgy will hope to finally have some good fortune come his way for a top ten overall. Sipes will have to stay off the bike and his ankle all week to allow it to heal as much as possible.

Source: Rockstar Energy

Marvin Musquin Finishes 10th At Budds Creek National
[caption id="attachment_33027" align="alignright" width="300"]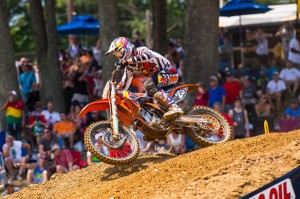 Marvin Musquin - Photo: Simon Cudby[/caption]

Red Bull KTM Factory rider Marvin Musquin finished 10th overall after a rough day at the seventh round of the Lucas Oil Pro Motocross Series held at Budds Creek Raceway.

Marvin Musquin got a mid-pack start in the first moto and quickly moved into the top ten in the opening laps. He remained consistent throughout the moto and was able to move into 8th place by the halfway point. He remained in that spot through the finish.

"The track is very rough today," stated Musquin. "It is also very hot and humid which is playing a big factor. I did not have a great start in the first moto and that hurt me."

Unfortunately, Musquin had worse luck off the start of the second moto. Although he earned a good jump off the gate, he clipped another rider around the corner which caused him to crash hard with multiple riders on the start straight. Musquin was slow to get up but eventually recovered and returned to the track about half a lap down. He quickly went back to race mode and made important passes to gain back ground lost. At the end of the moto he had moved up to 14th place. His 8-14 moto scores earned him 10th overall for the day.

"I am bummed I was not able to land on the podium this week," stated Musquin after the race. "But I am happy that I was able to walk away from my second moto crash and finish the race. I have had a couple bad crashes lately and am happy to be okay."

Next Round: July 19, 2014 - Spring Creek National, Millville, MN

Source: KTM North America

Budds Creek Overview And Point Standings
2014 AMA Pro Motocross Budds Creek Image Gallery (Click for full size images)


450MX Class Moto 1 Results - Race Time: 34:34.129














































































































































































































































































































































| Pos. | # | Rider | Bike | Interval | Best Time |
| --- | --- | --- | --- | --- | --- |
| 1 | 94 | Ken Roczen | KTM 450 SX-F Factory Edition | 17 Laps | 1:58.906 |
| 2 | 5 | Ryan Dungey | KTM 450 SX-F Factory Edition | +01.928 | 1:59.088 |
| 3 | 41 | Trey Canard | Honda CRF450R | +18.140 | 1:59.297 |
| 4 | 3 | Eli Tomac | Honda CRF450R | +19.056 | 1:59.280 |
| 5 | 7 | James Stewart | Suzuki RM-Z450 | +23.773 | 1:59.392 |
| 6 | 40 | Weston Peick | Suzuki RM-Z450 | +1:02.265 | 2:02.435 |
| 7 | 24 | Brett Metcalfe | Kawasaki KX450F | +1:09.752 | 2:02.373 |
| 8 | 29 | Andrew Short | KTM 450 SX-F Factory Edition | +1:21.575 | 2:02.355 |
| 9 | 33 | Josh Grant | Yamaha YZ450F | +1:26.359 | 2:03.033 |
| 10 | 80 | Fredrik Noren | Honda CRF450R | +1:29.316 | 2:03.350 |
| 11 | 44 | Matthew Goerke | KTM 450 SX-F Factory Edition | +1:30.181 | 2:04.311 |
| 12 | 38 | Phillip Nicoletti | Yamaha YZ450F | +1:39.945 | 2:03.740 |
| 13 | 34 | Malcolm Stewart | Honda CRF450R | +1:43.422 | 2:03.050 |
| 14 | 10 | Justin Brayton | Yamaha YZ450F | +1:47.172 | 2:02.645 |
| 15 | 54 | Christian Craig | Honda CRF450R | +2:22.074 | 2:04.349 |
| 16 | 761 | Cade Clason | Honda CRF450R | 16 Laps | 2:05.253 |
| 17 | 92 | Kellian Rusk | Yamaha YZ450F | +00.858 | 2:05.231 |
| 18 | 48 | Ben Lamay | Yamaha YZ450F | +03.639 | 2:05.760 |
| 19 | 9 | Ivan Tedesco | Suzuki RM-Z450 | +06.401 | 2:05.683 |
| 20 | 95 | Evgeny Mikhaylov | KTM 450 SX-F | +10.869 | 2:06.534 |
| 21 | 123 | Kevin Rookstool | KTM 450 SX-F | +19.515 | 2:06.799 |
| 22 | 27 | Nicholas Wey | Kawasaki KX450F | +23.247 | 2:06.786 |
| 23 | 77 | Jimmy Albertson | KTM 450 SX-F | +34.856 | 2:05.678 |
| 24 | 606 | Ronnie Stewart | Suzuki RM-Z450 | +35.686 | 2:07.024 |
| 25 | 977 | Paul Coates | Yamaha YZ450F | +37.115 | 2:07.643 |
| 26 | 224 | Heath Harrison | Kawasaki KX450F | +43.409 | 2:06.525 |
| 27 | 452 | Sean Hackley | KTM 450 SX-F Factory Edition | +51.209 | 2:08.193 |
| 28 | 193 | Chris Proscelle | Honda CRF450R | +52.990 | 2:08.116 |
| 29 | 285 | Tony Archer | Kawasaki KX450F | +1:02.558 | 2:09.306 |
| 30 | 987 | Matthew Babbitt | Honda CRF450R | +1:04.734 | 2:09.420 |
| 31 | 131 | Noah Mcconahy | Honda CRF450R | +1:23.735 | 2:08.646 |
| 32 | 927 | Jamal Porter | Kawasaki KX450F | +1:28.674 | 2:09.458 |
| 33 | 140 | Johnny Moore | Honda CRF450R | +1:48.795 | 2:10.755 |
| 34 | 693 | Tucker Saye | Suzuki RM-Z450 | +1:56.557 | 2:12.113 |
| 35 | 581 | Kyle Bitterman | Honda CRF450R | 15 Laps | 2:10.138 |
| 36 | 535 | Joey Peters | Yamaha YZ450F | +48.204 | 2:08.456 |
| 37 | 945 | Michael Stryker | Suzuki RM-Z450 | +1:18.885 | 2:11.142 |
| 38 | 22 | Chad Reed | Kawasaki KX450F | 8 Laps | 2:04.133 |
| 39 | 39 | Ryan Sipes | KTM 450 SX-F | DNF | |
| 40 | 869 | Robert Lind | Yamaha YZ450F | DNF | |
450MX Class Moto 2 Results - Race Time: 35:21.032
| Pos. | # | Rider | Bike | Interval | Best Time |
| --- | --- | --- | --- | --- | --- |
| 1 | 5 | Ryan Dungey | KTM 450 SX-F Factory Edition | 17 Laps | 2:00.936 |
| 2 | 94 | Ken Roczen | KTM 450 SX-F Factory Edition | +05.005 | 2:01.204 |
| 3 | 3 | Eli Tomac | Honda CRF450R | +08.463 | 2:00.948 |
| 4 | 41 | Trey Canard | Honda CRF450R | +18.017 | 2:02.836 |
| 5 | 40 | Weston Peick | Suzuki RM-Z450 | +1:17.940 | 2:05.244 |
| 6 | 33 | Josh Grant | Yamaha YZ450F | +1:24.774 | 2:05.137 |
| 7 | 29 | Andrew Short | KTM 450 SX-F Factory Edition | +1:31.702 | 2:06.781 |
| 8 | 38 | Phillip Nicoletti | Yamaha YZ450F | +1:37.606 | 2:06.940 |
| 9 | 10 | Justin Brayton | Yamaha YZ450F | +1:42.964 | 2:07.064 |
| 10 | 44 | Matthew Goerke | KTM 450 SX-F Factory Edition | +1:54.884 | 2:07.018 |
| 11 | 24 | Brett Metcalfe | Kawasaki KX450F | +1:59.299 | 2:07.496 |
| 12 | 48 | Ben Lamay | Yamaha YZ450F | +2:15.855 | 2:07.986 |
| 13 | 77 | Jimmy Albertson | KTM 450 SX-F | 16 Laps | 2:07.017 |
| 14 | 54 | Christian Craig | Honda CRF450R | +14.639 | 2:08.133 |
| 15 | 95 | Evgeny Mikhaylov | KTM 450 SX-F | +27.858 | 2:09.196 |
| 16 | 80 | Fredrik Noren | Honda CRF450R | +40.088 | 2:05.093 |
| 17 | 977 | Paul Coates | Yamaha YZ450F | +46.436 | 2:09.802 |
| 18 | 285 | Tony Archer | Kawasaki KX450F | +48.081 | 2:11.378 |
| 19 | 987 | Matthew Babbitt | Honda CRF450R | +49.667 | 2:11.221 |
| 20 | 193 | Chris Proscelle | Honda CRF450R | +1:27.405 | 2:12.221 |
| 21 | 140 | Johnny Moore | Honda CRF450R | +1:33.224 | 2:14.185 |
| 22 | 9 | Ivan Tedesco | Suzuki RM-Z450 | +1:46.648 | 2:06.745 |
| 23 | 945 | Michael Stryker | Suzuki RM-Z450 | +1:48.942 | 2:14.429 |
| 24 | 927 | Jamal Porter | Kawasaki KX450F | +1:57.623 | 2:13.310 |
| 25 | 224 | Heath Harrison | Kawasaki KX450F | +2:02.980 | 2:12.040 |
| 26 | 693 | Tucker Saye | Suzuki RM-Z450 | 15 Laps | 2:17.119 |
| 27 | 581 | Kyle Bitterman | Honda CRF450R | 14 Laps | 2:14.285 |
| 28 | 27 | Nicholas Wey | Kawasaki KX450F | 13 Laps | 2:08.589 |
| 29 | 761 | Cade Clason | Honda CRF450R | 12 Laps | 2:09.798 |
| 30 | 606 | Ronnie Stewart | Suzuki RM-Z450 | +55.060 | 2:09.342 |
| 31 | 7 | James Stewart | Suzuki RM-Z450 | 10 Laps | 2:02.588 |
| 32 | 22 | Chad Reed | Kawasaki KX450F | +1:31.520 | 2:09.786 |
| 33 | 123 | Kevin Rookstool | KTM 450 SX-F | +2:11.107 | 2:09.703 |
| 34 | 34 | Malcolm Stewart | Honda CRF450R | 9 Laps | 2:07.863 |
| 35 | 535 | Joey Peters | Yamaha YZ450F | 8 Laps | 2:12.720 |
| 36 | 869 | Robert Lind | Yamaha YZ450F | 6 Laps | 2:15.487 |
| 37 | 92 | Kellian Rusk | Yamaha YZ450F | +22.802 | 2:10.614 |
| 38 | 39 | Ryan Sipes | KTM 450 SX-F | 5 Laps | 2:06.574 |
| 39 | 452 | Sean Hackley | KTM 450 SX-F Factory Edition | 1 Laps | 2:13.818 |
| 40 | 131 | Noah Mcconahy | Honda CRF450R | DNF | |
Overall Results - 450MX Class
| Pos. | # | Rider | Bike | M1 | M2 | Points |
| --- | --- | --- | --- | --- | --- | --- |
| 1 | 5 | Ryan Dungey | KTM 450 SX-F Factory Edition | 2 | 1 | 47 |
| 2 | 94 | Ken Roczen | KTM 450 SX-F Factory Edition | 1 | 2 | 47 |
| 3 | 3 | Eli Tomac | Honda CRF450R | 4 | 3 | 38 |
| 4 | 41 | Trey Canard | Honda CRF450R | 3 | 4 | 38 |
| 5 | 40 | Weston Peick | Suzuki RM-Z450 | 6 | 5 | 31 |
| 6 | 33 | Josh Grant | Yamaha YZ450F | 9 | 6 | 27 |
| 7 | 29 | Andrew Short | KTM 450 SX-F Factory Edition | 8 | 7 | 27 |
| 8 | 24 | Brett Metcalfe | Kawasaki KX450F | 7 | 11 | 24 |
| 9 | 38 | Phillip Nicoletti | Yamaha YZ450F | 12 | 8 | 22 |
| 10 | 44 | Matthew Goerke | KTM 450 SX-F Factory Edition | 11 | 10 | 21 |
| 11 | 10 | Justin Brayton | Yamaha YZ450F | 14 | 9 | 19 |
| 12 | 80 | Fredrik Noren | Honda CRF450R | 10 | 16 | 16 |
| 13 | 7 | James Stewart | Suzuki RM-Z450 | 5 | 31 | 16 |
| 14 | 54 | Christian Craig | Honda CRF450R | 15 | 14 | 13 |
| 15 | 48 | Ben Lamay | Yamaha YZ450F | 18 | 12 | 12 |
| 16 | 77 | Jimmy Albertson | KTM 450 SX-F | 23 | 13 | 8 |
| 17 | 34 | Malcolm Stewart | Honda CRF450R | 13 | 34 | 8 |
| 18 | 95 | Evgeny Mikhaylov | KTM 450 SX-F | 20 | 15 | 7 |
| 19 | 761 | Cade Clason | Honda CRF450R | 16 | 29 | 5 |
| 20 | 977 | Paul Coates | Yamaha YZ450F | 25 | 17 | 4 |
| 21 | 92 | Kellian Rusk | Yamaha YZ450F | 17 | 37 | 4 |
| 22 | 285 | Tony Archer | Kawasaki KX450F | 29 | 18 | 3 |
| 23 | 987 | Matthew Babbitt | Honda CRF450R | 30 | 19 | 2 |
| 24 | 9 | Ivan Tedesco | Suzuki RM-Z450 | 19 | 22 | 2 |
| 25 | 193 | Chris Proscelle | Honda CRF450R | 28 | 20 | 1 |
Rider Point Standings - 450MX Class ( Race 14 of 24 )


Ken Roczen - 327

Ryan Dungey - 301

Trey Canard - 264

James Stewart - 212

Brett Metcalfe - 192

Josh Grant - 186

Weston Peick - 162

Andrew Short - 161

Chad Reed - 132

Malcolm Stewart - 128

Manufacturer Cup Point Standings - 450MX Class ( Race 14 of 24 )


KTM - 336

Honda - 274

Suzuki - 241

Yamaha - 203

Kawasaki - 199

250MX Class Moto 1 Results - Race Time: 35:18.987
| Pos. | # | Rider | Bike | Interval | Best Time |
| --- | --- | --- | --- | --- | --- |
| 1 | 17 | Jason Anderson | KTM 250 SX-F | 17 Laps | 2:02.187 |
| 2 | 19 | Jeremy Martin | Yamaha YZ250F | +00.874 | 2:01.594 |
| 3 | 4 | Blake Baggett | Kawasaki KX250F | +01.540 | 2:00.968 |
| 4 | 32 | Justin Bogle | Honda CRF250R | +24.869 | 2:02.788 |
| 5 | 37 | Cooper Webb | Yamaha YZ250F | +26.191 | 2:02.951 |
| 6 | 377 | Christophe Pourcel | Yamaha YZ250F | +33.625 | 2:02.492 |
| 7 | 15 | Dean Wilson | Kawasaki KX250F | +34.449 | 2:03.472 |
| 8 | 25 | Marvin Musquin | KTM 250 SX-F | +37.655 | 2:03.527 |
| 9 | 267 | Anthony Rodriguez | Yamaha YZ250F | +55.655 | 2:04.309 |
| 10 | 21 | Cole Seely | Honda CRF250R | +1:08.586 | 2:04.965 |
| 11 | 78 | Matthew Lemoine | Kawasaki KX250F | +1:13.925 | 2:04.886 |
| 12 | 43 | Joseph Savatgy | KTM 250 SX-F | +1:15.586 | 2:04.507 |
| 13 | 35 | Justin Hill | Kawasaki KX250F | +1:17.265 | 2:05.980 |
| 14 | 55 | Alex Martin | Yamaha YZ250F | +1:27.799 | 2:06.589 |
| 15 | 50 | Jessy Nelson | Honda CRF250R | +1:29.153 | 2:05.869 |
| 16 | 47 | Kyle Peters | Honda CRF250R | +1:36.302 | 2:06.663 |
| 17 | 71 | Zachary Bell | Honda CRF250R | +1:39.190 | 2:04.971 |
| 18 | 70 | Brady Kiesel | Honda CRF250R | 16 Laps | 2:08.505 |
| 19 | 410 | Jace Owen | Honda CRF250R | +04.700 | 2:10.003 |
| 20 | 449 | Dakota Kessler | Honda CRF250R | +04.884 | 2:10.216 |
| 21 | 874 | Zack Williams | Honda CRF250R | +18.702 | 2:10.341 |
| 22 | 798 | Cody Gragg | Yamaha YZ250F | +56.164 | 2:12.605 |
| 23 | 418 | Erki Kahro | KTM 250 SX-F | +1:00.497 | 2:13.477 |
| 24 | 826 | Matthew Burkeen | KTM 250 SX-F | +1:05.815 | 2:11.817 |
| 25 | 273 | Conner Elliott | Honda CRF250R | +1:10.186 | 2:12.732 |
| 26 | 96 | Matthew Bisceglia | Honda CRF250R | +1:22.564 | 2:08.402 |
| 27 | 376 | Chris Canning | KTM 250 SX-F | +1:25.617 | 2:08.418 |
| 28 | 83 | Dakota Tedder | Kawasaki KX250F | +1:39.663 | 2:11.651 |
| 29 | 683 | Brandon Riehm | Kawasaki KX250F | +1:48.094 | 2:15.577 |
| 30 | 509 | Alexander Nagy | Suzuki RM-Z250 | +1:57.134 | 2:15.522 |
| 31 | 30 | Kyle Cunningham | Honda CRF250R | 15 Laps | 2:04.965 |
| 32 | 150 | William Duffy | Kawasaki KX250F | +3:12.324 | 2:15.204 |
| 33 | 270 | Jacob Runkles | Kawasaki KX250F | +3:23.269 | 2:15.035 |
| 34 | 731 | Steve Roman | Suzuki RM-Z250 | +3:27.278 | 2:17.434 |
| 35 | 479 | James Coen | Honda CRF250R | +3:28.594 | 2:17.205 |
| 36 | 243 | Joseph Dalzell | Kawasaki KX250F | +4:35.575 | 2:18.076 |
| 37 | 350 | Roland Beck | Honda CRF250R | 14 Laps | 2:16.705 |
| 38 | 822 | Clarion Chapiewski | Honda CRF250R | +21.351 | 2:18.094 |
| 39 | 180 | Bryar Perry | Yamaha YZ250F | 10 Laps | 2:16.120 |
| 40 | 99 | Justin Starling | Honda CRF250R | 5 Laps | 2:12.254 |
250MX Class Moto 2 Results - Race Time: 35:33.636
| Pos. | # | Rider | Bike | Interval | Best Time |
| --- | --- | --- | --- | --- | --- |
| 1 | 4 | Blake Baggett | Kawasaki KX250F | 17 Laps | 2:01.479 |
| 2 | 19 | Jeremy Martin | Yamaha YZ250F | +14.866 | 2:02.537 |
| 3 | 377 | Christophe Pourcel | Yamaha YZ250F | +37.210 | 2:02.762 |
| 4 | 37 | Cooper Webb | Yamaha YZ250F | +43.905 | 2:02.969 |
| 5 | 32 | Justin Bogle | Honda CRF250R | +47.574 | 2:05.210 |
| 6 | 35 | Justin Hill | Kawasaki KX250F | +58.917 | 2:05.247 |
| 7 | 17 | Jason Anderson | KTM 250 SX-F | +1:10.336 | 2:05.255 |
| 8 | 50 | Jessy Nelson | Honda CRF250R | +1:15.769 | 2:05.563 |
| 9 | 21 | Cole Seely | Honda CRF250R | +1:26.275 | 2:06.125 |
| 10 | 267 | Anthony Rodriguez | Yamaha YZ250F | +1:27.494 | 2:06.684 |
| 11 | 96 | Matthew Bisceglia | Honda CRF250R | +1:29.577 | 2:06.933 |
| 12 | 30 | Kyle Cunningham | Honda CRF250R | +1:41.562 | 2:08.034 |
| 13 | 55 | Alex Martin | Yamaha YZ250F | +1:42.563 | 2:07.219 |
| 14 | 25 | Marvin Musquin | KTM 250 SX-F | +1:46.202 | 2:06.492 |
| 15 | 71 | Zachary Bell | Honda CRF250R | +1:55.714 | 2:08.059 |
| 16 | 15 | Dean Wilson | Kawasaki KX250F | +1:56.290 | 2:05.305 |
| 17 | 78 | Matthew Lemoine | Kawasaki KX250F | 16 Laps | 2:08.292 |
| 18 | 47 | Kyle Peters | Honda CRF250R | +05.033 | 2:07.755 |
| 19 | 70 | Brady Kiesel | Honda CRF250R | +07.254 | 2:08.918 |
| 20 | 410 | Jace Owen | Honda CRF250R | +22.570 | 2:11.453 |
| 21 | 874 | Zack Williams | Honda CRF250R | +43.731 | 2:11.359 |
| 22 | 43 | Joseph Savatgy | KTM 250 SX-F | +1:35.961 | 2:09.282 |
| 23 | 418 | Erki Kahro | KTM 250 SX-F | +1:37.842 | 2:15.314 |
| 24 | 826 | Matthew Burkeen | KTM 250 SX-F | +1:45.285 | 2:13.882 |
| 25 | 273 | Conner Elliott | Honda CRF250R | +1:46.041 | 2:16.057 |
| 26 | 798 | Cody Gragg | Yamaha YZ250F | +1:48.108 | 2:15.462 |
| 27 | 83 | Dakota Tedder | Kawasaki KX250F | +1:56.840 | 2:14.630 |
| 28 | 509 | Alexander Nagy | Suzuki RM-Z250 | 15 Laps | 2:19.136 |
| 29 | 376 | Chris Canning | KTM 250 SX-F | +00.258 | 2:13.572 |
| 30 | 479 | James Coen | Honda CRF250R | +50.191 | 2:17.666 |
| 31 | 270 | Jacob Runkles | Kawasaki KX250F | +53.701 | 2:19.172 |
| 32 | 180 | Bryar Perry | Yamaha YZ250F | +1:06.474 | 2:19.338 |
| 33 | 822 | Clarion Chapiewski | Honda CRF250R | +1:25.510 | 2:21.552 |
| 34 | 243 | Joseph Dalzell | Kawasaki KX250F | +1:51.761 | 2:20.073 |
| 35 | 150 | William Duffy | Kawasaki KX250F | 14 Laps | 2:18.949 |
| 36 | 449 | Dakota Kessler | Honda CRF250R | 9 Laps | 2:14.891 |
| 37 | 731 | Steve Roman | Suzuki RM-Z250 | +1:04.357 | 2:20.805 |
| 38 | 683 | Brandon Riehm | Kawasaki KX250F | 5 Laps | 2:18.632 |
| 39 | 350 | Roland Beck | Honda CRF250R | DNS | |
| 40 | 99 | Justin Starling | Honda CRF250R | DNS | |
Overall Results - 250MX Class
| Pos. | # | Rider | Bike | M1 | M2 | Points |
| --- | --- | --- | --- | --- | --- | --- |
| 1 | 4 | Blake Baggett | Kawasaki KX250F | 3 | 1 | 45 |
| 2 | 19 | Jeremy Martin | Yamaha YZ250F | 2 | 2 | 44 |
| 3 | 17 | Jason Anderson | KTM 250 SX-F | 1 | 7 | 39 |
| 4 | 377 | Christophe Pourcel | Yamaha YZ250F | 6 | 3 | 35 |
| 5 | 37 | Cooper Webb | Yamaha YZ250F | 5 | 4 | 34 |
| 6 | 32 | Justin Bogle | Honda CRF250R | 4 | 5 | 34 |
| 7 | 35 | Justin Hill | Kawasaki KX250F | 13 | 6 | 23 |
| 8 | 21 | Cole Seely | Honda CRF250R | 10 | 9 | 23 |
| 9 | 267 | Anthony Rodriguez | Yamaha YZ250F | 9 | 10 | 23 |
| 10 | 25 | Marvin Musquin | KTM 250 SX-F | 8 | 14 | 20 |
| 11 | 50 | Jessy Nelson | Honda CRF250R | 15 | 8 | 19 |
| 12 | 15 | Dean Wilson | Kawasaki KX250F | 7 | 16 | 19 |
| 13 | 55 | Alex Martin | Yamaha YZ250F | 14 | 13 | 15 |