2014 AMA Pro Motocross RedBud Race Results
Chaparral Motorsports
|
July 7, 2014
Ken Roczen's Reign Continues, Extends Points Lead With Dominant RedBud Sweep
[caption id="attachment_32657" align="alignright" width="300"]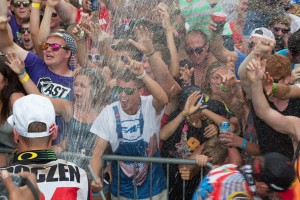 Ken Roczen - Photo: George Crosland[/caption]

The 2014 Lucas Oil Pro Motocross Championship, sanctioned by AMA Pro Racing, reached its halfway point on Saturday with the annual Independence Day tradition at the Red Bull RedBud National. German-born 450 Class rookie Ken Roczen was dominant in the premier division, sweeping both motos aboard his Red Bull KTM to claim his fourth win in six starts and extend his championship lead. The points leader also emerged victorious in the 250 Class, as Yamalube/Star Racing Yamaha's Jeremy Martin captured his third win of the season.

After a close runner-up effort one week ago, Red Bull KTM's Ryan Dungey started his afternoon by grabbing the MotoSport.com Holeshot Award in Moto 1, but quickly had to do battle with Team Honda Muscle Milk's Trey Canard. It didn't take long for Canard to move past Dungey on the opening lap. While that duo looked to establish a gap, Roczen was forced to fight his way forward from a start deep inside the top 10. Canard and Dungey settled into a comfortable pace out front with GEICO Honda's Eli Tomac settling into third. Roczen, meanwhile, was on a torrid charge to the front, coming from eighth to break into the top three by Lap 4 and then passing both his teammate Dungey and Canard to move into the lead on the following lap. Once out front, Roczen pulled away, leaving Canard and Dungey to do battle for second.

Dungey made a pass on Canard for second on Lap 8, but made a mistake just a short time later, giving the position back to Canard. These two continued their battle through to the finish with Canard holding off Dungey. Roczen took the checkered flag by 4.5 seconds over Canard while Dungey rounded out the podium. Tomac followed in fourth with BTO Sports KTM's Andrew Short in fifth.

[caption id="attachment_32654" align="alignleft" width="300"]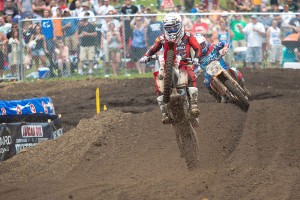 Trey Canard & Ryan Dungey - Photo: George Crosland[/caption]

Roczen left little doubt he would be the rider to beat in the second moto, racing to the MotoSport.com Holeshot Award just ahead of Canard. The Honda rider found a way to take over the lead on the opening lap, setting the stage for a thrilling battle between the two throughout the first stage of the moto. Roczen made multiple attempts to pass Canard and did so on a couple different occasions, only to have Canard fight back and reclaim the position. On Lap 5, Roczen made another pass on Canard and was able to make it stick. He soon pulled away.

Canard then fell into the clutches of both Tomac and Dungey, who laid chase on the lead duo throughout the moto. As Tomac began to pressure for the position, Canard went down and handed over the spot to both Tomac and Dungey before remounting. Dungey then looked to challenge Tomac for second, but was unable to do so. Roczen secured the victory by 10.3 seconds over Tomac, while Dungey settled for third.

Roczen's 1-1 effort was his second this season.

[caption id="attachment_32655" align="alignright" width="300"]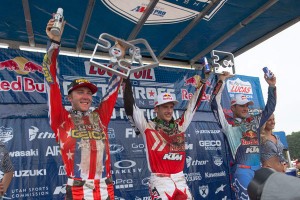 450MX Moto2 Podium - Photo: George Crosland[/caption]

"I really like the track out here, it's gnarly and it makes it really difficult," said Roczen. "I had my work cut out for me in the first moto, but I just never let up. Then I let Trey [Canard] by me off the start [in the second moto] and made it tougher on myself, but this was one of those days where my fitness played a factor and I wasn't going to let it slip away."

A three-way tie for second in points landed Tomac with a career-best runner-up finish in just his second 450 Class start (4-2), with Dungey assuming third (3-3) and Canard missing out on the overall podium in fourth (2-4). Short rounded out the top five (5-5).

Roczen's points lead over Dungey has now surpassed a single moto, currently sitting at a 26-point advantage. Canard moved into third, 54 points out of the lead. In just two starts, Tomac has jumped all the way to 12th in the championship standings.

[caption id="attachment_32645" align="alignleft" width="300"]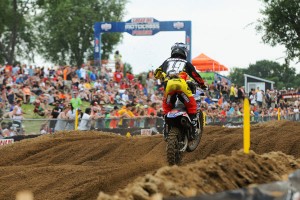 Jeremy Martin - Photo: Amy Schaaf[/caption]

The competition in the 250 Class coming into RedBud was closer than it had been all season as the Yamalube/Star Racing Yamaha tandem of Jeremy Martin and Cooper Webb, along with Monster Energy/Pro Circuit/Kawasaki's Blake Baggett were separated by a total of 17 points. Martin and Baggett each had two wins apiece, while Webb broke through for his first career win last weekend.

As the gate dropped on the first moto, GEICO Honda's Matt Bisceglia raced to the MotoSport.com Holeshot Award with Valli Motosports Yamaha's Christophe Pourcel and Martin in tow. Pourcel took over the top spot by Lap 2, bringing Martin with him. The pair engaged in an exciting battle for the position before Pourcel made an uncharacteristic mistake and crashed on Lap 4, allowing Martin to take the lead and GEICO Honda's Justin Bogle to move into second. Looming in third was Baggett, who moved into the runner-up spot on Lap 7 and set his sights on Martin.

A seesaw battle out front ensued with the deficit between the two riders constantly changing. Baggett kept the pressure on Martin throughout the remainder of the moto, but the points leader never faltered. Martin crossed the line just over a second ahead of Baggett. Rockstar Energy Racing's Jason Anderson jumped into third, with Red Bull KTM's Marvin Musquin in fourth. Bogle fell to fifth.

[caption id="attachment_32637" align="alignright" width="300"]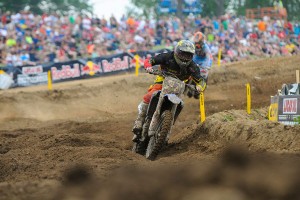 Cooper Webb - Photo: Amy Schaaf[/caption]

With all eyes on the second moto, it was Rockstar Energy Racing's Joey Savatgy who gained the early jump by grabbing the MotoSport.com Holeshot Award. Bogle started the moto in second and made an early move on Savatgy to take over the lead by Lap 2. Martin followed the Honda rider into second after a third-place start, bringing his teammate Webb along in third. Soon these three riders did battle for the lead, swapping positions briefly and using every inch of the track. Bogle made a major mistake on Lap 4, crashing out of the lead. Webb had slipped by his teammate just prior and assumed control of the moto. The sophomore teammates went all out for the rest of the moto, separated by mere bike lengths throughout.

As the battle for the win continued, Musquin and Anderson once again made their presence felt in a fight for third. Baggett made an impressive climb from a 13th-place start to also factor into the mix in fifth, but crashed on Lap 10, dropping out of podium contention. Out front, Webb fended off his teammate to take the second moto win of his career and bounce back from a crash in the opening moto that relegated him to a 14th-place result. Martin followed in second, with Musquin third and Anderson fourth.

Martin's 1-2 moto scores secured the overall win while Musquin earned his best result of the season in second (4-3). Anderson completed the overall podium in third (3-4). Baggett finished fourth (2-7) with Webb rounding out the top five (14-1).

[caption id="attachment_32639" align="alignleft" width="300"]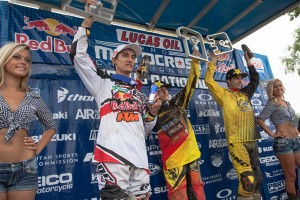 250MX Moto2 Podium - Photo: George Crosland[/caption]

"It was a great battle with my teammate there," said Martin. "I thought I had a chance to get the lead early against [Justin] Bogle, but he was riding defensive and eventually went down. Once I got in behind Cooper [Webb] I just paced myself and put in a push on the final laps to try and pass him, but I didn't want to do anything to put either of us in a bad spot, especially since I knew I had the overall."

Martin extended his lead in the 250 Class standings back into the double digits over Webb, with 23 points now separating the two. Baggett sits third, 28 points back.

The 2014 Lucas Oil Pro Motocross Championship continues next weekend with the seventh round of the 2014 season at the GEICO Motorcycles Budds Creek National. Budds Creek MX Park in Mechanicsville, Maryland, will host the world's best riders on Saturday, July 12. Action begins at 1 p.m. ET.

2014 Red Bull RedBud National Race Highlights
http://www.youtube.com/watch?v=KtiGh5CrFv8

Source: Pro Motocross

Ken Roczen Sweeps Both Motos And Ryan Dungey On The Podium At RedBud
[caption id="attachment_32658" align="alignright" width="300"]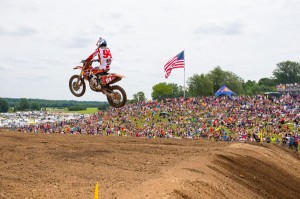 Ken Roczen - Photo: Simon Cudby[/caption]

Red Bull KTM Factory rider Ken Roczen swept both motos at the RedBud National while his teammate, Ryan Dungey, joined him on the podium with 3rd overall.

RedBud fans got to see the #5 bike of Ryan Dungey pull off a great start as he earned the holeshot down the start straight of moto one. Unfortunately, he made a mistake on the first lap which allowed Trey Canard to pass for the lead. Meanwhile, his teammate Ken Roczen, started outside the top ten but quickly made passes toward the front of the pack.

On the fourth lap, Roczen was able to get around both Dungey and Canard as they were battling for the lead. Once in the lead, he rode a mistake-free race and went on to collect his fifth moto win of the season. Dungey remained on the rear wheel of Canard the remainder of the race but was unable to make the pass and settled for 3rd.

"The track is really deep and I got sprayed a lot which made it really hard to see", stated Dungey. "I needed to make the pass on Canard quicker like Kenny (Roczen) was able to do. Unfortunately, I lost a lot of time not making that pass."

[caption id="attachment_32656" align="alignleft" width="300"]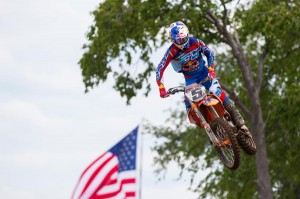 Ryan Dungey - Photo: Simon Cudby[/caption]

On his KTM 450 SX-F it was Roczen who pulled the holeshot in the second moto while Dungey was two spots back in 3rd position. Roczen was quickly passed by Canard in the second corner and the two riders began a battle for the lead that lasted the first half of the race. Approximately five minutes in, Roczen passed Canard for the lead in the sand whoops but Canard did not let off and passed back two corners later. For another two laps Roczen pressured Canard as they raced bar to bar until he made the pass a second time in the sand whoops; this time maintaining the lead. Roczen went on to lead the remainder of the laps to take the second moto win by ten seconds. Roczen's two-moto sweep of the event earned him the overall.

"It feels so good to get the win here", stated Roczen. "It is a great feeling to finish a race and not be tired. It really allows you to have fun out there and that is what I was able to do today."

Dungey started the race in 3rd position and dropped as low as 4th place around the mid-point of the race. After Canard suffered a crash, Dungey moved back into podium position and began to pressure Eli Tomac for the runner-up spot. Although he was unable to make the pass, he rode a consistent race and finished with another 3rd place result for 2nd overall.

Next Round: July 12, 2014 - Budds Creek National, Mechanicsville, MD

Source: KTM North America

Yamalube/Star Racing/Yamaha Scoops Up Their 4th Overall Win At Redbud
[caption id="attachment_32644" align="alignright" width="300"]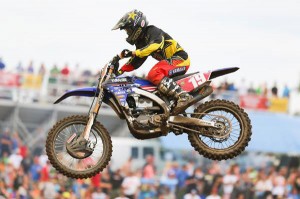 Jeremy Martin[/caption]

The Yamalube/Star Racing/Yamaha team put on a spectacular show for the fans at Redbud on the Fourth of July weekend. Jeremy Martin won the first moto and Cooper Webb won the second moto, with Martin finishing close behind in second place. Jeremy took the overall, giving Yamalube/Star Racing/Yamaha their 4th overall win of the season. With half the season gone the Yamalube/Star Racing/Yamaha team has won 8/12 first places and 7/12 second places. Unbelievable.

Source: Star Racing Yamaha

The new YZ250F conquered the competition once again by winning both 250MX races at the sixth round of the 2014 AMA Motocross series at RedBud MX in Buchanan, Mich. on Saturday, July 5. Yamalube/Star Racing/Yamaha's Jeremy Martin took control of the first moto early on, leading 13 of 17 laps to take his sixth win of the year over rival Blake Baggett, with Cycletrader.com/Rock River/Yamaha's Alex Martin in sixth. Star Racing Yamaha's Cooper Webb finished the first moto 14th after an early fall involving Valli Yamaha's Christophe Pourcel, who did not finish. In the second moto, Webb likewise pounced early, taking control on the fifth lap to claim his second career AMA Pro moto victory, while also leading Martin to a 1-2 Yamaha sweep. But Martin's 1-2 motos gave him the coveted overall, boosting his championship lead to 23 points over Webb.

[caption id="attachment_32634" align="alignleft" width="300"]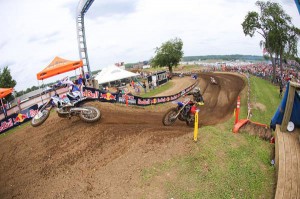 Christophe Pourcel[/caption]

Pourcel turned the fastest lap in practice for an amazing fifth time this year, edging out Yamaha-mounted Jeremy Martin, the next closest competitor, by a full half second. The Frenchman then translated this qualifying speed into the early lead in moto one before unfortunately falling twice. The first time was a mild tip-over that handed the lead to Martin, but the second was more serious - a tangle with Webb that ended Pourcel's moto and dropped Webb from fifth down to 23rd position, derailing both riders' chances at an overall podium. Taking advantage of the situation, Martin raced ahead to the checkers despite a late-race challenge from Baggett. Fortunately, Webb got up, returned to battle and was able to move back inside the top 15 by the flag.

Just like at the previous round in Tennessee, Webb would not be denied victory in the second moto. He grabbed the lead on the fifth of 16 laps and controlled the race from there on, despite being pressured by Jeremy Martin the entire way. Martin desperately wanted to pass Webb to score his third 1-1 moto sweep of the year, but Webb held him off by 1.8 seconds at the flag. Meanwhile Alex Martin added a ninth-place finish to go with his sixth in the first race - good enough for eighth overall, his best result this year. "That was a great battle with my teammate!" Jeremy grinned after the finish. "Once I got behind Cooper I pushed on the final laps to try and pass him, but I didn't want to put either of us in a bad spot, especially since I knew I had the overall." Yamaha motocross team manager Jim Perry added, "It was an exiting day of racing with Jeremy Martin returning to his winning ways after struggling in the last event. I was also glad to see Yamaha take 1-2 in the final moto of the day."

Source: Yamaha

[caption id="attachment_32648" align="alignright" width="300"]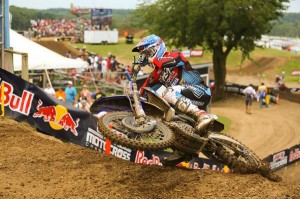 Justin Brayton[/caption]

Round six, and the halfway mark for the 2014 Lucas Oil AMA Pro Motocross Championship Series took place at Red Bud Track and Trail in Buchanan, Mich. MAVTV aired the first moto live, and the second moto was broadcast live on NBC. The first motos are always streamed live on promotocross.com and both motos from each round are archived on promotocross.com.

Phil Nicoletti was not scheduled to race at Red Bud, but he is expected to contest the Budd's Creek and Unadilla rounds with the Toyota/Yamaha/JGRMX Team in collaboration with St. Lawrence Radiology and N-FAB. Josh Grant began moto one at the front of the field in fourth place at the conclusion of the first lap. Unfortunately on lap two the fifth place rider and Grant came together racing for the same line causing them both to crash. Justin Brayton was in 10th after lap one was complete. Grant remounted and was able to charge up to sixth, with Brayton 10th at the checkers. Both riders started moto two inside the top-10 with Grant ninth and Brayton 10th. Over the following 16 laps Grant once again battled up to sixth with Brayton ninth at the finish. Grant was awarded sixth overall for his consistent motos, while Brayton was ninth for the day.

Budd's Creek Motocross Park in Mechanicsville, Md. will host round seven of the tour on July 12. MAVTV will broadcast the first moto live at 1:00 p.m. (EST) and the second moto will air live on the NBC Sports Network at 3:00 p.m. (EST). The first moto will also stream live on promotocross.com.

Source: JGRMX

Marvin Musquin Earns First Podium Of The Season At RedBud National
[caption id="attachment_32640" align="alignright" width="199"]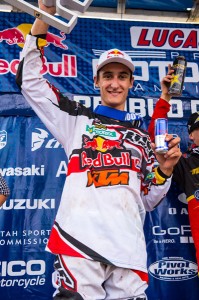 Marvin Musquin - Photo Simon Cudby[/caption]

The Red Bull KTM Factory rider Marvin Musquin is healed from injury and showing that he is constantly improving as the series continues. His 4-3 moto at the sixth round of the Lucas Oil Pro Motocross Championship Series held at RedBud earned him his first podium finish of the season with a 2nd overall.

Marvin Musquin got off to around a 10th place start in the first moto. Musquin did not waste time making passes and moved into 10th approximately ten minutes into the race. By the halfway point he had worked his way up to 4th. He then set his sights on the 3rd place ride of Justin Bogle. The two battled for two laps before Musquin was able to make a clean pass on Bogle to take over the position. Musquin maintained 3rd position until he ran into an issue and managed to get his left leg caught in his rear wheel after colliding with a lapper. Luckily, he was uninjured and got untangled and returned to the track only losing two positions. With three laps to go he was able to pass back into 4th and then began a last lap battle with fellow KTM rider Jason Anderson for the final podium spot. Unfortunately, he came up just shy of making the pass and finished the moto in 4th.

[caption id="attachment_32641" align="alignleft" width="300"]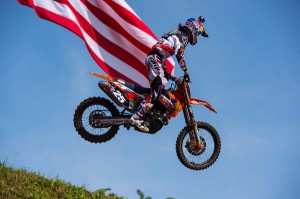 Marvin Musquin - Photo: Simon Cudby[/caption]

The French rider earned an 8th place start in the second moto and again charged quickly in the opening laps to put his KTM 250 SX-F in the podium hunt. By the halfway point he had already moved into 3rd place. Although he was heavily pressured the entire moto, he never made a mistake and held on to his podium position to earn 3rd overall. His 4-3 moto scores earned him 2nd overall for the day.

"It's better late than never", stated Musquin on the podium. "My first few laps were terrible and I made so many mistakes in the first moto and was lucky to rebound how I did. The second moto was so intense. The track was so tough and my ankle and knee were hurting but it was all worth it. I have been working with Ryan (Dungey) during the week and it is definitely paying off. Anytime you are on the podium, all of the work you do during the week is worth it."

Next Round: July 12, 2014 - Budds Creek National, Mechanicsville, MD

Source: KTM North America

Blake Baggett Leads Monster Energy/Pro Circuit/Kawasaki At RedBud
On the Fourth of July weekend in Buchanan, Michigan, fireworks were seen both on and off the track as Round 6 of the Lucas Oil Pro Motocross Championship hit RedBud Track and Trail on Saturday. Monster Energy/Pro Circuit/Kawasaki's Blake Baggett ran down the leaders in the first 250 moto to finish second but a crash in the second moto left him with fourth overall. Dean Wilson had his best finish of the season in sixth overall while Justin Hill returned to action to round out the top-10. In the 450 class, Monster Energy Kawasaki's Brett Metcalfe and fellow Australian and Kawasaki rider Chad Reed traded moto finishes with Reed coming out on top as they finished seventh and eighth overall.

[caption id="attachment_32638" align="alignright" width="300"]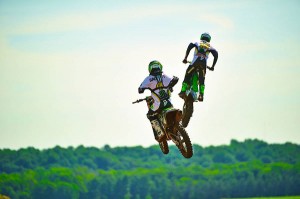 Blake Baggett & Dean Wilson - Photo: Jacob Khan[/caption]

Last Lap Assassin
Baggett's reputation continued this past weekend as he made his assault for the lead late in the first moto. He closed up on the leader in the last three laps, but was unable to make an alternate line work and was forced to take second. In the second moto, Baggett did not get the start he wanted and had his work cut out for him. He battled forward, picking off riders one by one until a lapper cut down into his line and they collided. He lost crucial positions but with fourth overall was still able to make up points on second place.

"It's frustrating," said Baggett. "First moto I just couldn't find a spot to pass but knew I could get him in the second moto. I didn't get the start and had to move forward but when you're back there you're more likely to run into issues. We made up points on second place and will keep working at it. Chipping away."

Finishing Strong
Coming back from injury, Wilson continues to build with each round. He got two great starts and was battling in the top-five in both motos. He got together in the first moto with another rider and lost a bunch of positions, finishing ninth, but knew he had more. Wilson nearly got the holeshot in the second moto before getting shuffled back in the first couple turns. He moved forward throughout the moto and looked his strongest in the closing laps to finish fifth. His 9-5 score gave him his best finish of the season thus far in sixth.

"I'm happy with the day," said Wilson. "Lining up against these guys just takes some time to get back into it. I got good starts and know the pace. I felt strong throughout the moto, so now I just need to be there from the start."

[caption id="attachment_32652" align="alignleft" width="300"]
Chad Reed[/caption]

Small Gains
Reed had his best finish of the season at RedBud as he stayed consistent and put together two top-10 finishes on his Kawasaki KX450F. He worked his way into the top 10 in the first moto and fought throughout the second moto to finish seventh overall.

"Today was the first round that I felt I rode strong throughout the full 30-minute motos," said Reed. "We've been working hard and seeing small improvements each week, which can be frustrating but it is positive and we have to be patient. Now I just need to work on my starts and I think I may have something for those guys."

[caption id="attachment_32649" align="alignright" width="300"]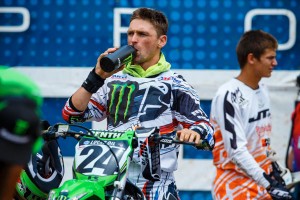 Brett Metcalfe[/caption]

Minimizing Mistakes
Still recovering from a back injury he sustained two weeks ago, Metcalfe felt the best he has in recent weeks at RedBud. He made some chassis adjustments throughout qualifying sessions and found a setting that worked well in the loamy, rutted RedBud soil. The Australian fought just outside the top five in the first moto and had fifth overall wrapped up in the second moto until he tipped over just before the two-lap board came out. Metty recovered to tie in points with Reed, finished eighth overall and remains fifth overall in the points standings.

"We should have had a better finish on paper today," said Metcalfe. "I'm feeling good and a top-five was there for me to take. My bike is where I want it, so it's on me to get it done."

[caption id="attachment_32650" align="alignleft" width="300"]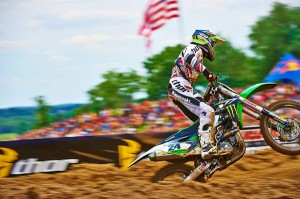 Brett Metcalfe - Photo: Jacob Khan[/caption]

Speed and Fitness
Last weekend, Hill sprained his forearm without even crashing in the first moto in Tennessee and was unable to line up for the second moto. Following a week of rest, Hill return and showed speed early after getting a great start on his KX250F. Hill ran as high as third place in the second moto, but the lack of strength in his injured arm forced him to back it down and finished a respectable 10th overall.

The Champ
RedBud fans had the pleasure of seeing reigning champion Ryan Villopoto on Saturday, not on the race track but cruising the pits taking in his first national of the summer. Fresh off of crutches, Villopoto was on-site to introduce the new 2015 Kawasaki KX450F that was on display on vendor row. He also jumped into the TV booth to help call the broadcast of the first 450 moto, and of course took time to sign autographs and take pictures with his hundreds of fans. Villopoto will continue his road to recovery after knee surgery and we hope to see him back on his KX450F soon.

[caption id="attachment_32651" align="alignright" width="300"]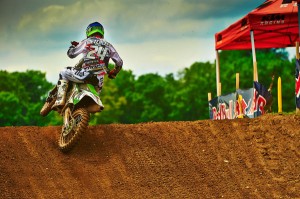 Brett Metcalfe - Photo: Jacob Khan[/caption]

East Coast Swing
With RedBud in the books, The Lucas Oil Pro Motocross Championship hits the halfway mark in the series as six of 12 rounds are complete. The field has shown their cards, but the Monster Energy Kawasaki team continues to improve. Baggett continues to chip away at the points gap in the 250 Class, while Metcalfe may have a comfortable hold on fifth place in the 450 Class, but he is capable of more. The series continues to Budds Creek, Maryland next Saturday outside of Washington, D.C, a track that is known for it's hot and humid summer conditions. Budds Creek is one of the best tracks for spectating as the track winds up and down a valley, allowing the fans to follow all the racing action.

Source: Kawasaki Racing

Troy Lee Designs Celebrates Independence Day at Red Bud
[caption id="attachment_32636" align="alignright" width="300"]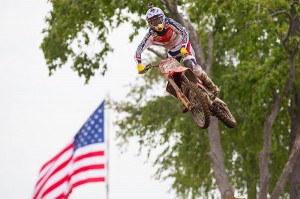 Cole Seely - Photo: Simon Cudby[/caption]

The fourth of July is an historic day for Americans. It signifies our freedom and independence and the American way of life. As motocross fans, it also means the best riders in the world are lining up at Red Bud Track and Trail for the annual motocross festival in Michigan. This year was no exception and there were some fireworks left over for the race on Saturday.

In the 450 class Troy Lee Designs / Lucas Oil / MAVTV rider Malcolm Stewart started inside the top ten in the opening moto. After some bar-banging and charging, he found himself in seventh with a clear track around him. Stewart would run half the race in that spot before making a few mistakes and dropping to ninth at the finish. Malcolm shot off the line again in moto two and was trying to duplicate his first moto charge forward. Unfortunately he just couldn't get things going and the rough, rutted course was getting the best of him. Malcolm was the victim of a late-race crash that would knock him out of the race. His 9-DNF moto scores would leave him in 15th position for the day.

[caption id="attachment_32633" align="alignleft" width="300"]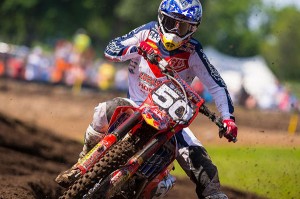 Jessy Nelson - Photo: Simon Cudby[/caption]

Cole Seely and Jessy Nelson led the way for the Troy Lee Designs / Lucas Oil / Honda squad in the 250 division. Seely started off in 11th place and went to work immediately on the riders in front of him. Seely scratched his way up to fifth before a collision with another rider would put him on the ground. Cole was able to get up and salvage an 8th. Jessy Nelson, meanwhile, had a great start in the moto and was looking like he could find the podium. Before he could complete the first lap, he tangled with another rider and hit the deck. Jessy was able to get up and advance to the 12th spot at the finish.

The second moto saw Seely again with a tenth place start. The lanky speedster from Newbury Park twisted the throttle extra hard to make up for his crash in the opening round and pushed all the way to 6th spot. His finishes would land him a 7th overall on the day. Nelson was in hot pursuit of his teammate for most of the moto and was making passes right behind Cole. For a while it looked like the two would finish one behind the other. With about ten minutes to go Nelson made an error and was sent to the ground. He walked away unscathed but was unable to continue racing. Jessy was slotted in 17th spot for his work at Red Bud.

The Troy Lee Designs Team is still waiting on their third 250 rider, Shane McElrath, to make a return. but no word exactly on when that will be. In the meantime the boys will be healing their bumps and bruises and preparing for another fight next weekend in Budds Creek, Maryland. Be sure to cheer on the TLD riders as they chase pro motocross cash, prizes and glory.

[caption id="attachment_32647" align="alignright" width="300"]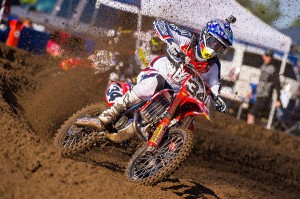 Malcolm Stewart - Photo: Simon Cudby[/caption]

The TLD riders wore the 2015 SE Pro and 2015 GP Air gear at Red Bud MX. Both lines, along with the 2015 Moto Helmets are now available online and at your local TLD retailer.

TLD would like to thank all of our team sponsors: Lucas Oil, American Honda, PPG, Red Bull, Adidas, Oakley, Seaspan, Fender®, Pro Tork, MavTV, Method Race Wheels, GoPro, Fasthouse, Pixelmags, Horizon Hobby, FMF Racing, Dunlop, VP Racing Fuels, Showa, Alpinestars, ODI, Pacific Collision Centers, New Era, Specialized, Sram, Renthal, Twin Air, Braking, McQueen Racing, Cyrca, Sol Republic, Hinson, Shock Doctor, ARC, Carillo, Sports Care Center, Samco, Xtrig, VQ Orthocare, Vortex, Kryptonight, Kasey Kahne, Dirt Star, Moto Tassinari, DID, Dirt Star, N-Style.

Source: Troy Lee Designs

James Stewart Optimistic After RedBud MX
[caption id="attachment_32646" align="alignright" width="300"]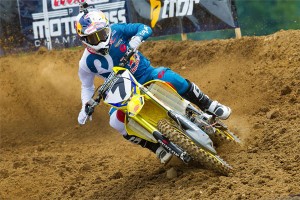 James Stewart[/caption]

Yoshimura Suzuki Factory Racing's James Stewart suffered an unfortunate bout of bad luck at round six of the 2014 AMA Pro Motocross Championships, but the enthusiastic and talented Stewart didn't let it get him down; giving his all over the 'Fourth of July' weekend at the RedBud National in Buchanan on Saturday.

In the day's opening moto, Stewart got a good start on his Yoshimura Suzuki RM-Z450 and made a bid to overtake fourth place on the track's downhill plateau heading toward the notorious LaRocco's Leap. Unfortunately he came together with another rider, with Stewart and his RM-Z450 taking the brunt of it, but he regrouped for the second race. Because of the moto-one crash, he had to start from the far-outside gate and, as a result, got caught-up in a turn-one pile-up and then had to fight his way back to 12th by the end of the moto.

James Stewart:
"It was a tough day. I felt good coming into the weekend and we had a lot of speed in practice. I really feel like we've all worked really hard to get the Yoshimura Suzuki RM-Z450 dialled-in: In the first moto, I thought I'd made the pass and I don't know what happened, but I got tangled-up with another rider and it just destroyed the bike. In the second moto, I did the best I could with the gate-pick but we just had some bad luck in that first turn. So now we'll just regroup and focus on putting in a good week of practice and see if we can come back strong for Budds Creek next week."
Yoshimura Suzuki Factory Racing's next race is round seven of the 2014 AMA Pro Motocross Championships on Saturday, July 12th at the Budds Creek National in Mechanicsville.

RedBud "Behind The Scenes Race Report" Video
http://www.youtube.com/watch?v=U7WDbF7Fn9c

Source: Team Suzuki

RedBud Overview And Point Standings
2014 AMA Pro Motocross RedBud Image Gallery (Click for full size images)


450MX Class Moto 1 Results - Race Time: 35:27.292














































































































































































































































































































































| Pos. | # | Rider | Bike | Interval | Best Time |
| --- | --- | --- | --- | --- | --- |
| 1 | 94 | Ken Roczen | KTM 450 SX-F Factory Edition | 17 Laps | 2:01.850 |
| 2 | 41 | Trey Canard | Honda CRF450R | +04.574 | 2:03.685 |
| 3 | 5 | Ryan Dungey | KTM 450 SX-F Factory Edition | +06.169 | 2:03.536 |
| 4 | 3 | Eli Tomac | Honda CRF450R | +09.488 | 2:02.767 |
| 5 | 29 | Andrew Short | KTM 450 SX-F Factory Edition | +53.537 | 2:04.017 |
| 6 | 33 | Josh Grant | Yamaha YZ450F | +1:08.074 | 2:06.874 |
| 7 | 24 | Brett Metcalfe | Kawasaki KX450F | +1:12.284 | 2:05.798 |
| 8 | 22 | Chad Reed | Kawasaki KX450F | +1:24.888 | 2:07.976 |
| 9 | 34 | Malcolm Stewart | Honda CRF450R | +1:28.431 | 2:05.781 |
| 10 | 10 | Justin Brayton | Yamaha YZ450F | +1:37.031 | 2:07.886 |
| 11 | 44 | Matthew Goerke | KTM 450 SX-F Factory Edition | +1:53.109 | 2:09.551 |
| 12 | 48 | Ben Lamay | Yamaha YZ450F | +1:55.593 | 2:10.009 |
| 13 | 11 | Kyle Chisholm | Yamaha YZ450F | +1:57.507 | 2:09.659 |
| 14 | 54 | Christian Craig | Honda CRF450R | +1:58.852 | 2:09.376 |
| 15 | 606 | Ronnie Stewart | Suzuki RM-Z450 | 16 Laps | 2:09.700 |
| 16 | 27 | Nicholas Wey | Kawasaki KX450F | +02.358 | 2:11.688 |
| 17 | 80 | Fredrik Noren | Honda CRF450R | +03.455 | 2:10.258 |
| 18 | 95 | Evgeny Mikhaylov | KTM 450 SX-F | +05.064 | 2:12.756 |
| 19 | 123 | Kevin Rookstool | KTM 450 SX-F | +05.508 | 2:11.593 |
| 20 | 131 | Noah Mcconahy | Honda CRF450R | +19.449 | 2:12.212 |
| 21 | 219 | Shane Sewell | KTM 450 SX-F | +19.720 | 2:12.583 |
| 22 | 535 | Joey Peters | Yamaha YZ450F | +28.531 | 2:13.778 |
| 23 | 39 | Ryan Sipes | KTM 450 SX-F | +47.113 | 2:07.952 |
| 24 | 168 | Tucker Hibbert | Honda CRF450R | +1:00.107 | 2:14.515 |
| 25 | 285 | Tony Archer | Kawasaki KX450F | +1:08.865 | 2:14.660 |
| 26 | 987 | Matthew Babbitt | Honda CRF450R | +1:10.114 | 2:14.621 |
| 27 | 945 | Michael Stryker | Suzuki RM-Z450 | +1:12.815 | 2:14.873 |
| 28 | 993 | Austin Wagner | Honda CRF450R | +1:26.126 | 2:13.920 |
| 29 | 452 | Sean Hackley | KTM 450 SX-F Factory Edition | +1:57.043 | 2:12.476 |
| 30 | 950 | Nathen LaPorte | Yamaha YZ450F | +2:01.728 | 2:15.999 |
| 31 | 140 | Johnny Moore | Honda CRF450R | 15 Laps | 2:18.641 |
| 32 | 881 | Jerry Lorenz | Yamaha YZ450F | +36.243 | 2:17.691 |
| 33 | 841 | Jeffrey Walker | KTM 450 SX-F Factory Edition | +1:58.761 | 2:18.308 |
| 34 | 861 | Eric Montreuil | Yamaha YZ450F | 14 Laps | 2:20.513 |
| 35 | 92 | Kellian Rusk | Yamaha YZ450F | 12 Laps | 2:10.817 |
| 36 | 77 | Jimmy Albertson | KTM 450 SX-F | 8 Laps | 2:11.418 |
| 37 | 869 | Robert Lind | Yamaha YZ450F | +1:02.077 | 2:17.182 |
| 38 | 40 | Weston Peick | Suzuki RM-Z450 | 6 Laps | 2:09.024 |
| 39 | 7 | James Stewart | Suzuki RM-Z450 | 3 Laps | 2:30.297 |
| 40 | 761 | Cade Clason | Honda CRF450R | +12:26.062 | 2:41.177 |
450MX Class Moto 2 Results - Race Time: 35:42.465
| Pos. | # | Rider | Bike | Interval | Best Time |
| --- | --- | --- | --- | --- | --- |
| 1 | 94 | Ken Roczen | KTM 450 SX-F Factory Edition | 17 Laps | 2:04.425 |
| 2 | 3 | Eli Tomac | Honda CRF450R | +10.398 | 2:04.526 |
| 3 | 5 | Ryan Dungey | KTM 450 SX-F Factory Edition | +34.405 | 2:04.440 |
| 4 | 41 | Trey Canard | Honda CRF450R | +37.762 | 2:04.194 |
| 5 | 29 | Andrew Short | KTM 450 SX-F Factory Edition | +1:14.268 | 2:07.090 |
| 6 | 33 | Josh Grant | Yamaha YZ450F | +1:15.523 | 2:08.411 |
| 7 | 22 | Chad Reed | Kawasaki KX450F | +1:17.840 | 2:08.281 |
| 8 | 24 | Brett Metcalfe | Kawasaki KX450F | +1:29.839 | 2:07.145 |
| 9 | 10 | Justin Brayton | Yamaha YZ450F | +1:35.867 | 2:08.709 |
| 10 | 80 | Fredrik Noren | Honda CRF450R | +1:40.510 | 2:07.999 |
| 11 | 39 | Ryan Sipes | KTM 450 SX-F | +1:45.709 | 2:08.471 |
| 12 | 7 | James Stewart | Suzuki RM-Z450 | +2:08.952 | 2:09.860 |
| 13 | 11 | Kyle Chisholm | Yamaha YZ450F | +2:20.565 | 2:11.842 |
| 14 | 54 | Christian Craig | Honda CRF450R | 16 Laps | 2:09.569 |
| 15 | 48 | Ben Lamay | Yamaha YZ450F | +03.198 | 2:12.661 |
| 16 | 44 | Matthew Goerke | KTM 450 SX-F Factory Edition | +15.806 | 2:10.711 |
| 17 | 27 | Nicholas Wey | Kawasaki KX450F | +26.502 | 2:13.060 |
| 18 | 77 | Jimmy Albertson | KTM 450 SX-F | +30.860 | 2:13.129 |
| 19 | 95 | Evgeny Mikhaylov | KTM 450 SX-F | +32.934 | 2:13.570 |
| 20 | 761 | Cade Clason | Honda CRF450R | +50.967 | 2:12.939 |
| 21 | 168 | Tucker Hibbert | Honda CRF450R | +54.377 | 2:12.694 |
| 22 | 452 | Sean Hackley | KTM 450 SX-F Factory Edition | +1:14.000 | 2:15.718 |
| 23 | 123 | Kevin Rookstool | KTM 450 SX-F | +1:17.070 | 2:14.174 |
| 24 | 987 | Matthew Babbitt | Honda CRF450R | +1:19.446 | 2:15.156 |
| 25 | 993 | Austin Wagner | Honda CRF450R | +1:50.727 | 2:16.198 |
| 26 | 131 | Noah Mcconahy | Honda CRF450R | +1:58.149 | 2:12.052 |
| 27 | 285 | Tony Archer | Kawasaki KX450F | +2:15.883 | 2:17.328 |
| 28 | 950 | Nathen LaPorte | Yamaha YZ450F | 15 Laps | 2:17.650 |
| 29 | 861 | Eric Montreuil | Yamaha YZ450F | +03.498 | 2:19.908 |
| 30 | 841 | Jeffrey Walker | KTM 450 SX-F Factory Edition | +04.858 | 2:21.283 |
| 31 | 140 | Johnny Moore | Honda CRF450R | +07.869 | 2:21.131 |
| 32 | 34 | Malcolm Stewart | Honda CRF450R | 14 Laps | 2:08.286 |
| 33 | 945 | Michael Stryker | Suzuki RM-Z450 | 12 Laps | 2:21.818 |
| 34 | 606 | Ronnie Stewart | Suzuki RM-Z450 | 9 Laps | 2:12.920 |
| 35 | 881 | Jerry Lorenz | Yamaha YZ450F | 4 Laps | 2:15.702 |
| 36 | 869 | Robert Lind | Yamaha YZ450F | 3 Laps | 2:27.188 |
| 37 | 219 | Shane Sewell | KTM 450 SX-F | 2 Laps | 2:13.994 |
| 38 | 92 | Kellian Rusk | Yamaha YZ450F | +25.789 | 2:08.134 |
| 39 | 535 | Joey Peters | Yamaha YZ450F | DNS | |
| 40 | 40 | Weston Peick | Suzuki RM-Z450 | DNS | |
Overall Results - 450MX Class
| Pos. | # | Rider | Bike | M1 | M2 | Points |
| --- | --- | --- | --- | --- | --- | --- |
| 1 | 94 | Ken Roczen | KTM 450 SX-F Factory Edition | 1 | 1 | 50 |
| 2 | 3 | Eli Tomac | Honda CRF450R | 4 | 2 | 40 |
| 3 | 5 | Ryan Dungey | KTM 450 SX-F Factory Edition | 3 | 3 | 40 |
| 4 | 41 | Trey Canard | Honda CRF450R | 2 | 4 | 40 |
| 5 | 29 | Andrew Short | KTM 450 SX-F Factory Edition | 5 | 5 | 32 |
| 6 | 33 | Josh Grant | Yamaha YZ450F | 6 | 6 | 30 |
| 7 | 22 | Chad Reed | Kawasaki KX450F | 8 | 7 | 27 |
| 8 | 24 | Brett Metcalfe | Kawasaki KX450F | 7 | 8 | 27 |
| 9 | 10 | Justin Brayton | Yamaha YZ450F | 10 | 9 | 23 |
| 10 | 11 | Kyle Chisholm | Yamaha YZ450F | 13 | 13 | 16 |
| 11 | 80 | Fredrik Noren | Honda CRF450R | 17 | 10 | 15 |
| 12 | 48 | Ben Lamay | Yamaha YZ450F | 12 | 15 | 15 |
| 13 | 44 | Matthew Goerke | KTM 450 SX-F Factory Edition | 11 | 16 | 15 |
| 14 | 54 | Christian Craig | Honda CRF450R | 14 | 14 | 14 |
| 15 | 34 | Malcolm Stewart | Honda CRF450R | 9 | 32 | 12 |
| 16 | 39 | Ryan Sipes | KTM 450 SX-F | 23 | 11 | 10 |
| 17 | 7 | James Stewart | Suzuki RM-Z450 | 39 | 12 | 9 |
| 18 | 27 | Nicholas Wey | Kawasaki KX450F | 16 | 17 | 9 |
| 19 | 606 | Ronnie Stewart | Suzuki RM-Z450 | 15 | 34 | 6 |
| 20 | 95 | Evgeny Mikhaylov | KTM 450 SX-F | 18 | 19 | 5 |
| 21 | 77 | Jimmy Albertson | KTM 450 SX-F | 36 | 18 | 3 |
| 22 | 123 | Kevin Rookstool | KTM 450 SX-F | 19 | 23 | 2 |
| 23 | 761 | Cade Clason | Honda CRF450R | 40 | 20 | 1 |
| 24 | 131 | Noah Mcconahy | Honda CRF450R | 20 | 26 | 1 |
Rider Point Standings - 450MX Class ( Race 12 of 24 )


Ken Roczen - 280

Ryan Dungey - 254

Trey Canard - 226

James Stewart - 196

Brett Metcalfe - 168

Josh Grant - 159

Andrew Short - 134

Chad Reed - 132

Weston Peick - 131

Malcolm Stewart - 120

Manufacturer Cup Point Standings - 450MX Class ( Race 12 of 24 )


KTM - 286

Honda - 234

Suzuki - 209

Yamaha - 176

Kawasaki - 175

250MX Class Moto 1 Results - Race Time: 36:02.170
| Pos. | # | Rider | Bike | Interval | Best Time |
| --- | --- | --- | --- | --- | --- |
| 1 | 19 | Jeremy Martin | Yamaha YZ250F | 17 Laps | 2:05.954 |
| 2 | 4 | Blake Baggett | Kawasaki KX250F | +01.092 | 2:05.635 |
| 3 | 17 | Jason Anderson | KTM 250 SX-F | +45.652 | 2:08.369 |
| 4 | 25 | Marvin Musquin | KTM 250 SX-F | +46.794 | 2:05.868 |
| 5 | 32 | Justin Bogle | Honda CRF250R | +55.926 | 2:06.057 |
| 6 | 55 | Alex Martin | Yamaha YZ250F | +57.324 | 2:09.004 |
| 7 | 30 | Kyle Cunningham | Honda CRF250R | +58.845 | 2:08.776 |
| 8 | 21 | Cole Seely | Honda CRF250R | +1:01.432 | 2:08.352 |
| 9 | 15 | Dean Wilson | Kawasaki KX250F | +1:07.445 | 2:07.865 |
| 10 | 35 | Justin Hill | Kawasaki KX250F | +1:26.344 | 2:09.819 |
| 11 | 71 | Zachary Bell | Honda CRF250R | +1:31.482 | 2:09.687 |
| 12 | 50 | Jessy Nelson | Honda CRF250R | +1:37.638 | 2:10.259 |
| 13 | 96 | Matthew Bisceglia | Honda CRF250R | +1:52.276 | 2:11.296 |
| 14 | 37 | Cooper Webb | Yamaha YZ250F | +2:05.802 | 2:05.558 |
| 15 | 267 | Anthony Rodriguez | Yamaha YZ250F | +2:12.113 | 2:10.970 |
| 16 | 371 | Dakota Alix | KTM 250 SX-F | +2:17.820 | 2:12.969 |
| 17 | 91 | Jacob Baumert | Kawasaki KX250F | 16 Laps | 2:13.336 |
| 18 | 410 | Jace Owen | Honda CRF250R | +09.428 | 2:12.716 |
| 19 | 43 | Joseph Savatgy | KTM 250 SX-F | +10.290 | 2:13.238 |
| 20 | 874 | Zack Williams | Honda CRF250R | +43.928 | 2:16.298 |
| 21 | 421 | Vann Martin | Honda CRF250R | +48.613 | 2:16.810 |
| 22 | 418 | Erki Kahro | KTM 250 SX-F | +53.850 | 2:16.294 |
| 23 | 620 | Brad Nauditt | Honda CRF250R | +1:05.225 | 2:17.425 |
| 24 | 273 | Conner Elliott | Honda CRF250R | +1:10.643 | 2:17.011 |
| 25 | 353 | Kody Kamm | Honda CRF250R | +1:10.937 | 2:16.665 |
| 26 | 826 | Matthew Burkeen | KTM 250 SX-F | +1:37.654 | 2:18.502 |
| 27 | 798 | Cody Gragg | Yamaha YZ250F | +1:39.457 | 2:16.873 |
| 28 | 683 | Brandon Riehm | Kawasaki KX250F | +1:59.035 | 2:17.521 |
| 29 | 975 | Jake Loberg | Kawasaki KX250F | 15 Laps | 2:19.646 |
| 30 | 479 | James Coen | Honda CRF250R | +37.716 | 2:20.695 |
| 31 | 791 | Dillon Finley | Honda CRF250R | +43.827 | 2:20.148 |
| 32 | 904 | Jarett Pesci | Honda CRF250R | +1:41.626 | 2:18.359 |
| 33 | 243 | Joseph Dalzell | Kawasaki KX250F | +1:57.439 | 2:18.427 |
| 34 | 83 | Dakota Tedder | Kawasaki KX250F | 13 Laps | 2:16.752 |
| 35 | 78 | Matthew Lemoine | Kawasaki KX250F | 9 Laps | 2:11.476 |
| 36 | 62 | Mitchell Oldenburg | Honda CRF250R | +22.760 | 2:10.444 |
| 37 | 47 | Kyle Peters | Honda CRF250R | +1:52.072 | 2:11.219 |
| 38 | 99 | Justin Starling | Honda CRF250R | 8 Laps | 2:14.402 |
| 39 | 377 | Christophe Pourcel | Yamaha YZ250F | 5 Laps | 2:05.959 |
| 40 | 449 | Dakota Kessler | Honda CRF250R | 3 Laps | 2:16.108 |
| 41 | 70 | Brady Kiesel | Honda CRF250R | DNS | |
250MX Class Moto 2 Results - Race Time: 34:29.406
| Pos. | # | Rider | Bike | Interval | Best Time |
| --- | --- | --- | --- | --- | --- |
| 1 | 37 | Cooper Webb | Yamaha YZ250F | 16 Laps | 2:08.048 |
| 2 | 19 | Jeremy Martin | Yamaha YZ250F | +01.788 | 2:08.014 |
| 3 | 25 | Marvin Musquin | KTM 250 SX-F | +19.906 | 2:09.010 |
| 4 | 17 | Jason Anderson | KTM 250 SX-F | +25.539 | 2:08.890 |
| 5 | 15 | Dean Wilson | Kawasaki KX250F | +28.780 | 2:09.644 |
| 6 | 21 | Cole Seely | Honda CRF250R | +33.343 | 2:09.087 |
| 7 | 4 | Blake Baggett | Kawasaki KX250F | +38.475 | 2:08.393 |
| 8 | 35 | Justin Hill | Kawasaki KX250F | +41.441 | 2:09.040 |
| 9 | 55 | Alex Martin | Yamaha YZ250F | +43.356 | 2:09.722 |
| 10 | 43 | Joseph Savatgy | KTM 250 SX-F | +46.327 | 2:10.970 |
| 11 | 377 | Christophe Pourcel | Yamaha YZ250F | +1:04.757 | 2:10.775 |
| 12 | 32 | Justin Bogle | Honda CRF250R | +1:05.873 | 2:08.616 |
| 13 | 267 | Anthony Rodriguez | Yamaha YZ250F | +1:17.485 | 2:11.796 |
| 14 | 96 | Matthew Bisceglia | Honda CRF250R | +1:22.521 | 2:10.992 |
| 15 | 30 | Kyle Cunningham | Honda CRF250R | +1:28.258 | 2:11.915 |
| 16 | 47 | Kyle Peters | Honda CRF250R | +1:29.823 | 2:12.809 |
| 17 | 71 | Zachary Bell | Honda CRF250R | +1:34.402 | 2:10.808 |
| 18 | 410 | Jace Owen | Honda CRF250R | +1:37.022 | 2:13.066 |
| 19 | 371 | Dakota Alix | KTM 250 SX-F | +1:51.467 | 2:12.441 |
| 20 | 70 | Brady Kiesel | Honda CRF250R | +1:56.352 | 2:13.032 |
| 21 | 62 | Mitchell Oldenburg | Honda CRF250R | +2:14.170 | 2:13.196 |
| 22 | 78 | Matthew Lemoine | Kawasaki KX250F | 15 Laps | 2:12.396 |
| 23 | 91 | Jacob Baumert | Kawasaki KX250F | +02.516 | 2:14.306 |
| 24 | 418 | Erki Kahro | KTM 250 SX-F | +28.089 | 2:17.175 |
| 25 | 874 | Zack Williams | Honda CRF250R | +39.211 | 2:16.298 |
| 26 | 353 | Kody Kamm | Honda CRF250R | +39.662 | 2:18.001 |
| 27 | 273 | Conner Elliott | Honda CRF250R | +41.997 | 2:19.456 |
| 28 | 620 | Brad Nauditt | Honda CRF250R | +58.094 | 2:18.416 |
| 29 | 449 | Dakota Kessler | Honda CRF250R | +59.109 | 2:16.168 |
| 30 | 243 | Joseph Dalzell | Kawasaki KX250F | +1:17.657 | 2:17.892 |
| 31 | 798 | Cody Gragg | Yamaha YZ250F | +1:49.372 | 2:19.574 |
| 32 | 421 | Vann Martin | Honda CRF250R | +2:04.374 | 2:19.620 |
| 33 | 904 | Jarett Pesci | Honda CRF250R | +2:06.838 | 2:19.262 |
| 34 | 683 | Brandon Riehm | Kawasaki KX250F | +2:18.341 | 2:20.086 |
| 35 | 83 | Dakota Tedder | Kawasaki KX250F | 14 Laps | 2:18.860 |
| 36 | 479 | James Coen | Honda CRF250R | +1:45.376 | 2:20.364 |
| 37 | 791 | Dillon Finley | Honda CRF250R | +1:54.763 | 2:23.648 |
| 38 | 975 | Jake Loberg | Kawasaki KX250F | 12 Laps | 2:19.171 |
| 39 | 99 | Justin Starling | Honda CRF250R | 9 Laps | 2:17.554 |
| 40 | 826 | Matthew Burkeen | KTM 250 SX-F | 8 Laps | 2:18.970 |
| 41 | 50 | Jessy Nelson | Honda CRF250R | 7 Laps | 2:10.331 |
Overall Results - 250MX Class
Pos.
#
Rider
Bike
M1
M2
Points
1
19
Jeremy Martin
Yamaha YZ250F
1
2
47
2
25
Marvin Musquin
KTM 250 SX-F
4
3
38
3
17
Jason Anderson
KTM 250 SX-F
3
4
38
4
4
Blake Baggett
Kawasaki KX250F
2
7
36
5
37
Cooper Webb
Yamaha YZ250F
14
1
32
6
15
Dean Wilson
Kawasaki KX250F
9
5
28
7
21
Cole Seely