Power Up: Bikemaster 12-Volt Motorcycle Power Adapter And IPhone Charger
Chaparral Motorsports
|
June 26, 2014
Motorcycle owners will often spend countless hours and hundreds if not thousands of dollars customizing their bike to make it look better, ride better, or be more comfortable. But sometimes it's the simplest things that can make the biggest difference in the enjoyment and satisfaction you can get out of your motorcycle. One area that is ripe for simple bolt-on motorcycle accessories that can make a world of difference in your journey is your handlebars. From air-cushioned motorcycle grips and throttle assist devices to convexed mirrors and GPS units there are countless items that can be installed onto or swapped out with other components on your handlebars.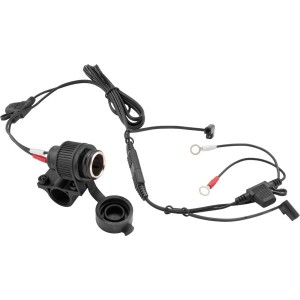 However, if you do a lot of long-distance traveling aboard your motorcycle and find that all your battery operated devices such as your MP3 player, smartphone, and GPS are constantly running out of juice then you'll definitely want to think about adding some kind of power supply to recharge your gear, such as [mageProductLink sku="326-6184" title=""]Bikemaster's 12-Volt Power Adapter and Mount[/mageProductLink].

In just a few short minutes and with very basic hand tools (a screw driver and 10mm box wrench) you can have power running from your motorcycle battery to your handlebars so you can power up all your gadgets like your iPhone or smartphone. The Bikemaster Power Adapter will fit 7/8-inch and 1/-inch handlebars and comes with plenty of electrical lead to run from the bars to your battery. Best of all, the pig tail wiring lead has ring terminals at one end that connect to the battery and has a plug on its opposite end similar to what you'll find with most battery powered heated gear and battery maintenance devices. That means you can simply unplug and remove the Bikemaster Power Adapter, leave the pig tail connected to your battery and quickly and easily plug into to a Battery Tender when storing your bike.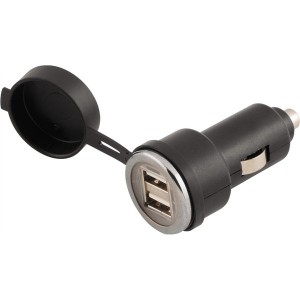 In order to power up all your USB devices you'll need a USB Power Adapter. Bikemaster offers a [mageProductLink sku="315-2234" title=""]Dual Port USB Adapter[/mageProductLink] which allows you to connect and power up two devices at once. You can buy the USB adapter individually or in a kit with the 12-Volt Handlebar mount. Either way, it's an extremely inexpensive solution to keeping you powered down the road.