Take A Motorcycle Ride With The World: Harley-Davidson's World Ride Event June 22-23
Chaparral Motorsports
|
June 17, 2014

A true motorcycle enthusiast never needs an excuse to go for a motorcycle ride, it's just something they do. However, to be able to say that you participated in a World Ride and that your mileage from a two-day ride helped rack up millions of motorcycle miles across the globe would be pretty cool. Well, you can do just that by throwing on your motorcycle gear and participating in this year's Harley-Davidson World Ride June 22-23.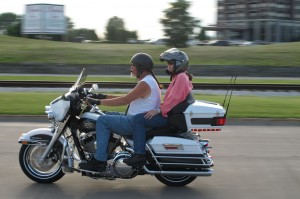 What originally started out in 2008 as a one-day event dubbed, Million Mile Monday, by the Harley Owners Group (HOG), became a two-day riding event in 2012 and was renamed the Harley-Davidson World Ride. Focused as a global event to help unite riders far and wide, last year's ride saw amazing numbers as enthusiasts from more than 66 countries were inspired to celebrate the 110th anniversary of Harley-Davidson and 30th anniversary of HOG by throwing a leg over their motorcycle and ripping the throttle, logging more than 10 million miles.

Solo, large or small groups, organized events, or charity rides, it doesn't matter how you do it, all that matters is you load up your motorcycle luggage, cinch down your helmet, fire up your machine, hit the road for two days, and let the worries of work and stresses of life wash away in the passing wind.

One long motorcycle ride or a series of short rides, how you spend your saddle time is up to you, but make sure your mileage gets added to the world total by logging into the online mileage accumulator at h-d.com/worldride. Be sure to share your photos and stories by using the hashtag #HDworldride to help you connect and communicate your experiences with others across the world.