2014 AMA Pro Motocross High Point Race Results
Chaparral Motorsports
|
June 16, 2014
James Stewart, Blake Baggett Post Dominant Sweeps At High Point
[caption id="attachment_32450" align="alignright" width="300"]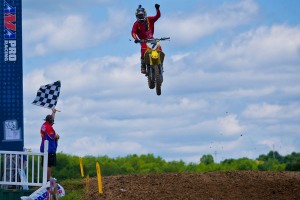 James Stewart - Photo: Matt Rice[/caption]

The fourth round of the 2014 Lucas Oil Pro Motocross Championship, sanctioned by AMA Pro Racing, took place on Saturday with the UPMC Sports Medicine High Point National, presented by United Bank and Coastal Drilling East, from High Point Raceway in Mt. Morris, Pennsylvania. For the first time this season, a non-Red Bull KTM rider emerged victorious as Team Yoshimura Suzuki's James Stewart grabbed the 20th win of his 450 Class career with a dominant 1-1 performance. In the 250 Class, Monster Energy/Pro Circuit/Kawasaki's Blake Baggett posted back-to-back victories by also sweeping the afternoon motos.

A welcomed name grabbed the MotoSport.com Holeshot Award in the first 450 Class moto of the day as Discount Tire Racing/TwoTwo Motorsports' Chad Reed put himself up front early on with Stewart right on his rear fender. The duo was followed by the three most consistent riders in the series thus far in Team Honda Muscle Milk's Trey Canard and the Red Bull KTM tandem of Ryan Dungey and Ken Roczen.

Reed paced the field for one lap before Stewart made the pass and took control of the race. As Stewart began to pull away, the battle for the remaining two spots on the podium took center stage. Reed did all he could to fend off his younger rivals, but Canard soon slipped by and eventually brought Dungey and Roczen with him. This three-rider battle was captivating, with Dungey going off the track late in his quest to pass Canard, allowing Roczen to take over the position. Roczen fought his way around Canard with two laps to go and just a short time later Canard went down, allowing Dungey to assume the position. Stewart took the checkered flag by over four seconds, with Roczen in second and Dungey third. Canard finished fourth, while Reed held on for fifth.

It was more of the same from Reed to start the final 450 Class moto, racing to the MotoSport.com Holeshot Award once again. However, Reed's time out front was short-lived this time around as Stewart also got another great start and moved into the lead on the opening lap. A surging Canard, Dungey, and Roczen soon passed Reed, with each rider knowing they needed to track down Stewart.

[caption id="attachment_32445" align="alignleft" width="300"]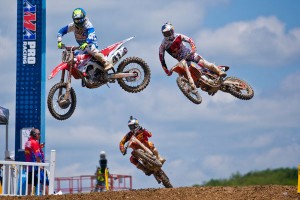 Canard, Roczen, & Dungey - Photo: Matt Rice[/caption]

Canard kept Stewart honest for several laps, bringing Dungey with him and setting up a three-rider battle out front. Roczen wasn't far behind in fourth and soon began closing in on Dungey. As the leaders approached lappers, Stewart was able to open a little bit of a gap and the battle for second soon came down to Canard, Dungey, and Roczen yet again. Canard stood tough against the KTM duo and Roczen eventually slipped past Dungey for third in the closing minutes, only to give the position back a short time later. As Dungey made a final push to catch Canard, he lost the front end of his motorcycle and went down, handing third back to Roczen. Stewart wasn't able to pull away in the same manner in the first moto, but still wrapped up a 1-1 outing, winning by just under a second over Canard, with Roczen third and Dungey fourth.

Stewart's perfect day resulted in his first overall win since the ninth round of the championship a year ago.

"I was excited about coming this weekend because we made some good improvements on the bike," said Stewart, who had one career 450 Class win at High Point entering the race. "It's been a while since we've had this speed and pace in reserve and I felt comfortable doing it. This track is one of the ones that I've had to overcome, but it was nice to get a win. It's actually the first time I've gone 1-1 in a while, so we'll go back and keep on working and go from here."

Roczen finished in the runner-up spot (2-3) and is the only rider in the class to finish on the podium at each round thus far, while Canard grabbed his third podium in four rounds (4-2). Dungey missed out on the top three for the first time this season in fourth (3-4) with Toyota/Yamaha/JGRMX's Josh Grant in fifth (6-6).

[caption id="attachment_32448" align="alignright" width="300"]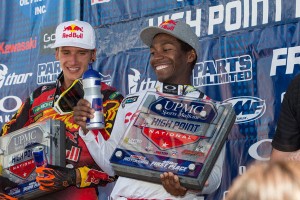 James Stewart & Ken Roczen - Photo: George Crosland[/caption]

Roczen extended his lead over Dungey in the 450 Class standings, which now sits at 16 points. Stewart moved into third and is just six points behind Dungey for second.

"I didn't get a start both motos and that makes it tougher, but I felt like I was riding good," said Roczen. "It's about keeping it consistent. I think I'm going to work on some starts and in a couple weeks we'll bounce back. I just need to get a jump and get up front. I think it will make it that much easier."

The 250 Class kicked off the afternoon with Valli Motorsports Yamaha's Christophe Pourcel racing to the Motosport.com Holeshot Award, only to be quickly passed by GEICO Honda's Justin Bogle. Behind this duo, Yamalube/Star Racing Yamaha's Jeremy Martin, Baggett, and Red Bull KTM's Marvin Musquin rounded out the top five.

As Bogle began to open a gap, Martin made his move on Pourcel and set his sights on the lead. After a couple laps of battling, a surging Baggett caught both Bogle and Martin off guard to assume the lead on Lap 6. Once out front, Baggett controlled the moto from there on out while Martin and Bogle continued their battle for second. Baggett crossed the finish nearly 11 seconds ahead of Martin in second, while Yamalube/Star Racing Yamaha's Cooper Webb made an impressive climb from eighth on the opening lap to pass Bogle late and finish third.

[caption id="attachment_32438" align="alignleft" width="300"]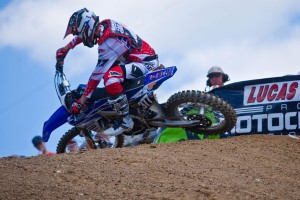 Christophe Pourcel - Photo: Matt Rice[/caption]

The final moto of the afternoon saw Pourcel sweep the Motosport.com Holeshot Awards, with the Frenchman able to maintain control of the race for the early stages over Rockstar Energy Racing's Jason Anderson, with Monster Energy/Pro Circuit/Kawasaki's Justin Hill rounding out the top three. Not far behind was Baggett making his push to the front in fourth, while Troy Lee Designs/Lucas Oil/Honda's Cole Seely rounded out the top five. After a strong opening moto, the Yamalube/Star Racing/Yamaha tandem of Martin and Webb were in eighth and 10th, respectively.

Baggett took over second from Anderson early and sat in pursuit of Pourcel for three laps before eventually moving into first and beginning his march to victory. With Baggett pulling away, Pourcel and Anderson engaged in an exciting battle for second with Anderson ultimately getting the upper hand on the veteran. While the action settled up front, Martin and Webb fought their way forward, but were never a factor. Baggett wrapped up his dominant ride with a 16-second margin over Anderson in second, with Pourcel third. Bogle finished fourth and Hill fifth, while Martin and Webb worked their way into sixth and seventh.

Baggett's 1-1 outing was his first since RedBud on July 7, 2012, the same year he won the 250 Class title.

"The starts don't come easy out there and we're still working on that," said Baggett. "I feel that I should be up front. Those guys are riding great, but I'm going to do what I can to go after the championship."

[caption id="attachment_32439" align="alignright" width="300"]
250MX Podium - Photo: Matt Rice[/caption]

Martin's resiliency helped him finish second overall (2-6) and he remains the only rider in the division to finish on the podium in each of the first four rounds. Anderson secured the best finish of his career in third (7-2), edging out Bogle (4-4) by virtue of the second moto tiebreaker. Pourcel rounded out the top five (6-3).

Martin maintains control of the 250 Class standings, holding a 29-point lead over Webb. Baggett closed in to within 36 points in third.

The 2014 Lucas Oil Pro Motocross Championship will take its first break of the season next weekend and will resume on June 28 for the fifth round. Muddy Creek Raceway in Blountville, Tennessee, will serve as the host site of the Red Bull Tennessee National. Action begins at 1 p.m. ET.

http://www.youtube.com/watch?v=IMMQdLnByrM

Source: Pro Motocross

James Stewart & Yoshimura Suzuki Win High Point
[caption id="attachment_32457" align="alignright" width="300"]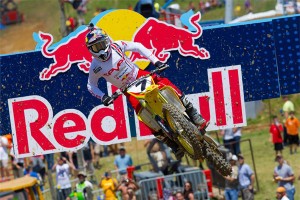 James Stewart[/caption]

Yoshimura Suzuki Factory Racing's James Stewart captured his first overall victory of the 2014 AMA Pro Motocross season at the High Point National in Mt. Morris in Pennsylvania at the weekend.

Stewart came into round four of the series having picked-up his first moto win at the previous round and more than topped that performance by taking both moto wins to get the overall victory. This marks Stewart's first High Point overall win in six years.

"Today went great," said an ecstatic Stewart. "I've got to give a shout-out to the Yoshimura Suzuki team. We've been working hard and the Yoshimura Suzuki RM-Z450 was awesome today."

In both 450 motos, Stewart got excellent launches off the gate, overtaking the lead on the second lap in moto one and on the first lap in moto two and went on to pull a gap and lead all remaining laps in both motos. As a result, the Yoshimura Suzuki rider won both races and, ultimately, the overall victory for the day.

James Stewart:
"In the first moto I got a good start on the Yoshimura Suzuki RM-Z450 and was able to pull a good lead. I think at one point, I was out by like 13 seconds and I just kind-of cruised in to the finish. It was awesome to get a win on a track where I've struggled a bit. The second moto was basically a carbon-copy of the first. I was able to go one-one today.

"It's definitely special to have started out how we did at Glen Helen, with a solid sixth place and over a minute behind, and then to finally win a moto last weekend and then to go one-one this week - it was great. I'm looking forward to having a week off and then coming back for the Tennessee National."
Yoshimura Suzuki Factory Racing's next race is round five of the 2014 AMA Pro Motocross Championships on Saturday, June 28th at the Tennessee National in Blountville, Tennessee.

http://www.youtube.com/watch?v=wRQRmjglUnk

Source: Team Suzuki

Ken Roczen Earns 2nd Overall At High Point Motocross National
[caption id="attachment_32447" align="alignright" width="199"]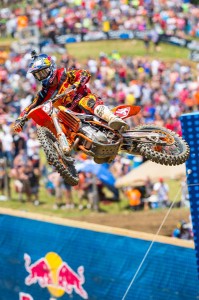 Ken Roczen - Photo: Simon Cudby[/caption]

Red Bull KTM Factory rider Ken Roczen earned 2nd overall at the fourth round of the Lucas Oil Pro Motocross Series held at High Point Raceway. His teammate, Ryan Dungey, earned 4th overall for the day after rebounding from a late race crash in the second moto.

Roczen, the current series point leader, turned the fastest lap of the morning qualifying sessions. Roczen and Dungey did not have the starts they wanted in the first moto. Dungey came around the first corner in 8th place and quickly began to make passes. Roczen was a bit further back and checked in at 12th position on the first lap. The two riders climbed through the pack and began to push toward a podium position after the halfway point. The teammates battled together for the runner-up position in the last laps of the race with Roczen eventually taking the spot over Dungey.

In the second moto both riders earned better starts on their KTM 450 SX-Fs and were within the top five around the first corner. They battled with Trey Canard through most of the moto for a podium position. Within the final laps, Roczen and Dungey, once again, found themselves battling for the same position. Dungey made the pass on Roczen but crashed with a few laps remaining and lost the position. Roczen capitalized on the mistake and finished 3rd while Dungey finished 4th. Roczen's 2-3 moto results earned him 2nd overall for the day while Dungey's scores placed him 4th overall.

"Not getting a good start in both motos hurt me today," stated Roczen. "I got held up a little bit at certain times on the track but I was happy with how I bounced back from poor starts and still landed on the podium. I'm happy to be consistent and continue to hold the point lead heading to the next round."

Next Round: June 28, 2014 - Tennessee National, Blountville, TN

Source: KTM North America

JGRMX High Point Race Report
[caption id="attachment_32443" align="alignright" width="300"]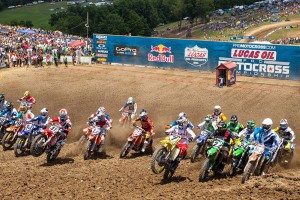 450MX Moto 2 - Photo: George Crosland[/caption]

High Point is one of the longest running venues on the tour, with Saturday's event the 38th annual pro national at the facility. The late Dave Coombs opened the track located in Mt. Morris, Pa. in the fall of 1976. It is fitting that now the entire Lucas Oil AMA Pro Motocross Championship Series is run by the Coombs family. High Point has the distinction of being the first pro national to be featured live on NBC on June 13, 2009. MAVTV aired the first moto from Mt. Morris live, and the second moto was broadcast live by the NBC Sports Network. First motos are always streamed live on promotocross.com and both motos from each round are archived on promotocross.com.

Justin Brayton was expected to race at High Point, but after further evaluating his recovery progress he elected to take advantage of the upcoming weekend off and make his return at Muddy Creek Raceway. Josh Grant and Phil Nicoletti, with support from St. Lawrence Radiology and N-FAB raced for the Toyota/Yamaha/JGRMX Team at High Point. Grant did not get a good start when the first moto began, and checked in at 15th at the conclusion of the first lap. Nicoletti was seventh on lap one. Grant charged forward the entire race, ultimately working his way to sixth with Nicoletti eighth when the checkers were out. Grant began the second moto just outside the top-10 with Nicoletti sixth. Grant again began moving forward with Nicoletti controlling fifth place past the halfway mark. Grant again raced his way to sixth place, with Nicoletti 12th. Grant's 6 - 6 results gave him fifth overall, with Nicoletti's 8 - 12 finishes earning him 10th at High Point.

After a week off the series resumes at Muddy Creek Raceway in Blountville, Tenn. on June 28. MAVTV will broadcast the first moto live at 1:00 p.m. (EST). The second moto will air live on NBC at 3:00 p.m. (EST). The first moto will also stream live on promotocross.com.

Source: JGRMX

Blake Baggett Claims His Second Consecutive Overall Win For Monster Energy/Pro Circuit/Kawasaki At High Point
Deep in the rolling hills of Pennsylvania, Monster Energy/Pro Circuit/Kawasaki's Blake Baggett swept the 250 Class with a 1-1 performance at the Lucas Oil Pro Motocross Championship in Mt. Morris on Saturday. Baggett returned to the top of the podium at High Point in dominant fashion capturing the 125th moto win for the Kawasaki KX250F and its 150th overall podium finish. Justin Hill rode his KX250F to another top five moto finish and placed eighth overall. Monster Energy/Pro Circuit/Kawasaki's Brett Metcalfe overcame some mistakes to finish ninth overall just behind fellow Australian, Discount Tire/TwoTwo Motorsports Kawasaki rider Chad Reed who placed eighth overall in the 450 Class. Jake Weimer was in position to have a banner day until he crashed in the first moto and was struck by another rider. The collision left him cut up and battered, forcing him out of competition for the day.

[caption id="attachment_32465" align="alignright" width="300"]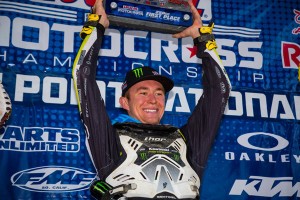 Blake Baggett[/caption]

Making His Rise
Two years ago Baggett won the overall at High Point, rebounding from a crash that left his bike twisted and his helmet visor broken. That day earned him the nickname "El Chupacabra" and on Saturday, "El Chupacabra" returned to dominate once again. Baggett started the first moto within the top five and wasted little time making his way to the front of the field. By the ten minute mark, El Chupacabra had shown his teeth and passed from fourth to first including the current points leader. From there he continued to pull away and crossed the finish line with more than a 10 second margin. In the second moto, Baggett got another great start on his KX250F and was into the lead by Lap 6. The past champion swept the day and will continue his quest for the top of the points standings in Tennessee as he sits third, just seven points out of second place.

"This one really goes out to the team at Monster Energy/Pro Circuit/Kawasaki," said Baggett. "With my eye injury, we only had a handful of days on the bike before the start of the season and it showed. But each week, together we have been working our butts off to get the bike where I like it and my eye continues to improve as well. We've got a deficit to make up, but I'm hungry for that red plate and we'll keep chipping away until we get it."

[caption id="attachment_32460" align="alignleft" width="300"]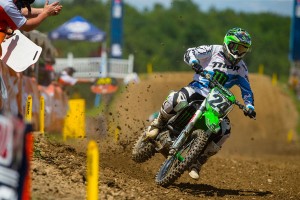 Brett Metcalfe[/caption]

Expecting More
Metcalfe came into the weekend feeling optimistic, despite High Point being one of his least favorite tracks on the calendar. The No.24 Kawasaki KX450F qualified as fifth fastest in practice and looked comfortable on the slick, hard-packed track. In the first moto, Metcalfe was making his way forward within the top-10 and was as high as eighth before a late race crashed knocked him back and finished ninth. Still shaken up from the crash, the Australian battled through the second moto to finish a strong seventh and remains fifth overall in the points standings

"All things considered, today wasn't horrible but not ideal," said Metcalfe. "This track isn't one of my favorites, but the Monster Energy Kawasaki team has done a tremendous job at getting the bike suited for me and I felt good. The crash in Moto 1 took the wind out of my sails a bit. We salvaged some good points and I'm excited to head to Tennessee, a track I've never been to."

[caption id="attachment_32463" align="alignright" width="300"]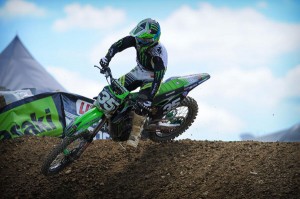 Justin Hill[/caption]

Limiting Mistakes
Hill was in a constant battle on the track all day at High Point. In the first moto, he had to come through the field after getting pinched off on the start and was constantly jockeying for position. He was able to find his way into the top 10 and finished ninth. Hill got a much better start in the second moto and rounded the first turn up front with the leaders. Coming across the first lap in third, Hill pushed his pace to stay up front, battling within the top five. He challenged for a spot on the podium in the second half of the moto until a crash cost him a couple positions and he crossed the checkered in fifth.

"Crashing sucks," said Hill. "I really felt good running the pace of those guys and of course the start was crucial. I started to push it a bit and made a bunch of mistakes and eventually one got the better of me. It was a good moto to build on and I will carry this momentum through the weekend off and into Tennessee."

[caption id="attachment_32459" align="alignleft" width="300"]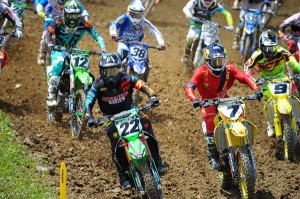 Chad Reed[/caption]

Holeshots
Reed showed off the impressive power of the Kawasaki KX450F as he ripped two holeshots on the uphill High Point start and was able to lead a lap and be upfront for the first time this season. The Australian settled into his pace in the first moto and finished fifth, while the second moto Reed made a few mistakes and rounded out the top 10.

Headed South
The Lucas Oil AMA Pro Motocross Championship heads into its first weekend off, but the work will not ease up for the Monster Energy Kawasaki riders. Round 5 brings the team to the Tennessee National on June 28th. The riders will take advantage of the weekend off to continue testing and improving, while Weimer will have a week to rest his injuries sustained from the weekend.

Source: Kawasaki Racing

Yamalube/Star Racing/Yamaha Continues its Championship Assault
[caption id="attachment_32441" align="alignright" width="300"]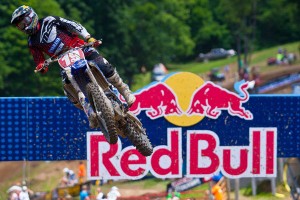 Jeremy Martin - Photo: Matt Rice[/caption]

After four rounds of the Lucas Oil Pro Motocross Series, Yamalube/Star Racing/Yamaha riders Jeremy Martin and Cooper Webb continue to occupy first and second places in the overall standings, a position they have enjoyed all season long. Jeremy Martin holds a commanding 36-point lead over third place.

Conditions were questionable for the UPMC High Point National in Mt. Morris, Pennsylvania, as rain prior to the event created a muddy, challenging track, but conditions improved throughout the day and made for exciting racing. Things started out well for Jeremy Martin as he won the Oakley Time Bomb award as fastest qualifier. Jeremy backed up his qualifying win with a strong second place finish in moto one, followed by Cooper in third place. After fighting his way back from a crash in moto two, Martin worked his way up to sixth place to finish second overall, making him the only rider in the 250 class to finish on the podium at every event.

The Yamalube/Star Racing/Yamaha Team would like to express its thanks to Keith McCarty and the crew at Yamaha Pro Racing for their continued technical assistance in putting an outstanding motorcycle on the track, as well as their support of the Star Racing amateur platform, which allows the development of outstanding young talent like Jeremy and Cooper. Thanks as well to all our sponsors that provide necessary financial and technical support. It is this commitment that will allow the Yamalube/Star Racing/Yamaha Team to achieve its goal of an AMA 250 National Motocross Championship, Yamaha's first 250/Lites/125 championship since Jeff Emig's championship in 1992.

Source: Star Racing Yamaha

Jason Anderson Back On The Podium At Highpoint
[caption id="attachment_32440" align="alignright" width="300"]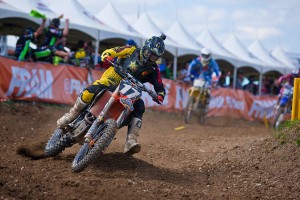 Jason Anderson - Photo: Matt Rice[/caption]

The rain came down hard on the scenic hills of Highpoint Raceway the day prior to the 4th round of the 2014 Motocross Nationals. This made for very muddy practice sessions, but with the dry weather on race day, the track certainly came around. It began to improve so rapidly, in fact, that lap times decreased from the 2:20 range all the way down to 2:07 just from the first practice to the second. This also made for a very rutted course however; and as the ruts began to dry and harden, it became very technical as well. This seemed to pose no problem for Jason Anderson as he made his expected return to podium form. Rockstar Energy Racing was also joined by former team rider and current GNCC competitor Ryan Sipes.

It's certainly no secret that Jason Anderson did not have the best start to his outdoor campaign and he definitely didn't foresee being down so many points at this stage of the season. Part of racing motocross is overcoming adversity and he's had his fair share thus far. It appears that the tide has now shifted though, and his luck is turning around. After staying off the bike midweek during the first 3 rounds due to a broken tailbone, Jason decided to just ride through it and get some time on the bike this past week. The improvement was evident immediately in the first round of qualifying practice where he has struggled the past couple rounds.

In the first moto, Anderson once again started outside the top 15, something he has been hampered by all season. He managed to move through the very competitive pack once again for a decent finish. The second moto was a completely different story. JA started near the front of the pack and stayed there for the entire race, putting in a very impressive ride. The result was enough to garner him 3rd overall and his first podium of the motocross series. In fact had he been able to secure one more position in moto 1, he would have been rewarded with 2nd overall. All signs point to the Mr. Anderson from the recent Supercross Season being back to his usual spot as a front runner and consistent podium finisher for the next 8 rounds.

Jason Anderson:
"My weekend started alright and ended pretty good. I feel like I'm getting better and better. I feel like I've been this guy already, I just need to be able to ride during the week. I think after this weekend off, the next round is gonna be pretty sick. I believe I will have an even bigger improvement in Tennessee."
Joey Savatgy
continues to improve each week, but also must remain patient. It's going to take some time to get back to where he was after his 9 month hiatus. His overall results have improved every week. While he did not meet his goal of posting two top 10 finishes in Pennsylvania, he still made it through two more motos, staying healthy and allowing his shoulder to continue to heal. The upcoming weekend off will be a great benefit for Savatgy, giving him some time to get back to 100%, and not having to try and do so while racing.

Joey Savatgy:
"Day was alright. Qualifying did not go well, 1st moto wasn't the greatest, nor was the 2nd. However; in the overall, it was better than last weekend. Thankfully we have a weekend off. I'll have next week and the following to get things figured out, get back up to speed and build up confidence. I want to come into Muddy Creek a different guy."
Ryan Sipes left the Supercross and Motocross world to take on a different adventure this year. He set out to contend in the GNCC Off-Road Racing Series, which also gave him the opportunity to spend more time with his family. He couldn't leave it completely behind though and his plan was to hit limited rounds of the MX series as well. Sipes came out to highpoint to race the 450 class with some assistance from his former team, Rockstar Energy Racing. Coincidentally he shares many of the same sponsors as his former team anyway. Ryan managed to do very well on the day aboard his KTM off-road machine. While his equipment was not perfect for the conditions, he still finished just outside the top ten and ended up 13th overall. A very commendable result for his first 450 national of the year.

Ryan Sipes:
"I didn't know what to expect this weekend but I had a lot of fun. I came here hoping I still had some motocross speed, but I'm also racing my GNCC bike. I have my off-road suspension and motor on it. Rockstar Energy Racing helped me out and got me a smaller tank and I put on a 19" rear wheel. I'm happy to come away with an 11-15. I've still got a little bit of speed and I'm still able to go out there and mix it up. It will be nice to have an actual set of motocross suspension at Muddy Creek and come out and do better."
The team is going to get a lot out the upcoming off week going into Muddy Creek in Tennessee. Anderson will begin to get the time on the bike for testing and training that he has been missing early in the season. Savatgy will have a chance to work on what he needs to do to get him back in the top ten by the next round. Sipes will not have a weekend off, as he has a GNCC race next weekend at Snowshoe, but he will return to the motocross scene once again the following week.

Source: Rockstar Energy

GEICO Honda Mt. Morris MX Report
[caption id="attachment_32464" align="alignright" width="300"]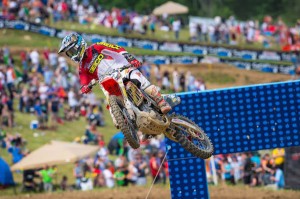 Justin Bogle - Photo: Simon Cudby[/caption]

Another solid performance by reigning 250SX East champion Justin Bogle helped the GEICO Honda rider move up one spot in the Motocross championship points. Bogle completed both of Saturday's motos in fourth place for an overall fourth-place finish. That's also the position he now holds in the championship chase at the one-third mark of the season.

"Overall, today was very positive for me," Bogle said. "I did get to lead a few laps in Moto 1, which I haven't done in a long time on an outdoor course. You learn a lot when you lead laps and I think we made some great progress with that.

"In the second moto I had to work a little harder for my position without as great of a start but I got the same result, so that was cool. I'm very happy with the progress that we are making.

"I'm going to head into Tennessee with my head high. I really like that place and had a great race there last year. My training and team are all where they should be, so I am ready to keep moving forward."

[caption id="attachment_32462" align="alignleft" width="300"]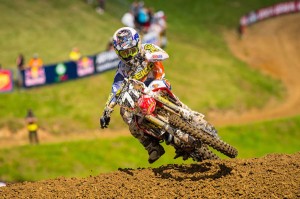 Zach Bell - Photo: Simon Cudby[/caption]

Teammate Zach Bell also sees his day as a positive despite not getting the result that he wanted. Finishing the first moto in 15th and the second moto in 11th gave him an overall position of 13th. Bike complications and deteriorating track conditions were the biggest challenges he faced.

"The first moto started out great and I was coming through the pack when I encountered a problem with my bike setup in the ruts," Bell said. "I fell three times, so I'm happy to be safe. After all that, I definitely had to fight for 15th place.

"Second moto I almost had the holeshot and maintained a good position for the beginning, but I was so exhausted from my first moto that I just kept falling back. The track was definitely gnarly today and it got extremely hot towards the end. I'm just happy I finished strong and we fixed our issues from the first race. I can't wait for Muddy Creek."

[caption id="attachment_32461" align="alignright" width="300"]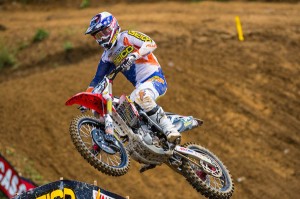 Matt Bisceglia - Photo: Simon Cudby[/caption]

Fellow GEICO Honda rider Matt Bisceglia had the most difficult day and plans to put the whole weekend behind him as quickly as possible. Bad luck from the start of the weekend would not let up for the rookie in his first visit to Mt. Morris.

"The weekend started with one delayed flight, one missed flight, and one cancelled flight," Bisceglia said. "I got in really late last night and had difficulty getting to the track today. I missed half of my first practice, so I had to rely on only one practice basically.

"Two laps into the first moto I crashed and ended up with a concussion. I was in a decent position around eighth when it happened. I honestly do not remember any of it and still am a little shaken up now. From what people tell me it was pretty bad. Rules do not let you continue to race with a head injury, so I was done for the day. I'm happy to be physically OK, and I really can't wait to get outta here and move on to the next race."

The team will race again in two weeks at Muddy Creek in Eastern Tennessee.

Source: GEICO Honda

Marvin Musquin Earns Seventh Overall At High Point National
[caption id="attachment_32437" align="alignright" width="300"]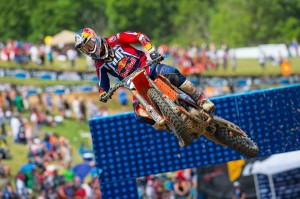 Marvin Musquin - Photo: Simon Cudby[/caption]

Red Bull KTM Factory rider Marvin Musquin earned 7th overall in the 250 Motocross class at the fourth round of the Lucas Oil Pro Motocross Series held at High Point Raceway.

Musquin remained consistent in his racing results from the third to the fourth round of the series earning a 5th place result in moto one. The French rider started in 5th position and raced for that position the entire 30 minute plus two lap moto.

"I was happy with my finish in the first moto," stated Musquin. "I am trying to work toward a top three but am definitely happy to be inside the top five again."

In the second moto he had a top ten start. On his KTM 250 SX-F he battled for 9th the first few laps and eventually worked his way up one more position. He finished 8th overall for the moto. His 5-8 scores earned him 7th overall for the day. After four rounds, he now ranks 7th overall in the series point chase.

Next Round: June 28, 2014 - Tennessee National, Blountville, TN

Source: KTM North America

High Point MX Overview And Point Standings
2014 AMA Pro Motocross High Point Image Gallery (Click for full size images)


450MX Class Moto 1 Results - Race Time: 35:56.177














































































































































































































































































































































| Pos. | # | Rider | Bike | Interval | Best Time |
| --- | --- | --- | --- | --- | --- |
| 1 | 7 | James Stewart | Suzuki RM-Z450 | 17 Laps | 2:05.071 |
| 2 | 94 | Ken Roczen | KTM 450 SX-F Factory Edition | +04.538 | 2:05.649 |
| 3 | 5 | Ryan Dungey | KTM 450 SX-F Factory Edition | +05.529 | 2:06.481 |
| 4 | 41 | Trey Canard | Honda CRF450R | +27.513 | 2:05.834 |
| 5 | 22 | Chad Reed | Kawasaki KX450F | +34.067 | 2:07.869 |
| 6 | 33 | Josh Grant | Yamaha YZ450F | +34.139 | 2:08.351 |
| 7 | 29 | Andrew Short | KTM 450 SX-F Factory Edition | +34.923 | 2:07.828 |
| 8 | 38 | Phillip Nicoletti | Yamaha YZ450F | +46.742 | 2:08.557 |
| 9 | 24 | Brett Metcalfe | Kawasaki KX450F | +1:18.214 | 2:08.682 |
| 10 | 40 | Weston Peick | Suzuki RM-Z450 | +1:25.581 | 2:10.354 |
| 11 | 39 | Ryan Sipes | KTM 450 SX-F | +1:38.182 | 2:11.604 |
| 12 | 48 | Ben Lamay | Yamaha YZ450F | +1:48.431 | 2:12.423 |
| 13 | 44 | Matthew Goerke | KTM 450 SX-F Factory Edition | +1:55.756 | 2:12.215 |
| 14 | 80 | Fredrik Noren | KTM 450 SX-F | +2:07.329 | 2:11.639 |
| 15 | 92 | Kellian Rusk | Yamaha YZ450F | +2:13.057 | 2:12.682 |
| 16 | 761 | Cade Clason | Honda CRF450R | 16 Laps | 2:13.766 |
| 17 | 95 | Evgeny Mikhaylov | KTM 450 SX-F | +00.575 | 2:14.567 |
| 18 | 606 | Ronnie Stewart | Suzuki RM-Z450 | +20.528 | 2:15.863 |
| 19 | 123 | Kevin Rookstool | KTM 450 SX-F | +21.874 | 2:15.893 |
| 20 | 535 | Joey Peters | Yamaha YZ450F | +26.178 | 2:15.010 |
| 21 | 219 | Shane Sewell | KTM 450 SX-F | +37.525 | 2:16.550 |
| 22 | 285 | Tony Archer | Kawasaki KX 450F | +50.006 | 2:17.602 |
| 23 | 131 | Noah McConahy | Honda CRF450R | +1:19.140 | 2:17.773 |
| 24 | 140 | Johnny Moore | Honda CRF450R | +1:31.666 | 2:19.210 |
| 25 | 693 | Tucker Saye | Suzuki RM-Z450 | +1:39.011 | 2:19.054 |
| 26 | 399 | Broc Peterson | Honda CRF450R | +1:46.266 | 2:19.037 |
| 27 | 531 | Todd Krieg | KTM 450 SX-F | +1:49.566 | 2:19.769 |
| 28 | 945 | Michael Stryker | Suzuki RM-Z450 | +2:05.873 | 2:21.243 |
| 29 | 467 | Ty Newcome | Suzuki RM-Z450 | +2:14.940 | 2:20.620 |
| 30 | 282 | Theodore Pauli | Kawasaki KX450F | 15 Laps | 2:21.144 |
| 31 | 579 | Alex O'Dell | Suzuki RM-Z450 | +36.557 | 2:21.790 |
| 32 | 950 | Nathen LaPorte | Yamaha YZ450F | +1:06.090 | 2:18.320 |
| 33 | 576 | Nathan Winegar | Kawasaki KX450F | 14 Laps | 2:21.395 |
| 34 | 869 | Robert Lind | Yamaha YZ450F | 13 Laps | 2:19.961 |
| 35 | 578 | Dakota Yohe | Suzuki RM-Z450 | 11 Laps | 2:21.203 |
| 36 | 120 | Todd Bannister | Honda CRF450R | 10 Laps | 2:18.490 |
| 37 | 9 | Ivan Tedesco | Suzuki RM-Z450 | 5 Laps | 2:11.501 |
| 38 | 34 | Malcolm Stewart | Honda CRF450R | +32.120 | 2:11.926 |
| 39 | 452 | Sean Hackley | KTM 450 SX-F Factory Edition | 4 Laps | 2:25.555 |
| 40 | 12 | Jacob Weimer | Kawasaki KX450F | 2 Laps | 2:10.392 |
450MX Class Moto 2 Results - Race Time: 35:09.869
| Pos. | # | Rider | Bike | Interval | Best Time |
| --- | --- | --- | --- | --- | --- |
| 1 | 7 | James Stewart | Suzuki RM-Z450 | 17 Laps | 2:03.237 |
| 2 | 41 | Trey Canard | Honda CRF450R | +00.882 | 2:04.045 |
| 3 | 94 | Ken Roczen | KTM 450 SX-F Factory Edition | +02.211 | 2:03.072 |
| 4 | 5 | Ryan Dungey | KTM 450 SX-F Factory Edition | +13.793 | 2:03.615 |
| 5 | 40 | Weston Peick | Suzuki RM-Z450 | +1:08.086 | 2:07.200 |
| 6 | 33 | Josh Grant | Yamaha YZ450F | +1:28.519 | 2:07.684 |
| 7 | 24 | Brett Metcalfe | Kawasaki KX450F | +1:41.206 | 2:07.958 |
| 8 | 29 | Andrew Short | KTM 450 SX-F Factory Edition | +1:45.698 | 2:08.694 |
| 9 | 34 | Malcolm Stewart | Honda CRF450R | +1:51.642 | 2:09.594 |
| 10 | 22 | Chad Reed | Kawasaki KX450F | +2:01.115 | 2:07.964 |
| 11 | 44 | Matthew Goerke | KTM 450 SX-F Factory Edition | +2:19.868 | 2:10.247 |
| 12 | 38 | Phillip Nicoletti | Yamaha YZ450F | +2:34.809 | 2:06.962 |
| 13 | 80 | Fredrik Noren | KTM 450 SX-F | 16 Laps | 2:10.927 |
| 14 | 48 | Ben Lamay | Yamaha YZ450F | +01.879 | 2:11.082 |
| 15 | 39 | Ryan Sipes | KTM 450 SX-F | +11.296 | 2:12.848 |
| 16 | 92 | Kellian Rusk | Yamaha YZ450F | +23.318 | 2:11.534 |
| 17 | 95 | Evgeny Mikhaylov | KTM 450 SX-F | +28.236 | 2:12.207 |
| 18 | 761 | Cade Clason | Honda CRF450R | +56.475 | 2:13.871 |
| 19 | 123 | Kevin Rookstool | KTM 450 SX-F | +1:12.060 | 2:14.962 |
| 20 | 131 | Noah McConahy | Honda CRF450R | +1:23.875 | 2:14.902 |
| 21 | 535 | Joey Peters | Yamaha YZ450F | +1:39.789 | 2:14.842 |
| 22 | 219 | Shane Sewell | KTM 450 SX-F | +1:54.649 | 2:15.265 |
| 23 | 282 | Theodore Pauli | Kawasaki KX450F | 15 Laps | 2:18.246 |
| 24 | 950 | Nathen LaPorte | Yamaha YZ450F | +09.711 | 2:18.120 |
| 25 | 467 | Ty Newcome | Suzuki RM-Z450 | +13.396 | 2:20.285 |
| 26 | 945 | Michael Stryker | Suzuki RM-Z450 | +16.493 | 2:19.316 |
| 27 | 869 | Robert Lind | Yamaha YZ450F | +38.671 | 2:20.070 |
| 28 | 452 | Sean Hackley | KTM 450 SX-F Factory Edition | +43.711 | 2:13.761 |
| 29 | 140 | Johnny Moore | Honda CRF450R | +49.873 | 2:20.554 |
| 30 | 399 | Broc Peterson | Honda CRF450R | +52.626 | 2:17.557 |
| 31 | 576 | Nathan Winegar | Kawasaki KX450F | +55.403 | 2:20.064 |
| 32 | 579 | Alex O'Dell | Suzuki RM-Z450 | +1:52.069 | 2:22.160 |
| 33 | 120 | Todd Bannister | Honda CRF450R | 14 Laps | 2:17.531 |
| 34 | 693 | Tucker Saye | Suzuki RM-Z450 | +20.242 | 2:23.964 |
| 35 | 531 | Todd Krieg | KTM 450 SX-F | 12 Laps | 2:19.503 |
| 36 | 285 | Tony Archer | Kawasaki KX450F | 6 Laps | 2:16.217 |
| 37 | 606 | Ronnie Stewart | Suzuki RM-Z450 | DNS | |
| 38 | 578 | Dakota Yohe | Suzuki RM-Z450 | DNS | |
| 39 | 9 | Ivan Tedesco | Suzuki RM-Z450 | DNS | |
| 40 | 12 | Jacob Weimer | Kawasaki KX450F | DNS | |
Overall Results - 450MX Class
| Pos. | # | Rider | Bike | M1 | M2 | Points |
| --- | --- | --- | --- | --- | --- | --- |
| 1 | 7 | James Stewart | Suzuki RM-Z450 | 1 | 1 | 50 |
| 2 | 94 | Ken Roczen | KTM 450 SX-F Factory Edition | 2 | 3 | 42 |
| 3 | 41 | Trey Canard | Honda CRF450R | 4 | 2 | 40 |
| 4 | 5 | Ryan Dungey | KTM 450 SX-F Factory Edition | 3 | 4 | 38 |
| 5 | 33 | Josh Grant | Yamaha YZ450F | 6 | 6 | 30 |
| 6 | 40 | Weston Peick | Suzuki RMZ 450 | 10 | 5 | 27 |
| 7 | 29 | Andrew Short | KTM 450 SX-F Factory Edition | 7 | 8 | 27 |
| 8 | 22 | Chad Reed | Kawasaki KX450F | 5 | 10 | 27 |
| 9 | 24 | Brett Metcalfe | Kawasaki KX450F | 9 | 7 | 26 |
| 10 | 38 | Phillip Nicoletti | Yamaha YZ450F | 8 | 12 | 22 |
| 11 | 44 | Matthew Goerke | KTM 450 SX-F Factory Edition | 13 | 11 | 18 |
| 12 | 48 | Ben Lamay | Yamaha YZ450F | 12 | 14 | 16 |
| 13 | 39 | Ryan Sipes | KTM 450 SX-F | 11 | 15 | 16 |
| 14 | 80 | Fredrik Noren | KTM 450 SX-F | 14 | 13 | 15 |
| 15 | 34 | Malcolm Stewart | Honda CRF450R | 38 | 9 | 12 |
| 16 | 92 | Kellian Rusk | Yamaha YZ450F | 15 | 16 | 11 |
| 17 | 95 | Evgeny Mikhaylov | KTM 450 SX-F | 17 | 17 | 8 |
| 18 | 761 | Cade Clason | Honda CRF450R | 16 | 18 | 8 |
| 19 | 123 | Kevin Rookstool | KTM 450 SX-F | 19 | 19 | 4 |
| 20 | 606 | Ronnie Stewart | Suzuki RM-Z450 | 18 | 37 | 3 |
| 21 | 131 | Noah McConahy | Honda CRF450R | 23 | 20 | 1 |
| 22 | 535 | Joey Peters | Yamaha YZ450F | 20 | 21 | 1 |
Rider Point Standings - 450MX Class ( Race 8 of 24 )


Ken Roczen - 183

Ryan Dungey - 167

James Stewart - 161

Trey Canard - 150

Brett Metcalfe - 115

Josh Grant - 104

Weston Peick - 104

Malcolm Stewart - 90

Chad Reed - 88

Andrew Short - 74

Manufacturer Cup Point Standings - 450MX Class ( Race 8 of 24 )


KTM - 186

Suzuki - 162

Honda - 150

Kawasaki - 121

Yamaha - 118

250MX Class Moto 1 Results - Race Time: 35:30.191
| Pos. | # | Rider | Bike | Interval | Best Time |
| --- | --- | --- | --- | --- | --- |
| 1 | 4 | Blake Baggett | Kawasaki KX250F | 17 Laps | 2:04.560 |
| 2 | 19 | Jeremy Martin | Yamaha YZ250F | +10.748 | 2:05.480 |
| 3 | 37 | Cooper Webb | Yamaha YZ250F | +19.233 | 2:05.383 |
| 4 | 32 | Justin Bogle | Honda CRF250R | +21.797 | 2:06.253 |
| 5 | 25 | Marvin Musquin | KTM 250 SX-F | +29.053 | 2:06.355 |
| 6 | 377 | Christophe Pourcel | Yamaha YZ250F | +31.485 | 2:06.772 |
| 7 | 17 | Jason Anderson | KTM 250 SX-F | +35.025 | 2:06.058 |
| 8 | 21 | Cole Seely | Honda CRF250R | +1:07.443 | 2:06.630 |
| 9 | 35 | Justin Hill | Kawasaki KX250F | +1:13.822 | 2:08.423 |
| 10 | 55 | Alex Martin | Yamaha YZ250F | +1:38.579 | 2:10.477 |
| 11 | 47 | Kyle Peters | Honda CRF250R | +1:43.136 | 2:10.920 |
| 12 | 30 | Kyle Cunningham | Honda CRF250R | +1:43.521 | 2:09.640 |
| 13 | 43 | Joseph Savatgy | KTM 250 SX-F | +1:52.485 | 2:10.768 |
| 14 | 78 | Matthew Lemoine | Kawasaki KX250F | +1:55.848 | 2:11.007 |
| 15 | 71 | Zachary Bell | Honda CRF250R | 16 Laps | 2:10.011 |
| 16 | 99 | Justin Starling | Honda CRF250R | +16.928 | 2:12.634 |
| 17 | 449 | Dakota Kessler | Honda CRF250R | +20.459 | 2:13.719 |
| 18 | 371 | Dakota Alix | KTM 250 SX-F | +37.042 | 2:14.099 |
| 19 | 83 | Dakota Tedder | Kawasaki KX250F | +50.987 | 2:15.300 |
| 20 | 874 | Zack Williams | Honda CRF250R | +1:02.096 | 2:15.778 |
| 21 | 826 | Matthew Burkeen | KTM 250 SX-F | +1:28.725 | 2:17.899 |
| 22 | 558 | Dylan Slusser | Honda CRF250R | +1:32.198 | 2:16.785 |
| 23 | 620 | Brad Nauditt | Honda CRF250R | +1:35.708 | 2:18.159 |
| 24 | 410 | Jace Owen | Honda CRF250R | +1:52.989 | 2:16.840 |
| 25 | 731 | Steve Roman | Suzuki RM-Z250 | +2:00.858 | 2:18.564 |
| 26 | 273 | Conner Elliott | Honda CRF250R | +2:01.715 | 2:19.070 |
| 27 | 736 | Daniel Lippman | Suzuki RM-Z250 | +2:15.351 | 2:18.103 |
| 28 | 683 | Brandon Riehm | Kawasaki KX250F | 15 Laps | 2:19.789 |
| 29 | 593 | Dakota Robins | Kawasaki KX250F | +03.088 | 2:21.701 |
| 30 | 243 | Joseph Dalzell | Kawasaki KX250F | +03.957 | 2:21.579 |
| 31 | 350 | Roland Beck | Honda CRF250R | +41.694 | 2:20.728 |
| 32 | 358 | Warren Nelson | Suzuki RM-Z250 | +54.248 | 2:23.937 |
| 33 | 812 | Luke Vonlinger | Honda CRF250R | +1:18.214 | 2:20.443 |
| 34 | 798 | Cody Gragg | Yamaha YZ250F | +1:24.443 | 2:18.258 |
| 35 | 142 | Cole Martinez | Kawasaki KX250F | 8 Laps | 2:14.377 |
| 36 | 62 | Mitchell Oldenburg | Honda CRF250R | 7 Laps | 2:13.261 |
| 37 | 60 | Jackson Richardson | Honda CRF250R | 4 Laps | 2:11.366 |
| 38 | 50 | Jessy Nelson | Honda CRF250R | +6:35.850 | 2:13.062 |
| 39 | 91 | Jacob Baumert | Kawasaki KX250F | 3 Laps | 2:17.581 |
| 40 | 96 | Matthew Bisceglia | Honda CRF250R | DNF | |
250MX Class Moto 2 Results - Race Time: 35:32.641
| Pos. | # | Rider | Bike | Interval | Best Time |
| --- | --- | --- | --- | --- | --- |
| 1 | 4 | Blake Baggett | Kawasaki KX250F | 17 Laps | 2:03.888 |
| 2 | 17 | Jason Anderson | KTM 250 SX-F | +16.005 | 2:05.180 |
| 3 | 377 | Christophe Pourcel | Yamaha YZ250F | +19.907 | 2:05.235 |
| 4 | 32 | Justin Bogle | Honda CRF250R | +22.883 | 2:05.044 |
| 5 | 35 | Justin Hill | Kawasaki KX250F | +33.571 | 2:06.193 |
| 6 | 19 | Jeremy Martin | Yamaha YZ250F | +34.461 | 2:05.287 |
| 7 | 37 | Cooper Webb | Yamaha YZ250F | +41.242 | 2:07.481 |
| 8 | 25 | Marvin Musquin | KTM 250 SX-F | +53.697 | 2:07.179 |
| 9 | 21 | Cole Seely | Honda CRF250R | +1:03.506 | 2:07.381 |
| 10 | 55 | Alex Martin | Yamaha YZ250F | +1:08.527 | 2:08.799 |
| 11 | 30 | Kyle Cunningham | Honda CRF250R | +1:13.863 | 2:08.843 |
| 12 | 71 | Zachary Bell | Honda CRF250R | +1:29.800 | 2:07.905 |
| 13 | 43 | Joseph Savatgy | KTM 250 SX-F | +1:34.131 | 2:10.093 |
| 14 | 78 | Matthew Lemoine | Kawasaki KX250F | +1:49.176 | 2:09.829 |
| 15 | 50 | Jessy Nelson | Honda CRF250R | +2:00.196 | 2:10.791 |
| 16 | 47 | Kyle Peters | Honda CRF250R | +2:15.232 | 2:11.697 |
| 17 | 371 | Dakota Alix | KTM 250 SX-F | 16 Laps | 2:13.011 |
| 18 | 874 | Zack Williams | Honda CRF250R | +02.834 | 2:13.290 |
| 19 | 62 | Mitchell Oldenburg | Honda CRF250R | +04.669 | 2:12.645 |
| 20 | 91 | Jacob Baumert | Kawasaki KX250F | +10.557 | 2:13.244 |
| 21 | 99 | Justin Starling | Honda CRF250R | +23.131 | 2:13.053 |
| 22 | 410 | Jace Owen | Honda CRF250R | +35.928 | 2:12.812 |
| 23 | 449 | Dakota Kessler | Honda CRF250R | +1:19.164 | 2:15.228 |
| 24 | 620 | Brad Nauditt | Honda CRF250R | +1:24.288 | 2:17.695 |
| 25 | 273 | Conner Elliott | Honda CRF250R | +1:29.690 | 2:18.987 |
| 26 | 83 | Dakota Tedder | Kawasaki KX250F | +1:51.638 | 2:17.347 |
| 27 | 798 | Cody Gragg | Yamaha YZ250F | +1:59.836 | 2:18.189 |
| 28 | 826 | Matthew Burkeen | KTM 250 SX-F | +2:02.041 | 2:18.222 |
| 29 | 736 | Daniel Lippman | Suzuki RM-Z250 | +2:02.410 | 2:19.166 |
| 30 | 731 | Steve Roman | Suzuki RM-Z250 | +2:07.759 | 2:17.237 |
| 31 | 593 | Dakota Robins | Kawasaki KX250F | 15 Laps | 2:19.727 |
| 32 | 683 | Brandon Riehm | Kawasaki KX250F | +01.134 | 2:19.527 |
| 33 | 243 | Joseph Dalzell | Kawasaki KX250F | +09.794 | 2:20.856 |
| 34 | 812 | Luke Vonlinger | Honda CRF250R | +29.299 | 2:21.644 |
| 35 | 350 | Roland Beck | Honda CRF250R | +1:14.463 | 2:18.601 |
| 36 | 358 | Warren Nelson | Suzuki RM-Z250 | +1:46.792 | 2:23.217 |
| 37 | 558 | Dylan Slusser | Honda CRF250R | 14 Laps | 2:21.060 |
| 38 | 142 | Cole Martinez | Kawasaki KX250F | DNS | |
| 39 | 60 | Jackson Richardson | Honda CRF250R | DNS | |
| 40 | 96 | Matthew Bisceglia | Honda CRF250R | DNS | |
Overall Results - 250MX Class
Pos.
#
Rider
Bike
M1
M2
Points
1
4
Blake Baggett
Kawasaki KX250F
1
1
50
2
19
Jeremy Martin
Yamaha YZ250F
2
6
37
3
17
Jason Anderson
KTM 250 SX-F
7
2
36
4
32
Justin Bogle
Honda CRF250R
4
4
36
5
377
Christophe Pourcel
Yamaha YZ250F
6
3
35
6
37
Cooper Webb
Yamaha YZ250F
3
7
34
7
25
Marvin Musquin
KTM 250 SX-F
5
8
29
8
35
Justin Hill
Kawasa