Ride Safe: ATV Safety Week June 8th-15th
Chaparral Motorsports
|
June 10, 2014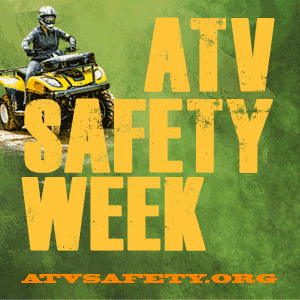 This summer, for one week, June 8-15, the ATV Safety Institute (ASI) will be rolling out ATV Safety Week throughout the country. The ASI is working with partners all across the country who have volunteered to provide free ATV RiderCourse training and other ATV Safety education opportunities to help educate ATV riders young and old on ways to reduce injuries and fatalities through the use of proper riding gear/apparel, following the rules of the off road, and employing correct riding techniques.

According to the Consumer Product Safety Commission, 92 percent of all ATV-related fatalities are the result of warned-against behaviors, such as youth riding on adult-sized ATVs. Take some time during ATV Safety Week and learn about the proper operation of your machine, find out about helmets and other protective gear, and learn ways to dramatically reduce risk for you, your family and friends.

The ATV RiderCourse is free for anyone who signs up during ATV Safety Week. The RiderCourse is also free year-round for anyone who has purchased a new, qualifying ATV from an ATV Safety Institute member company. The ASI offers easy enrollment at (800) 887-2887 or www.atvsafety.org.

ASI also offers a free E-Course available online 24/7. The online course is available in three age-specific classes for adults, teens and children. Students in each E-Course will learn how to apply the "golden rules" of ATV riding in an interactive setting. The E-Course includes videos, pictures, and interactive games to make it a fun and effective learning experience for all age groups. After taking the E-Course, users can take an ATV safety exam and receive a certificate of completion.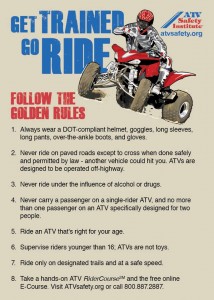 Source: ATV Safety Institute