2014 AMA Pro Motocross Thunder Valley Race Results
Chaparral Motorsports
|
June 9, 2014
Ken Roczen Makes It Two In A Row At Thunder Valley, Blake Baggett Stops Jeremy Martin
[caption id="attachment_32397" align="alignright" width="300"]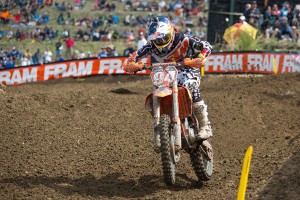 Ken Roczen - Photo: George Crosland[/caption]

The 2014 Lucas Oil Pro Motocross Championship, sanctioned by AMA Pro Racing, hosted its third round of the season on Saturday with the 10th Annual Toyota Thunder Valley National from Thunder Valley MX Park in Lakewood, Colorado. For the second straight week, Red Bull KTM's Ken Roczen claimed the overall victory in the 450 Class thanks to a win in the final moto of the afternoon. In the 250 Class, Monster Energy/Pro Circuit/Kawasaki's Blake Baggett broke through for his first win of the season, becoming just the second winner this season in the division.

In the opening 450 Class moto, Toyota/Yamaha/JGRMX's Josh Grant raced to the Motosport.com Holeshot Award but his spot at the front of the field was short lived as Team Yoshimura Suzuki's James Stewart assumed the lead just a short time later. Stewart set a fast pace in the opening laps to open a small margin while Red Bull KTM's Ryan Dungey worked his way into second and set his sights on catching the Suzuki rider out front. Behind them, Team Honda Muscle Milk's Trey Canard and Roczen also made their way past Grant to take over third and fourth, respectively.

A short time later, a four-rider breakaway put the battle for the moto win amongst Stewart, Dungey, Canard and Roczen. Dungey pressured Stewart throughout the first half of the moto, even making a brief pass for the lead, but was unable to take control of the position. As the battle continued out front, Roczen passed Canard for third and was soon putting pressure on the lead duo. While looking for a way around Stewart, Dungey was passed by Roczen for second on Lap 13. On the following lap, Dungey fell while chasing Stewart and Roczen, losing a position to Canard and slotting into fourth. Out front, Roczen put the pressure on Stewart coming to the white flag but the former champion held him at bay to lead the entire moto and capture his first win of the 2014 season. Roczen followed in second, with Canard third, Dungey fourth, and Grant fifth.

[caption id="attachment_32400" align="alignleft" width="300"]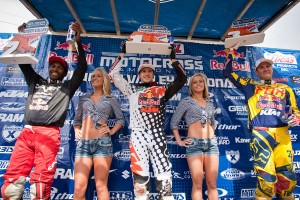 450MX Podium - Photo: Matt Rice[/caption]

As the gate dropped for the second moto, it was Canard who made the first move by grabbing the Motosport.com Holeshot Award with Dungey, Grant, Roczen and Stewart in tow. Canard and Dungey took control early on, but Roczen was able to surge past his teammate into second by the end of the opening lap and proceeded to battle with Canard for the lead the next couple laps before ultimately taking control of the moto on Lap 3. Canard then fell into the clutches of Dungey, who eventually made the pass for second and attempted to reel in Roczen. Dungey closed in to just about 2 seconds at the halfway point of the moto, but lapped riders ultimately kept the distance between the two KTM riders consistent throughout the remainder of the race. Roczen crossed the finish just over six seconds ahead of Dungey, while Stewart passed Canard halfway through the moto to finish third.

In the overall classification, Roczen's 2-1 moto results helped him edge out Stewart (1-3) for the win by just two points. Dungey's strong second moto effort helped secure third overall (4-2). Canard (3-4) and Grant (5-6) rounded out the top five.

"It's early to really say anything [about the championship]," said Roczen, who won his first career 450 Class race one week ago. "I feel like I'm riding good right now and I feel strong. I got a good jump [in the first moto] but didn't get up the hill well and had to fight my way through. I made some adjustments to the bike [in between motos] to make it easier to ride and it paid off. I just want to keep clicking [races] away like I've been doing and stay healthy."

Roczen extended his lead in the 450 Class standings and now holds a 12-point edge over Dungey. Stewart moved into third, 30 points behind Roczen, while Canard sits fourth, 31 points out of the lead.

[caption id="attachment_32369" align="alignright" width="300"]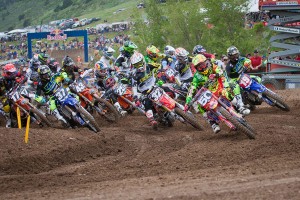 250MX Holeshot - Photo: Chris Ortiz[/caption]

The start of the first 250 Class moto featured a surprise early leader as Troy Lee Designs/Lucas Oil Honda's Jessy Nelson captured the Motosport.com Holeshot Award and proceeded to open a multi-second gap over the field, with GEICO Honda's Justin Bogle and the Yamalube/Star Racing Yamaha duo of Cooper Webb and Jeremy Martin in chase. Nelson maintained a comfortable gap until Martin and Webb took over second and third, respectively, on Lap 4 and closed down the deficit to the lead. Nelson paced the field for the first 20 minutes of the moto but went off the track, allowing Martin to take first on Lap 8. Webb then took over second from Nelson on Lap 9.

The battle for victory appeared it would come down to the Star Yamaha duo as they were separated by mere bike lengths, but as he pushed for the lead Webb crashed and lost several positions. With his teammate no longer a threat, Martin rode comfortably out front for the remainder of the moto to keep his undefeated streak intact. Nelson held on for a career-best second-place finish, while Bogle secured the third spot. Monster Energy/Pro Circuit/Kawasaki's Blake Baggett was fourth with Rockstar Energy Racing KTM's Jason Anderson in fifth. Webb dropped to ninth following his crash.

[caption id="attachment_32380" align="alignleft" width="300"]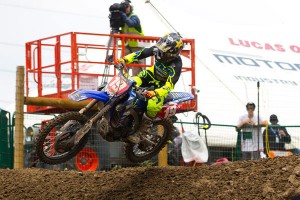 Jeremy Martin - Photo: Chris Oriz[/caption]

As the second moto got underway, all eyes were on Martin to see if he could continue his unbeaten start to the season. Out of the first corner Martin had his work cut out for him as GEICO Honda's Zach Bell claimed the Motosport.com Holeshot Award, with Anderson and Valli Motorsports Yamaha's Christophe Pourcel alongside. Martin started outside the top five.

Bell's time out front didn't last long as Pourcel took over the lead on the opening lap. On the ensuing lap Baggett began his push towards the front, eventually taking over second and setting his sights on Pourcel out front. After a couple laps of pressure Baggett made the pass and never looked back, leaving Pourcel to battle with a hard-charging Bogle. As Baggett pulled away, Martin tracked down Pourcel and Bogle, needing a podium finish to secure his third straight overall win. At the halfway point Martin crashed while chasing third place and fell deep inside the top 10. That misfortune allowed Baggett to solidify the overall with a win in the second moto. Bogle fought to finish second, while Pourcel finished third. Martin rebounded to finish sixth.

Baggett's 4-1 results gave him a one-point edge on Bogle (3-2) for the overall win, while Martin's resiliency after his crash ensured third overall (1-6).

[caption id="attachment_32385" align="alignright" width="300"]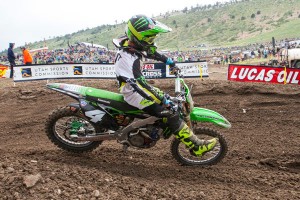 Blake Baggett - Photo: George Crosland[/caption]

"I wasn't prepared coming into the season due to an injury right before the opening round, but we've been testing and getting to where we want to be," said Baggett, who last won at the fifth round of the championship last season. "When you haven't won in awhile it starts eating at you, and I wanted to stop [Martin's] dominance, so I just went for it. We're headed in the right direction and there's still 18 motos left, so anything can happen."

Martin retained control of the 250 Class standings, holding a 26-point lead over teammate Webb. Pourcel sits third, 47 points behind, while Baggett moved into fourth, facing a 49-point deficit. Bogle rounds out the top five, 50 points behind Martin.

"I really had to work hard for [the podium] today," said Martin, who has won five of the first six motos. "I didn't get off to the best start [in Moto 1], but I knew I just needed to start clicking off the laps. Nelson went off the track and made it easy on me, so it was a good first moto. I was trying to hunt those guys down [up front] in the second moto and switched my line up, and it just didn't work out for me. I'm where I expected to be coming into the season, but it just took a little bit for everyone else to get up to speed. Clearly, after today, they're there."

The 2014 Lucas Oil Pro Motocross Championship continues next weekend with the fourth round of the season. High Point Raceway in Mt. Morris, Pennsylvania, will host the UPMC Sports Medicine High Point National on Saturday, June 14. Action begins at 1 p.m. ET.

http://www.youtube.com/watch?v=5hqXpoLWYks

Source: Pro Motocross

Ken Roczen And Ryan Dungey With 1-3 Podium Finish For Second Consecutive Week
[caption id="attachment_32364" align="alignright" width="199"]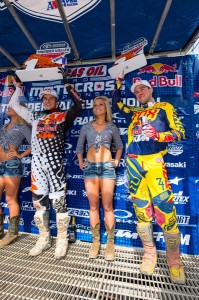 Ken Roczen & Ryan Dungey - Photo: Simon Cudby[/caption]

For the second consecutive week, Red Bull KTM Factory riders Ken Roczen and Ryan Dungey secured podium positions with Roczen clinching the win and Dungey finishing 3rd overall. This time their 450 Motocross class accomplishments came at the third round of the Lucas Oil Pro Motocross Championship held at Thunder Valley Raceway.

It was Ryan Dungey who had the best start of the two teammates in the first moto coming around on lap one with a 4th place position. Teammate Ken Roczen was a few places back in 6th. Dungey quickly moved around Andrew Short on the second lap and around Josh Grant just two laps later to move into the runner-up position. Once in position, he began to reel in the lead ride of James Stewart. Dungey battled for the lead position around the halfway point but was unable to make the pass stick on Stewart.

Meanwhile, Roczen put together a strong charge on is KTM 450 SX-F and passed Trey Canard for 3rd place just after the halfway point of the race. Roczen then began to close in on Dungey and soon found himself in a familiar battle with Dungey for a podium position. Roczen made the pass on his teammate and was then able to work his way toward Stewart. He applied the pressure but was unable to make the pass on the final lap and settled for 2nd place. Dungey had 3rd place in the bag before a late moto crash, due to poor vision after running out of tearoffs, cost him one spot. Luckily, he recovered quickly and finished the moto in 4th place.

In the second moto, Dungey earned another great start and was battling up front early on. It was only a few laps into the race when Roczen was able to move around Dungey and begin to battle Trey Canard for the lead. After a little back and forth, Roczen eventually claimed the top spot and went on to lead the remaining laps, turning the fastest lap time of the day while in the process. Despite not being able to challenge for the lead, Dungey did catch and pass Canard as well and moved into the 2nd place spot behind Roczen. He remained within three seconds of him for the majority of the race before falling slightly behind in the last few laps. The Red Bull KTM Factory riders, once again, earned the top two spots for the day.

Ryan Dungey
"I am definitely pushing to improve myself each race. Luckily, Kenny (Roczen) and I have been practicing a lot together which is good for both of us. Today I made a few mistakes and he had a bit more speed than me in some areas but overall I feel good and am excited about this season."
Ken Roczen
"I am happy to get another win. My focus is to continue to win motos and keep the red-plate. I had a great second moto race today and feel really good about my results and fitness."
Next Round: June 14, 2014 - High Point National, Mt. Morris, PA

Source: KTM North America

James Stewart 2nd At Thunder Valley MX
[caption id="attachment_32396" align="alignright" width="300"]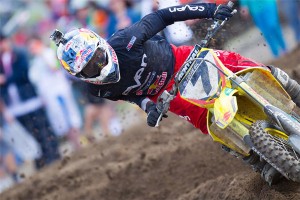 James Stewart[/caption]

Yoshimura Suzuki Factory Racing's James Stewart brought home his first overall podium finish of the season at the third-round Thunder Valley AMA Pro Motocross Championship event at Lakewood, Colorado on Saturday.

Stewart turned in two solid motos on his Yoshimura Suzuki RM-Z450, taking the win in moto one and finishing third in moto two for second-place overall; moving him up to third in the championship points standings.

In the first moto, Stewart got a spectacular start and moved into the lead almost immediately. From there, the Yoshimura Suzuki rider put his head down and held off the competition, leading every lap to the flag.

"In the first moto, I got a good start on the Yoshimura Suzuki RM-Z450," said Stewart. "I was able to hold on, even though I had pressure from everybody. It was good times, and it was great to get out there and finally ride like I should. So I was happy about that. I ended up winning the moto, and that was nice."

[caption id="attachment_32365" align="alignleft" width="200"]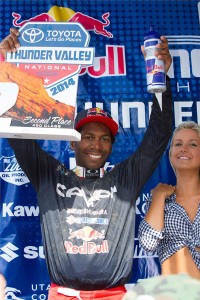 James Stewart[/caption]

In the second moto, Stewart got off the gate in the top-five and began trying to reel in the frontrunners. Despite a brief off-track excursion, his efforts began coming to fruition with about 10 minutes to go. Stewart was able to move into a podium position and hold on to finish third. With the combined results, Stewart was second for the day.

"In the second moto, I didn't get as good a start as I did in the first," said Stewart. "I made a mistake in that first corner and a couple of guys got around me. And then we changed something between motos and I wasn't really sure if it was the right direction, but I kind of struggled with it in the beginning and lost a bunch of time. Then I started coming back up and closing in on the rest of those guys. I made a huge mistake and went off the track and basically did another start. So I lost quite a bit of time right there. But I wound up making the pass for third and getting second overall. So this weekend was definitely better than Glen Helen and better than Hangtown. Every week we're making improvements. If we keep on in this fashion, we should be solid. So I look forward to Mt. Morris."

Yoshimura Suzuki Factory Racing's next race is round four of the 2014 AMA Pro Motocross Championships on June 14th at the High Point National in Mt. Morris.

http://www.youtube.com/watch?v=m0GfObOJl8w

Source: Team Suzuki

Monster Energy/Pro Circuit/Kawasaki's Blake Baggett Captures His First Win Of The Season At Thunder Valley
[caption id="attachment_32387" align="alignright" width="300"]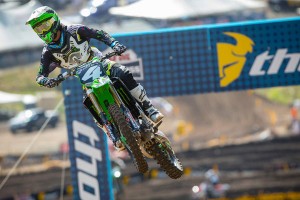 Blake Baggett[/caption]

Sitting more than 6,000 feet above sea level, Thunder Valley Motocross Park hosted Round 3 of the Lucas Oil Pro Motocross Championship outside Lakewood, Colorado and saw Monster Energy/Pro Circuit/Kawasaki's Blake Baggett claim his first victory of the season. Baggett fought through the field in the first moto, but ran away with the second moto to take his first moto win and overall victory of the season. Justin Hill qualified third fastest but could not translate his speed into a podium finish and ended the day 10th overall. In the 450 class, Monster Energy Kawasaki's Brett Metcalfe moved forward in both motos to finish sixth overall while Jake Weimer suffered a crash in Moto 2 and finished 10th overall.

Back On Top
Baggett was fired up coming into Thunder Valley and ready for redemption. In the first moto, he did not get the start he was looking for on the uphill grade and rounded the first lap outside the top-10. He made some quick passes in the early laps to assure the lead pack would not gain a sizable gap and started his assault through the field. It was in the second half of the 30-minute plus two lap moto that the past champion really found his stride and crossed the finish line in fourth. In the second moto, Baggett made it easy on himself by starting in the top-five on his Kawasaki KX250F. He made his way forward, wasting no time, and moved into the lead by Lap 6. From there Baggett maintained a healthy lead and took his first win of the season.

"We're now getting into a groove," said Baggett. "With my eye injury, we weren't where we wanted to be coming into the season. It's been a while since we've been on top and it's hard to cope with when you're not."

[caption id="attachment_32391" align="alignleft" width="300"]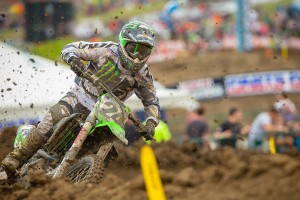 Brett Metcalfe[/caption]

Moving Forward
Metcalfe was excited to return to Colorado and used some extra track time for local press to dial in his Kawasaki KX450F. In the first moto, the Australian had to work his way through the pack, finding alternate lines in order to make passes. He fought his way into the top-10 and crossed the finish line in ninth. Metty got off to a much better start in Moto 2 and was able to run with the top-10 for the full moto, picking off riders and finishing in fifth place. His 9-5 moto score awarded him sixth overall and fifth in the points standings.

"Today was alright, but could have been better," said Metcalfe. "It was difficult to go fast in the pack because there were multiple spots where you had to follow the guy in front of you. I think I was fastest when I had a clear track. I'm really starting to jive with my KX and the team continues to back me 100 percent."

[caption id="attachment_32389" align="alignright" width="300"]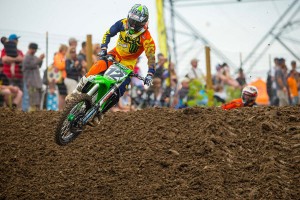 Jake Weimer[/caption]

Continuing Progress
Weimer continued to gain momentum by qualifying in sixth place, his best of the season. He looked confident and aggressive on the track that brought him his first national win in the 250 class. Rounding the first turn, Weimer was just outside the top-10 and focused on moving forward. He moved his way into eighth place by the halfway point and continued to close the gap on the leaders but ultimately finished eighth. Like his teammate, Weimer got a much better start in the second moto and was moving forward in fifth place until he lost the front end after the finish line. He crossed the line the next lap in 19th position and immediately went to work on passing as many riders as possible. By the checkered flag he had reached 12th place, which was enough to give him a top-10 overall finish.

"I was really feeling good that second moto," said Weimer. "Despite my crash I felt like I regrouped well and was able to salvage some decent points. I know I'm a top-five guy and just need to limit the small mistakes in order to make it happen."

[caption id="attachment_32372" align="alignleft" width="300"]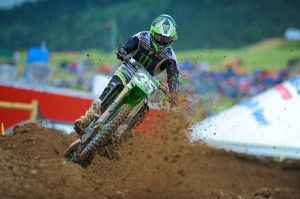 Justin Hill[/caption]

Roost
The Lakewood soil was one of the more brutal so far this season as the dark, rich dirt transformed into roost from the competitors. Clumps of dirt and rock can reach more than 80 mph when they come flying from the rear Dunlop tire of a KX450F, resulting in a painful outcome for riders without roost protection. Even with protection, Weimer took a rock to his lip, busting it open halfway through the second moto, and Metcalfe was left covered in welts lining his arms and chest.

[caption id="attachment_32386" align="alignright" width="300"]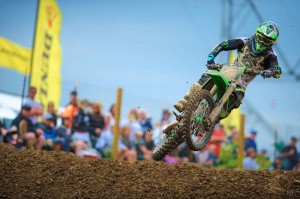 Blake Baggett[/caption]

Threat of Rain
All weekend the clouds hung over the Thunder Valley, giving reason for why the track was given such a name. Although weather never became a factor in the racing, the track preparation was effected. Due to the scattered showers that the track received leading up to the weekend, the track crew did not dig the track as deep as in years past. On race day this translated into a much faster track with limited line choices compared to past years.

Long Season
It had been since Daytona Supercross in March that Baggett stood on top of the podium and one could tell by his enthusiasm on the podium that it had been far too long. Baggett sits fourth in the points standings, but with nine rounds and 18 more motos still to race, things are only getting started. Next Saturday, Round 4 brings Lucas Oil Pro Motocross to High Point Raceway in Mt. Morris, Pennsylvania.

Source: Kawasaki Racing

GEICO Honda Thunder Valley MX Report
[caption id="attachment_32383" align="alignright" width="300"]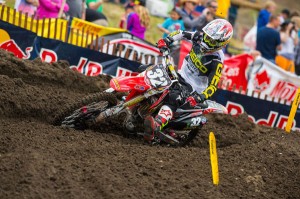 Justin Bogle - Photo: Simon Cudby[/caption]

GEICO Honda 250cc rider Justin Bogle posted the best finish of his motocross career by finishing a strong second in the Toyota Thunder Valley National on Saturday at Thunder Valley Motocross Park.

Bogle raced to the podium in both motos, finishing third in the first and second in the second to claim the overall second place.

GEICO Honda teammates Matt Bisceglia and Zach Bell just missed top-10 finishes, as Bisceglia was 11th overall, with Bell 13th.

"I pulled through and made that happen," Bogle said. "It was a successful day and it felt like a win."

[caption id="attachment_32366" align="alignleft" width="300"]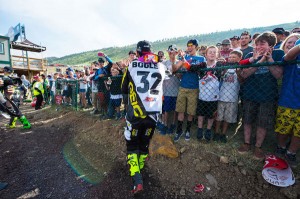 Justin Bogle - Photo: Simon Cudby[/caption]

Bogle ran in second place for several laps in the first moto before a bobble dropped him to fourth. But he rallied in the closing laps to claim third place. In the second moto, Bogle was fifth after two laps but battled his way into second around Christophe Pourcel with five laps remaining.

"First moto I got a really good start," Bogle said. "I was out front but went down, so I went back to fourth and finished the first moto in third. Second moto I felt great, took another great start out of the gate and finished in second behind Blake Baggett.

"This second-place finish was the best finish so far of my career, so it was a great day."

The Denver elevation made bike setup crucial, but Bogle was right there with the best in the 250 class.

[caption id="attachment_32370" align="alignright" width="300"]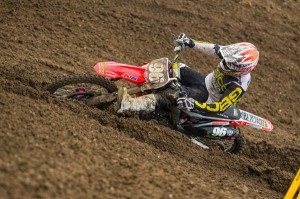 Matt Bisceglia - Photo: Simon Cudby[/caption]

"The elevation was a little bit of a curve ball with the bike," Bogle said. "It was a cool place, a very enjoyable track. The track had a lot of cool jumps, which always makes the race more enjoyable.

"It was tough battling Christophe Pourcel. He was definitely holding me back and making it a challenge to get around him. I eventually got into a good position and made the pass around him and into second. It was the best moto for sure."

Biscgelia had finished in the top 10 in each of the first two motocross races this season but slipped a bit in Denver. He was 13th in the first moto and 11th in the second as he struggled to find consistency.

"I had a decent start in the first moto, and then I lost a couple positions but overall it was a decent day," Biscgelia said. "I need to work on my intensity this week and get past the pace I am currently in. I need to push it to the next level and work harder on my speed and intensity. All in all I felt like I could have had better speed.

[caption id="attachment_32371" align="alignleft" width="300"]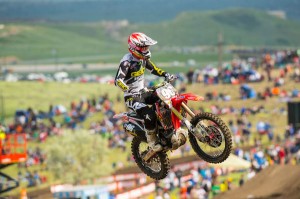 Matt Bisceglia - Photo: Simon Cudby[/caption]

"In the second moto I felt like my stamina could have been better. My main challenge today was finding a flow. The track was gnarly. I didn't have any main troubles out there. This track today at Thunder Valley has been my favorite track so far

"I'm gonna go back to work this week and just push myself really hard to get ready for High Point."

Bell had a terrific first moto, coming in sixth place despite a stomach cramp midway through. But after getting the holeshot in the second moto, Bell slipped back before crashing and dropping to 34th at the checkered flag.

"The first moto was great," Bell said. "I got a decent start. I had a stomach cramp halfway through the race so I rode in sixth position. I felt great and sixth was really good for me.

[caption id="attachment_32367" align="alignright" width="300"]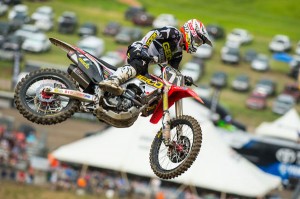 Zach Bell - Photo: Simon Cudby[/caption]

"In the second moto, I took the holeshot, but after a few laps my hands started hurting. I was trying to have fun out there. The track was really rutted and muddy. We had about two laps to go, and I manage to find every hole on every track and end up in it. When I went into this hole on the track it took me awhile to get my bike out but that's all apart of racing."

The sixth-place finish in Moto 1 was his best of the season, and it follows an eight-place overall finish for Bell last weekend at Hangtown.

"I'll come back next weekend strong," Bell said. "I'm just so glad I am healthy again. I'm really looking forward to next weekend. My speed and fitness are definitely getting much better. I need to work on those things more though. Not being on the bike for six months really hurt my stamina and fitness so it's hard to run up front with the top guys. I'm working slowly, but I'm getting better and better."

The GEICO Honda team returns for the High Point National next Saturday at High Point Raceway in Mount Morris, Pa.

Source: GEICO Honda

Star Racing Yamaha - Thunder Valley, CO
[caption id="attachment_32381" align="alignright" width="300"]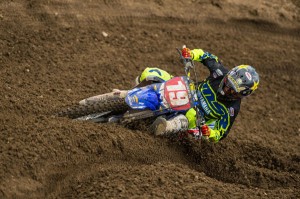 Jeremy Martin - Photo: Simon Cudby[/caption]

Another great race for the Yamalube/Star Racing/Yamaha team at the Thunder Valley National, Denver, Colorado. Jeremy Martin had a great first moto, coming from the rear, winning his fifth straight moto. Copper Webb showed great speed to challenge Jeremy but crashed while in second to end his second place run. The day ended great with Jeremy maintaining a 26 point lead over his Yamaha teammate. The fourth round will be at the high point race way in Pennsylvania on June 14.

Source: Star Racing Yamaha

Top Tens All Around For Troy Lee Designs In Mile High City
[caption id="attachment_32390" align="alignright" width="300"]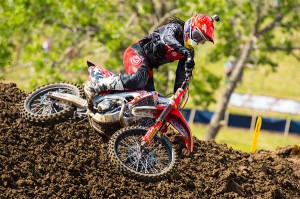 Malcolm Stewart - Photo: Simon Cudby[/caption]

Round three of the Lucas Oil Pro Motocross Championship at Thunder Valley Raceway in Denver, Colorado saw all three competing Troy Lee Designs riders inside the top ten overall. The fourth rider, MAVTV rider Shane McElrath, is still recovering from a practice crash last week that has left him bruised and sore. Shane will return when he is 100%.

The opening 450 moto found Malcolm Stewart just inside the top ten as the gate dropped. The rough, hilly Colorado circuit was taxing on rider and machine but Stewart made several key passes and crept into seventh spot where he would finish the moto. The second moto was more of a challenge for Stewart as he wouldn't even be in the top thirty coming around the first turn. His botched start didn't discourage him, however, and he rode a determined race to finish eighth as the checkered flag flew, and score seventh overall on the day. Considering the effort he put into moto two it was an excellent day for Malcolm.

[caption id="attachment_32379" align="alignleft" width="300"]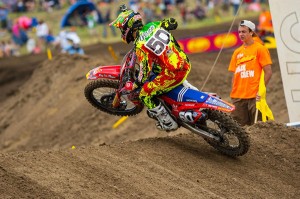 Jessy Nelson - Photo: Simon Cudby[/caption]

The 250 class proved to be another great weekend for Jessy Nelson. The Troy Lee Designs / Lucas Oil / Honda rider yanked a big holeshot and took off like a bullet. For the first ten or fifteen minutes he held a ten-second lead and it looked like he was going to get his first moto win! The new experience of leading a race wore on Nelson though, and he made several mistakes which allowed the pack to catch back up. Jessy dropped to third quickly, but was able to slide back into the number two position before the end of the race and score a career-best finish. Nelson's teammate Cole Seely didn't get a good start but pushed throughout the race and ended up eighth at the finish of moto one.

The second moto start wasn't good for either rider, and they were forced to drive through the pack from 15th (Seely) and 20th (Nelson) together. After 35 minutes of riding their hearts out, they crossed the checkers in eighth and ninth giving Jessy a fourth overall and earning Cole a ninth.

Malcolm Stewart currently sits in sixth position in the 450 class standings. In the 250 class Jessy is sixth and Cole is eleventh. Look for all three riders to this weekend in Pennsylvania as the High Point National kicks off round four of the Lucas Oil Pro Motocross Series.

Source: Troy Lee Designs

Marvin Musquin Finishes 5th At Thunder Valley Motocross
[caption id="attachment_32378" align="alignright" width="300"]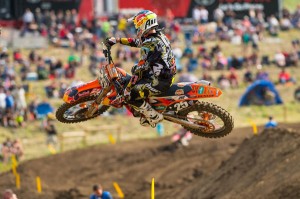 Marvin Musquin - Photo: Simon Cudby[/caption]

Red Bull KTM Factory rider Marvin Musquin earned his best overall finish of the season in the 250 Motocross class at the third round of the Lucas Oil Pro Motocross Championship Series with a 5th place overall result.

Marvin Musquin was sitting in 6th place on the first lap of moto one. He moved up as high as 5th position a few laps into the race but made a few mistakes that dropped him back to 8th at the halfway point. He was able to collect himself and put together a consistent performance for the second half of the moto to regain one position and finish 7th.

In the second moto Musquin pulled off a top ten start on is KTM 250 SX-F. At the end of the first lap he was sitting in 8th place. By the halfway point he had passed two riders and was sitting in 6th position just one spot off of the top five. A few laps later he was able to get around fellow KTM rider Jason Anderson for 5th. Moments after, Jeremy Martin suffered a crash which allowed Musquin to pick up another position. Musquin continued to push and was able to maintain 4th position to secure his best finish of the season so far.

"I am happy with my results today", stated Musquin. "The 7-4 moto scores for 5th place is my best finish this season. My knee is feeling better each week and I am excited to get closer to a podium spot."

Next Round: June 14, 2014 - High Point Raceway, Mt. Morris, PA

Source: KTM North America

Rockstar Energy Racing Team Improves in Colorado
[caption id="attachment_32375" align="alignright" width="300"]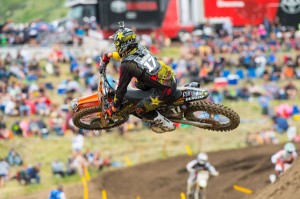 Jason Anderson - Photo: Simon Cudby[/caption]

The Rockstar Energy Racing squad headed to the mile high track of Thunder Valley in Lakewood, CO for this weekend's national. One of the most scenic tracks on the circuit, surrounded by mountains and very pleasing to the eye. It also has been known for extremely rutted, foot peg deep straightaways and corners. With the threat of severe storms on the horizon, the track was not watered as much as in the past. The rain ended up holding off and the track crew still kept the soil in perfect condition. Although it wasn't as deep as it is historically, the ruts were still technical enough to keep the riders on their toes every lap.

Jason Anderson has been struggling with a bit of bad luck thus far this outdoor season. Starting with breaking his tailbone prior to Round 1 at Glen Helen. Then in the week before Hangtown, he got really sick but was able to shake that bug to be healthy enough to race. The problem with these ailments is not necessarily the difficulty on race day, but the lack of riding midweek. Jason has only been able to ride once or not at all between Saturday's racing. At this level it's tough to come in almost rusty feeling every weekend. It's evident in the way he has been improving so much from practice 1 to 2 and moto 1 to 2 throughout the day.

[caption id="attachment_32376" align="alignleft" width="300"]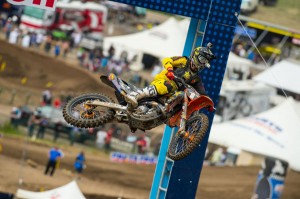 Jason Anderson - Photo: Simon Cudby[/caption]

Anderson has typically had issues with Thunder Valley also associated with altitude sickness. In the last couple years, he has left Colorado being very ill. That really turned around this year, as he was almost completely unaffected by the high elevation. He clearly got more comfortable throughout the day and was able to put together a solid performance, considering the issues.

In fact, in the waning laps of the final moto, he actually got much stronger. Dropping 2 seconds off his lap time and making up serious ground on the riders in front of him. Not only was the lack of the altitude effect a highlight on the day, but also going into next week. He can be confident that he will have no lingering symptoms carrying over. These are very good indications that JA will land on the podium very soon.

Jason Anderson
"My weekend was pretty good. I ended up going 5-5 and this is a track I usually struggle with, so I feel like we're headed somewhat in the right direction. Just going to try and go from here and keep progressing. I want to get on the box and then stay there."
[caption id="attachment_32368" align="alignright" width="300"]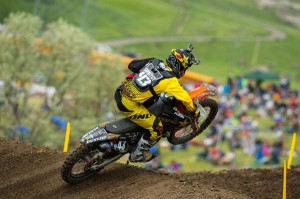 Joey Savatgy - Photo: Simon Cudby[/caption]

Joey Savatgy could easily be considered the most improved rider from Hangtown to Thunder Valley. Still dealing with racing himself back into shape after nearly a year off and fresh off a broken collar bone. While Joey showed he had the speed one week ago, he fell off the pace, dropping way back in moto 2. This weekend was a much different story. While he is still not all the way back to where he wants to be, he is much closer after just 7 days.

Although Savatgy's shoulder is certainly still hampering him on these rough tracks, it is getting better as well. For the most part Joey has stayed off the ground, only experiencing a minor tip over in moto 2. He still managed to put together two consistent moto scores for a 12th overall. Pretty impressive to finish so close to the top 10 already.

Joey Savatgy
"The weekend was good. Made some improvements and we did better than we did last week. So I guess that's a step in the right direction. Overall it was good though. My shoulder is still bothering me, but I made it through two more motos healthy."
The team will now head all the way east to Highpoint MX in Mt. Morris, PA. Although Anderson is still dealing with the tailbone issue, he is still going to ride more this week in an effort to be better prepared and find the podium. Savatgy will look to improve even more with two top 10 moto finishes being the goal.

Source: Rockstar Energy

Thunder Valley Overview And Point Standings
2014 AMA Pro Motocross Thunder Valley Image Gallery (Click for full size images)


450MX Class Moto 1 Results - Race Time: 35:36.535














































































































































































































































































































































| Pos. | # | Rider | Bike | Interval | Best Time |
| --- | --- | --- | --- | --- | --- |
| 1 | 7 | James Stewart | Suzuki RMZ 450 | 17 Laps | 2:05.133 |
| 2 | 94 | Ken Roczen | KTM 450 SX-F Factory Edition | +01.981 | 2:05.165 |
| 3 | 41 | Trey Canard | Honda CRF450R | +06.091 | 2:05.110 |
| 4 | 5 | Ryan Dungey | KTM 450 SX-F Factory Edition | +14.269 | 2:04.772 |
| 5 | 33 | Josh Grant | Yamaha YZ 450F | +35.659 | 2:06.019 |
| 6 | 29 | Andrew Short | KTM 450 SX-F | +45.327 | 2:07.231 |
| 7 | 34 | Malcolm Stewart | Honda CRF450R | +48.424 | 2:07.323 |
| 8 | 12 | Jacob Weimer | Kawasaki KX 450F | +50.609 | 2:07.564 |
| 9 | 24 | Brett Metcalfe | Kawasaki KX 450F | +51.441 | 2:07.700 |
| 10 | 40 | Weston Peick | Suzuki RMZ 450 | +1:08.536 | 2:07.713 |
| 11 | 9 | Ivan Tedesco | Suzuki RMZ 450 | +1:14.412 | 2:08.243 |
| 12 | 38 | Phillip Nicoletti | Yamaha YZ 450F | +1:30.471 | 2:09.516 |
| 13 | 22 | Chad Reed | Kawasaki KX 450F | +1:34.020 | 2:08.168 |
| 14 | 44 | Matthew Goerke | KTM 450 SX-F Factory Edition | +1:36.461 | 2:10.452 |
| 15 | 92 | Kellian Rusk | Yamaha YZ 450F | +1:36.982 | 2:09.247 |
| 16 | 80 | Fredrik Noren | KTM 450 SX-F | +1:38.536 | 2:09.871 |
| 17 | 331 | Tommy Weeck | Honda CRF450R | +1:41.643 | 2:09.963 |
| 18 | 415 | Nick Schmidt | Honda CRF450R | +2:08.711 | 2:10.540 |
| 19 | 77 | Jimmy Albertson | Honda CRF450R | +2:10.682 | 2:11.166 |
| 20 | 761 | Cade Clason | Honda CRF450R | +2:11.852 | 2:11.079 |
| 21 | 48 | Ben Lamay | Yamaha YZ 450F | 16 Laps | 2:10.129 |
| 22 | 95 | Evgeny Mikhaylov | KTM 450 SX-F | +02.305 | 2:12.488 |
| 23 | 606 | Ronnie Stewart | Suzuki RMZ 450 | +24.200 | 2:12.683 |
| 24 | 535 | Joey Peters | Yamaha YZ 450F | +25.976 | 2:13.489 |
| 25 | 123 | Kevin Rookstool | KTM 450 SX-F | +26.791 | 2:11.647 |
| 26 | 285 | Tony Archer | Kawasaki KX 450F | +33.229 | 2:14.505 |
| 27 | 211 | Tevin Tapia | Suzuki RMZ 450 | +37.833 | 2:14.165 |
| 28 | 693 | Tucker Saye | Suzuki RMZ 450 | +57.921 | 2:15.465 |
| 29 | 526 | Colton Aeck | Yamaha YZ 450F | +1:16.333 | 2:17.152 |
| 30 | 869 | Robert Lind | Yamaha YZ 450F | +1:20.458 | 2:16.977 |
| 31 | 329 | Chad Gores | Honda CRF450R | +1:37.278 | 2:17.042 |
| 32 | 140 | Johnny Moore | Honda CRF450R | +1:39.395 | 2:16.847 |
| 33 | 950 | Nathen LaPorte | Yamaha YZ 450F | +1:49.508 | 2:15.685 |
| 34 | 636 | Keith Knight | Yamaha YZ 450F | +1:56.989 | 2:17.645 |
| 35 | 572 | Zachary Jaynes | Honda CRF450R | +2:00.275 | 2:17.314 |
| 36 | 452 | Sean Hackley | KTM 450 SX-F Factory Edition | +2:07.238 | 2:15.550 |
| 37 | 181 | Dustin Pipes | Suzuki RMZ 450 | 15 Laps | 2:14.408 |
| 38 | 135 | Robert Fitch | KTM 450 SX-F | 14 Laps | 2:14.770 |
| 39 | 120 | Todd Bannister | Honda CRF450R | 7 Laps | 2:14.153 |
| 40 | 131 | Noah Mcconahy | Honda CRF450R | 4 Laps | 2:11.895 |
450MX Class Moto 2 Results - Race Time: 36:14.607
| Pos. | # | Rider | Bike | Interval | Best Time |
| --- | --- | --- | --- | --- | --- |
| 1 | 94 | Ken Roczen | KTM 450 SX-F Factory Edition | 17 Laps | 2:06.444 |
| 2 | 5 | Ryan Dungey | KTM 450 SX-F Factory Edition | +06.507 | 2:07.069 |
| 3 | 7 | James Stewart | Suzuki RMZ 450 | +30.650 | 2:07.156 |
| 4 | 41 | Trey Canard | Honda CRF450R | +35.911 | 2:07.506 |
| 5 | 24 | Brett Metcalfe | Kawasaki KX 450F | +55.658 | 2:09.747 |
| 6 | 33 | Josh Grant | Yamaha YZ 450F | +57.571 | 2:09.716 |
| 7 | 40 | Weston Peick | Suzuki RMZ 450 | +1:05.985 | 2:09.778 |
| 8 | 34 | Malcolm Stewart | Honda CRF450R | +1:18.224 | 2:11.210 |
| 9 | 29 | Andrew Short | KTM 450 SX-F | +1:21.675 | 2:11.629 |
| 10 | 22 | Chad Reed | Kawasaki KX 450F | +1:49.733 | 2:11.894 |
| 11 | 38 | Phillip Nicoletti | Yamaha YZ 450F | +1:53.933 | 2:12.951 |
| 12 | 12 | Jacob Weimer | Kawasaki KX 450F | +1:56.977 | 2:09.202 |
| 13 | 48 | Ben Lamay | Yamaha YZ 450F | +2:04.125 | 2:13.112 |
| 14 | 80 | Fredrik Noren | KTM 450 SX-F | +2:15.950 | 2:12.648 |
| 15 | 92 | Kellian Rusk | Yamaha YZ 450F | 16 Laps | 2:13.633 |
| 16 | 44 | Matthew Goerke | KTM 450 SX-F Factory Edition | +16.578 | 2:14.360 |
| 17 | 95 | Evgeny Mikhaylov | KTM 450 SX-F | +19.022 | 2:15.207 |
| 18 | 331 | Tommy Weeck | Honda CRF450R | +27.372 | 2:14.831 |
| 19 | 452 | Sean Hackley | KTM 450 SX-F Factory Edition | +33.947 | 2:15.406 |
| 20 | 131 | Noah Mcconahy | Honda CRF450R | +45.959 | 2:15.992 |
| 21 | 285 | Tony Archer | Kawasaki KX 450F | +47.368 | 2:17.619 |
| 22 | 211 | Tevin Tapia | Suzuki RMZ 450 | +51.828 | 2:17.163 |
| 23 | 535 | Joey Peters | Yamaha YZ 450F | +58.173 | 2:15.927 |
| 24 | 120 | Todd Bannister | Honda CRF450R | +1:07.369 | 2:18.197 |
| 25 | 9 | Ivan Tedesco | Suzuki RMZ 450 | +1:09.531 | 2:12.031 |
| 26 | 869 | Robert Lind | Yamaha YZ 450F | +1:22.779 | 2:18.142 |
| 27 | 693 | Tucker Saye | Suzuki RMZ 450 | +1:33.266 | 2:18.108 |
| 28 | 526 | Colton Aeck | Yamaha YZ 450F | +1:39.660 | 2:20.709 |
| 29 | 572 | Zachary Jaynes | Honda CRF450R | +1:49.134 | 2:20.015 |
| 30 | 329 | Chad Gores | Honda CRF450R | +2:04.390 | 2:20.200 |
| 31 | 636 | Keith Knight | Yamaha YZ 450F | +2:06.701 | 2:20.866 |
| 32 | 77 | Jimmy Albertson | Honda CRF450R | +2:22.502 | 2:17.223 |
| 33 | 140 | Johnny Moore | Honda CRF450R | 15 Laps | 2:20.274 |
| 34 | 950 | Nathen LaPorte | Yamaha YZ 450F | +1:18.982 | 2:21.516 |
| 35 | 606 | Ronnie Stewart | Suzuki RMZ 450 | 9 Laps | 2:18.880 |
| 36 | 181 | Dustin Pipes | Suzuki RMZ 450 | 8 Laps | 2:22.819 |
| 37 | 761 | Cade Clason | Honda CRF450R | 7 Laps | 2:16.822 |
| 38 | 415 | Nick Schmidt | Honda CRF450R | 5 Laps | 2:15.135 |
| 39 | 123 | Kevin Rookstool | KTM 450 SX-F | 4 Laps | 2:19.110 |
| 40 | 135 | Robert Fitch | KTM 450 SX-F | 2 Laps | 2:32.731 |
Overall Results - 450MX Class
| Pos. | # | Rider | Bike | M1 | M2 | Points |
| --- | --- | --- | --- | --- | --- | --- |
| 1 | 94 | Ken Roczen | KTM 450 SX-F Factory Edition | 2 | 1 | 47 |
| 2 | 7 | James Stewart | Suzuki RMZ 450 | 1 | 3 | 45 |
| 3 | 5 | Ryan Dungey | KTM 450 SX-F Factory Edition | 4 | 2 | 40 |
| 4 | 41 | Trey Canard | Honda CRF450R | 3 | 4 | 38 |
| 5 | 33 | Josh Grant | Yamaha YZ 450F | 5 | 6 | 31 |
| 6 | 24 | Brett Metcalfe | Kawasaki KX 450F | 9 | 5 | 28 |
| 7 | 34 | Malcolm Stewart | Honda CRF450R | 7 | 8 | 27 |
| 8 | 29 | Andrew Short | KTM 450 SX-F | 6 | 9 | 27 |
| 9 | 40 | Weston Peick | Suzuki RMZ 450 | 10 | 7 | 25 |
| 10 | 12 | Jacob Weimer | Kawasaki KX 450F | 8 | 12 | 22 |
| 11 | 22 | Chad Reed | Kawasaki KX 450F | 13 | 10 | 19 |
| 12 | 38 | Phillip Nicoletti | Yamaha YZ 450F | 12 | 11 | 19 |
| 13 | 80 | Fredrik Noren | KTM 450 SX-F | 16 | 14 | 12 |
| 14 | 92 | Kellian Rusk | Yamaha YZ 450F | 15 | 15 | 12 |
| 15 | 44 | Matthew Goerke | KTM 450 SX-F Factory Edition | 14 | 16 | 12 |
| 16 | 9 | Ivan Tedesco | Suzuki RMZ 450 | 11 | 25 | 10 |
| 17 | 48 | Ben Lamay | Yamaha YZ 450F | 21 | 13 | 8 |
| 18 | 331 | Tommy Weeck | Honda CRF450R | 17 | 18 | 7 |
| 19 | 95 | Evgeny Mikhaylov | KTM 450 SX-F | 22 | 17 | 4 |
| 20 | 415 | Nick Schmidt | Honda CRF450R | 18 | 38 | 3 |
| 21 | 452 | Sean Hackley | KTM 450 SX-F Factory Edition | 36 | 19 | 2 |
| 22 | 77 | Jimmy Albertson | Honda CRF450R | 19 | 32 | 2 |
| 23 | 131 | Noah McConahy | Honda CRF450R | 40 | 20 | 1 |
| 24 | 761 | Cade Clason | Honda CRF450R | 20 | 37 | 1 |
Rider Point Standings - 450MX Class ( Race 6 of 24 )


Ken Roczen - 141

Ryan Dungey - 129

James Stewart - 111

Trey Canard - 110

Brett Metcalfe - 89

Malcolm Stewart - 78

Weston Peick - 77

Josh Grant - 74

Jacob Weimer - 74

Chad Reed - 61

Manufacturer Cup Point Standings - 450MX Class ( Race 6 of 24 )


KTM - 144

Suzuki - 112

Honda - 110

Kawasaki - 91

Yamaha - 88

250MX Class Moto 1 Results - Race Time: 34:33.078
| Pos. | # | Rider | Bike | Interval | Best Time |
| --- | --- | --- | --- | --- | --- |
| 1 | 19 | Jeremy Martin | Yamaha YZ 250F | 16 Laps | 2:07.962 |
| 2 | 50 | Jessy Nelson | Honda CRF250R | +03.643 | 2:07.634 |
| 3 | 32 | Justin Bogle | Honda CRF250R | +06.360 | 2:07.688 |
| 4 | 4 | Blake Baggett | Kawasaki KX 250F | +14.004 | 2:09.185 |
| 5 | 17 | Jason Anderson | KTM 250 SX-F | +18.977 | 2:09.637 |
| 6 | 71 | Zachary Bell | Honda CRF250R | +29.626 | 2:10.579 |
| 7 | 25 | Marvin Musquin | KTM 250 SX-F | +30.406 | 2:09.806 |
| 8 | 21 | Cole Seely | Honda CRF250R | +34.869 | 2:10.333 |
| 9 | 37 | Cooper Webb | Yamaha YZ 250F | +37.089 | 2:08.191 |
| 10 | 35 | Justin Hill | Kawasaki KX 250F | +37.161 | 2:10.765 |
| 11 | 377 | Christophe Pourcel | Yamaha YZ 250F | +41.530 | 2:10.937 |
| 12 | 43 | Joseph Savatgy | KTM 250 SX-F | +48.062 | 2:11.716 |
| 13 | 96 | Matthew Bisceglia | Honda CRF250R | +51.693 | 2:11.651 |
| 14 | 30 | Kyle Cunningham | Honda CRF250R | +1:00.298 | 2:12.528 |
| 15 | 47 | Kyle Peters | Honda CRF250R | +1:01.000 | 2:11.292 |
| 16 | 70 | Brady Kiesel | Honda CRF250R | +1:31.138 | 2:13.054 |
| 17 | 91 | Jacob Baumert | Kawasaki KX 250F | +1:32.706 | 2:14.444 |
| 18 | 60 | Jackson Richardson | Honda CRF250R | +1:34.483 | 2:12.607 |
| 19 | 142 | Cole Martinez | Kawasaki KX 250F | +1:44.146 | 2:14.976 |
| 20 | 371 | Dakota Alix | KTM 250 SX-F | +1:45.408 | 2:15.177 |
| 21 | 78 | Matthew Lemoine | Kawasaki KX 250F | +1:54.223 | 2:13.474 |
| 22 | 854 | Landen Powell | KTM 250 SX-F | +2:22.438 | 2:16.468 |
| 23 | 874 | Zack Williams | Honda CRF250R | 15 Laps | 2:16.440 |
| 24 | 421 | Vann Martin | Honda CRF250R | +17.594 | 2:17.418 |
| 25 | 83 | Dakota Tedder | Kawasaki KX 250F | +32.033 | 2:18.152 |
| 26 | 99 | Justin Starling | Honda CRF250R | +40.788 | 2:16.873 |
| 27 | 638 | Brandan Leith | Kawasaki KX 250F | +42.382 | 2:17.907 |
| 28 | 620 | Brad Nauditt | Honda CRF250R | +42.874 | 2:20.011 |
| 29 | 150 | William Duffy | Kawasaki KX 250 | +52.269 | 2:18.529 |
| 30 | 243 | Joseph Dalzell | Kawasaki KX 250F | +1:23.054 | 2:21.934 |
| 31 | 822 | Clarion Chapiewski | Honda CRF250R | +1:24.956 | 2:19.538 |
| 32 | 655 | John Pauk | Honda CRF250R | +1:25.893 | 2:22.268 |
| 33 | 196 | Trevor Whitmarsh | Yamaha YZ 250F | +1:29.091 | 2:20.795 |
| 34 | 919 | Shawn Rhinehart | Suzuki RMZ 250 | +1:51.479 | 2:22.899 |
| 35 | 273 | Conner Elliott | Honda CRF250R | +1:51.518 | 2:19.818 |
| 36 | 593 | Dakota Robins | Kawasaki KX 250F | 14 Laps | 2:22.209 |
| 37 | 73 | Dillan Epstein | Honda CRF250R | 10 Laps | 2:14.670 |
| 38 | 138 | Blake Lilly | KTM 250 SX-F | 9 Laps | 2:16.460 |
| 39 | 659 | Justin Freund | Yamaha YZ 250F | 7 Laps | 2:17.359 |
| 40 | 55 | Alex Martin | Yamaha YZ 250F | 2 Laps | 2:13.939 |
250MX Class Moto 2 Results - Race Time: 35:05.328
Pos.
#
Rider
Bike
Interval
Best Time
1
4
Blake Baggett
Kawasaki KX 250F
16 Laps
2:10.013
2
32
Justin Bogle
Honda CRF250R
+06.554
2:10.733
3
377
Christophe Pourcel
Yamaha YZ 250F
+09.732
2:11.296
4
25
Marvin Musquin
KTM 250 SX-F
+10.364
2:10.955
5
17
Jason Anderson
KTM 250 SX-F
+14.081
2:11.757
6
19
Jeremy Martin
Yamaha YZ 250F
+26.569
2:10.570
7
37
Cooper Webb
Yamaha YZ 250F
+37.896
2:12.274
8
21
Cole Seely
Honda CRF250R
+40.102
2:11.828
9
50
Jessy Nelson
Honda CRF250R
+44.719
2:12.067
10
35
Justin Hill
Kawasaki KX 250F
+48.660
2:13.013
11
96
Matthew Bisceglia
Honda CRF250R
+50.283
2:13.746
12
78
Matthew Lemoine
Kawasaki KX 250F
+51.957
2:13.684
13
43
Joseph Savatgy
KTM 250 SX-F
+54.206
2:12.953
14
30
Kyle Cunningham
Honda CRF250R
+1:16.933
2:14.208
15
73
Dillan Epstein
Honda CRF250R
+1:20.401
2:14.421
16
55
Alex Martin
Yamaha YZ 250F
+1:30.516
2:15.577
17
70
Brady Kiesel
Honda CRF250R
+1:35.896
2:16.010
18
91
Jacob Baumert
Kawasaki KX 250F
+1:36.638
2:16.394
19
874
Zack Williams
Honda CRF250R
+1:51.316
2:16.942
20
142
Cole Martinez
Kawasaki KX 250F
+1:55.958
2:17.849
21
638
Brandan Leith
Kawasaki KX 250F
15 Laps
2:16.677
22
99
Justin Starling
Honda CRF250R
+07.895
2:18.722
23
138
Blake Lilly
KTM 250 SX-F
+11.175