Atlas Prodigy Neck Brace Is Perfect For The Next Motocross Prodigy
Chaparral Motorsports
|
June 3, 2014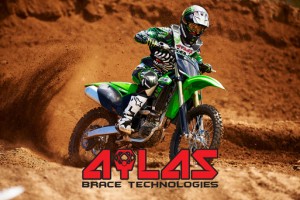 Motocross riders rely on quality dirt bike gear to keep them safe, and that goes double when it comes to a neck brace. However, for riders who might be in between sizes, finding the right equipment can be a challenge. A children's neck brace may no longer fit and adult sizes might still be too big. Luckily, Atlas took this into account.

The [mageProductLink sku="372-0945" title="Atlas Prodigy Neck Brace"]Atlas Prodigy Neck Brace[/mageProductLink] is the ideal solution for young teens and women looking for a perfect fit. While it might seem inconvenient that one size doesn't fit all, when it comes to a neck brace it's essential that it is tailored to a rider's specific needs. Therefore, it's necessary that braces come in all shapes and sizes, and Atlas made sure they included even more options with their Prodigy Brace.

This product is customized to meet the requirements and specifications of a neck brace. And it couldn't be easier to get in and out of. The Emergency Release System allows riders to enter and exit the brace at the push of a button, and Atlas ensures no loose parts will fall away. This quality and convenience is what makes all the difference for riders. Not only are they staying safe with a brace, but the product is comfortable and easy to take on and off.

"With most protection products, comfort is often sacrificed," read the Atlas website. "We believe in making products that don't overlook this very critical feature so that our customers don't have to hinder their performance. Our products use never before seen features and advanced materials to create the ultimate balance of quality and comfort, without sacrificing protection."

[mageProductLink sku="372-0945" title=""][/mageProductLink]The Design
Atlas
' Prodigy Neck Brace is engineered to fit smaller riders, while still ensuring they have the same range of motion as riders of other sizes. This unique design is what sets the Prodigy Neck Brace apart from other braces.

The chest strap on the brace is simple and allows riders more adjustment than most braces. In addition, an innovative back support is far lighter than other braces, while still covering a large surface area. This design is one example of how Atlas finds the perfect balance between safety and comfort. By having a greater surface area, riders won't have to worry about pressure points on their back taking the brunt of a fall, as weight is evenly dispersed with the pivoting back support.

"To truly innovate, you have to be willing to completely change the way you think about a product," said Atlas website. "Every aspect must be re-imagined from the ground up. With endless hours of R&D, we make it our mission to create the absolute best products possible that truly fit, flex, and function as they should. We are committed to excellence."

[mageProductLink sku="372-0968" title=""][/mageProductLink]Convenience
Aside from fitting in-between-sized riders and offering an innovative design, Atlas wanted to make this brace more convenient when compared to other braces.

Reversible rear mounts allow a rider to adjust without having to buy an additional set of mounts. These mounts provide multiple chest sizes and a custom fit for riders. Essentially, the Atlas Prodigy Neck Brace gives riders two sizes in one product, all the while offering a more simplistic and user-friendly design.

"We go to great lengths to create simplistic products," their website said. "By removing all the unnecessary parts from the assembly, you get a far more user friendly end result. From fit and adjustment to function and maintenance, carefully engineered simplicity allows us to make everything a step above the competition."

Women and younger riders looking for the perfect fit in a neck brace need to look no further than the Atlas Prodigy Neck Brace.