Ready For Battle: Street Bike Protective Gear Essentials
Chaparral Motorsports
|
May 30, 2014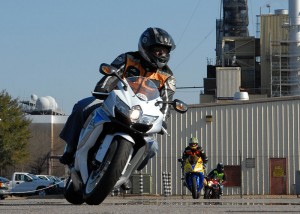 We've fully entered into the motorcycle riding season and with that comes an army of two-wheeled soldiers ready to battle against cagers for their fair share of paved turf. And with the evolution of motorcycle riding gear we've now entered a world where we can cover ourselves in protective wear like futuristic bio-mechanical robots. From under armor to exo-skeleton padding, the choices for street bike protective wear continues to expand, ensuring our legion of high-speed, technical, and stunt riding warriors will be ready for the open road.
Listed below are a five of our favorite body armor items.

Forcefield Pro Protection Jacket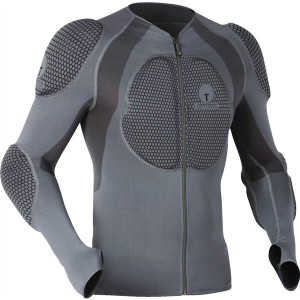 You might look at this piece of motorcycle gear and wonder "why would I wear something like this if my motorcycle jacket already has armor? " Well, the answer is simple, not everyone is satisfied with the comfort or fit of the stock armor that came with their jacket. Sometimes the stock elbow, shoulder, or back armor is too stiff, doesn't offer great mobility/flexibility, or is just made of simple foam padding that doesn't offer the best results in impact absorption. This Pro Protection Jacket from Forcefield is a great option for those that aren't happy with the armor that came with their jacket or their jacket didn't even come with armor. Forcefield is known for making high-end body armor and this piece is no exception. This under jacket is comprised of a lightweight shell made of BeCool moisture wicking material and features CE approved Level 1 armor in the elbows, shoulders, and chest, along with a CE approved Level 2 back protector. All armor is removable to suit your comfort needs and the shell material is washable to keep the jacket fresh. With its tight fitting shell and flexible padding, the jacket easily conforms to the body for a comfortable fit without feeling excessively bulky. The highly technical armor has been specially designed to offer great energy absorption without being too soft.

Scorpion EXO SGS Leather Gloves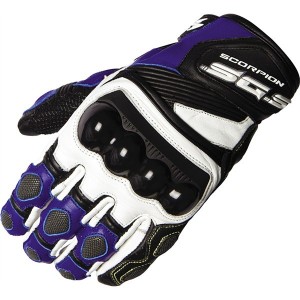 It's a natural instinct for people to want to put their hands out to catch themselves when they fall. For a motorcyclist that reaction can result in the palms getting ripped to shreds in an instant. A good pair of motorcycle gloves can make a world of difference in the event of a low side slide. While many gloves offer great protection with leather or high impact material in the palm areas these SGS Leather Gloves from Scorpion up the ante by incorporating Knox's Scaphoid Protection System (SPS) into the palm. The Knox SPS features a small hard plastic-like slider located at down by where the thumb bone meets the wrist. With most leather gloves when you fall forward and begin to slide on your palms, the leather can often get caught up on the pavement causing the hand to twist or even possibly causing your body to roll. Similar to knee sliders, the palm sliders are designed to act as an additional preventive layer between your precious skin and the flesh hungry pavement and allow your palms to slide against the pavement. The top side of these motorcycle gloves feature Thermoplastic Polyurethane molded knuckle protectors for impact protection against things like side-view mirrors when fitting between tight spaces. The gloves are made from a mix of top-grade perforated and non-perforated leather with highly abrasion resistant kangaroo skin in the palms for a comfortable and firm feel on the motorcycle grips. Additional protection and durability is provided by the Kevlar® out stitching, Kevlar® internal palm patch, and ventilated thermoplastic rubber on the back of the gloves cover critical areas of the fingers.

Speed and Strength Lunatic Fringe Armored Protection Vest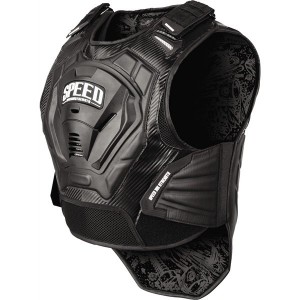 We like this motorcycle vest for its armadillo-like spine protector. While we never expect to go down on our motorcycle, when the unfortunate circumstance does arise the Lunatic Fringe Armored Protection Vest will absorb the majority of the impact and help protect you should you land on or roll over onto your back. In addition, the ridged, flex-panel design of the injection-molded, CE approved spine protector allows you to bend into your riding position without stressing your back. Tri-composite Fierce Mesh allows for easy ventilation while also being highly abrasion resistant. The front of the vest features an injection-molded chest protector and Speed and Strength's Lockdown waist and shoulder adjusters allow you to adjust the vest to fit over a motorcycle jacket or t-shirt quickly and easily. Along with impact protection this vest offers nighttime protection with Speed and Strength's Light 'Em Up LED system built into the vest. Hidden behind the front left shoulder is small button that you push to get the LEDs to glow solid red, flash slow, or flash fast.

Icon Field Armor Stryker Knee Guards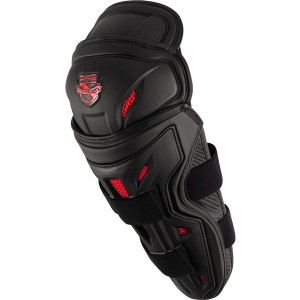 Most motorcycle pants and riding jeans feature padding in the knee area but what they often lack is protection for the rest of the lower leg.[mageProductLink sku="038-2704-0238" title=""] Icon's Field Armor Stryker Knee Guards[/mageProductLink] offer the benefit of a high impact knee pad incorporated with a strong shin guard. The exterior is made of three injection-molded plates layered over one another to fully cover the shin, knee cap, and just above the knee. The top plate also helps keep the guard in place preventing it from creeping down. Below the exterior are a layer of bio foam and a layer of D3O-an energy management material that disperses impact laterally instead of towards the body. Similar to an armadillo, the layers allow for easy articulation while HdryaDry material against the skin wicks sweat and moisture away. With their Velcro adjustment straps and thin profile these motorcycle knee guards are easy to slip on and comfortably fit under or over your pants. And for those that like additional protection, you can pick up a matching set of elbow guards as a well.

Forcefield Pro 008 Back Protector Insert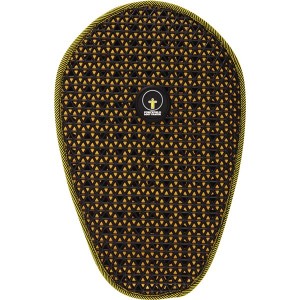 Here we find ourselves looking at another product from Forcefield Armour, this time it's their Back Protector Insert. Designed for motorcycle jackets with an existing back protector pocket, [mageProductLink sku="ff-1013-008" title=""]Forcefield's Back Protector inserts[/mageProductLink] are a smart choice for those who have simple foam padding or want the utmost in back protection. Forcefield offers their motorcycle back protector upgrades in ten different shapes and sizes to fit a variety of jackets/back insert pockets and most are available in either a lite version which offers CE Level 1 protection or a standard version which provides CE Level 2 protection. The key to Forcefield's armor is the honeycomb-like design of its Nitrex Evo armor. Nitrex Evo is a unique high-tech shock absorbing material that allows energy to be dispersed and absorbed evenly over the entire surface of the pad. The material is also highly flexible so its moves with your body and is ideal for the aggressive position associated with sport bike riding. To help reduce fatigue and sweat the pad is lightweight, perforated, and breathable.