Arai Vs Schuberth Helmets
Chaparral Motorsports
|
May 30, 2014
|
Last Updated: October 9, 2020
Motorcycle riders likely have a big decision to make: What helmet should they go with, an Arai or a Schuberth?
Both companies have a wide array of options to choose from, and depending on their preferences, riders might prefer one brand over another.
When it comes to deciding which brand to pick for their next helmet, riders can choose from the cutting edge technology of Schuberth or the handmade and highly innovative Arai.
The Companies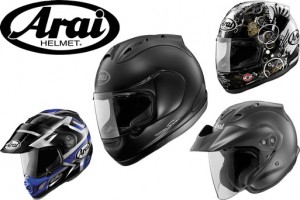 Arai has been family-owned for three generations, and it's their technology and philosophy they say differentiates them for other helmet manufacturers. According to their website, each Arai helmet takes nearly 18 man-hours.
"Each and every Arai helmet is made by hand," reads their website. "We say 'almost 100% handmade'. The 'almost' restriction is for an automatic laser beam cutting out e.g. the visor aperture. But from the bare outer shell to the finished helmet, including the advanced design applications, the hands of skilled craftsmen perform everything."
Like Arai, Schuberth has been in the helmet industry for quite some time - more than 70 years. Priding itself on its technological advancements, the German-based Schuberth now exports its helmets to 55 countries. As both companies have been leading helmet manufacturers for decades, how do riders decide which one to choose?
Their Products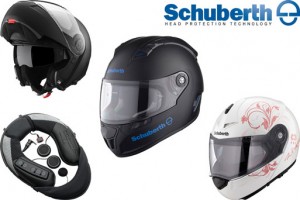 Arai has a variety of helmets, including full-face, open face, off-road and adventure. Its Corsair-V full face helmet is a popular choice for riders looking for a great value in a helmet; while its dual sport helmet, the XD-4, is ideal for those heading off road. Whatever their needs, it's likely riders can find a suitable option at Arai.
Schuberth also gives riders a plethora of helmets to choose from. Its C3 helmet is a practical option for riders looking for comfort and safety, while its more advanced offerings, like the Schuberth SR1 Technology Helmet are perfect. Priding itself on technological advances, Schuberth even has Bluetooth communications systems that are built into optional chin collars that fit with its helmets in a "Plug 'N Play" fashion.
"As the only helmet manufacturer in the world with its own wind and acoustic tunnels Schuberth offers fully developed motorcycle helmets which deserve to be talked about in the superlative," reads the company's website. "For example, the smallest, lightest and quietist flip-up helmet in the world is produced by Schuberth. The first fully integrated Bluetooth-based communication system was a real show-stopper when it was introduced in 2010. In 2011 Schuberth introduced the SR 1, the first genuine racing helmet for motorcycle sport, opening up a market niche for itself in the process."