2014 AMA Pro Motocross Glen Helen Race Results
Chaparral Motorsports
|
May 27, 2014
Ryan Dungey, Jeremy Martin Emerge Victorious At Glen Helen
[caption id="attachment_32153" align="alignright" width="300"]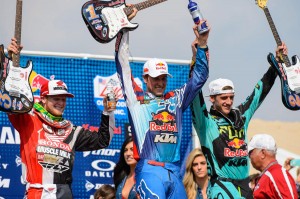 450MX Overall Winners - Photo: Simon Cudby[/caption]

More than 27,000 fans witnessed a historic afternoon of racing at Saturday's 2014 Lucas Oil Pro Motocross Championship, sanctioned by AMA Pro Racing, season opener, which took place in San Bernardino, California. The 450 Class winner Ryan Dungey and 250 Class winner Jeremy Martin emerged victorious in their respective classes, making history as the first Minnesota natives to sweep the winner's circle at the sixteenth running of the Red Bull Glen Helen National.

The Glen Helen National made its highly anticipated return to the Lucas Oil Pro Motocross circuit for the first time since 2009, when Red Bull KTM's Ryan Dungey captured the 250 Class win en route to claiming the 250 Class Championship the same year. Dungey, also a two-time 450 Class Champion, made a statement at the season opener as he topped the highly competitive field with 3-1 moto scores.

Dungey's stiffest competition came from his Red Bull KTM teammate Ken Roczen, who finished in the runner-up position in his Pro Motocross 450 Class debut.

It was Riverside, California's Josh Grant who kicked off the season opener in a big way as the Toyota/JGRMX Yamaha rider captured the $500 MotoSport.com Holeshot Award and led Moto 1 from start to finish. Grant's newest JGRMX teammate, Phil Nicoletti, joined the front-runner early on in Moto 1 before Roczen made the move for second place. Roczen made a valiant charge toward Grant's lead at the end, where he finished less than one second behind the JGRMX rider for second place, while Dungey came in third.

[caption id="attachment_32176" align="alignleft" width="300"]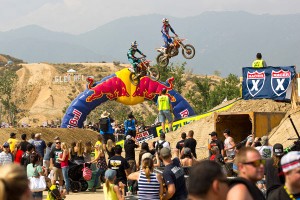 Dungey & Roczen - Photo: Chris Ortiz[/caption]

The Red Bull KTM duo of Dungey and Roczen were neck-and-neck heading into the second moto and things only became more exciting as the gate dropped and the battle ensued. Roczen got off to a great start and Dungey filed in close behind, but as the race wore on, the veteran Dungey closed the gap on the leader. With only a few corners to go, Dungey made the pass on Roczen for the lead and held on to capture the Moto 2 win.

Dungey's 3-1 moto scores were enough to secure his first overall win at Glen Helen in the 450 Class, where he now leads the early points chase heading into the second round next weekend.

"It was really just a game of cat and mouse the whole time," Dungey said. "I felt like the win was there early on, but I just needed to make that pass happen [on Roczen]. It was good to go 1-2 with a teammate and it was a good day for KTM."

While Roczen led fifteen of the sixteen laps in Moto 2, the former world champion finished second place in the moto and second overall for the day.

[caption id="attachment_32174" align="alignright" width="300"]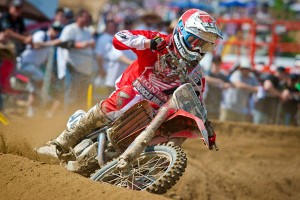 Trey Canard - Photo: Matt Rice[/caption]

"I'm happy about my riding today," Roczen said. "I want to take it week by week and just keep making progress. We're going to go to Sacramento 100 percent focused and to just ride as good as we can."

Team Honda Muscle Milk's Trey Canard carried himself to a podium finish in the second moto, where a 7-3 score gave him third overall for the day.

"One thing that's for sure about this series is that it's long," Canard said. The biggest thing you can do is just focus on yourself and try to go out there and win the race. My goal is to get maximum points each week and where the cards fall, they will."

Australia's Brett Metcalfe made his first appearance aboard the Monster Energy Kawasaki squad on Saturday, where he will fill in for the injured 2013 450 Class Champion Ryan Villopoto this season. Metcalfe, who is the reigning Canadian Motocross Champion, proved his merit by claiming fourth overall for the day, just ahead of Grant, who ran into issues in Moto 2 that dropped him back to fifteenth. Grant's 1-15 score was good enough to land fifth overall in front of his hometown crowd.

[caption id="attachment_32163" align="alignleft" width="300"]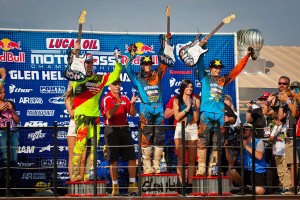 250MX Overall Winners - Photo: Matt Rice[/caption]

In the 250 Class, it was a big day for the Yamalube/Star Racing/Yamaha team, who saw two of the three podium finishes in the division. In his sophomore year of Lucas Oil Pro Motocross competition, Millville, Minnesota's Jeremy Martin secured his first career victory with a 1-1 sweep for the day. Martin accomplished an impressive feat, as the 21-year-old led every lap of 250 Class racing across both motos at the opening round.

Martin was joined atop the podium by his Yamalube/Star Racing/Yamaha teammate Cooper Webb, of Newport, North Carolina. Like Martin, Webb put forth a consistent effort, where he finished with a pair of second places to claim the runner-up position for the day.

While Troy Lee Designs/Lucas Oil/Honda's Cole Seely didn't get the best starts, the southern California native quickly put himself into the top five in both motos. Seely battled with Webb in the first moto, where the duo flip-flopped for the second place position. Rockstar Energy KTM's Jason Anderson interjected himself into the mix, where he finished third in the first moto. In the end, Seely finished the day with third overall after scoring a consistent showing of 4-4.

Jeremy Martin heads into the second round as the points leader in the 250 Class for the first time in his professional motocross career.

Round 2 of the Lucas Oil Pro Motocross Championship heads to Sacramento, California for the GoPro Hangtown Motocross Classic on Saturday, May 31.

http://www.youtube.com/watch?v=6nn59Sj0ReE

Source: Pro Motocross

Ryan Dungey And Ken Roczen Finish 1-2 At Glen Helen Motocross!
[caption id="attachment_32178" align="alignright" width="300"]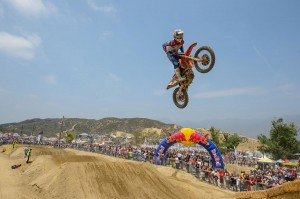 Ryan Dungey - Photo: Simon Cudby[/caption]

Red Bull KTM Factory riders Ryan Dungey and Ken Roczen topped the podium at the opening round of the Lucas Oil Pro Motocross Series finishing 1st and 2nd respectively in the 450 Motocross class.

The finishing order for the day was the same order that the teammates qualified in during practice. It was Ryan Dungey who earned the top time in the first practice while Ken Roczen topped the board in the second qualifying session.

When the gate dropped for moto one, it was Roczen with the better jump off the start. He rounded the first corner in 3rd place while Dungey was sitting in 4th. On the next lap, both riders passed Phil Nicoletti to move up another position. The two teammates remained close the entire race as they held on to their podium positions. At the end of the moto, Roczen was able to hold off his teammate to finish 2nd while Dungey rounded out the podium in 3rd.

In the second moto, the teammates put their KTM 450 SX-Fs up front early when Roczen pulled the holeshot with Dungey in tow. The two teammates quickly pulled away from the field as they battled each other for the win. With four laps remaining, Dungey began to pressure Roczen for the lead. The two raced bar to bar while the crowd rose to their feet.

[caption id="attachment_32175" align="alignleft" width="199"]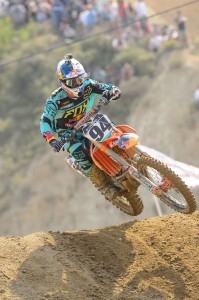 Ken Roczen - Photo: Simon Cudby[/caption]

On the final lap, with three corners to go, Dungey leaped past his teammate and made the pass for the lead. Moments later, Dungey crossed the line to take the win and the overall for the day while Roczen finished right behind him for 2nd overall. The two teammates excitedly congratulated each other and rode to the podium for a celebration.

"The track was really tough today", stated Dungey. "The crew did a great job prepping it but it definitely got to be one-lined in the second moto. It was hard to make a pass and that is why it took so long for me to challenge for the lead. I'm really happy with my result today and hope to carry this momentum to Hangtown."

Roczen commented: "I had a lot of fun today. I have raced the GP here before and ridden this track a lot so I knew what to expect. I was fortunate to get good starts and that kept me up front. I'm pumped to have a podium at the first round to get this season started right."

Next Round: May 31, 2014 - Hangtown Motocross Classic, Sacramento, CA

Source: KTM North America

Monster Energy Kawasaki Flirts With The Podium At Glen Helen Season Opener
[caption id="attachment_32172" align="alignright" width="300"]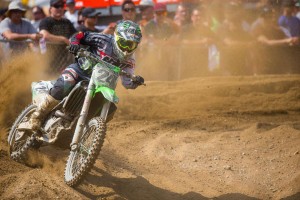 Brett Metcalfe[/caption]

Following a four-year hiatus from the Lucas Oil Pro Motocross Championship calendar, Glen Helen Raceway in San Bernardino, California returned as the season opener. In front of more than 27,000 fans on Saturday, Canadian Motocross Champion Brett Metcalfe made an impressive debut with Monster Energy Kawasaki by finishing in the top five in both motos to finish fourth overall with a 4-5 score. Jake Weimer overcame some early mistakes to finish 10-7 for eighth overall and Chad Reed and his KX450F rounded out the top-10 with a 9-10 score. In the 250 class, Monster Energy/Pro Circuit/Kawasaki's Blake Baggett finished on the podium in Moto 2 taking third place and scoring fourth overall. Dean Wilson and Justin Hill suffered some misfortune on the treacherous Glen Helen track and finished 12th and 19th, respectively.

[caption id="attachment_32173" align="alignleft" width="300"]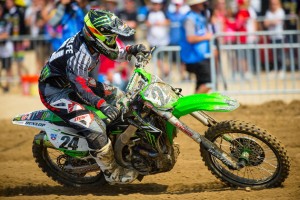 Brett Metcalfe[/caption]

Making His Return
With reigning motocross champion Ryan Villopoto recovering from knee surgery, Metcalfe was called down as reigning Canadian motocross champion to take his spot in the field. The last time the Australian competed in the Pro Motocross Championship he finished fourth overall in 2012 and knows what it takes to battle for wins. Metcalfe adjusted quickly to his new Kawasaki and battled up front in both motos to tie for third overall and was ultimately rewarded with fourth.

"I felt really good today," said Metcalfe. "The first moto took me a while to just work the jitters out and settle down. I really started to flow in the second moto and am happy to finish the day with fourth, but not satisfied. We learned a lot today and look forward to progressing."

[caption id="attachment_32162" align="alignright" width="300"]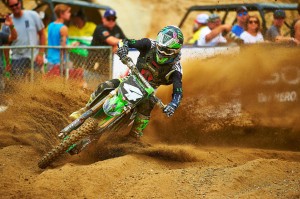 Blake Baggett[/caption]

The Local
Although most California based riders consider Glen Helen a home race, for Baggett it's more like racing in his backyard. Living just a few miles from the track, the 2012 champion has spun a few laps up Mount St. Helen in his career. Baggett overcame a mid-pack start in Moto 1 and was able to break into the top-10 and finish eighth. In the second moto he started with the leaders and ran in second and third for the entire 30 minutes plus two laps. His 8-3 score gave him fourth overall on the day.

"I expected a bit more from myself," said Baggett. "But I'm happy to get the season started off decent. The track was super rough, but didn't provide as many lines as I thought it would, which made it difficult to move forward.

[caption id="attachment_32169" align="alignleft" width="300"]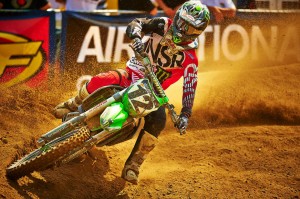 Jake Weimer[/caption]

Starting Off Right
Weimer started the day by qualifying eighth fastest and battled throughout the afternoon to finish consistent with a 10-7 score. A mistake halfway through the first moto dropped him a few positions, which he then had to overtake to finish within the top-10. In the second moto Weimer settled into a pace early that left him mistake-free and able to close in on a top-five finish but ran out of time.

"I feel the day was positive," said Weimer. "It's good to get the first race out of the way and I'm really happy with where we are with the KX450F. There's a few things I know I can work on early in the motos and I think if we can do that we can be up front battling."

[caption id="attachment_32159" align="alignright" width="300"]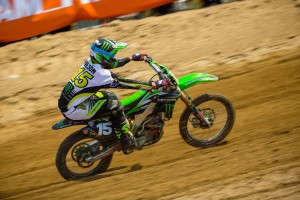 Dean Wilson[/caption]

Disappointing End
Wilson came into Glen Helen with a positive attitude and confidence to finish up front. The 2011 champion did not get a great start in the first moto and had to work his way forward from outside the top-20. By the halfway mark he had broke into the top-10, but could only recover to sixth. As the gate dropped for the second moto, The Scotsman put his KX250F up with the leaders and rounded the first lap inside the top-five. He continued to battle forward right up to the 30-minute mark when he crashed coming down Mount St. Helen and was unable to finish. Wilson was hospitalized to tend to a severe laceration to his leg and will return to racing as soon as possible.

[caption id="attachment_32158" align="alignleft" width="300"]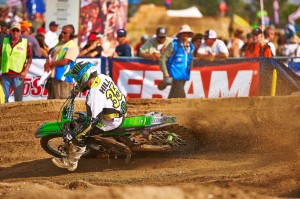 Justin Hill - Photo: Jacob Khan[/caption]

Gladiator
Hill was faced with an uphill battle all day that began with a flat front tire early in the first moto, which caused him to crash. He made a quick stop in the mechanics area and was back out to try and salvage what he could. In the second moto, Hill was caught up in a high-speed first turn pile up that caused a red flag. Hill got up battered and beaten, but restarted the moto and fought to finish just outside the top-10 in 11th place.

"Hard to be excited about today's result," said Hill. "That said, I had some pretty gnarly get-offs today and am leaving healthy, so I can't complain too much and will be ready to have a better weekend in Hangtown."

A Different Animal
Glen Helen is a popular destination for most riders while testing and practicing in California during the week, but the track on Saturday was a completely different course. The raceway spent the week prepping the track making it one of the roughest and most challenging courses the rider's will face this summer.

"I was happy to see a tough track," said Metcalfe. "Many of the tracks in recent years do not provide a rough and difficult track like how this was. It separates the men from the boys and is a real challenge. I hope more tracks are like that this year."

Source: Kawasaki Racing

Josh Grant Wins First Moto Of The Season
[caption id="attachment_32154" align="alignright" width="300"]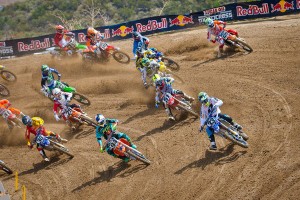 Josh Grant Moto 1 Holeshot - Photo: Matt Rice[/caption]

After a four-year hiatus from the series Glen Helen Raceway in San Bernardino, Calif. was the site of the opening round of the 2014 Lucas Oil AMA Pro Motocross Championship series. The first national held at the track was in 1993 and Saturday's event marked the 16th time the facility has hosted a round of the series. MAVTV aired the first moto live, and the NBC Sports Network broadcast the second moto later on Sunday morning. First motos always are streamed live on promotocross.com and both the first and second motos from each round are archived on promotocross.com as well.

As reported earlier Justin Brayton is recovering from a knee injury that resulted from a crash in practice at the Houston supercross. Josh Grant and Phil Nicoletti, with support from St. Lawrence Radiology and N-FAB raced for the Toyota/Yamaha/JGRMX team. Brayton will miss the first few rounds of the series while his injury heals.

Josh Grant gated perfectly on his YZ450F pulling the holeshot in the first moto with Nicoletti in tow. The Toyota/Yamaha/JGRMX teammates led the field in the early laps. Grant set a blistering pace at the front while Nicoletti was shuffled backward hovering just outside the top-10. Grant led every lap of the race to claim the moto win, with Nicoletti 11th. Grant's performance made him the talk of the television broadcast, and he was given an after moto interview for the MAVTV cameras and the worldwide live stream on promotocross.com.

Grant did not get the start he had hoped for when moto two began, and then suffered a crash relegating him to last (40th) place. Nicoletti began the race inside the top-five and was riding steady while Grant began a charge after remounting, logging 37th place on lap three. By lap eight Grant had moved into 21st position, and on lap 15 when the checkers were out Grant was 15th with Nicoletti 11th. Grant's 1 - 15 moto scores earned him fifth overall for the season opener, with Nicoletti's 11 -11 awarding him 12th on the day.

Next The Toyota/Yamaha/JGRMX Team travels to Sacramento, Calif. for the 46th running of the annual Hangtown Classic on May 31. MAVTV will broadcast the first moto live at 4:00 p.m. (EST). The second moto will air live on the NBC Sports Network at 6:00 p.m. (EST). The first moto will also stream live on promotocross.com.

Source: Joe Gibbs Racing

James Stewart Fights Back To Sixth At Glen Helen
[caption id="attachment_32171" align="alignright" width="300"]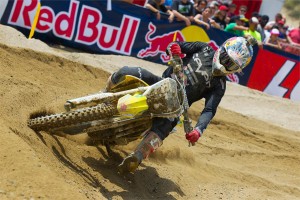 James Stewart[/caption]

Yoshimura Suzuki Factory Racing's James Stewart pressed forward with grit and determination at the opening round of the AMA Pro Motocross Championships at Glen Helen Raceway in San Bernardino, California on Saturday.

Although he suffered some bad luck in both 30-minute motos, he still managed to race his Yoshimura Suzuki RM-Z450 to a respectable sixth-place result overall at the season-opening round of the series.

After a four-year hiatus from racing at the infamous circuit, the series returned to Glen Helen for round one of the championships and Stewart was ready to win. But unfortunately, he got a poor start in the first moto, but still managed to work his way-up to make a bid for the podium until another rider slowed in front and Stewart ran into him.

James Stewart:
"It was a rough day. It was a very rough day! In the first moto, I got a bad start but I made my way up to fourth and ended up running into the back of a guy. I don't know if he stalled-it or if he went to switch lines, but he basically stopped in the corner and I hit him. But I picked the bike back up and got up in 13th and made my way back up to sixth."
[caption id="attachment_32170" align="alignleft" width="200"]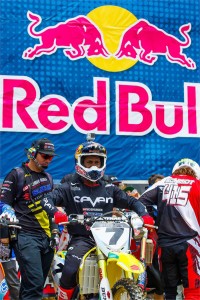 James Stewart[/caption]

The second moto saw Stewart get a better start on his Yoshimura Suzuki RM-Z450 but then he got caught up with another rider. Despite a few setbacks, Stewart turned up the heat and made his way through the field to finish sixth again. The two sixth-place moto results gave him sixth overall for the day.

"In the second moto I got a good jump off the start," said Stewart. "I don't know what happened, but I got tangled with another rider and I almost went down. So I steadily worked my way up and was catching-up to fifth. But I made a couple of mistakes and some guys got around me. Then I almost lost it and took about 30 fans out and went into the fence, but I saved it. We'll salvage the points from this race and we'll be back next week. We've got the first race out of the way. We know how the series is, things don't start really kicking in until round three or four. We'll get off this Glen Helen dirt and get up to Hangtown and go on from there."

Yoshimura Suzuki Factory Racing's next race is round two of the 2014 AMA Pro Motocross Championships on Saturday, May 31st at the Hangtown Motocross Classic in Sacramento, California.

http://www.youtube.com/watch?v=3CtLGny_Y0c

Source: Team Suzuki

Jeremy Martin And Cooper Webb Podium In Glen Helen
[caption id="attachment_32168" align="alignright" width="300"]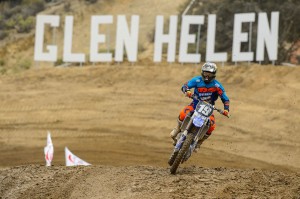 Jeremy Martin - Photo: Simon Cudby[/caption]

250 Moto 1
Jeremy Martin was second on the start and gained first position during the first lap. After making the pass for the lead, he showed that he was the fastest rider on the track, leading every lap of the race and taking his first moto win of the season in a dominant fashion with a 15 second lead.

Cooper Webb on the other hand, started mid-pack and with great effort he passed all the up to second place. Even when he was challenged on the last lap, for the second place finish, he refused to back down resulting in the Yamalube/Star Racing/Yamaha's taking the top two positions in the first moto.

Rookie, Anthony Rodriguez, had a good start and was riding strong in his first ever Pro Motocross race. He was in 5th position until he crashed. He got up and finished in 24th place.

[caption id="attachment_32165" align="alignleft" width="300"]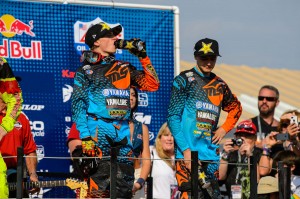 Jeremy Martin & Cooper Webb - Photo: Simon Cudby[/caption]

250 Moto 2
The second moto started with Jeremy Martin and Cooper Web upfront until the race was red- flagged because of a start pileup. Unfortunately Rodriguez was involved in the crash and did not restart. Martin once again got off to a great start and soon found himself upfront on the first lap. He dominated the race and got the second moto win with an impressive 21 second lead. Cooper Webb was top ten in the first lap of the restart. He charged his way through the pack up to second, passing previous MX champion Blake Bagget, giving Yamalube/Star Racing/Yamaha the top two positions for the second moto. The all-new 2014 YZ250F Yamaha was dominant in both motos, and had all the media scratching their heads wondering what happened to all the past champions and world champions that were in this very strong field.

Jeremy Martin got the overall win at Glen Helen with both moto wins. Cooper Webb came in second overall, finishing second in both motos.

Source: Star Racing Yamaha

Marvin Musquin Finishes 8th At Glen Helen Motocross
[caption id="attachment_32156" align="alignright" width="300"]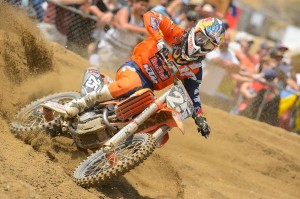 Marvin Musquin - Photo: Simon Cudby[/caption]

Red Bull KTM Factory rider Marvin Musquin made his return to racing at the opening round of the Lucas Oil Pro Motocross Championship at Glen Helen Raceway and finished 8th overall after turning 10-8 moto results.

Marvin Musquin placed just outside of the top ten in the beginning practice session and was happy with his times in his first session back since recovering from a torn ACL. In the second practice, Musquin got sideways down a choppy straight and tweaked his shoulder. He was unable to put a fast time in and had to pull off early to get his shoulder looked at. Luckily, Musquin was able to race but did struggle with his shoulder throughout the day as the track continued to get rougher.

In moto one, Musquin got his signature start earning the holeshot around the first corner. He led for the first half lap before dropping back. On the second lap he was in 7th place. He made a few mistakes in the next few laps that pushed him back to 12th by lap six. He recovered from those mistakes and climbed back two positions to secure 10th overall before the moto end.

[caption id="attachment_32157" align="alignleft" width="300"]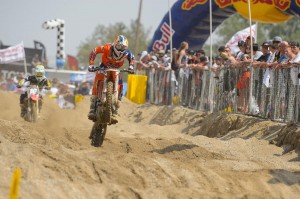 Marvin Musquin - Photo: Simon Cudby[/caption]

In the second moto, Musquin started in 8th place. On his KTM 250 SX-F he fought for that position throughout most of the race only dropping back as low as 10th. With two laps to go, Musquin was able to move back up to 8th place where he finished the race. His 10-8 moto scores earned him 8th overall.

"I had a rough time with my shoulder today", stated Musquin. "Luckily, my knee felt really good and I think my shoulder will be fine at Hangtown. I am looking forward to making progress at each round until I am 100%."

Next Round: May 31, 2014 - Hangtown Motocross Classic, Sacramento, CA

Source: KTM North America

Jason Anderson Encounters Technical Difficulties At Round 1
[caption id="attachment_32160" align="alignright" width="300"]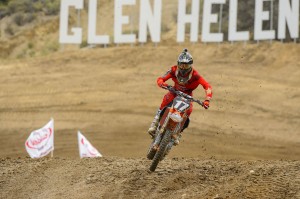 Jason Anderson - Photo: Simon Cudby[/caption]

Rockstar Energy Racing's Jason Anderson didn't have much time to revel in his championship winning Supercross season with such a short break before the Motocross Season's inaugural round of 2014. In fact, two days after Vegas SX, he had his wisdom teeth pulled on Monday and was back on the bike Tuesday. With such intense focus on the task at hand, the 250 West Coast Title will likely not sink in until the end of the outdoor season. However; he did come in Glen Helen carrying a lot of momentum.

Anderson is certainly very aggressive on the bike and to many spectators, the most fun to watch circle the track. That's rings even more true on outdoor style tracks with his amazing ability to scrub and stay so low at times that it appears that he doesn't leave the ground. Yet somehow he does this with complete control.

Jason was the 2nd fastest 250 rider in the final qualifying practice. With his level of fitness, this is a very good spot to be. Everyone knows that JA will be very strong in the final 5 minutes. In his first moto, he got good a good jump off the gate with his front wheel in the air and shifting through gears. Unfortunately when he set it down, the wheel sunk into the very soft, deep soil, slowing his drive considerably.

[caption id="attachment_32161" align="alignleft" width="199"]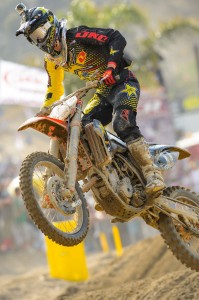 Jason Anderson - Photo: Simon Cudby[/caption]

When on the line with 39 other professional racers, any loss of speed will put you far back from the lead. The 17 was mired in the pack well out of the top 10. All of his main competitors that the MX pundits predicted to be the top 5 fastest outdoor riders, sprinting away in front of him. Anderson proved his prowess during the initial 35 minute moto, catching and passing all but two riders, en route to a 3rd place finish.

In the final 250 moto of the day, Jason again didn't get the best of starts but improved vastly over the previous one. He was rapidly moving towards the lead pack once again until just past halfway he began to slow his pace. With the deep soil and steepest hills of any track on the circuit in play, Glen Helen can be very trying on any bike out there. Especially with the rate of speed top riders are traveling. Jason had a feeling something might be wrong, so he kicked it back a notch. This particular track has huge obstacles and he was wise in that decision. At times not even jumping the massive triple all the way, yet still remaining in an overall 3rd place position on the day. Unfortunately at the very end of the race, something happened and he was forced to DNF. One of the most amazing things of the day was Jason's attitude going into next week. Even after putting his best effort forward and being thwarted, he was just happy he was able to be out there racing his dirt bike. It's a long season with 22 more motos remaining and he knows he is certainly not out of this title chase.

Jason Anderson:
"I had a good first moto, then in the 2nd moto I was feeling alright but ended up having some issues about halfway. I wasn't able to finish the moto. There was something going on and I just wasn't able to push from then on. I felt fine but there are a lot of big jumps out there and I kind of just wanted to make it through the race, which ended up not happening. It's not a good situation to be in but we'll figure it out and be ready next week."
The series moves just a few hours north next week to Hangtown MX at Prairie City ORV. Anderson will surely rebound and begin to close the points gap. Davi Millsaps, who was unable to line up at Glen Helen due to further issues with his injured foot, will continue to rehab. Joey Savatgy suffered a broken collar bone prior to round 1, but should only miss a couple of weeks.

Source: Rockstar Energy Racing

Glen Helen Overview And Point Standings
2014 AMA Pro Motocross Glen Helen Image Gallery (Click for full size images)


450MX Class Moto 1 Results - Race Time: 36:42.368














































































































































































































































































































































| Pos. | # | Rider | Bike | Interval | Best Time |
| --- | --- | --- | --- | --- | --- |
| 1 | 33 | Josh Grant | Yamaha YZ450F | 16 Laps | 2:17.556 |
| 2 | 94 | Ken Roczen | KTM 450 SX-F Factory Edition | +00.410 | 2:16.587 |
| 3 | 5 | Ryan Dungey | KTM 450 SX-F Factory Edition | +06.876 | 2:17.205 |
| 4 | 24 | Brett Metcalfe | Kawasaki KX450F | +1:07.018 | 2:20.355 |
| 5 | 40 | Weston Peick | Suzuki RM-Z450 | +1:11.648 | 2:21.156 |
| 6 | 7 | James Stewart | Suzuki RM-Z450 | +1:14.551 | 2:17.808 |
| 7 | 41 | Trey Canard | Honda CRF450R | +1:16.232 | 2:17.437 |
| 8 | 34 | Malcolm Stewart | Honda CRF450R | +1:30.301 | 2:20.691 |
| 9 | 22 | Chad Reed | Kawasaki KX450F | +1:32.854 | 2:21.321 |
| 10 | 12 | Jacob Weimer | Kawasaki KX450F | +1:34.041 | 2:20.770 |
| 11 | 38 | Phillip Nicoletti | Yamaha YZ450F | +2:07.893 | 2:22.210 |
| 12 | 207 | Sean Collier | KTM 450 SX-F Factory Edition | +2:09.765 | 2:24.386 |
| 13 | 9 | Ivan Tedesco | Suzuki RM-Z450 | +2:15.219 | 2:24.698 |
| 14 | 331 | Tommy Weeck | Honda CRF450R | +2:17.662 | 2:25.033 |
| 15 | 11 | Kyle Chisholm | Yamaha YZ450F | 15 Laps | 2:26.580 |
| 16 | 415 | Nicholas Schmidt | Honda CRF450R | +04.725 | 2:25.960 |
| 17 | 77 | Jimmy Albertson | Honda CRF450R | +15.027 | 2:26.857 |
| 18 | 59 | Peter Larsen | KTM 450 SX-F | +27.480 | 2:27.087 |
| 19 | 95 | Evgeny Mikhaylov | KTM 450 SX-F | +34.115 | 2:26.946 |
| 20 | 48 | Ben Lamay | Yamaha YZ450F | +39.648 | 2:26.667 |
| 21 | 123 | Kevin Rookstool | KTM 450 SX-F | +42.862 | 2:28.764 |
| 22 | 505 | Cyrille Coulon | Suzuki RM-Z450 | +57.129 | 2:28.538 |
| 23 | 606 | Ronnie Stewart | Suzuki RM-Z450 | +1:19.236 | 2:28.133 |
| 24 | 761 | Cade Clason | Honda CRF450R | +1:56.505 | 2:31.436 |
| 25 | 681 | Austin Howell | Suzuki RM-Z450 | +2:03.652 | 2:31.992 |
| 26 | 481 | Sergey Astaykin | Kawasaki KX450F | +2:06.049 | 2:32.910 |
| 27 | 285 | Tony Archer | Kawasaki KX450F | +2:21.893 | 2:32.679 |
| 28 | 526 | Colton Aeck | Yamaha YZ450F | +2:22.959 | 2:34.382 |
| 29 | 80 | Fredrik Noren | KTM 450 SX-F | +2:28.630 | 2:28.409 |
| 30 | 92 | Kellian Rusk | Yamaha YZ450F | 14 Laps | 2:26.866 |
| 31 | 852 | Nicklas Gustavsson | Honda CRF450R | +2:19.689 | 2:33.406 |
| 32 | 128 | Michael Sleeter | KTM 350 SX-F | +2:26.851 | 2:33.174 |
| 33 | 140 | Johnny Moore | Honda CRF450R | +2:46.955 | 2:35.156 |
| 34 | 51 | Justin Barcia | Honda CRF450R | 12 Laps | 2:18.329 |
| 35 | 29 | Andrew Short | KTM 450 SX-F | +29.204 | 2:20.412 |
| 36 | 636 | Keith Knight | Yamaha YZ450F | 9 Laps | 2:34.976 |
| 37 | 534 | Travis Freistat | Kawasaki KX450F | +09.515 | 2:34.573 |
| 38 | 869 | Robert Lind | Yamaha YZ450F | 8 Laps | 2:32.718 |
| 39 | 329 | Chad Gores | Honda CRF450R | +2:19.731 | 2:34.148 |
| 40 | 135 | Robert Fitch | KTM 450 SX-F | 5 Laps | 2:34.699 |
450MX Class Moto 2 Results - Race Time: 35:11.273
| Pos. | # | Rider | Bike | Interval | Best Time |
| --- | --- | --- | --- | --- | --- |
| 1 | 5 | Ryan Dungey | KTM 450 SX-F Factory Edition | 15 Laps | 2:19.246 |
| 2 | 94 | Ken Roczen | KTM 450 SX-F Factory Edition | +00.793 | 2:18.666 |
| 3 | 41 | Trey Canard | Honda CRF450R | +30.811 | 2:20.499 |
| 4 | 51 | Justin Barcia | Honda CRF450R | +39.893 | 2:23.461 |
| 5 | 24 | Brett Metcalfe | Kawasaki KX450F | +51.566 | 2:22.207 |
| 6 | 7 | James Stewart | Suzuki RM-Z450 | +1:10.114 | 2:22.961 |
| 7 | 12 | Jacob Weimer | Kawasaki KX450F | +1:15.426 | 2:24.743 |
| 8 | 34 | Malcolm Stewart | Honda CRF450R | +1:23.760 | 2:25.177 |
| 9 | 9 | Ivan Tedesco | Suzuki RM-Z450 | +1:39.482 | 2:25.719 |
| 10 | 22 | Chad Reed | Kawasaki KX450F | +1:48.670 | 2:25.961 |
| 11 | 38 | Phillip Nicoletti | Yamaha YZ450F | +1:52.459 | 2:26.479 |
| 12 | 48 | Ben Lamay | Yamaha YZ450F | +1:53.471 | 2:27.960 |
| 13 | 40 | Weston Peick | Suzuki RM-Z450 | +1:54.788 | 2:25.541 |
| 14 | 11 | Kyle Chisholm | Yamaha YZ450F | +2:25.140 | 2:28.558 |
| 15 | 33 | Josh Grant | Yamaha YZ450F | +2:27.288 | 2:24.808 |
| 16 | 80 | Fredrik Noren | KTM 450 SX-F | 14 Laps | 2:30.897 |
| 17 | 77 | Jimmy Albertson | Honda CRF450R | +04.551 | 2:29.201 |
| 18 | 95 | Evgeny Mikhaylov | KTM 450 SX-F | +07.952 | 2:30.397 |
| 19 | 29 | Andrew Short | KTM 450 SX-F | +15.777 | 2:25.696 |
| 20 | 606 | Ronnie Stewart | Suzuki RM-Z450 | +20.348 | 2:30.592 |
| 21 | 505 | Cyrille Coulon | Suzuki RM-Z450 | +30.260 | 2:29.222 |
| 22 | 331 | Tommy Weeck | Honda CRF450R | +41.442 | 2:30.024 |
| 23 | 415 | Nicholas Schmidt | Honda CRF450R | +49.287 | 2:33.288 |
| 24 | 852 | Nicklas Gustavsson | Honda CRF450R | +58.173 | 2:33.787 |
| 25 | 761 | Cade Clason | Honda CRF450R | +1:23.240 | 2:36.598 |
| 26 | 92 | Kellian Rusk | Yamaha YZ450F | +1:24.869 | 2:33.379 |
| 27 | 128 | Michael Sleeter | KTM 350 SX-F | +1:28.835 | 2:34.778 |
| 28 | 481 | Sergey Astaykin | Kawasaki KX450F | +1:32.097 | 2:33.651 |
| 29 | 123 | Kevin Rookstool | KTM 450 SX-F | +1:42.411 | 2:33.127 |
| 30 | 526 | Colton Aeck | Yamaha YZ450F | +1:52.772 | 2:38.489 |
| 31 | 681 | Austin Howell | Suzuki RM-Z450 | 13 Laps | 2:31.052 |
| 32 | 140 | Johnny Moore | Honda CRF450R | +1:51.341 | 2:41.830 |
| 33 | 135 | Robert Fitch | KTM 450 SX-F | 12 Laps | 2:43.282 |
| 34 | 534 | Travis Freistat | Kawasaki KX450F | +51.043 | 2:39.369 |
| 35 | 285 | Tony Archer | Kawasaki KX450F | 10 Laps | 2:34.276 |
| 36 | 329 | Chad Gores | Honda CRF450R | 6 Laps | 2:38.513 |
| 37 | 869 | Robert Lind | Yamaha YZ450F | 3 Laps | 2:48.852 |
| 38 | 207 | Sean Collier | KTM 450 SX-F Factory Edition | 2 Laps | 2:28.647 |
| 39 | 59 | Peter Larsen | KTM 450 SX-F | +20.179 | 2:36.689 |
| 40 | 636 | Keith Knight | Yamaha YZ450F | DNF | |
Overall Results - 450MX Class
| Pos. | # | Rider | Bike | M1 | M2 | Points |
| --- | --- | --- | --- | --- | --- | --- |
| 1 | 5 | Ryan Dungey | KTM 450 SX-F Factory Edition | 3 | 1 | 45 |
| 2 | 94 | Ken Roczen | KTM 450 SX-F Factory Edition | 2 | 2 | 44 |
| 3 | 41 | Trey Canard | Honda CRF450R | 7 | 3 | 34 |
| 4 | 24 | Brett Metcalfe | Kawasaki KX450F | 4 | 5 | 34 |
| 5 | 33 | Josh Grant | Yamaha YZ450F | 1 | 15 | 31 |
| 6 | 7 | James Stewart | Suzuki RM-Z450 | 6 | 6 | 30 |
| 7 | 34 | Malcolm Stewart | Honda CRF450R | 8 | 8 | 26 |
| 8 | 12 | Jacob Weimer | Kawasaki KX450F | 10 | 7 | 25 |
| 9 | 40 | Weston Peick | Suzuki RM-Z450 | 5 | 13 | 24 |
| 10 | 22 | Chad Reed | Kawasaki KX450F | 9 | 10 | 23 |
| 11 | 9 | Ivan Tedesco | Suzuki RM-Z450 | 13 | 9 | 20 |
| 12 | 38 | Phillip Nicoletti | Yamaha YZ450F | 11 | 11 | 20 |
| 13 | 51 | Justin Barcia | Honda CRF450R | 34 | 4 | 18 |
| 14 | 11 | Kyle Chisholm | Yamaha YZ450F | 15 | 14 | 13 |
| 15 | 48 | Ben Lamay | Yamaha YZ450F | 20 | 12 | 10 |
| 16 | 207 | Sean Collier | KTM 450 SX-F Factory Edition | 12 | 38 | 9 |
| 17 | 77 | Jimmy Albertson | Honda CRF450R | 17 | 17 | 8 |
| 18 | 331 | Tommy Weeck | Honda CRF450R | 14 | 22 | 7 |
| 19 | 80 | Fredrik Noren | KTM 450 SX-F | 29 | 16 | 5 |
| 20 | 95 | Evgeny Mikhaylov | KTM 450 SX-F | 19 | 18 | 5 |
| 21 | 415 | Nicholas Schmidt | Honda CRF450R | 16 | 23 | 5 |
| 22 | 59 | Peter Larsen | KTM 450 SX-F | 18 | 39 | 3 |
| 23 | 29 | Andrew Short | KTM 450 SX-F | 35 | 19 | 2 |
| 24 | 606 | Ronnie Stewart | Suzuki RM-Z450 | 23 | 20 | 1 |
Rider Point Standings - 450MX Class ( Race 1 of 24 )


Ryan Dungey - 45

Ken Roczen - 44

Trey Canard - 34

Brett Metcalfe - 34

Josh Grant - 31

James Stewart - 30

Malcolm Stewart - 26

Jacob Weimer - 25

Weston Peick - 24

Chad Reed - 23

Manufacturer Cup Point Standings - 450MX Class ( Race 1 of 24 )


KTM - 47

Yamaha - 35

Honda - 34

Kawasaki - 34

Suzuki - 31

250MX Class Moto 1 Results - Race Time: 35:09.474
| Pos. | # | Rider | Bike | Interval | Best Time |
| --- | --- | --- | --- | --- | --- |
| 1 | 19 | Jeremy Martin | Yamaha YZ250F | 15 Laps | 2:19.468 |
| 2 | 37 | Cooper Webb | Yamaha YZ250F | +15.423 | 2:21.331 |
| 3 | 17 | Jason Anderson | KTM 250 SX-F | +18.130 | 2:20.427 |
| 4 | 21 | Cole Seely | Honda CRF250R | +30.741 | 2:21.545 |
| 5 | 32 | Justin Bogle | Honda CRF250R | +36.461 | 2:21.493 |
| 6 | 15 | Dean Wilson | Kawasaki KX250F | +37.225 | 2:22.806 |
| 7 | 377 | Christophe Pourcel | Yamaha YZ250F | +38.769 | 2:22.744 |
| 8 | 4 | Blake Baggett | Kawasaki KX250F | +39.581 | 2:22.770 |
| 9 | 16 | Zach Osborne | Honda CRF250R | +58.037 | 2:22.301 |
| 10 | 25 | Marvin Musquin | KTM 250 SX-F | +1:02.064 | 2:22.594 |
| 11 | 96 | Matthew Bisceglia | Honda CRF250R | +1:06.472 | 2:24.155 |
| 12 | 737 | Valentin Teillet | Kawasaki KX250F | +1:15.550 | 2:24.018 |
| 13 | 78 | Matthew Lemoine | Kawasaki KX250F | +1:22.059 | 2:26.035 |
| 14 | 30 | Kyle Cunningham | Honda CRF250R | +1:23.755 | 2:25.761 |
| 15 | 50 | Jessy Nelson | Honda CRF250R | +1:28.312 | 2:24.753 |
| 16 | 71 | Zachary Bell | Honda CRF250R | +1:31.545 | 2:22.126 |
| 17 | 60 | Jackson Richardson | Honda CRF250R | +1:46.845 | 2:25.887 |
| 18 | 87 | Shane McElrath | Honda CRF250R | +2:03.822 | 2:27.829 |
| 19 | 91 | Jacob Baumert | Kawasaki KX250F | +2:21.699 | 2:29.164 |
| 20 | 84 | Scott Champion | Yamaha YZ250F | +2:25.604 | 2:28.194 |
| 21 | 56 | James Decotis | Honda CRF250R | 14 Laps | 2:28.947 |
| 22 | 47 | Kyle Peters | Honda CRF250R | +04.920 | 2:29.645 |
| 23 | 142 | Cole Martinez | Kawasaki KX250F | +06.985 | 2:30.526 |
| 24 | 267 | Anthony Rodriguez | Yamaha YZ250F | +11.126 | 2:25.293 |
| 25 | 762 | Blake Savage | Suzuki RM-Z250 | +13.499 | 2:30.963 |
| 26 | 371 | Dakota Alix | KTM 250 SX-F | +15.400 | 2:31.334 |
| 27 | 874 | Zack Williams | Honda CRF250R | +17.513 | 2:29.176 |
| 28 | 99 | Justin Starling | Honda CRF250R | +41.337 | 2:31.119 |
| 29 | 70 | Brady Kiesel | Honda CRF250R | +59.396 | 2:32.522 |
| 30 | 565 | Preston Mull | Yamaha YZ 250 | +1:10.937 | 2:31.845 |
| 31 | 638 | Brandan Leith | Kawasaki KX250F | +1:16.176 | 2:31.997 |
| 32 | 854 | Landen Powell | KTM 250 SX-F | +1:16.874 | 2:33.513 |
| 33 | 620 | Brad Nauditt | Honda CRF250R | +1:19.206 | 2:33.372 |
| 34 | 122 | Luke Reardon | KTM 250 SX-F | +1:25.662 | 2:37.620 |
| 35 | 449 | Dakota Kessler | Honda CRF250R | +1:54.963 | 2:32.999 |
| 36 | 35 | Justin Hill | Kawasaki KX250F | 13 Laps | 2:25.191 |
| 37 | 73 | Dillan Epstein | Honda CRF250R | 10 Laps | 2:27.015 |
| 38 | 83 | Dakota Tedder | Kawasaki KX250F | 8 Laps | 2:29.345 |
| 39 | 536 | Erik Meusling | Honda CRF250R | +16:06.652 | 2:35.607 |
| 40 | 55 | Alex Martin | Yamaha YZ250F | 3 Laps | 2:27.636 |
250MX Class Moto 2 Results - Race Time: 36:18.247
| Pos. | # | Rider | Bike | Interval | Best Time |
| --- | --- | --- | --- | --- | --- |
| 1 | 19 | Jeremy Martin | Yamaha YZ250F | 15 Laps | 2:21.411 |
| 2 | 37 | Cooper Webb | Yamaha YZ250F | +21.242 | 2:23.133 |
| 3 | 4 | Blake Baggett | Kawasaki KX250F | +26.452 | 2:22.920 |
| 4 | 21 | Cole Seely | Honda CRF250R | +55.733 | 2:24.244 |
| 5 | 377 | Christophe Pourcel | Yamaha YZ250F | +58.607 | 2:25.833 |
| 6 | 50 | Jessy Nelson | Honda CRF250R | +1:11.040 | 2:25.078 |
| 7 | 96 | Matthew Bisceglia | Honda CRF250R | +1:17.785 | 2:26.046 |
| 8 | 25 | Marvin Musquin | KTM 250 SX-F | +1:23.372 | 2:27.545 |
| 9 | 32 | Justin Bogle | Honda CRF250R | +1:27.608 | 2:26.842 |
| 10 | 55 | Alex Martin | Yamaha YZ250F | +1:33.858 | 2:27.783 |
| 11 | 35 | Justin Hill | Kawasaki KX250F | +1:37.698 | 2:27.051 |
| 12 | 30 | Kyle Cunningham | Honda CRF250R | +1:40.751 | 2:27.553 |
| 13 | 87 | Shane McElrath | Honda CRF250R | +1:41.295 | 2:27.311 |
| 14 | 60 | Jackson Richardson | Honda CRF250R | +2:31.421 | 2:30.946 |
| 15 | 47 | Kyle Peters | Honda CRF250R | +2:39.960 | 2:31.773 |
| 16 | 737 | Valentin Teillet | Kawasaki KX250F | 14 Laps | 2:31.369 |
| 17 | 78 | Matthew Lemoine | Kawasaki KX250F | +07.594 | 2:30.476 |
| 18 | 91 | Jacob Baumert | Kawasaki KX250F | +12.105 | 2:16.917 |
| 19 | 762 | Blake Savage | Suzuki RM-Z250 | +14.825 | 2:32.857 |
| 20 | 70 | Brady Kiesel | Honda CRF250R | +26.088 | 2:33.715 |
| 21 | 99 | Justin Starling | Honda CRF250R | +28.097 | 2:33.409 |
| 22 | 371 | Dakota Alix | KTM 250 SX-F | +31.382 | 2:33.862 |
| 23 | 142 | Cole Martinez | Kawasaki KX250F | +36.119 | 2:32.820 |
| 24 | 84 | Scott Champion | Yamaha YZ250F | +36.962 | 2:32.869 |
| 25 | 874 | Zack Williams | Honda CRF250R | +44.763 | 2:33.142 |
| 26 | 71 | Zachary Bell | Honda CRF250R | +48.222 | 2:27.707 |
| 27 | 83 | Dakota Tedder | Kawasaki KX250F | +59.722 | 2:35.160 |
| 28 | 565 | Preston Mull | Yamaha YZ 250 | +1:18.376 | 2:35.512 |
| 29 | 638 | Brandan Leith | Kawasaki KX250F | +1:46.383 | 2:33.694 |
| 30 | 620 | Brad Nauditt | Honda CRF250R | +1:48.690 | 2:39.477 |
| 31 | 17 | Jason Anderson | KTM 250 SX-F | 13 Laps | 2:24.159 |
| 32 | 56 | James Decotis | Honda CRF250R | +5:16.037 | 2:33.576 |
| 33 | 15 | Dean Wilson | Kawasaki KX250F | 12 Laps | 2:25.265 |
| 34 | 449 | Dakota Kessler | Honda CRF250R | 5 Laps | 2:38.841 |
| 35 | 122 | Luke Reardon | KTM 250 SX-F | 3 Laps | 2:45.975 |
| 36 | 854 | Landen Powell | KTM 250 SX-F | DNF | |
| 37 | 16 | Zach Osborne | Honda CRF250R | DNS | |
| 38 | 267 | Anthony Rodriguez | Yamaha YZ250F | DNS | |
| 39 | 73 | Dillan Epstein | Honda CRF250R | DNS | |
| 40 | 536 | Erik Meusling | Honda CRF250R | DNS | |
Overall Results - 250MX Class
| Pos. | # | Rider | Bike | M1 | M2 | Points |
| --- | --- | --- | --- | --- | --- | --- |
| 1 | 19 | Jeremy Martin | Yamaha YZ250F | 1 | 1 | 50 |
| 2 | 37 | Cooper Webb | Yamaha YZ250F | 2 | 2 | 44 |
| 3 | 21 | Cole Seely | Honda CRF250R | 4 | 4 | 36 |
| 4 | 4 | Blake Baggett | Kawasaki KX250F | 8 | 3 | 33 |
| 5 | 377 | Christophe Pourcel | Yamaha YZ250F | 7 | 5 | 30 |
| 6 | 32 | Justin Bogle | Honda CRF250R | 5 | 9 | 28 |
| 7 | 96 | Matthew Bisceglia | Honda CRF250R | 11 | 7 | 24 |
| 8 | 25 | Marvin Musquin | KTM 250 SX-F | 10 | 8 | 24 |
| 9 | 50 | Jessy Nelson | Honda CRF250R | 15 | 6 | 21 |
| 10 | 17 | Jason Anderson | KTM 250 SX-F | 3 | 31 | 20 |
| 11 | 30 | Kyle Cunningham | Honda CRF250R | 14 | 12 | 16 |
| 12 | 15 | Dean Wilson | Kawasaki KX250F | 6 | 33 | 15 |
| 13 | 737 | Valentin Teillet | Kawasaki KX250F | 12 | 16 | 14 |
| 14 | 78 | Matthew Lemoine | Kawasaki KX250F | 13 | 17 | 12 |
| 15 | 16 | Zach Osborne | Honda CRF250R | 9 | 37 | 12 |
| 16 | 55 | Alex Martin | Yamaha YZ250F | 40 | 10 | 11 |
| 17 | 87 | Shane McElrath | Honda CRF250R | 18 | 13 | 11 |
| 18 | 60 | Jackson Richardson | Honda CRF250R | 17 | 14 | 11 |
| 19 | 35 | Justin Hill | Kawasaki KX250F | 36 | 11 | 10 |
| 20 | 47 | Kyle Peters | Honda CRF250R | 22 | 15 | 6 |
| 21 | 91 | Jacob Baumert | Kawasaki KX250F | 19 | 18 | 5 |
| 22 | 71 | Zachary Bell | Honda CRF250R | 16 | 26 | 5 |
| 23 | 762 | Blake Savage | Suzuki RM-Z250 | 25 | 19 | 2 |
| 24 | 70 | Brady Kiesel | Honda CRF250R | 29 | 20 | 1 |
| 25 | 84 | Scott Champion | Yamaha YZ250F | 20 | 24 | 1 |
Rider Point Standings - 250MX Class ( Race 1 of 24 )


Jeremy Martin - 50

Cooper Webb - 44

Cole Seely - 36

Blake Baggett - 33

Christophe Pourcel - 30

Justin Bogle - 28

Matthew Bisceglia - 24

Marvin Musquin - 24

Jessy Nelson - 21

Jason Anderson - 20

Manufacturer Cup Point Standings - 250MX Class ( Race 1 of 24 )


Yamaha - 50

Honda - 36

Kawasaki - 35

KTM - 33

Suzuki - 2