Redline Conquest 20 Cyclocross Bike Is A Top Choice For Kids
Chaparral Motorsports
|
May 21, 2014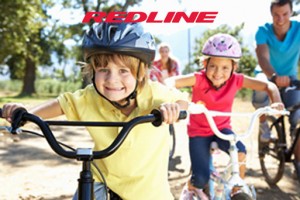 Cyclocross bicycles are essential for trekking through the mud, and as we have already covered, riders will find that the cyclocross bikes from Redline are a notch above the rest. Within Redline's Conquest cyclocross bicycle lineup you'll find that the [mageProductLink sku="rl-156845" title="2014 Redline Conquest 20 Cyclocross Bicycle"]Redline Conquest 20 Cyclocross Bike[/mageProductLink] is a perfect match for young riders.

Made for the sport of cyclocross, these bikes have a larger clearance for their tires, as they are thicker in order to handle dirt and debris. However, their off-road tires are just one reason the Redline Conquest is so great. As this bike is made for kids, it has all the features a young rider will need.

For one, it's extremely light, as it's made from Redline's double-butted 6061-T6 aluminum frame with S-bend seat stays and a replaceable derail hanger. As lugging a bike around can be a challenge for a seven year old, a light frame is an essential aspect of a bike. They will be able to feel confident handling it at any moment, especially if it doesn't weigh more than they do. Quality aluminum parts are used throughout other aspects of the bike to keep the weight as minimal as possible.

Perhaps the greatest feature of a cyclocross bike is that it functions both on and off the road. With the design of a cyclocross, a young rider won't be constricted solely to the pavement, like if they purchased a road bike. These bikes feature a road-bike design but with tires to handle the dirt and mud. Whether someone lives in the city or out in the woods, the Redline Conquest 20 is a practical product that will get them from point A to B, no matter what the elements are.

Redline Conquest 20 Cyclocross Bike Details
[mageProductLink sku="rl-156845" title=""]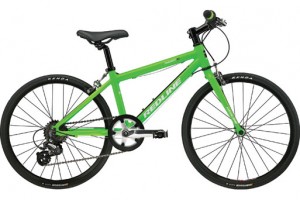 [/mageProductLink]When looking for a bike for a young rider, it's important to consider their comfort and safety. The Redline Conquest 20 Cyclocross Bike has a number of features that make it a top choice for just these reasons. Here are a few details as to how this bike is so technologically advanced:



Promax RC-469 dual-pivot brakes with quick-release cams and cable tension adjustment barrel

Shimano Altus 7-speed shifting matched to an aluminum crankset with kid-friendly double guards

Shimano RD-M310 Altus 7-speed rear derailer

KMC Z51 chain

Shimano free-wheel cassette

Featured in bright green, any seven- to ten-year-old kid will love the look of this bike, which also happens to function at the highest level. The Redline Conquest 20 Cyclocross Bike is unmatched in style, functionality and innovation.