2014 AMA EnduroCross Las Vegas Race Results
Chaparral Motorsports
|
May 6, 2014
Cody Webb Wins Las Vegas GEICO EnduroCross Season Opener
[caption id="attachment_31864" align="alignright" width="300"]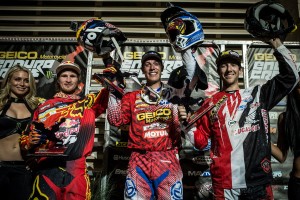 Photo: Drew Ruiz[/caption]

Round one of the 2014 GEICO AMA EnduroCross series, fueled by Monster Energy and presented by Lucas Oil kicked off on Friday night inside the Orleans Arena and Beta USA/GEICO/Stillwell Performance's Cody Webb took the win.

Bel-Ray/FMF/Moose/Husqvarna's Mike Brown took the $500 NEXEN Tire Holeshot award with a clean jump off a unique elevated starting line, beating the rest of the Pro Main Event competitors out of the tight first turn. It didn't take long for Cody Webb to move into the lead as the tight pack of front-runners moved around the first lap. Lucas Oil/Rockstar/JCR Honda's Colton Haaker, Factory KTM's Taddy Blazusiak and CYCLENANO/Everrev/FMF/Kenda's Kyle Redmond and Gary Sutherlin all were in the mix right away as well-making for an exciting battle for the top spots in the initial laps. By the end of the first lap it was Webb, five-time Champion Taddy Blazusiak and Kyle Redmond across the line for the top three. Right after the line, Redmond's machine suffered a mechanical issue stopping him in his tracks. Husqvarna's Mike Brown eventually pulled off the track due to a finger laceration and possible hand injury suffered earlier in the evening, ending his race evening as well.

[caption id="attachment_31869" align="alignleft" width="300"]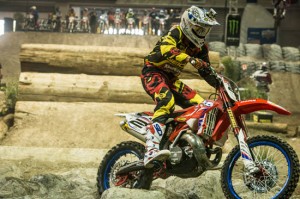 Cody Webb[/caption]

It quickly looked to be an exciting showdown between the evening's three heat-race winners (Webb, Blazusiak and Haaker) and the opening round of AMA EnduroCross didn't disappoint. Webb quickly focused on a mission to pull ahead and put down flawless laps to stay out front. Behind him, carnage ensued, with Haaker passing Blazusiak on lap two after a rare mistake by the Factory KTM racer. By the end of the lap, Blazusiak had moved back into third after Haaker made a similar bobble in a tricky rock turn. Gary Sutherlin moved into fourth place in striking distance of a podium spot. By halfway through the 12-lap main event, Blazusiak had found trouble in the rock corner, already coming into lapped riders, allowing the hard-charging Haaker to get back into second. That standing didn't last long as Blazusiak moved back into second and looked to stay there. Meanwhile, Webb moved steadily forward, lapping up to fourth place by lap nine.

[caption id="attachment_31867" align="alignright" width="300"]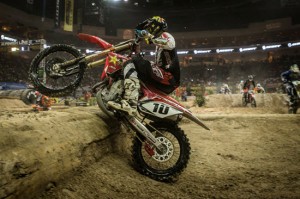 Colton Haaker[/caption]

In the final laps, Haaker remained in-the-hunt, gaining on Blazusiak when the defending champ stalled in a challenging rock corner after trying to get around lapped-traffic, and going down. Webb stayed the course, pushing forward and riding a nearly flawless race without a challenge for the lead from the second lap on. Geoff Aaron, Sutherlin, Taylor Robert and Bobby Prochnau battled for the top five positions. Haaker made a last-lap pass on Blazusiak for second as he was stuck in the final rock turn. Webb took the convincing win with Haaker in second and Blazusiak in third.

Cody Webb:
"I only made a few mistakes the whole main event" Webb said. "I have been practicing just racing the track at home and when I passed Taddy on the first lap, I just focused on the track for six laps and did not even know how much of a lead I had".
Colton Haaker:
"I won in Las Vegas a few years ago and I did not even know how I won so this second feels better because I have been working really hard to get everything dialed in on that big 450" Haaker said.
Taddy Blazusiak:
"The start was amazing... I went into the tunnel way back and somehow came out in first. I think Brownie went down" Blazusiak said. "Third was an OK way to start the season because I think we are going to have to be consistent to win the championship".
[caption id="attachment_31860" align="alignleft" width="300"]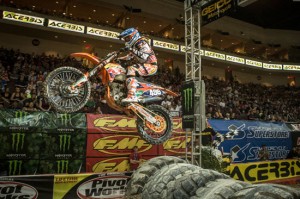 Kacy Martinez[/caption]

Also headlining the night's event was the action-packed Women's class with defending champion Chantelle Bykerk looked to continue her championship ways with a first-round win. She would have plenty of competition with X Games medalist Tarah Geiger grabbing the holeshot. Factory FMF/KTM's Kacy Martinez moved into the top spot on the first lap with Shelby Turner moving into first on the same lap as well. Also pushing the pace was Morgan Tanke. Bykerk had a tough start and spent the main event trying to work through the pack. Geiger fell out of the top three on lap two. The rest of the race had the top three battle back and forth with Kacy Martinez making a last-lap pass in the tricky rocks before the finish line. Second went to Turner and third went to Tanke.

Kacy Martinez:
"This is my first EnduroCross main event win after trying for so many years" Martinez said. "I have been racing the GNCC's and the first two were mud races so that really helped me in the slick track".
[caption id="attachment_31866" align="alignright" width="300"]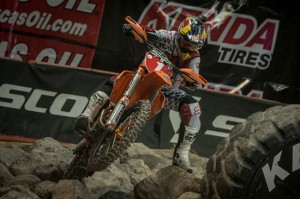 Taddy Blazusiak[/caption]

Rounding out the first race's night show was a host of support classes for amateur, veteran and trials competitors. The Vet Class win went to defending champion Kurt Nicoll, second was Josh Adams and third was Colby Begin. The Trialscross win went to Australian Jack Field (2013's champion) who pulled another finish-line backflip after his win. Second place went to Michael Salsman and third went to Teren Gerber. The Open Amateur winner for round one was Ty Cullins with Noah Kepple moving into second overall and Austin Schiermeister rounding out the top three in the main event.

The Lucas Oil Productions team will again be producing one hour shows for the eight AMA EnduroCross events that will air on MAVtv. Check out www.MAVtv.com for more information.

The next round of GEICO AMA EnduroCross is June 6 as EnduroCross heads to the X Games in Austin, Texas followed by the third round in Sacramento, California on June 21st. The 2014 schedule will see two new rounds of racing held in Atlanta, Georgia and Salt Lake City, Utah as the cities host their first EnduroCross events. The traditional EnduroCross finals in November will now be held Nov. 22 in Ontario, California.

Source: EnduroCross

Colton Haaker Hands His JCR/Honda Team A Solid Podium Finish
[caption id="attachment_31868" align="alignright" width="300"]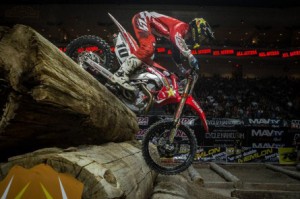 Colton Haaker[/caption]

Colton Haaker came out swinging at the opening round of the most highly anticipated season of EnduroCross ever. Colton raced his Honda CRF450R to a hard earned Heat win after winding his way thru the mass chaos of downed bikes and riders. Colton backed up his Heat win and proved he was the man to beat by posting the fastest qualifying time for gate pick. Not only did he earn 2 additional championship points for his Heat race and Hot lap wins, but followed it up with a solid second place overall for the night in the 12- lap main event.

Johnny Campbell:
"I am so proud of Colton. He is maturing into a Champion and Eric and I are committed to see him thru as he progresses to the top of the podium. Special thanks to Lucas oils, Rockstar Energy, Fly Racing, Motion Pro, Galfer brakes and a host of other great companies that believe in JCR-Colton and the EnduroCross series. Make sure you log on to EnduroCross.com, tune into MavTV and come out to watch a live race in 2014."
Source: JCR/Honda

Taddy Blazusiak Finishes 3rd At Las Vegas EnduroCross
[caption id="attachment_31865" align="alignright" width="300"]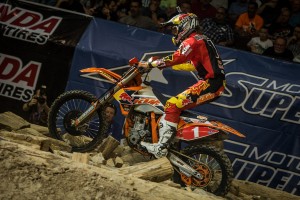 Photo: Drew Ruiz[/caption]

Red Bull KTM Factory rider Taddy Blazusiak finished on the podium at the opening round of the AMA EnduroCross Series held at Orleans Arena while his fellow KTM teammate Factory FMF/KTM rider Taylor Robert finished 5th.

Taddy Blazusiak and Taylor Robert were both placed in heat one where they rounded the first corner in the top two positions. Blazusiak went on to lead every lap of the heat and take the win. Robert rode a strong race to finish 3rd for a spot in the main event.

In the main event, Blazusiak launched off the line to a great start sitting inside the top three. He quickly moved into the lead and led the first lap. Meanwhile, Robert had a good jump off the line but went over the bars on the finish line jump of the first lap and restarted in last position. Out front Blazusiak was feeling comfortable until he made a mistake in the log section and got held up. The mistake dropped him to 4th place.

[caption id="attachment_31863" align="alignleft" width="300"]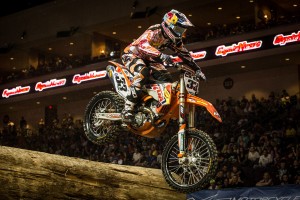 Photo: Drew Ruiz[/caption]

"The mistake on the first lap cost me a lot of time," stated Blazusiak. "I got into a lot of lappers after that and wasn't able to catch back up to the lead."

Blazusiak was able to move back up to 2nd where he spent the majority of the race as he tried to close the gap on the lead ride. Unfortunately, on the final lap, he made a mistake in the rock corner and lost one position. He finished the race in 3rd position.

"I'm bummed to not finish first at the opening round, but I am still glad to get on the podium. It is a long series and I'm looking forward to battling for the win at the next round," remarked Blazusiak.

[caption id="attachment_31859" align="alignright" width="300"]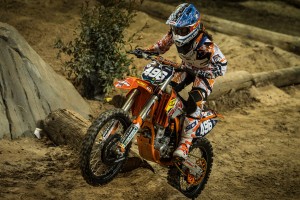 Photo: Drew Ruiz[/caption]

Robert put in an impressive ride to finish 5th overall for the evening despite a nagging stomach injury that plagued him throughout the afternoon. "I'm really happy with my race considering I didn't get to ride much this week and was feeling pretty terrible this morning because of my stomach problems from an off-season injury," said Robert. "Overall, it's good to walk away with a top five and I'm looking forward to the rest of the season."

Factory FMF/KTM rider Kacy Martinez took a hard fought win in the Women's Pro class. She earned the holeshot in the main event but dropped to 2nd on the first lap. She quickly caught the leader again and challenged for the win for the entire main event. On the final lap she was able to make a pass for the lead in the last corner to take the win.

"I had such a great time tonight," remarked Martinez. "The track was really tough but I just rode calm and was able to make a pass when it counted, I'm really excited to leave here with the point lead."

Next Round: June 6, 2014 - Austin, TX (X-Games)

Source: KTM North America

Mixed Fortunes For Husqvarna's Mike Brown At Opening EnduroCross
[caption id="attachment_31861" align="alignright" width="300"]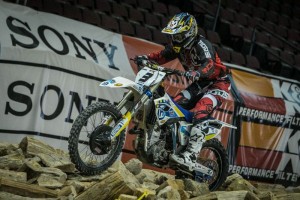 Mike Brown[/caption]

Husqvarna's Mike Brown got off to a flying start in the opening round of the AMA EnduroCross Championship in Las Vegas, topping the qualifying on his FE 350. But for Brown, one of the dominant racers in the increasingly popular series, the rest of his out did not go well after suffering a hand injury during his heat race.

"Brownie" did line up for the main event, but had to retire after just a few laps.

[caption id="attachment_31862" align="alignleft" width="300"]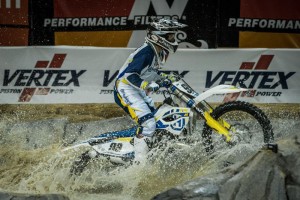 Jamie Lanza[/caption]

He got out to an aggressive start in his heat race, but smashed his left little finger on a barrel in the first turn. The impact resulted in multiple lacerations to his finger, but Brown soldiered on through the heat race and qualified for the main. The team attempted to bandage his wounded finger for the main event, where Brown once again got out to a strong start. The Factory Husqvarna rider grabbed the holeshot and attempted to run away with the lead, but during the bar banging in the first lap, the bandage came dislodged.

"For a guy like Brownie to pull off, you know it was pretty bad," explained Husqvarna Race Team Manager Andy Jefferson. "It was an unfortunate way to start out the season, but we were proud to still have Jamie Lanza in the main event on a Husqvarna." Husky Power parts and accessories manager by day, Jamie opted to contest the Las Vegas EnduroCross opener aboard a Husqvarna TE 300, and was thrilled to get into the main event, where he finished 11th overall.

Source: Husqvarna Motorcycles

Las Vegas Overview And Point Standings
2014 GEICO AMA EnduroCross Las Vegas Image Gallery (Click for full size images)


Overall Results EX Pro Class










































































































































































































| Finish | # | Name | Brand | Points Earned |
| --- | --- | --- | --- | --- |
| 1 | Cody Webb | 2 | BTA | 26 |
| 2 | Colton Haaker | 10 | HON | 24 |
| 3 | Taddy Blazusiak | 1 | KTM | 21 |
| 4 | Bobby Prochnau | 9 | KTM | 18 |
| 5 | Taylor Robert | 33 | KTM | 16 |
| 6 | Geoff Aaron | 4 | KTM | 15 |
| 7 | Gary Sutherlin | 324 | KTM | 14 |
| 8 | Cory Graffunder | 118 | KTM | 13 |
| 9 | Bryan Roper | 5 | KTM | 12 |
| 10 | Jamie Lanza | 99 | HSQ | 11 |
| 11 | Mike Brown | 3 | HSQ | 10 |
| 12 | Destry Abbott | 8 | KAW | 9 |
| 13 | Kyle Redmond | 7 | KTM | 8 |
| 14 | Eric Rhoten | 200 | BTA | 7 |
| 15 | Kevin Rookstool | 79 | KTM | 7 |
| 16 | Stephen Foord | 63 | GAS | 6 |
| 17 | Max Gerston | 15 | BTA | 6 |
| 18 | Harrison Oswald | 649 | KTM | 5 |
| 19 | Wallace Palmer | 27 | CHR | 5 |
| 20 | Tucker Larrieu | 158 | TMS | 4 |
| 21 | Ty Tremaine | 114 | KTM | 4 |
| 22 | Ricky Dietrich | 539 | KTM | 3 |
| 23 | Noah Kepple | 696 | HON | 3 |
| 24 | David Broderick | 214 | KTM | 2 |
| 25 | Mitch Carvolth | 177 | KAW | 2 |
| 26 | Keith Wineland | 36 | HON | 1 |
| 27 | Mason Ottersberg | 335 | KAW | 1 |
Rider Point Standings - EX Pro Class ( Race 1 of 9 )


Cody Webb - 26

Colton Haaker - 24

Taddy Blazusiak - 21

Bobby Prochnau - 18

Taylor Robert - 16

Geoff Aaron - 15

Gary Sutherlin - 14

Cory Graffunder - 13

Bryan Roper - 12

Jamie Lanza - 11

Overall Results Women's Class
| Finish | # | Name | Brand | Points Earned |
| --- | --- | --- | --- | --- |
| 1 | Kacy Martinez | 496 | KTM | 25 |
| 2 | Shelby Turner | 50 | KTM | 22 |
| 3 | Morgan Tanke | 3 | KTM | 20 |
| 4 | Rachel Gutish | 2 | YAM | 18 |
| 5 | Lexi Pechout | 151 | SHR | 16 |
| 6 | Chantelle Bykerk | 1 | KTM | 15 |
| 7 | Tarah Gieger | 68 | KTM | 14 |
| 8 | Melissa Harten | 11 | GAS | 13 |
| 9 | Rily Ellinger | 621 | KTM | 12 |
| 10 | Jessica Patterson | xxy | YAM | 11 |
| 11 | Kristie McKinnon | 767 | CHR | 10 |
| 12 | Brittney Gallegos | 55 | KAW | 9 |
Rider Point Standings - Womens Class ( Race 1 of 9 )


Kacy Martinez - 25

Shelby Turner - 22

Morgan Tanke - 20

Rachel Gutish - 18

Lexi Pechout - 16

Chantelle Bykerk - 15

Tarah Gieger - 14

Melissa Harten - 13

Rily Ellinger - 12

Jessica Patterson - 11

Overall Results Trialcross Class
| | # | Name | Brand | Place |
| --- | --- | --- | --- | --- |
| 1 | Jack Field | 747 | GAS | 1 |
| 2 | Michael Salsman | 360 | GAS | 2 |
| 3 | Teren Gerber | 26 | GAS | 3 |
| 4 | Emanuel Angius | 3 | GAS | 4 |
| 5 | Keith Adams | 1 | GAS | 5 |
| 6 | Ryan Anderson | 788 | GAS | 6 |
| 7 | Nathan Brown | 502 | MON | DNS |
| 8 | Jeff Goodwin | 383 | KTM | DNS |
Manufactuerer Cup Point Standings( Race 1 of 9 )


Team KTM - 39

Team Honda - 27

Team Husqvarna - 21

Team Kawasaki - 11

Team Gas Gas - 6

Team Christini - 5

Team Beta - 4

Team TM - 4