Oakley Heritage Collection Frogskin Sunglasses Are A Sight To Be Seen
Chaparral Motorsports
|
May 1, 2014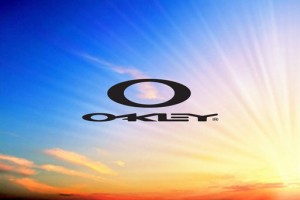 Oakley
created its Frogskin Sunglasses in the early '80s. Since then, their popularity has skyrocketed. As these shades have stood the test of time, Oakley is celebrating its 30th anniversary of performance eyewear with the newly released Oakley Heritage Collection Frogskin Sunglasses.

These sunglasses are perfect for all types of activities, from motorsports to sunbathing. Frogskins were already stylish, but the new Heritage Collection features some unique designs.

"Celebrating the 30th anniversary of Oakley performance eyewear, the Heritage Collection salutes the evolution of a revolution by bringing back vintage rarities for a limited time," reads Oakley's website. "It's a chance to own a piece of history with a classic look that shows your respect for sport heritage and smooth retro style. Oakley Eyeshades, Razor Blades and Frogskins will be offered with commemorative highlights and collectible extras, and we're adding riffs to a few contemporary designs so today's athletes can carry the colors of history and pride."

Heritage Collection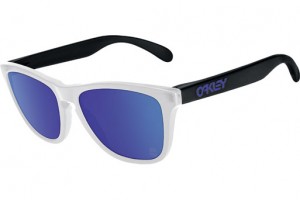 The Heritage Collection Frogskins come with a number of collectors items. As for the design, these shades have contrasting ear stems, lenses and frames, featuring one of the earliest Oakley logos. However, Oakley didn't stop there when it came to improving their already popular Frogskin sunglasses.

"Featuring '2014' inside the frame, the Heritage Collection edition of this world-first performance eyewear is engineered with improved nose pad construction," reads the website. "It comes with two sets of ear stems (curved and straight) plus a guitar pick that is meant to act as a tool to change out stems, as well as a collector's pin and sticker and a custom Microclear bag for lens cleaning and frame storage."

Why These Glasses Are So Practical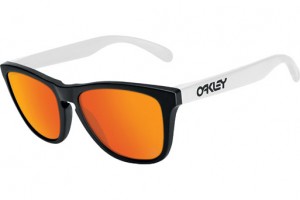 Most Oakley glasses are made for people who are active, and Frogskins are no different.

As the ear stems can be replaced, owners don't have to worry as much about the glasses being damaged. Where other shades will be out of commission once an ear stem breaks, with Frogskins, they can simply be popped back into place or changed out. This makes them great for people who are using the sunglasses for rigorous activities, like BMX, for example.

These shades are not only durable, but one of kind. For someone looking for a functional pair of sunglasses that also look great, Oakley Heritage Collection Frogskin Sunglasses are the perfect fit.