Not Quite A Snail's Pace: Johammer's Electric Motorcycle
Chaparral Motorsports
|
April 18, 2014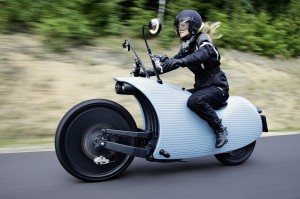 We're not sure if Austrian motorcycle firm, Johammer, got the inspiration for its new electric motorcycle from watching the children's flick Turbo one too many times but we can definitely say it looks nothing like a chopper and a whole lot like a snail.

At the top of its website Johammer describes the bike as "a cutting edge chopper with innovative energy supply system." While the power supply may deliver supreme results, describing this motorcycle as a cutting edge chopper is like calling a Volkswagen Beetle a pioneering sports car.

Avant-garde might be a better way to classify this electric motorcycle with its shell-like, uni-body exterior, large antenna turnsignals/mirror stems/handlebar mounts, and beady eye headlights. The flowing body lines are definitely eye-catching and the design team kept what would be the traditional dash areas sanitary by incorporating the instrumentation into the mirrors. While some may find the overall appearance a bit polarizing, if the power system delivers the results listed on Johammer's website, we just may see more of these buggers on the road.

Offered in two versions, the J1 150 and the J1 200, the two models are basically identical with the only difference being with the batteries. The powertrain consists of an an air-cooled, 11kW, brush-less AC motor and a lifetime lubrication and maintenance-free single lever gear. The electric component is based on Lithium-Ion batteries made by Johammer with the 150 model featuring an 8.3kWh battery supply capable of delivering a range of just over 93 miles, while the 200 will get you nearly 125 miles off a charge-making it the first all-electric motorcycle to deliver this type of range. Johammer also states its batteries will have a 100-percent full charge life span of about 124,000 miles. And even though the J1 may look like a snail, its ability to motor down the road is far from a snail's pace-both bikes are electronically limited to about 75mph If you're tired of your Harley chopper looking like every other Harley chopper and you want something like the J1 to help you stand out amongst the crowd, be forewarned, uniqueness and riding an electric snail-like motorcycle comes at a price with the 150 model running $31,860 and the long distance model coming in at $34,630.