Icon Versus Speed & Strength: Motorcycle Gear Showdown
Chaparral Motorsports
|
April 11, 2014
There are a few types of gear that may be well-suited for riders who are ready to attack the roads. If this sounds like you, be sure to turn your attention to brands such as Icon and Speed & Strength, as they might have just the type of motorcycle accessories you're looking for.

Why Icon?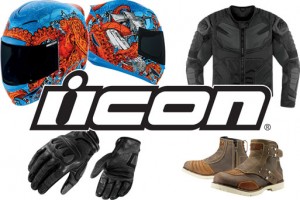 Riders who have a wild style may be drawn to brands such as Icon. The manufacturer creates accessories like full face helmets and jackets that have an aggressive, heavy-duty style. Over the years, Icon has transformed itself into a staple of the industry, providing riders with everything from skull-covered gear to more retro equipment.

Icon helmets regularly feature intricate designs and patterns on the graphics. These are ideal for street bike riders, as they expertly blend personal style and safety. Most of the helmets feature a Rapid Release Shield Change System, an interior made with HydraDry Moisture Wicking material, and smartly placed Supervents that can keep riders cool.

The brand's jackets are a bit more subdued. Many of the options boast black, gray or similar matte coloring. There aren't too many bells and whistles adorning the exterior either, as the outerwear generally sticks with a few sheltered pockets, covered zippers and the like. Riders who will be zipping around crowded areas will undoubtedly appreciate the bright warning colors and safety features included on the items.

What About Speed & Strength?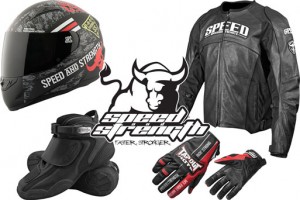 Of course, you would be remiss to take a look at Icon products without considering Speed & Strength. Debuting in 2009, this relatively new brand has already made a big splash on the motorcycle industry, offering a line of protective gear that is catered to street bikes and track riding. The vast majority of its products are sleek and aggressive looking, with many featuring black colors or advanced graphic designs.

Speed & Strength helmets come equipped with features such as the Speed Strap Quick-Release Chin Strap, the All Clear Sight System, the Lockdown Shield Security System, and a removable and washable interior. While many of these products offer intense designs on the outside, other full-face helmets include matte black stylings, large tinted shields and similar details.

If you're looking for motorcycle jackets, Speed & Strength has a varied selection that can suit your needs. The brand boasts a number of more casual styles, including some that pass for traditional leather jackets. It also has some options that are designed for aggressive racing or riding. Made from mesh or leather, these jackets can be used for street bikes, cruisers or dirt bikes, bringing plenty of flexibility to the gear.

The Final Tally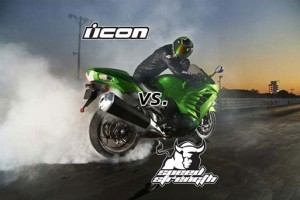 Whether you purchase products from Icon or Speed & Strength will depend on a variety of factors, including price, fit, color and more. You may want a retro-style jacket to match a street bike helmet that is loaded with interesting graphics, but no matter what your desired combination is, you'll be able to find what you're looking for with the help of Icon and Speed & Strength.

Ultimately, it's tough to go wrong with either brand. The helmets and jackets you choose to invest in will have to be the ones that best fit your personality, not to mention your body type. If you go with any product from Icon or Speed & Strength that ticks both of those boxes, you're in a good spot.