Laughlin Bound: 5 Ways To Improve Your Laughlin River Run Trip
Chaparral Motorsports
|
April 10, 2014
While southern California residents relish in the fact they experience year-round motorcycle riding, they're still prone to seasonal affective disorder and can get into kind of a funk after the holidays. There is one event however that can shake the cobwebs out of Harley-Davidson and cruiser riders head's and get them hyped for the summer, the Laughlin River Run.

A tiny little gambling town located at the southern tip of Nevada with a backdrop of the Colorado River and Arizona to the east and California just a few miles away to the west Laughlin is the third most visited casino and resort destination in Nevada. And at the end of April for the past 32 years bikers have flocked to the community to try and enjoy the river, casinos, and desert land scape before the summer heat kicks in.

Sporting your typical motorcycle rally staples: concerts, parts and accessories vendors, bike shows, poker runs, and smoked turkey legs, the River Run offers a few activities that other motorcycle rallies lack. For one the main strip is an approximate 1-mile long stretch lined with riverside casinos which can be navigated by foot or river boat. About 15 miles south of town riders can put up or shut up by running their bikes on the 1/8th-mile drag strip at the Avi Resort and Casino. If it's sight-seeing along historic Route 66 and a town nearly over-run with "wild" burros you seek, just across the Colorado River and a few miles into Arizona is the old gold mining town of Oatman. If it's not too hot (April in Laughlin can see temps well into the 90s) you could make the 90-mile trip to the north and check out the grandiose Hoover Dam.

No matter if it's your first or 31st trip to the Laughlin River Run we have a few suggestions that will help make the ride out and overall experience a whole lot better.

Kewl Dude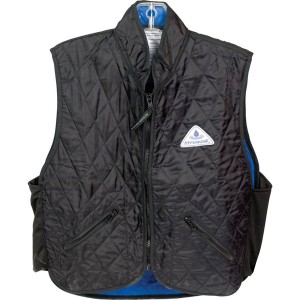 While the Colorado River is very refreshing and does offer a great respite from the blistering sun, you probably won't want to spend all your time in the water, so throw on this vest from Hyperkewl. This [mageProductLink sku="2830-0117" title=""]Deluxe Sport Cooling Vest[/mageProductLink] is a great way to beat the heat when worn under your motorcycle jacket or just by itself. If you've ever soaked your t-shirt in water before a motorcycle ride then you know how refreshing it can be to feel the warm wind cooled by the wet shirt. Well, this motorcycle vest serves the same purpose however rather than drying out quickly like a t-shirt can, this motorcycle vest can maintain the cooling effects for five to ten hours. Made with a quilted exterior and a Hypercooling liner, the vest is lightweight, and will stay put on your body at just about any speed with the heavy-duty zipper.

A Home for your Dome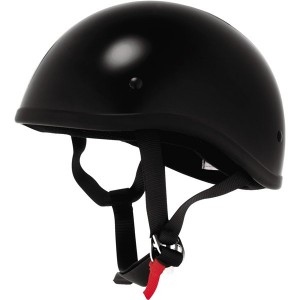 One of the reasons many California and Nevada residents like the River Run is because all they have to do is take a short putt across the Laughlin Bridge at the north end of town and once they hit the Arizona state line in Bull Head City (as long as they are over 18 years of age) they can peel their motorcycle helmet off and "ride free". If riding a motorcycle without a helmet is appealing to you then something like the [mageProductLink sku="364-6600" title=""]Skid Lid Original Helmet[/mageProductLink] is a must for your Laughlin trip. Highly compact, lightweight, super-thin, and yet meets DOT standards the Skid Lid half helmet is easy to strap to your sissybar or stuff in a saddlebag when cruising the Copper State.

At your Fingertips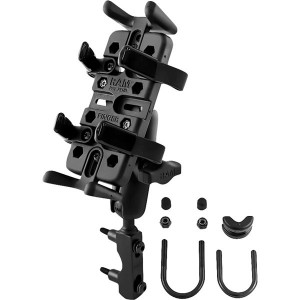 There are a myriad of devices that you can mount to the front of your bike to help entertain and inform you. It used to be you had to MacGyver some kind of crude device to secure your cell phone, MP3 player, or a GPS device to your motorcycle handlebars. These days the task is way simpler thanks to the motorcycle accessories from Ram Mounts. No matter how, where, or what you want to securely fasten to your motorcycle Ram Mounts has a solution. One mount that is particularly useful and popular is the [mageProductLink sku="321-9000" title=""]Finger Grip Holder with Brake/Clutch Reservoir Mount[/mageProductLink]. As the name implies, this device can be secured to either your clutch or brake mount clamp; or it can be attached to any piece of round tubing or handlebar ranging in size from ½-inch to 1-1/4-inches in diameter. With its adjustable arms and multi-sized, flexible, retention fingertips, this mount can hold pretty much any device you throw at it. Other key benefits include a stable baseplate that can be rotated horizontally, vertically, or anywhere in between and a double socket arm which allows you to quickly and easily adjust the top and lower sections independently and to nearly any angle. Add in the fact that it's made from highly-durable, high-strength composite and marine grade aluminum you can bet this Ram Mount will last on the open road as long as you will.

Say What? Monkey Butt!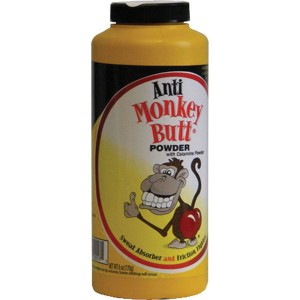 Anyone who has ever taken a long motorcycle ride knows that after several hundred miles you can get a very uncomfortable feeling in your seat area-like someone dropped an army of fire ants in your pants. This itchy, burning feeling can be exacerbated when the temperature starts to soar and perspiration sets in. Not only is it extremely uncomfortable and awkward to ride in a situation like this but it can be highly embarrassing. Believe it or not there is a name for this condition and while it's not quite a professional medical term, it does afflict many-a-rider. It's called Monkey Butt. To help alleviate the pain or better yet stop the irritation of Monkey Butt before it even starts, we suggest tossing a few sprinkles of [mageProductLink sku="19-9999" title=""]Anti Monkey Butt Powder[/mageProductLink] down your pants. Available for both men and women, the powder absorbs the sweat generated from long periods of sitting on your motorcycle seat, or activities where repetitive friction causes chaffing of the skin. Trust us, it may have a silly name and you may feel a little weird powdering up before a ride, but this stuff will save your butt (literally).

Against the Grain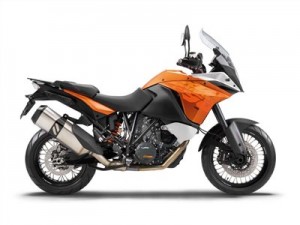 Harley owners love to show up at motorcycle events and show off how customized or unique their bikes are. What better way to stand out amongst a sea of cruisers and show your own individuality than to ride up on something completely opposite of a Harley-an adventure bike.

With its 1,195cc engine putting out upwards of 125hp and 80-plus pound-feet of peak torque the 2014 KTM 1190 Adventure is more than capable of getting you out from behind a line of Harleys cruising down I-40. Stocked with a 6.1 gallon gas tank and a fuel range of about 230 miles you'll have no problem making the trip across the desert highway with its sparse gas stops. Loaded with a ton of great electronic features like state-of-the-art instrumentation, C ABS braking, lean-angle traction control, adjustable power modes, and an Electronic Damping System the Harley set will think you were sent from the future when comparing the "technology" on their Hogs. Throw on some KTM accessories like a set of "saddlebags" aka aluminum hard cases, and you've got the ultimate touring bike. One thing you'll notice once you get into town is how crowded Casino Drive can get with bikes lined up stop light to stop light. Sitting in traffic can get pretty annoying, especially when the sun is blaring down on you and you've got your bike plus the bike next to you pumping out even more heat. The best way to beat the traffic is to get off road, and with the majority of the downtown areas surrounded by open lots and desert-scape there are plenty of places you can dip out of traffic and find your own way around. Heck who knows, maybe you'll even blaze your own trail all the way back home?

Whatever you choose to bring or do in Laughlin, and no matter how you get there the important thing to remember is to drink lots of fluids other than beer or liquor to stay hydrated and wear sunscreen. Also, be mindful of the police, especially if you have ape hanger handlebars that are at or above your shoulders, you'll most likely get hit with a ticket. Most of all, have fun and don't gamble all your gas money away!