Scorpion EXO One-Piece Suits Feel Good All Over
Chaparral Motorsports
|
April 9, 2014
The last thing a motorcycle rider needs is more distractions. Between caring about the condition your bike is in, focusing on your surroundings and trying to appreciate the environment you're exploring, there's not much time left to worry about if your motorcycle riding gear is in place or if a street bike jacket is properly zipped. So what can you do to ensure these bothersome thoughts never cross your mind?

One solution is a one-piece motorcycle suit, such as the [mageProductLink sku="033-2703-3" title="Scorpion EXO Podium One-Piece Leather Suit"]Scorpion EXO Podium 1-Piece Leather Suit[/mageProductLink]. The all-over coverage provided by this type of apparel could be just what you need to turn your full attention on the road ahead, instead of being plagued by worries about gear.

The Benefits Of A Full Suit
[mageProductLink sku="033-2703-3" title=""]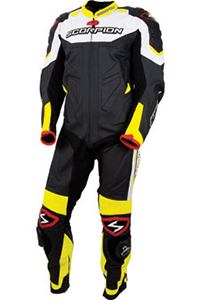 [/mageProductLink]Investing in a full-body motorcycle suit can be beneficial for any rider. Although it may seem like a big leap from the jackets, gloves and motorcycle boots you've been using, it is a natural progression that most riders consider and could pay off in the long run. Because it is relatively easy for riders to find a version of this gear that fits their climate and needs, while also being comfortable and flexible, it has become a popular choice for many.

Most one-piece suits fit neatly over street clothes or other motorcycle apparel. Their exteriors are tough and durable, protecting the clothing and person beneath it from a wide variety of obstacles. It also guards against the elements and inclement weather, making it a top choice for people who know they will be on a motorcycle in a number of diverse environments.

Inside The Scorpion EXO Podium
[mageProductLink sku="033-2703-3" title=""]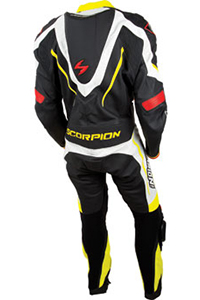 [/mageProductLink]The Scorpion EXO Podium 1-Piece Leather Suit provides wearers with a number of impressive features that can come in handy on the road. It is made from a combination of Monaco top-grain leather, including sections that are perforated and non-perforated, with the vented sections on the front, rear and thighs. Those portions allow the air to flow through the suit, ensuring a rider can stay cool regardless of the weather.

Riders will be able to enjoy several features that have been added with comfort and security in mind. Anti-shock material is a part of the suit, and there are also accordion stretch panels that afford a rider impressive flexibility and mobility. Those panels are found in key areas such as the calves, inseam, knees, shoulders and lower back, so no matter what type of riding you're doing, you can find a comfortable position.

The suit is also compatible with other motorcycle accessories. Scorpion EXO specifically designed it to work with neck braces, and knee sliders, wrist and leg cuffs, armor and other shielded sections are all integrated into the suit. There is also room for spinal armor to be added for back protection.

Why Scorpion EXO Products?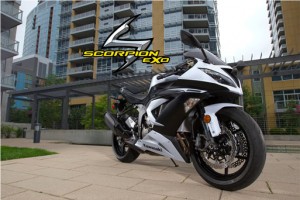 This Scorpion EXO Podium 1-Piece Leather Suit is the latest in a long line of Scorpion EXO products that are ready to serve the public. The brand has brought together designers and technicians with hundreds of years of experience in the world of motorsports, and with all of that brain power in one place, the products that have been developed are top-notch. The Podium may be Scorpion's first in-the-boot race suit, but it definitely ranks as one of the most appealing choices on the market.

Scorpion started with motorcycle helmets, and since then it has evolved into a provider of all types of gear, including suits. While the Scorpion EXO Podium 1-Piece Leather Suit is only available in one color scheme, it boasts a black background with neon yellow and red highlights. It also comes with a five-year warranty from the manufacturer that is sure to ease your mind.