2014 AMA Supercross Houston Race Results
Chaparral Motorsports
|
April 7, 2014
Monster Energy Kawasaki's Ryan Villopoto Takes Command in Houston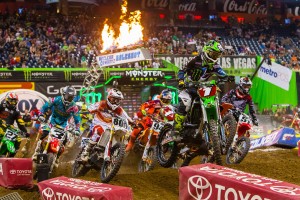 There were no problems in Houston on Saturday night for Monster Energy Kawasaki's Ryan Villopoto as the three-time defending Monster Energy Supercross champion rocketed out to the holeshot at NRG Stadium and never looked back to earn his fourth win of the season. In the 250SX class, the Western Region riders returned to action and despite injuring his shoulder during the heat race, Monster Energy/Pro Circuit/Kawasaki's Dean Wilson rode 15 strong laps to finish second. His teammate Justin Hill looked strong early but a couple of crashes in the treacherous whoops section saw him finish ninth.

Redemption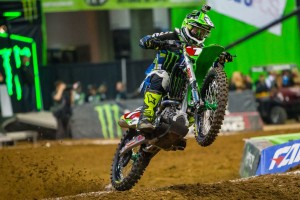 Villopoto entered the Houston round looking to regain some championship momentum but after a crash in his heat race, which sent him to the semi, the three-time supercross champ would have to dig deep. A thrilling last corner pass for the win in the semi to set up the rest of the night as Villopoto jumped out of the gate with a strong start, collected the holeshot and led wire-to-wire to get his fourth win of the season.

"As we get closer to the end of the season, I still want to win races," said Villopoto. "There were some tricky sections on the track tonight and the whoops were gnarly. James (Stewart) has been on a roll recently and I knew I had to come out here and get a win to take away his momentum."

Riding Through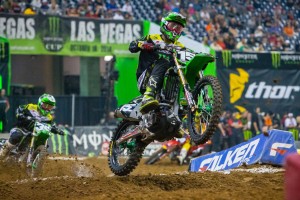 Wilson had strong start to his heat race as he took the early lead, but a mistake in the whoops sent him to the dirt where he injured his right shoulder. The Scottish rider got up to finish fifth in the heat, and a visit to the medical unit, along with some quick therapy allowed Wilson to line up for the gate in the main event. In the main, he got a good start and quickly moved into second place. As the laps continued to click off, Wilson slowly made gains on the leader and after some close racing on the final lap, he was able to come home in the runner-up spot.

"It hurts when you come that close to winning and you can't make the pass," said Wilson. "My shoulder was hurting as I was riding, but I knew if I could keep the pressure on, I might be able to get the win. The crowd was amazing tonight and I could hear them cheering, I just wish I could have gotten that win for them."

Rough Night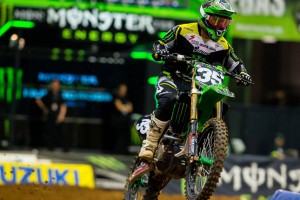 The break in the 250SX schedule couldn't have come at a worse time for Hill. The sophomore rider earned his first career victory in San Diego, but couldn't build on the momentum as the series took as seven-week break. Hill came out firing and was running third early in the main event, but a crash saw him fall back in the standings. After remounting, Hill was able to fight back but two more crashes relegated him to ninth on the night

"Tonight wasn't the night I wanted," said Hill. "I was excited to get back to racing but the whoops caught me late in the race. It seemed like no matter what I tried I couldn't get through them. But we have a race next week and I'm going to be ready to get back on the box."

Prime Position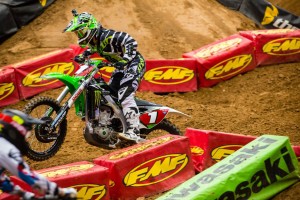 With his win in Houston, Villopoto took another step closer to claiming his fourth straight Monster Energy Supercross title. RV gained 10 points on his nearest competitor and he now holds a 45-point advantage with just three races remaining.

Whoop Monster
The dirt in Houston held up great in the indoor stadium but the long whoop section in the track design seemed to catch nearly every rider out. All three Kawasaki riders fell victim to the whoops at some point during the night but all three were also able to handle them better than most to score top finishes.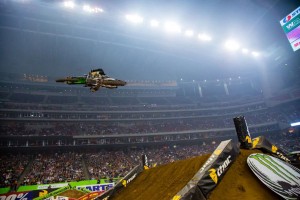 Pacific Northwest
Next week marks the return to the Pacific Northwest, home of both Villopoto and Hill. Both riders will be looking to take home a victory on their home soil as Monster Energy Supercross heads to Qwest Field in Seattle.

Source: Kawasaki Racing

Ken Roczen Earns Third At Houston Supercross, Ryan Dungey Seventh!
[caption id="attachment_31352" align="alignright" width="200"]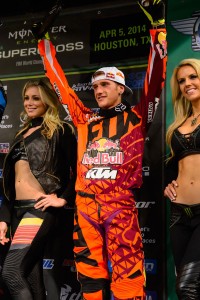 Photo: Simon Cudby[/caption]

Red Bull KTM Factory rider Ken Roczen earned 3rd overall at the fourteenth round of the Monster Energy Supercross Series held at Reliant Stadium. His teammate, Ryan Dungey, recovered from a first lap crash to finish an impressive 7th overall to salvage important points toward the championship hunt.

Ryan Dungey was up in the first 450SX heat where he participated in a six-lap, four-way battle for the heat win alongside James Stewart, Josh Grant and Justin Barcia. Dungey had a 3rd place start around the first corner. On the second lap, Stewart missed a triple allowing Grant and Dungey to move around. Shortly after, Dungey took the opposite line down the split section and together he and Stewart got around Grant and moved into the top two spots. The remainder of the race, the top four riders remained a bike length apart as they battled to the checkered flag where Dungey crossed the line in 2nd place to qualify to the main event.

Teammate Ken Roczen was placed in the second heat where he earned a 5th place start. He moved up to 4th place on lap four after leader Ryan Villopoto crashed. Roczen continued to charge forward and was able to pass fellow KTM rider and holeshot winner Andrew Short on the final lap to take 3rd.

At the gate drop of the main event, Roczen leaped out front to a 5th place start around the first corner. On his KTM 450 SX-F he quickly made a pass to improve two positions and move into 3rd before the end of the first lap. Meanwhile, Dungey had a poor jump off the start and was sitting in 18th on the first lap. Shortly into the first lap, Dungey made a mistake and crashed with two other riders. He lost some time recovering from the crash and returned to the track in last position.

[caption id="attachment_31351" align="alignleft" width="300"]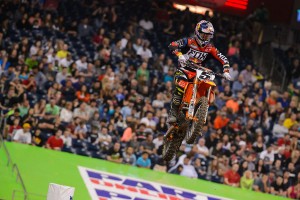 Photo: Simon Cudby[/caption]

Dungey spent the first half of the race moving through the pack turning lap times that were matching the lead riders. By the halfway mark, Dungey had moved into the top ten. He continued to pick off riders in the remaining laps and was able to move up to an impressive 7th place overall by the end of the race.

"Unfortunately, I got a bad start and then came together with another rider on the opening lap which caused me to go down", stated Dungey. "I did my best to salvage what points I could riding from last to 7th by the end of the race. I'm disappointed how the race turned out but happy that I'm healthy and came away unscathed."

Roczen was able to maintain his position to the checkered flag. He crossed the line in 3rd place and earned his first podium finish in the past four rounds.

"It feels great to get back on the podium", stated Roczen. "I never was able to jump the quad that the lead riders were doing so I lost some time to them, but I am happy overall with the way I rode. I'm starting to test a lot more for outdoors coming up and I feel like it is making me stronger and will help me near the end of the season."

Next Round: April 12, 2014 - Seattle, WA

Source: KTM North America

Jason Anderson Shines in Houston
[caption id="attachment_31346" align="alignright" width="200"]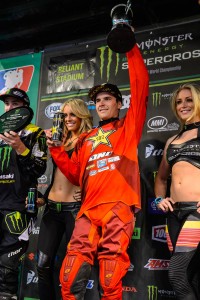 Photo: Simon Cudby[/caption]

The Rockstar squad made a triumphant return to the 250 West Coast Supercross Championship. After leaving Jason Anderson in San Diego with a 2nd place podium and a slim 4 point lead for the title and heading East, Mr. Anderson picked up right where he left off in dominant fashion. Unfortunately for the team on a sour note however, they had another 450 class rider go down with injury in Cole Thompson.

Jason Anderson hasn't raced for several weeks, no different than any of his competition. Of course they have all been riding 5 days a week or more but can still be rusty when it comes time to perform in a packed stadium. Jason started the day a little off with some odd mistakes on the first lap of practice. He rapidly put that behind him, posting the fastest 250 qualifying time of the day, which would have put him in the top 3 in the 450 class overall. Something Anderson has been doing all season.

In his qualifier, things didn't go as planned coming out of the gate. He had a bad jump off the line and was shuffled back well outside of the top 5. He quickly moved into 4th by the end of lap 1, then suddenly found his way into 2nd. The rider in first was his main 2014 rival, Cole Seely. Cole was able to secure the victory in the heat but the team had comfort in the fact that Jason came from way back in a short 6 lap race to finish a close 2nd.

[caption id="attachment_31345" align="alignleft" width="300"]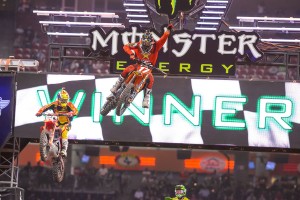 Photo: Simon Cudby[/caption]

The main event proved that the #17 is in this to win and is the odds on favorite to take the championship with 2 rounds to go. It appeared that Anderson had the holeshot, but was apparently nudged by Jessy Nelson by a hair. That didn't matter though, as Jason immediately took over the lead. From there he went on to lead every lap. He negotiated the lapped riders successfully and built an early gap over 2nd. Near the end of the race he tightened up a bit and let Dean Wilson get kind of close on the last lap, but the victory was going to no one else. He picked up his 4th win of the year, boosting his points lead to a much more comfortable 11.

Jason Anderson:
"Good night here in Houston, I ended up with a win. I had a kind of weird heat race but practice was good and the main was good and I'm leaving with some valuable points."
After Ivan Tedesco's big crash a couple weeks ago, the team decided to have Cole Thompson park his KTM 250 and hop on the 350 to fill in. It made perfect sense since he is already a part of the team and Ivan was unable to race. Things didn't go well for Cole however, when he went down in the first turn of his semi. It appeared to be no more than a simple tip over, and the expectation was for him to jump right up. When he crawled off the track over a tuff block, it was evident that things were much worse. Sometimes it doesn't take much and you land with weight on a joint just right. Thompson felt as if his knee popped out of socket and was clearly in a lot of pain. He could not continue and his night was done.

Cole Thompson:
"My day started off really good and I felt awesome being back on the 350. I was getting comfortable and confident with everything in practice. Heading into the night show, I was ready to get some good starts and put myself into the main. I felt a little nervous in my heat race but built some confidence going into the semi. Unfortunately going into turn one, I washed out and caught my knee wrong ending my night. I go for an MRI this week and hopefully all goes well so I can finish out the East Coast 250 Series."
[caption id="attachment_31347" align="alignright" width="300"]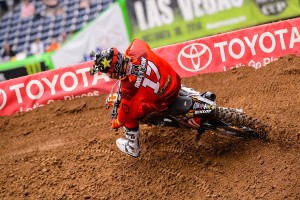 Photo: Simon Cudby[/caption]

Davi Millsaps was also on site to do some commentating on Supercross Live as well as some announcing from the floor with Kevin Windham. Millsaps has now been back on the bike for 3 weeks. He will certainly be ready to line up when the outdoor series starts at Glen Helen in May but there is still hope that he might make an SX or 2.

The series now heads to Seattle, WA in the Pacific NW. The track is typically soft and rutted which will play into Anderson's hand as he excels in those conditions. The team will have to decide what to do in the 450 class. Whether it be Thompson or Tedesco healthy enough to return, only time will tell during this upcoming week.

Source: Rockstar Energy

RCH Racing Soaring Eagle Hits Houston Supercross
Everything Is Bigger In Texas
[caption id="attachment_31348" align="alignright" width="300"]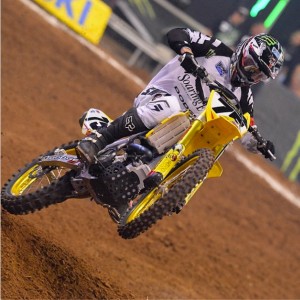 Photo: Simon Cudby[/caption]

A season best 7th at St. Louis for Josh Hill and the great news that Broc Tickle was out of the hospital and on the mend at home had the entire RCH Racing Soaring Eagle Team flying high and ready to hit Houston for round 14 of the Monster Energy Supercross series. Hill was on fire all day, setting a blistering top five qualifying time and then winning his Heat race to transfer straight to the Main... and that was just the beginning!

As they say, everything is bigger in Texas, especially the whoop sections. "I wish I was racing tonight," said team principal Ricky Carmichael. "Those are my style of whoops. Remember 2002 Houston? Like riding on tough blocks!" Because the whoops were so challenging, riders had to find another way to win. The secret to success on the tough Texas track was going big... literally! Hitting the big quad jump going into the final turn was Josh Hill's secret line (only he and the days fastest qualifier Ryan Villopoto jumped that quad). The quad not only helped Hill qualify less than fraction of a second behind defending champ Villopoto, but also worked in his Heat race.

Starts have been an Achilles' heel for Hill this season - he has the speed to race with the best, but has found himself having to fight his way through the entire pack more often than not. However a phenomenal top 5 qualifying time that was just .016 of a second off Villopoto's top time, gave Josh a great gate pick in Heat race #2. He lined up next to defending champ RV and red hot rookie Ken Roczen. Andrew Short took the surprise holeshot, but Hill was right behind him third off the start. By the end of the first lap, Josh got by Short, even without being able to use his hot line through the quad.

[caption id="attachment_31350" align="alignleft" width="300"]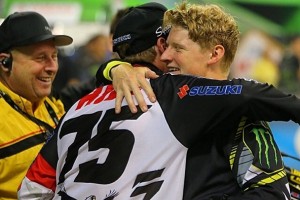 Photo: RCH Team[/caption]

Meanwhile Villopoto used the hot line to catch up to Hill and managed to get by, briefly. An uncharacteristic mistake by the current points leader had RV crashing out and Hill taking a commanding Heat race win and a transfer spot straight to the Main event. Along the way, he captured plenty of TV time for the RCH Soaring Eagle team this week. Josh was the focal point for leading the race and then the podium interview for winning... his first Heat race win since the Indianapolis SX back in 2013. Fox Sport trackside reporter Jenny Taft also interviewed Josh Hill right after Heat Race #1 where he fessed up that the quad jump was the key. "I could hit that all night!" he told Taft on national TV. "I waited until the end of qualifying to do it."

It isn't just a secret line that has Hill doing well, though.

"I'm finally feeling good, I came into the season with a back problem and then broke my collarbone at the Oakland Supercross," said Josh from the podium after leading a Suzuki sweep of the Heat races (an ailing James Stewart held it together to win the first Heat). With only a week off after getting the collarbone plated, Hill had been fighting through the pain all season long. However a Heat race win and three consecutive Top 10 Main event finishes in a row, had Josh feeling no pain at Reliant Stadium in Houston... at least until the first turn of the Main event.

[caption id="attachment_31341" align="alignright" width="200"]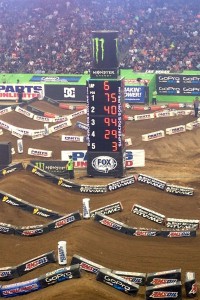 Photo: RCH Team[/caption]

Josh lined up next to Ryan Dungey for the start of the 450 Main putting the KTM rider in a Suzuki sandwich with James Stewart. Unfortunately in the drag race to the first turn Stewart's Suzuki clipped Josh, grounding the Soaring Eagle rider instantly! Although there was some additional carnage in the second turn, Hill was dead last. By lap 10 of the 20 lap Main, Hill had battled his way up to 15th. Despite being a lap down from leader Villopoto, Josh continued to charge, up to 13th with 8 laps to go, and then into 12th with two laps to go, where he eventually finished.

"The heat race went well," said a disappointed Hill. "I felt really confident in practice... I was jumping some section that not many people were doing and just felt great. It is unfortunate to have a fall in the first turn! I really wanted to get the holeshot, but ended up running out of real estate - me and James kind of bumped and I hit the deck."

Unfortunately Heat race wins don't count in the points standings, but his gritty 12th place finish in Houston has Hill up into 10th overall in the points standings with three races left. While he is healing up and unable to race, Broc Tickle still holds onto 8th place in the standings. This is a true testament to the talent of the RCH Soaring Eagle teammates since they are both in the top ten in points despite missing several races (5 total for Tickle and 3 for Hill).

[caption id="attachment_31349" align="alignleft" width="300"]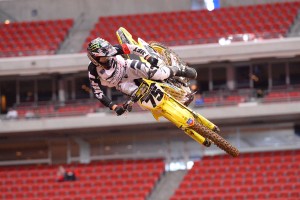 Photo: Simon Cudby[/caption]

As always, the team sponsors were at the epicenter of the action in the pits as the Suzuki Holeshot experience proves to be popular with the fans. Also attracting a crowd is the sign up for a chance to win an all-expenses-paid four-day/three-night get away to Soaring Eagle Casino & Resort. A new addition to the RCH Racing Soaring Eagle vibe is the new RCH Racing Fanwear collection from team riding gear sponsor Fox Racing.

So how does a Soaring Eagle fare in Seahawk territory? Yoncalla, Oregon, native Josh Hill is looking forward to a homecoming as the RCH Racing Soaring Eagle team flies to Seattle for the April 12th race at CenturyLink Field. "It's on to next weekend... again," he says. "I really think I can get up on the podium, so that's what I'm going to keep working toward."

About RCH Racing Soaring Eagle:
RCH Racing is in its second season of the partnership between Ricky Carmichael and Carey Hart to campaign the Feld Motor Sports® 2014 Monster Energy AMA Supercross, an FIM World Championship season. Ricky Carmichael merged his Suzuki relationship and technical development with the established five year marketing giant of Hart & Huntington Racing in 2013. The RCH Racing Soaring Eagle Team continues its partnerships with Suzuki, Fox, Dodge, Sycuan Casino, Yoshimura and Bel-Ray. Stay up to date on all RCH Racing Soaring Eagle news, follow us on Instagram and Twitter @RCHRacing and on Facebook at www.facebook.com/hartandhuntington.
Source: RCH Racing Soaring Eagle

Houston Overview And Point Standings
2014 AMA Supercross Houston Image Gallery (Click for full size images)


Overall Results - Supercross Class Race Time: 16:16.178






























































































































































































| Pos. | # | Rider | Bike | Interval | Best Time |
| --- | --- | --- | --- | --- | --- |
| 1 | 1 | Ryan Villopoto | Kawasaki KX 450F | 20 Laps | 47.495 |
| 2 | 51 | Justin Barcia | Honda CRF 450 | +13.669 | 47.788 |
| 3 | 94 | Ken Roczen | 450 SX-F Factory Edition | +23.248 | 48.413 |
| 4 | 41 | Trey Canard | Honda CRF 450 | +32.684 | 48.633 |
| 5 | 7 | James Stewart | Suzuki RM-Z450 | +38.482 | 49.259 |
| 6 | 29 | Andrew Short | KTM 450 SX-F Factory Edition | +39.721 | 49.089 |
| 7 | 5 | Ryan Dungey | KTM 450 SX-F Factory Edition | +46.724 | 49.099 |
| 8 | 800 | Mike Alessi | Suzuki RM-Z450 | 19 Laps | 50.555 |
| 9 | 3 | Eli Tomac | Honda CRF 450 | +04.146 | 48.838 |
| 10 | 68 | Chris Blose | Honda CRF 450 | +09.580 | 50.560 |
| 11 | 27 | Nicholas Wey | Kawasaki KX 450F | +10.926 | 50.956 |
| 12 | 75 | Joshua Hill | Suzuki RM-Z450 | +19.413 | 49.277 |
| 13 | 415 | Nicholas Schmidt | Honda CRF 450 | +32.057 | 51.103 |
| 14 | 374 | Cody Gilmore | Kawasaki KX 450F | 18 Laps | 52.249 |
| 15 | 56 | James Decotis | Honda CRF 250 | +07.629 | 52.488 |
| 16 | 606 | Ronnie Stewart | Suzuki RM-Z450 | +08.487 | 52.581 |
| 17 | 77 | Jimmy Albertson | Honda CRF 450 | +18.691 | 52.979 |
| 18 | 771 | Kyle Regal | Honda CRF 450 | 10 Laps | 51.899 |
| 19 | 48 | Ben Lamay | Yamaha YZ450F | 7 Laps | 51.609 |
| 20 | 40 | Weston Peick | Suzuki RM-Z450 | 3 Laps | 50.464 |
| 21 | 33 | Joshua Grant | Yamaha YZ450F | DNS | |
| 22 | 42 | Vince Friese | Honda CRF 450 | DNS | |
Rider Point Standings - Supercross Class ( Race 14 of 17 )


Ryan Villopoto - 293

James Stewart - 248

Ryan Dungey - 247

Ken Roczen - 235

Justin Barcia - 198

Justin Brayton - 196

Andrew Short - 181

Broc Tickle - 126

William Hahn - 122

Joshua Hill - 112

Manufacturer Point Standings - Supercross Class ( Race 14 of 17 )


Kawasaki - 309

KTM - 297

Suzuki - 281

Honda - 244

Yamaha - 198

Overall Results - Supercross Lites West Class Race Time: 12:24.477
| Pos. | # | Rider | Bike | Interval | Best Time |
| --- | --- | --- | --- | --- | --- |
| 1 | 17 | Jason Anderson | KTM 250 SX-F | 15 Laps | 48.125 |
| 2 | 15 | Dean Wilson | Kawasaki KX 250F | +00.797 | 48.966 |
| 3 | 34 | Malcolm Stewart | Honda CRF 250 | +07.619 | 48.975 |
| 4 | 21 | Cole Seely | Honda CRF 250 | +13.385 | 48.832 |
| 5 | 16 | Zach Osborne | Honda CRF 250 | +16.771 | 49.718 |
| 6 | 37 | Cooper Webb | Yamaha YZ250F | +19.086 | 49.839 |
| 7 | 87 | Shane Mcelrath | Honda CRF 250 | +36.100 | 49.791 |
| 8 | 66 | Jake Canada | Honda CRF 250 | +45.468 | 50.820 |
| 9 | 35 | Justin Hill | Kawasaki KX 250F | +1:03.883 | 49.034 |
| 10 | 50 | Jessy Nelson | Honda CRF 250 | 14 Laps | 51.199 |
| 11 | 65 | Zackery Freeberg | Yamaha YZ250F | +05.606 | 52.667 |
| 12 | 83 | Dakota Tedder | Kawasaki KX 250F | +11.775 | 52.184 |
| 13 | 89 | Michael Leib | Honda CRF 250 | +23.410 | 51.228 |
| 14 | 84 | Scott Champion | Yamaha YZ250F | +25.857 | 52.387 |
| 15 | 97 | Topher Ingalls | Honda CRF 250 | +28.114 | 53.097 |
| 16 | 565 | Preston Mull | Yamaha YZ250F | +34.495 | 53.266 |
| 17 | 397 | Brandon Scharer | Suzuki RM-Z250 | +39.517 | 53.143 |
| 18 | 222 | Chris Howell | Yamaha YZ250F | +54.081 | 53.889 |
| 19 | 830 | Ruben Alanis | KTM 250 SX-F | +55.603 | 54.512 |
| 20 | 645 | Cheyenne Harmon | KTM 250 SX-F | 13 Laps | 56.204 |
| 21 | 526 | Colton Aeck | Honda CRF 250 | +35.761 | 55.890 |
| 22 | 619 | Mark Weishaar | Yamaha YZ250F | 11 Laps | 57.013 |
Rider Point Standings - Supercross Lites West Class ( Race 7 of 9 )


Jason Anderson - 156

Cole Seely - 145

Dean Wilson - 120

Justin Hill - 119

Malcolm Stewart - 109

Cooper Webb - 107

Jessy Nelson - 87

Zach Osborne - 85

Shane Mcelrath - 85

Dean Ferris - 63

Manufacturer Point Standings - Supercross Lites Class ( Race 14 of 17 )


Kawasaki - 318

Honda - 294

KTM - 245

Yamaha - 198

Suzuki - 16