Innovation And Safety Meet In The AGV Pista GP Helmet
Chaparral Motorsports
|
April 2, 2014
[mageProductLink sku="231-0101-6654" title=""]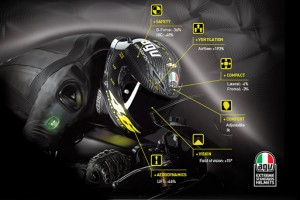 [/mageProductLink]Choosing the right motorcycle helmet is a tall task. With so many options to sift through, narrowing down the search to items that offer the best combination of fit, comfort, protection and price is key. Some riders may want to start by focusing on the AGV Pista GP Helmet before the limited quantities available run out. This revolutionary new design is poised to make waves in the world of motorcycle helmets, and any wearers who want to ensure their safety should consider this safety accessory.

The AGV Pista GP Helmet
[caption id="attachment_31292" align="alignright" width="300"][mageProductLink sku="231-0101-6654" title=""]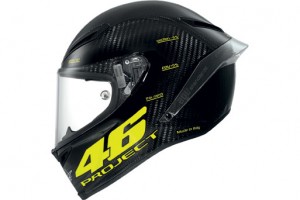 [/mageProductLink] AGV Pista GP Valentino Rossi Project 46 Replica Full Face Helmet[/caption]

AGV's helmet designers set out to create a helmet that was comfortable, ergonomic and safe, and they certainly achieved that with the [mageProductLink sku="231-0101-6654" title="AGV Pista GP Valentino Rossi Project 46 Replica Full Face Helmet"]AGV Pista GP Helmet[/mageProductLink]. Made entirely from carbon fiber, the outer shell of this accessory comes in four different sizes. The inner shell is also available in multiple sizes, resulting in a helmet with six size options available. Riders may be used to choosing from multiple options when it comes to ordering their gear, but this helmet has a different breed of sizes that were engineered with the individual in mind.

Another noteworthy feature is the Integrated Ventilation System, which places large air ducts and vents around the shell. These direct air right to a rider's head, moderating the temperature and keeping the wearer comfortable. Tested in a wind tunnel, the adjustable air vents are more than ready to handle the rigors of the open road. Additionally, a large rear spoiler has been positioned on the back of the helmet, which improves the overall aerodynamics of the accessory.

[caption id="attachment_31295" align="alignright" width="300"]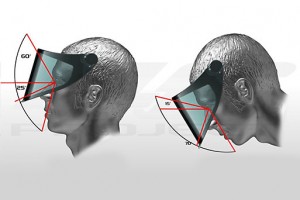 AGV Pista GP Full Face Helmet Field of Vision[/caption]

An all-new visor maximizes visibility for riders. A two-stage pivot closure and quick-release system allow the wearer to remove, replace or change the position of the visor in seconds, and a revamped locking system ensures that the shield will stay closed when it is supposed to.

The inside of the helmet is just as impressive. Its inner liners consist of a removable breath deflector and chin curtain, as well as 3-D cheek pads that even have their own sanitizing treatment integrated into the product. There is also a neck roll for comfort and noise reduction, as well as a crown pad. All of these extras are made from micro-perforated Lycra with no annoying stitching in sensitive areas, and these pads can be customized to fit your face.

Innovation At The Forefront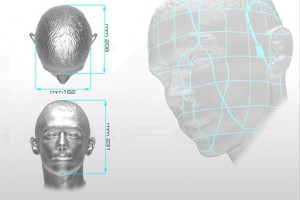 The AGV Pista Helmet offers a lot in terms of protection and comfort, but some of its most impressive features may not be visible to the naked eye. Using AGV Extreme Standards, the manufacturer took steps to measure and analyze rider's head, and the end result is a helmet that is perfectly structured to fit an individual's dimensions.

These new standards used multiple scans to create a 3-D representation of the rider's head. Engineers then spent time constructing the rest of the components, customizing them to fit an individual in the best possible way. Although not everyone can undergo an individual scan to get a personalized helmet, the preliminary testing did help a product that can keep its integrity regardless of size.

Approved By Valentino Rossi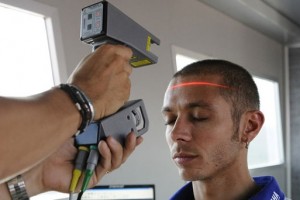 While all of the impressive features and capabilities of this helmet certainly set it apart, few things are as encouraging as the word of mouth surrounding the protective gear. To emphasize the quality of this product, AGV called on Valentino Rossi, one of the world's top riders and a six-time MotoGP champion. Rossi was the first person to test out the human engineering project, and the resulting AGV helmet was perfectly designed to fit his head.

Between the new technologies, the professional support and the overall feel of the AGV Pista Helmet, this item has quickly vaulted itself to the front of the pack. Anyone searching for a worthy investment will be wise to give this motorcycle gear a serious consideration.