2014 AMA Supercross St Louis Race Results
Chaparral Motorsports
|
March 31, 2014
James Stewart Takes 50th Career Win At St. Louis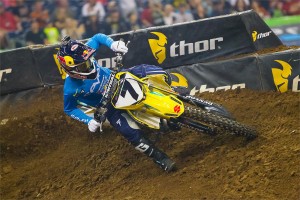 Yoshimura Suzuki Factory Racing's James Stewart raced his Yoshimura Suzuki RM-Z450 to his fifth win of the season and his 50th career victory at round 13 of the 2014 AMA/ FIM Supercross Championships at the Edward Jones Dome in St. Louis on Saturday night.

This victory marks the first time that Stewart has celebrated three race-wins in a row since 2009.

Stewart headed into the event fresh-off of his spectacular record-breaking performance last weekend in Toronto. He hadn't won in St. Louis since 2011. During the day's practice, Stewart set the fastest lap-time on his Yoshimura Suzuki RM-Z450 and then went on to finish second in his heat race. In the Main Event, he got a good launch off the gate and moved quickly from third place into second. Stalking the leader for several laps before making a clean but aggressive pass, Stewart captured the lead and pulled a gap to take the win. And with this result, Stewart became the first rider to win five races this year.

James Stewart:
"I don't know what's best, this weekend or last? Last weekend was obviously-special but to win again this weekend in a different State and to get a milestone like 50 race wins is unbelievable. I've got to give-it-up to the Yoshimura Suzuki team because we kind of had some issues all day but they came through for me in the Main Event. I feel like we're riding really great and the Yoshimura Suzuki RM-Z450 was working amazing; especially through the whoops. It was a tough race and everybody was riding really good. But I was able to get in the lead and keep it going. Now we'll just get ready for Houston and see if we can get another win there."
Yoshimura Suzuki Factory Racing's next event is the 14th round of the 2014 AMA/ FIM World Supercross Championship on Saturday, April 5th at Reliant Stadium in Houston, Texas.



Source: Team Suzuki

Martin Davalos Wins St. Louis 250SX To Extend His Points Lead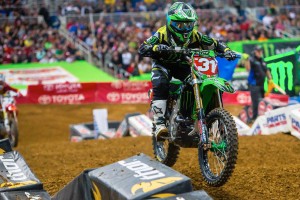 In the shadow of the Gateway Arch, Monster Energy Supercross returned to the Edward Jones Dome in St. Louis, Mo., on Saturday in front of more than 60,000 fans. Monster Energy/Pro Circuit/Kawasaki's Martin Davalos grabbed the holeshot on his KX250F and led all 15 laps to take the second victory of his career and extend his points lead. Meanwhile, behind him Blake Baggett came from outside the top-10 to take the final spot on the podium in third. Monster Energy Kawasaki's Ryan Villopoto led the first half of the 450SX main event and battled to a second place finish. Villopoto extended his points lead to 35 over the field.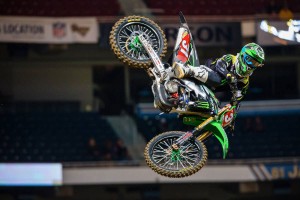 Taking Control
The red plates that signify the points leader donned Davalos's Kawasaki KX250F for the first time in St. Louis and he did not let the added pressure effect him. The Ecuadorian carried on like he has all season and continued his heat race win streak with his seventh consecutive heat race win this season, and 11th straight over the last two seasons. When the gate dropped for the main event it was Davalos with the holeshot and he never looked back. He led all 15 laps and shrugged off the pressure from behind to extend his points lead to eight as the East goes on a month-long break.

"This is what I've been working hard for all season," said Davalos. "Tonight was crucial to get some more points and keep my momentum into the break. The track got pretty slick towards the end and I felt like I was good in some sections and in others the guys would catch me a bit, but I just knew I had to win this one."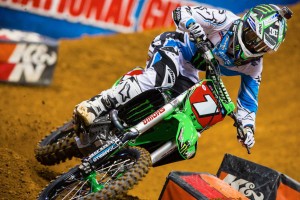 Bouncing Back
After visiting the hospital and still powering through the main event last week in Toronto, Villopoto arrived in St. Louis 100-percent healthy and ready. He won his heat race without challenge and took over the lead on the first lap of the main event. The champ then led the charge for 10 laps until James Stewart got to the inside of him. Villopoto changed a few lines after following in second but could not find a spot to make the pass back. Second place allowed him to extend his championship lead by 10 points and gives him a 35-point gap with four rounds remaining.

"Tonight was good for us," said Villopoto. "Considering how last week went and how close the points could have been, we can't ask for much better. James (Stewart) rode really well tonight and I didn't expect him to go for the pass where he did, but we'll learn from it and be back next weekend."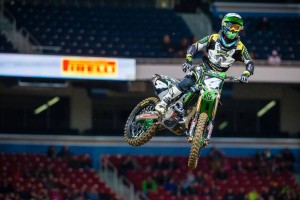 Fighting Forward
Baggett has been looking for the same speed he showed in Daytona and was ready to bounce back after last week's misfortune. He finished a close second behind his teammate in the heat race after getting the jump out of the gate, but could not replicate that start in the main event. Baggett was well outside the top-10 on the first lap, but knew he had to speed to get up front. For the first eight laps of the race, he was never in the same position and made at least one pass each lap to get him up into podium contention. By the time he reached third, the leaders had a built a large gap but he had passed at least half the field.

"I can't afford to keep starting in the back," said Baggett. "I got the holeshot in my heat race and was looking forward to the main, but once again, I did not make it easy on myself. That's not where I belong so I did what I could to move through the pack and landed on the podium."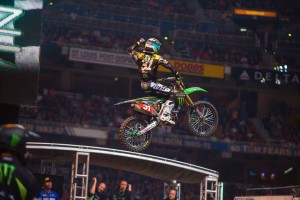 Family
When Davalos captured his first career win earlier this season in Atlanta, it was in front of his family and friends who had just arrived from Ecuador. His parents have been staying in the United States since and traveled to St. Louis before heading back to their home country. With their support, Davalos is clearly at his best as he won his second main event of his career with them at his side.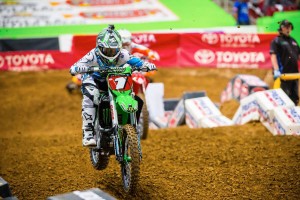 The Whoops
While Villopoto was out front, it looked as though he was giving up a little bit in the whoop section as he was going down the right side. His mechanic gave him the signal to switch his line to the left side, which helped his lap time and allowed him stay in contention for the win.

"I saw that Stewart was going down the left side of the whoops," said Villopoto. "But once I switched the left I didn't feel like it was much faster than where I had been going. The whoops themselves were getting pretty chewed up and were slippery so you really had to be precise."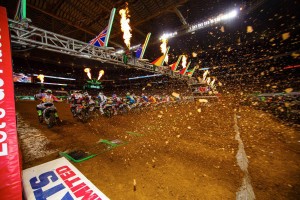 Wild West
Following seven weeks of East coast races, the Western Region will resume next weekend in Houston, Texas. Dean Wilson and Justin Hill will line up at Reliant Stadium and although Wilson has continued to race in the 450SX class, Hill has been hard at work at the practice track. Both riders will be looking to add another victory to their seasons in Houston.

Source: Kawasaki Racing

Justing Barcia Posts Back-to-Back Podium Finishes With A Third In St. Louis
[caption id="attachment_31466" align="alignleft" width="300"]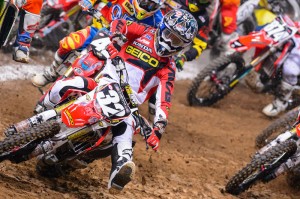 Photo: Simon Cudby[/caption]

Round 14 of the AMA Supercross series took place at the Edward Jones Dome in St. Louis, MO, over the weekend, and the Honda Red Riders showed up ready to vie for the top spots aboard their Honda CRF450R and CRF250R race machines. Team Honda Muscle Milk's Justin Barcia scored his third podium of the season with a third, while teammate Trey Canard returned to the gate with a hard-charging performance to finish fifth in the Supercross class. It was another strong showing by Muscle Milk-supported GEICO Honda rider Justin Bogle, who yielded a solid second-place finish in the 250 class.

450 Class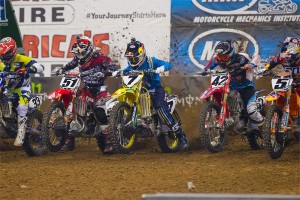 After finishing second in his heat race, Barcia got away to a good start on his CRF450R in the main and was among the lead group early on. He secured third on the third lap where he remained until the race's end. Barcia's finish marked his third podium of the season, including one second and two thirds, and after 14 rounds he is sixth in the championship.

"I rode good tonight but I am definitely not 100 percent satisfied. I really want that win," stated Barcia. "I've won before and I know what that feeling is like and I'm not feeling it right now. It feels good to hit the podium though; I just have to keep charging forward for that top spot. James [Stewart] and Ryan [Villopoto] rode a great race. It was a tough track tonight and there were some areas that I struggled."

With five rounds remaining in the series, teammate Canard returned to racing aboard his factory Honda-prepared CRF450R, and put together an impressive performance. Canard won his spot directly into the main event with a solid fourth in his heat race. In the main, he launched off the line to a top-10 start and began pounding out a series of successful passes, ultimately finishing a solid fifth.

[caption id="attachment_31455" align="alignleft" width="300"]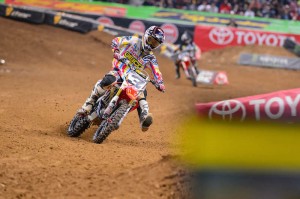 Photo: Simon Cudby[/caption]

"I am so happy to be back. I was definitely a ball of nerves today but I was excited to back out their racing with these guys. I had a lot of fun and am leaving here safe, which is most important," says Canard.

Also returning to racing action after taking a few weekends off to recover from a shoulder injury was Muscle Milk-sponsored GEICO Honda's Eli Tomac. He transferred into the main event via a second in his semi-qualifying race, and turned in a respectable sixth-place finish in the 450 main.

"I wanted more, to be honest, but we'll keep working at it," stated Tomac. "All those guys who finished in front of me are going so fast and have been racing all year, so I guess in that sense I'm pleased. I had some good laps and we're healthy, so that is definitely a positive."

Teammate Wil Hahn was unable to line up on the gate after a being involved in a crash in his heat race.

[caption id="attachment_31463" align="alignright" width="300"]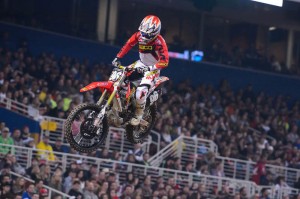 Photo: Simon Cudby[/caption]

250 Class
Bogle propelled his CRF250R off the line to a good start, rounding the first turn in fourth. He quickly made his way into second on lap three where he spent the remainder of the race applying pressure to the leader. Bogle was unable to get by for the win, but his runner-up result elevated him into second in the 250SX championship with two rounds to go in the series.

"I'm right where I need to be with my riding. A few races ago we were 25 points back and now we're only eight with two races left, so it's going to be a battle until the end," explained Bogle. "I think if I had even one more lap it could have ended different, but I just ran out of time. There weren't many places to pass and it was even more difficult with the lappers. I am happy with the points we've gained tonight and now I am just going to get ready for New York."

Teammate Matt Bisceglia put together one of his best performances of the season with a seventh-place finish. "I was really expecting to be on the podium tonight," stated Bisceglia. "It was just one of those days. I was riding well and for once had a good heat race and didn't have to go to the LCQ. I got a decent start in the main event and had settled in behind the leaders before having to avoid some downed riders on lap four, which caused me to tweak my knee. Luckily, I have a couple weeks to recover but it took everything I had to finish."

Source: Honda Racing

Ken Roczen Finishes Fourth At St. Louis Supercross, Ryan Dungey Ninth!
[caption id="attachment_31456" align="alignright" width="300"]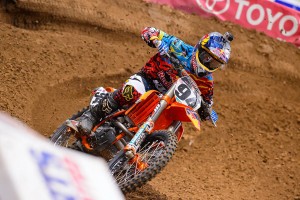 Photo: Simon Cudby[/caption]

Red Bull KTM Factory rider Ken Roczen finished 4th overall at the thirteenth round of the Monster Energy Supercross Series held at Edward Jones Dome while his teammate Ryan Dungey battled alongside him but suffered a last lap crash that caused him to lose a few positions and finish 9th for the night.

Ryan Dungey was placed in the first heat where he launched off the line to grab the holeshot and lead the pack around the first lap. Unfortunately, the race was red-flagged for a fallen rider and the riders were sent back to the gate to restart. On the restart, Dungey earned a 5th place start. He picked up one position early on and then spent the final lap in a three-way battle for 2nd place. He banged bars with Justin Barcia and Weston Peick and came up just short of making the pass and finished 4th to qualify into the main event.

KTM factory teammate Ken Roczen lined up for the second heat and pulled a 3rd place start off the line. He maintained his pace and finished the race in that same position in order to easily qualify to the main event.

[caption id="attachment_31454" align="alignleft" width="300"]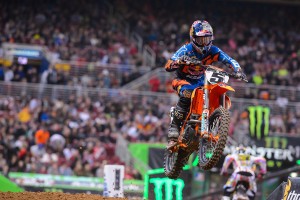 Photo: Simon Cudby[/caption]

When the gate dropped for the main event, Roczen was able to pull off a 6th place start while Dungey got stuck mid-pack. Roczen made critical passes on his KTM 450 SX-F to move toward a podium position in the first half of the race and was sitting in 4th at the halfway mark. Dungey followed suit and came up from his 11th place start to check-in at 6th place by lap twelve. Dungey made a pass on Justin Brayton to move into the top five and continued to carry his momentum working toward the leaders.

Dungey was able to reel in his teammate on the final lap and began to pressure for the position through the final rhythm section. Unfortunately, Dungey made a mistake and crashed while trying to battle for the spot and lost a few positions while recovering. He rebounded from the crash to finish the race in 9th. Roczen held his position and finished 4th overall.

"I really liked the dirt used on the track tonight", stated Roczen. "It didn't get too deep or rutted but was still challenging and fun to ride. The whoop section was a little tricky and the lappers were hard to get around toward the end of the race. My result wasn't quite what I hoped but definitely not the worst outcome either, so I'll take it."

Next Round: April 5, 2014 - Houston, TX

Source: KTM North America

St. Louis Overview And Point Standings
2014 AMA Supercross St. Louis Image Gallery (Click for full size images)


Overall Results - Supercross Class Race Time: 15:58.685






























































































































































































| Pos. | # | Rider | Bike | Interval | Best Time |
| --- | --- | --- | --- | --- | --- |
| 1 | 7 | James Stewart | Suzuki RM-Z450 | 20 Laps | 47.496 |
| 2 | 1 | Ryan Villopoto | Kawasaki KX 450F | +02.570 | 47.718 |
| 3 | 51 | Justin Barcia | Honda CRF 450 | +07.696 | 48.274 |
| 4 | 94 | Ken Roczen | KTM 450 SX-F Factory Edition | +08.708 | 48.615 |
| 5 | 41 | Trey Canard | Honda CRF 450 | +23.387 | 48.862 |
| 6 | 3 | Eli Tomac | Honda CRF 450 | +25.892 | 48.996 |
| 7 | 75 | Joshua Hill | Suzuki RM-Z450 | +29.572 | 49.310 |
| 8 | 29 | Andrew Short | KTM 450 SX-F Factory Edition | +38.318 | 49.282 |
| 9 | 5 | Ryan Dungey | KTM 450 SX-F Factory Edition | +45.147 | 48.432 |
| 10 | 10 | Justin Brayton | Yamaha YZ450F | +58.017 | 48.686 |
| 11 | 27 | Nicholas Wey | Kawasaki KX 450F | 19 Laps | 49.761 |
| 12 | 800 | Mike Alessi | Suzuki RM-Z450 | +12.082 | 48.935 |
| 13 | 68 | Chris Blose | Honda CRF 450 | +15.381 | 50.335 |
| 14 | 77 | Jimmy Albertson | Honda CRF 450 | +20.183 | 50.525 |
| 15 | 374 | Cody Gilmore | Kawasaki KX 450F | +47.889 | 51.242 |
| 16 | 48 | Ben Lamay | Yamaha YZ450F | +51.311 | 51.253 |
| 17 | 415 | Nicholas Schmidt | Honda CRF 450 | +53.799 | 51.588 |
| 18 | 606 | Ronnie Stewart | Suzuki RM-Z450 | 18 Laps | 51.812 |
| 19 | 92 | Killian Rusk | Yamaha YZ450F | +11.304 | 52.980 |
| 20 | 211 | Tevin Tapia | Suzuki RM-Z450 | 17 Laps | 54.288 |
| 21 | 879 | Augie Lieber | Suzuki RM-Z450 | 16 Laps | 53.370 |
| 22 | 40 | Weston Peick | Suzuki RM-Z450 | 3 Laps | 50.041 |
Rider Point Standings - Supercross Class ( Race 13 of 17 )


Ryan Villopoto - 268

Ryan Dungey - 233

James Stewart - 232

Ken Roczen - 215

Justin Brayton - 196

Justin Barcia - 176

Andrew Short - 166

Broc Tickle - 126

William Hahn - 122

Chad Reed - 111

Manufacturer Point Standings - Supercross Class ( Race 13 of 17 )


Kawasaki - 284

KTM - 277

Suzuki - 265

Honda - 222

Yamaha - 196

Overall Results - Supercross Lites East Class Race Time: 12:05.043
| Pos. | # | Rider | Bike | Interval | Best Time |
| --- | --- | --- | --- | --- | --- |
| 1 | 31 | Martin Davalos | Kawasaki KX 250F | 15 Laps | 48.833 |
| 2 | 32 | Justin Bogle | Honda CRF 250 | +01.175 | 49.154 |
| 3 | 4 | Blake Baggett | Kawasaki KX 250F | +16.853 | 49.531 |
| 4 | 30 | Kyle Cunningham | Honda CRF 250 | +21.624 | 50.151 |
| 5 | 57 | A J Catanzaro | Honda CRF 250 | +22.074 | 50.369 |
| 6 | 52 | Cole Thompson | KTM 350 SX-F | +28.623 | 50.206 |
| 7 | 96 | Matthew Bisceglia | Honda CRF 250 | +36.267 | 50.112 |
| 8 | 56 | James Decotis | Honda CRF 250 | +44.763 | 50.629 |
| 9 | 55 | Alex Martin | Yamaha YZ250F | +52.637 | 49.821 |
| 10 | 533 | Gannon Audette | Kawasaki KX 250F | 14 Laps | 51.936 |
| 11 | 42 | Vince Friese | Honda CRF 250 | +01.597 | 49.813 |
| 12 | 854 | Landen Powell | KTM 250 SX-F | +06.927 | 52.805 |
| 13 | 60 | Jackson Richardson | Honda CRF 250 | +08.107 | 52.532 |
| 14 | 874 | Zack Williams | Honda CRF 250 | +12.880 | 53.160 |
| 15 | 88 | Jesse Wentland | Honda CRF 250 | +13.663 | 51.884 |
| 16 | 69 | Levi Kilbarger | Honda CRF 250 | +17.687 | 54.002 |
| 17 | 99 | Justin Starling | Honda CRF 250 | +19.812 | 52.906 |
| 18 | 812 | Luke Vonlinger | Honda CRF 250 | +31.485 | 54.722 |
| 19 | 386 | Aaron Gulley | Kawasaki KX 250F | +52.397 | 54.265 |
| 20 | 19 | Jeremy Martin | Yamaha YZ250F | 13 Laps | 49.959 |
| 21 | 78 | Matthew Lemoine | Kawasaki KX 250F | 5 Laps | 49.773 |
| 22 | 49 | Gavin Faith | Honda CRF 250 | DNS | |
Rider Point Standings - Supercross Lites East Class ( Race 7 of 9 )


Martin Davalos - 149

Justin Bogle - 141

Adam Cianciarulo - 120

Blake Baggett - 120

Vince Friese - 100

Kyle Cunningham - 94

Cole Thompson - 89

James Decotis - 78

Matthew Lemoine - 74

Alex Martin - 72

Manufacturer Point Standings - Supercross Lites Class ( Race 13 of 17 )


Kawasaki - 296

Honda - 274

KTM - 220

Yamaha - 183

Suzuki - 12