Redline BMX Bikes Go The Distance
Chaparral Motorsports
|
March 28, 2014
[caption id="attachment_31252" align="alignright" width="300"][mageProductLink sku="rl-156764" title=""]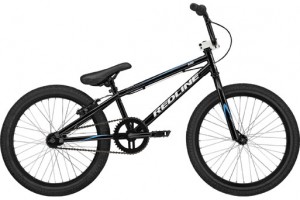 [/mageProductLink] Redline Raid Free Wheel BMX Bike[/caption]

Riding a dirt or street bike is not that much different from riding a BMX bike. While they have a few obvious differences, the thrill that goes along with completing tricks, reaching new heights or topping high speeds is certainly similar. Anyone who is curious about breaking into the world of BMX needs the right equipment to accomplish these goals, though, and that means purchasing a bike that can help get the job done.

An option that may be up to the challenge is the [mageProductLink sku="rl-156764" title="Redline Raid FW BMX Bike"]Redline 2014 Raid BMX Bicycle[/mageProductLink]. This product hits most of the key points riders are looking for, and it also comes from a long line of strong BMX items with a brand name that can be trusted to live up to the hype.

What To Look For
[caption id="attachment_31255" align="alignright" width="300"][mageProductLink sku="rl-156762" title=""]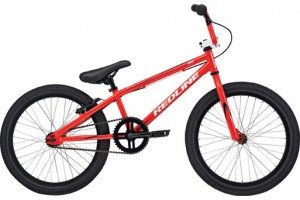 [/mageProductLink] Redline Raid Coaster Brake BMX Bike[/caption]

When you start shopping for a BMX bike, you'll probably have considerations like the budget already sorted out. That's just the tip of the iceberg when it comes to decision-making, however, as there are a number of other variables you'll have to settle on before making a purchase.

The first thing you need to determine is what type of riding you will be doing. BMX bikes come ready for a variety of styles, including dirt, street and flatland riding, as well as racing. A few details could make a bike better suited to one of these styles, therefore making it a smarter investment and potentially even saving you money in the long run.

Other areas that require attention include the material the bike is made from, as chromoly is probably the best bet. This metal combines the strength and low weight that most want in a bicycle. You will also want to check the sizing of the bike, and be sure to ignore things like graphics or colors. There are many ways those can be changed after a purchase and they should not distract you from some of the more important qualities.

About Redline Bikes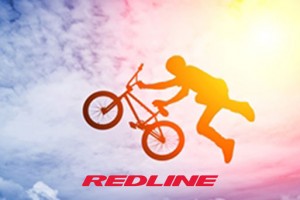 Redline
is one of the most respected names in BMX. It began in 1974 as a provider of motorcycle gear, such as frames and swingarms. These frames were largely used for flat track racing and motocross, and over the years the company began expanded its options to include BMX bike frames. These heavy-duty options proved to be tremendously durable and well-suited to the rigors of extreme riding. In fact, many were traditional bicycles enhanced with motorcycle accessories, and this pattern eventually lead to the modern BMX bikes Redline produces today.

Currently, Redline offerings are used in many professional competitions by several big-name riders. However, a few of its products, such as the Redline 2014 Raid FW BMX Bicycle, are excellent options for anyone eager to hope on BMX bike and improve their skills.

Free Wheel or Coaster Brake - You Can't Go Wrong
[caption id="attachment_31257" align="alignright" width="300"][mageProductLink sku="rl-156760" title=""]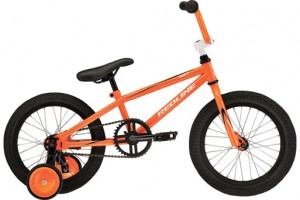 [/mageProductLink] Redline Raid Coaster Brake 16" BMX Bike[/caption]

One of Redline's bikes, the 2014 Raid FW BMX Bicycle, is particularly alluring for anyone shopping around for a new investment. This racing bike offers a number of impressive features that make it an attractive option for riders who want to expand their BMX careers.

Made from strong materials, the 2014 Raid FW offers impressive durability for all scenarios, all at a weight of slightly more than 24 pounds. Touches like the one-piece crankset and Redline linear brakes only enhance the riding experience, providing top-of-the-line accessories that are both reliable and versatile. The 2014 Raid FW BMX Bicycle is available in red and black colors, and it is also offered in freewheel and [mageProductLink sku="rl-156762" title="Redline Raid CB BMX Bike"]coaster brake models[/mageProductLink]. There is even a [mageProductLink sku="rl-156760" title="Redline Raid CB 16 BMX Bike"]coaster brake bike with 16" wheels[/mageProductLink], instead of the 20" wheels standard on the other versions, complete with a set of training wheels - perfect for younger riders just breaking into the BMX scene.