The Secret To Motocross Is In The Dunlop Geomax Tires
Chaparral Motorsports
|
March 19, 2014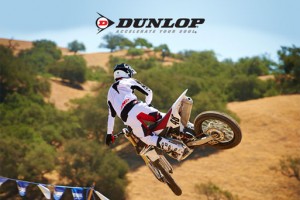 When you're trying to enhance your dirt bike, it helps to work from the bottom up. After all, tires are a key part of any machine, and they have a significant impact on how a motorcycle performs. Another reason they receive so much attention is because there are many different directions you can go in to customize the machine. Making decisions based on your favorite types of riding, the landscape you're exploring or any other variable is possible thanks to the wide variety of tires available - all you have to do is begin the search.

For many, products like the [mageProductLink sku="331-8560" title="Dunlop Geomax MX52 Intermediate-Hard Terrain Front Tire"]Dunlop Geomax MX52 Intermediate-Hard Terrain Tire[/mageProductLink] are an attractive option. Before you settle on this new Dunlop tire, however, you likely need to run through all of its impressive features and compare them to your wish list.

Choosing The Tight Tires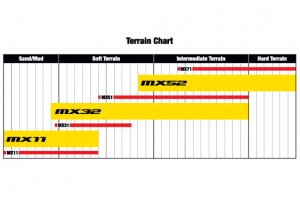 Prior to deciding on a specific tire, you'll want to survey the type of terrain your adventures typically take you to. Anyone who finds themselves in racing environments with hard-packed dirt will need a tire capable of gripping that ground. The same goes for anyone participating in motocross that involves rocky sections, as these tough lands require a lot of hard work on the part of your motorcycle.

That's where the new Dunlop Geomax MX52 Intermediate-Hard Terrain Tire comes into play. It has been specifically designed for rugged conditions, and you can be sure it's offering top-notch safety, security and performance, even when you're pushing your bike to the limit. In fact, it has been so well designed that Dunlop is using it to largely replace two separate tires in their motocross line.

Why The Dunlop Geomax MX52?
[mageProductLink sku="331-8560" title=""]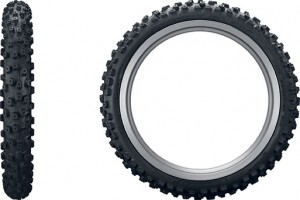 [/mageProductLink]Anyone considering the Dunlop Geomax MX52 Intermediate-Hard Terrain Tire will likely be fans of intense motocross events. The tires are well-suited to high-intensity riding, thanks in large part to a number of features. It is one of Dunlop's only products that boasts a block-within-a-block design, which helps the tire provide a high level of performance in extreme conditions. This innovative technology is key for attaining a smooth ride in any circumstance, as it improves the grip on the ground. That makes a big difference with regard to cornering and slide control.

It all starts with a flexible tire frame. The Enhanced Carcass Tension Control System provides a smooth ride for all, plus superior handling and durability. This design features a recessed carcass, which extends the life of the tire and reduces the tearing of the knobs. The longevity of the product is also increased with the bump absorption of the sidewall rubber compound.

Another noteworthy quality is the center block design, which enhances the stability of the bike. The staggered distribution of these blocks is one of the reasons for the tire's excellent performance, as it spreads out the pressure and ensures a smooth ride.

Race-Ready Options For Serious Riders
[mageProductLink sku="331-8570" title=""]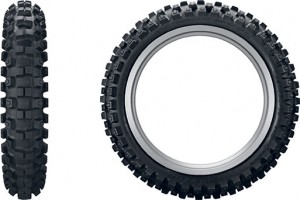 [/mageProductLink]With all of the features of the Dunlop Geomax MX52, it's easy to see why so many competitors would choose the tire for their dirt bike. Major players like Ryan Villopoto, Ryan Dungey and Ken Roczen have all used versions of the Geomax - and have seen success with them as well - so there's no reason recreational riders can't gain that same experience.

The Dunlop Geomax MX52 tires were made with input from top motocross and supercross riders and have been optimized to fit even the most extreme conditions.

Shopping for motorcycle tires can be overwhelming due to the sheer number of options available. However, when you stick to a well-known brand like Dunlop, and a product that has been tested and approved by some of the biggest names in motocross, you can rest assured you're getting a quality tire.