Klim Induction Jacket Brings Together The Best Of Both Worlds
Chaparral Motorsports
|
March 18, 2014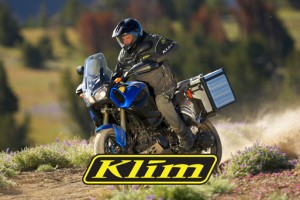 When it comes to riding an adventure bike, you need to be able to balance needs that land on two separate sides of the spectrum. On one hand, any type of high-speed riding requires intense safety measures, especially when the adventure takes place on pavement. On the other hand, compact bikes frequently involve tight cornering and agile movements, which lets riders to take full advantage of their mobility.

If you're looking for a product that will allow you to experience the very best of these two worlds, then you may want to take a look at one of the newest motorcycle jackets from Klim, one of the premiere adventure touring gear manufacturers. The [mageProductLink sku="261-5060-000-120-000" title="Klim Induction Vented Textile Jacket"]Klim Induction Jacket[/mageProductLink] was created for all kinds of street bike use and can come in handy in a wide variety of situations, making it an alluring option for riders who need protection without sacrificing their own comfort.

Tough Protection...
[mageProductLink sku="261-5060-500-120-500" title=""]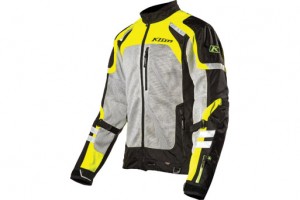 [/mageProductLink]Like many other pieces of motorcycle gear, the priority of the Klim Induction Jacket is to keep the wearer safe. It all begins with the exterior of the jacket, which is made from Klim Karbonite nylon mesh that is tear-resistant. Extra abrasion zones have been added to the elbows and shoulders for additional protection as well.

A number of liners are included as part of the Klim product. Most of these layers are waterproof as well as comfortable, and some boast features such as fleece linings and UV resistance.

Safety is of paramount importance, which is why 3M Scotchlite reflective strips have been added to the arms and upper back of the jacket. That way, even those riders who are on bikes at night will be visible, despite the fact that most versions of the item feature a black-and-gray color scheme that fits in to any scenario. There is also armor installed on the elbows, shoulders and back, which guarantees that anyone who experiences a fall or an accident will have some kind of protection on these vulnerable areas.

Even your possessions will stay secure and protected. Zippered pockets and Velcro adjusters are found throughout the jacket, making it easy to store or access items quickly. You can even take advantage of pockets specifically designed for a passport or an emergency ID.

... Meets Easy Movements
[mageProductLink sku="261-5060-000-120-000" title=""]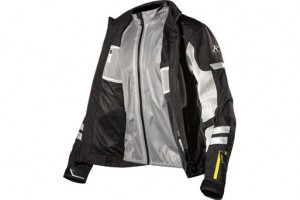 [/mageProductLink]While the exterior protection is nothing to scoff at, none of the armor or shields inhibit rider movement, allowing everyone to maintain their feeling of freedom on the open road. Many aspects of the motorcycle jacket are adjustable, such as the D3O EVO armor at the elbows and the arm straps, making it easy to customize the fit.

You will also be able to keep your comfort level high with the help of the ventilation system included on the Klim Induction Jacket. Mesh construction allows the air to flow freely throughout the jacket, and the internal mesh comfort liner maintains this breathable quality as well. This even boasts moisture-wicking properties, ensuring that sweat or rain won't affect the function of the piece.

The fit of the Klim Induction Jacket has been optimized for street bike riders. A new cut leads to a shorter hip length, creating more lower mobility, and the waist and arms can both be adjusted for the most precise fit. Internal belt loops are also included.

Not only does the Klim Induction Jacket boast all of these impressive features, but it also meets tough standards and regulations and was created with some of the most flexible material on the market. The item exceeds military requirements for tensile strength, and is available in a [mageProductLink sku="261-5060-500-120-500" title="Klim Induction Hi-Viz Vented Textile Jacket"]Hi-Visibility[/mageProductLink] color option for extra safety. Few other products can merge the toughness and easy mobility like Klim, making this jacket truly one of a kind.