Chaparral Motorsports Takes On Bicycle Sales
Chaparral Motorsports
|
March 17, 2014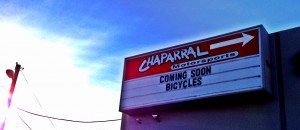 San Bernardino, CA - March 14, 2014 - Recognized as one of the largest powersports dealerships in the nation, Chaparral Motorsports is excited to announce it is growing once again and will now include bicycles amongst its already expansive line of product offerings. Chaparral plans to start selling bikes as well as bicycle accessories and bicycle riding gear by the end of March. The dealership will also be increasing the size of its already massive helmet department to include [mageProductLink sku="tl0414-0207" title=""]bicycle helmet[/mageProductLink] options as well as expanding on its selection of motorcycle, UTV, and ATV helmets.
Every year more and more professional motorcycle racers and recreational riders take to bicycles in their off time for reasons such as off-season training, physical therapy, spending quality time with the family, or to just get some good old-fashioned exercise. The inclusion of a bicycle division will be an exciting expansion to Chaparral's product lineup and will offer its customers an even greater selection to fulfill their enthusiasm for two-wheels. Chaparral will start off focusing on BMX, mountain, cyclo-cross (CX), freestyle, electric (E-bikes), and commuter bikes. The company will also be carrying all the accessories and clothing associated with these specific segments as well as catering to the general bicycle business with items such as tires, wheels, cranks, pedals etc. The initial line up will consist of bikes from Redline, Diamond Back, Currie Tech (E-bikes), KTM, and Scott. Chaparral will be handling clothing and accessories from companies such as [mageProductLink sku="tl1714-2108" title=""]Troy Lee Designs[/mageProductLink], Fox, Sidi, and Azonic.

In addition to taking on bicycles, Chaparral will be increasing the size of its helmet department. The new 8,500 square-foot showroom will give Chaparral more room to spread out its current display of motorcycle, ATV, and UTV helmets, add new brands and styles, and provide room to include a broad selection of bicycle helmets. Chaparral plans to have the new helmet department finished by the end of March. Once complete Chaparral will have a massive array of helmets on hand geared towards everyone from the motocross racer to the bicycle commuter. The new helmet showroom will enable Chaparral to deliver the biggest and best helmet shopping experience to its customers.

About Chaparral Motorsports
With over 30 years in the motorsports industry, Chaparral Motorsports knows a thing or two about selling motorcycle gear, motorcycle tires and motorcycle parts. Value, lowest prices and trust are only a few qualities used to describe Chaparral Motorsports, but what you may not know is that we go the extra mile to offer a superior online shopping experience. When you shop with us, you get a secure and hassle-free experience, free shipping options and superior customer service.