Bell Strives For Value With The Qualifier Helmet
Chaparral Motorsports
|
March 14, 2014
[mageProductLink sku="650-7047849" title=""]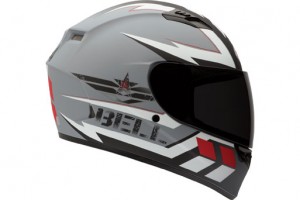 [/mageProductLink]Finding the right mix between performance and value is never easy. In many instances in the motorcycle industry, the top-of-the-line products will cost a pretty penny, and you will likely have to continue purchasing items and making upgrades as you progress in the pastime. Often, the price tag can scare riders away from major brand names - but it doesn't have to be that way. In fact, a number of manufacturers are aiming to create motorcycle riding gear that is both affordable and high performing, which is leading to many exciting opportunities for riders who want to look and feel great on their bikes.

Bell Helmets - Breaking The Mold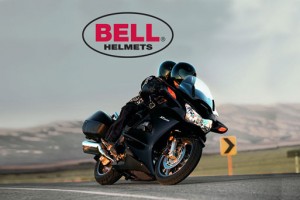 Helmets
are an essential part of riding a motorcycle - or they should be, anyway - but not everyone has a budget that allows them to spend top dollar on one of these products. Between the cost of the bike itself, as well as maintenance and other motorcycle apparel, chances are you're already filtering a hefty sum of money into the pastime.

Bell Helmets set out to make this balancing act a bit easier on riders. At the forefront of this initiative is the Bell Qualifier Helmet, which aims be an affordable and high-quality option for all kinds of motorcyclists. As a Department of Transportation-certified product, the accessory may be the right choice for a wide variety of wearers who want protection at a good value. Although the products may be cheap compared to others on the market, they certainly do not gloss over the quality and protection riders need.

Inside The Bell Qualifier Helmet
[mageProductLink sku="650-7047831" title=""]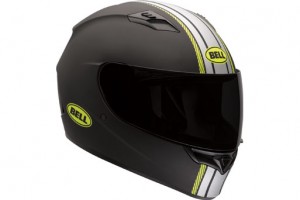 [/mageProductLink]It all begins on the outside of the helmet. The polycarbonate shell has been formed into an aerodynamic shape, and the stability of the headgear is top-notch. That is accented with an ultraviolet-protected shield, which is also scratch- and fog-resistant. If you want to make a change with regard to the visor, however, you can use the ClickRelease system. This feature brings about fast and tool-free shield changes, limiting the cost of other equipment you may need in the future.

On the inside, riders will find a removable, washable interior complete with a padded wind collar that works to reduce noise. The cheek pads have been contoured to a more snug, comfortable fit, but not everything about the helmet is made to feel restricting. For example, the padded chin strap has a D-ring closure, enabling wearers to adjust it to the most suitable fit.

The Bell Qualifier boasts an adjustable ventilation system that circulates cool air throughout the helmet. This is key for those who want to remain comfortable in all kinds of weather, and because the road and wind noise will still be kept to a minimum, riders can take full advantage of the built-in pockets for audio speakers.

Custom Look Without The Price
[mageProductLink sku="650-7047843" title=""]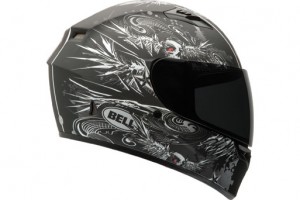 [/mageProductLink]One of the major perks of the Bell Qualifier Helmet is that it can be customized to fit your own distinctive look. Bell offers almost a dozen different exteriors for riders to choose from, and the colorful options range from a solid matte black to the black and pink flames of the [mageProductLink sku="650-7047837" title="Bell Helmets Qualifier Coalition Full Face Helmet"]Qualifier Coalition helmet[/mageProductLink]. While simple statements like solid metallic silver or gloss black are popular, fun alternatives, such as the unique patterns of the [mageProductLink sku="650-7047807" title="Bell Helmets Qualifier Cam Full Face Helmet"]Qualifier Cam helmet[/mageProductLink] with stripes in a variety of hues, provide plenty of diverse choices.

Additionally, each of the different styles can be purchased in sizes ranging from XS to XXL, ensuring that everyone from young riders to experienced adults can find a snug selection. Appearance may not be everything, but with these attractive motorcycle helmets, you'll be happy you have the opportunity to personalize it to match your style and motorcycle accessories.