Take Flight With The Memphis Shades Batwing
Chaparral Motorsports
|
March 13, 2014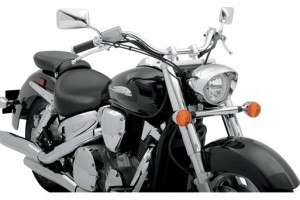 Almost every rider wants to be able to achieve the look of a custom motorcycle. Unfortunately, not everyone has the budget to make that dream a reality. The good news is there is plenty of room for improvisation when it comes to loading a bike with some of the latest and greatest motorcycle parts, and investing in the right items could make a significant difference in how you and other perceive your motorcycle.

While there are countless different directions you could go in when outfitting a bike with custom parts, one choice that is both attractive and practical is a windshield or a custom fairing. Installing the [mageProductLink sku="mem2330-0023" title="Memphis Shades Batwing Fairings"]Memphis Shades Batwing Fairing[/mageProductLink] onto your motorcycle not only adds to the overall appearance of the bike, contributing to a sleek look and providing plenty of attitude, but it also has a practical function as well.

Step 1 - The Batwing Fairing
[mageProductLink sku="mem2330-0023" title=""]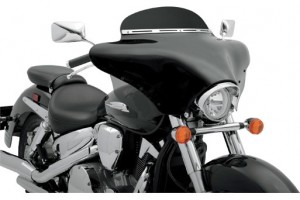 [/mageProductLink]So what makes the Memphis Shades Batwing Fairing a good choice for you? For one, the Batwing is made from incredibly strong ABS plastic and black Lucite acrylic, perfect as is or with a custom paint job. This sleek appearance ensures it meshes well with almost any style bike, and it will remain resistant to scratches or harm that you may encounter during your adventures.

It is made in an aerodynamic shape to better deflect wind. Because of the shape of the fairing, air flow is directed down and away from the motorcycle. This makes for a more comfortable riding experience at any speed and can even improve the performance of a bike thanks to the lesser wind resistance.

Once you have chosen the batwing fairing that works with your motorcycle, there are a few other steps you'll need to complete before you can install it onto your ride. Each piece is sold separately so you can put together a custom package that is exactly what you are looking for, so the price quoted above is for the fairing only.

Step 2 - The No-Tool Trigger-Lock Mount Kit
[mageProductLink sku="mem2321-0044" title=""]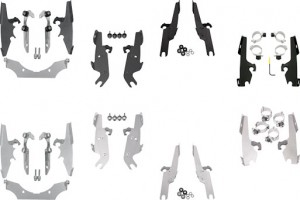 [/mageProductLink]The Memphis Shades Batwing Fairing does not come with mounting hardware, so you'll have to buy that separately. Fortunately Memphis Shades makes a unique [mageProductLink sku="mem2321-0044" title="Memphis Shades No-Tool Trigger-Lock Mount Kit"]Trigger-Lock mounting kit[/mageProductLink], which allows owners to quickly and easily remove or install the fairing. A pair of glass filled nylon latches anchor onto polymer bushings and lock the fairing down, that is until the spring loaded "trigger locks" are intentionally disengaged for a no-hassle removal. Both the fairing itself and the mounting kit are made specific to the model of your bike, so you can be sure it will fit without problems.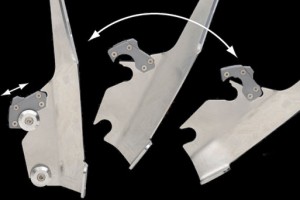 As an added bonus for customization, once you install the mounting kit on your cruiser, you can easily replace your batwing fairing with any Memphis Shades Fats/Slims windshield or Sportshield without the use of tools. If you already have one of those windshields installed it is even easier to install the batwing fairing, all you need is the corresponding [mageProductLink sku="mem2320-0039" title="Memphis Shades No-Tool Trigger-Lock Plate Kit"]mounting plate kit[/mageProductLink] for your bike. The plate kit contains only the parts of the mounting kit that attach to the fairing, allowing you to use the mounting hardware you already have attached to your street bike.

Step 3 - The Fairing Windshield
[mageProductLink sku="mem2310-0215" title=""]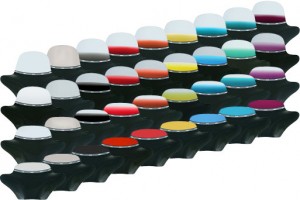 [/mageProductLink]Your new batwing fairing wouldn't look right without a windshield sitting atop. To better fit the windshield to your specific bike, there are [mageProductLink sku="mem2310-0215" title="Memphis Shades Batwing Fairing 5" Windshields"]fairing windshields[/mageProductLink] available in four different sizes. You can even choose from seven translucent colors, as well as a clear and solar tinted options, to match your motorcycle or fit a certain custom style you're aiming for. In addition to black, there is ruby red, burnt orange, yellow, blue, teal, and purple. With so many shades to choose from, you can find a piece that works seamlessly with your machine and adds to the personalized appearance you desire.

[mageProductLink sku="mem2350-0135" title=""]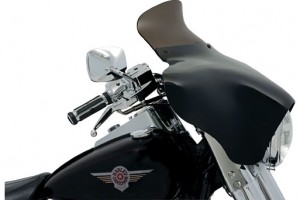 [/mageProductLink]For those looking for a distinctive look that is as functional as it is stylish, Memphis Shades offers a [mageProductLink sku="mem2350-0135" title="Memphis Shades Batwing Fairing 6.5" Spoiler Windshields"]fairing spoiler windshield[/mageProductLink] in a medium bronze smoke tint that is designed to be looked over. The spoiler windshield diffuses the air stream, effectively slowing the flow without buffeting, so you have a smoother ride with even less wind turbulence.

All of these windshield options are made from Lucite acrylic with superior optics and construction. Designed to fit any of the bike specific Memphis Shades Batwing Fairings available, these fairing windshields finish off that custom look.

Step 4 - The Accessories
[mageProductLink sku="mem2350-0111" title=""]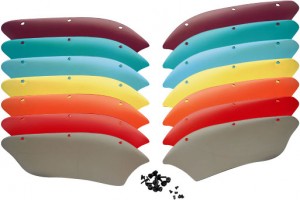 [/mageProductLink]While all that is required to use these fairings are Steps 1-3 (the fairing, mounting kit, and windshield), why stop there? After all, you're going for a unique custom look, so lets look at some of the motorcycle accessories available to spruce up your new batwing fairing. One option you'll want to consider are [mageProductLink sku="mem2350-0111" title="Memphis Shades Batwing Fairing Wind Deflectors"]wind deflectors[/mageProductLink]. They come in seven colors to match your chosen windshield and holes are already pre-drilled into the batwing fairing, and fitted with push-out hole plugs, increasing the ease of attaching the deflectors to the fairing. You can even choose to invest in the windshield tri-pouch, which offers extra storage for the necessities, as well as several different [mageProductLink sku="mem2350-0110" title="Memphis Shades Batwing Fairing Trim"]fairing trims[/mageProductLink], which provide another stylistic element.

About Memphis Shades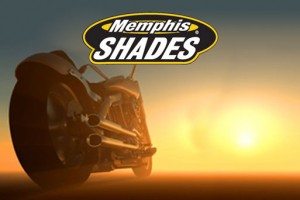 Memphis Shades
has been providing top-notch motorcycle windshields for many decades. The company supplies a wide variety of windshields in different styles and colors, and it is so confident in its products that it adds a manufacturer's limited two-year warranty to each purchase.

The brand has plenty of offerings, but sometimes it can be hard to narrow down the selection - and find a dealer that carries them item you want. Luckily, the Memphis Shades Batwing Fairing, along with several other similar products, is available at select retailers.

No matter what you decide on, you are going to need to make sure the item works with the make and model of your motorcycle. Although Memphis Shades makes products that can be applied to a wide range of bikes, taking a bit of extra time to double-check the match is a smart move. Additionally, you should see if your model requires specific hardware to install the windshields. For example, a few select machines need OEM docking hardware or will require turn signal relocation. While this can be easily done, it may necessitate some extra time and another purchase.