2014 AMA Supercross Daytona Race Results
Chaparral Motorsports
|
March 10, 2014
Monster Energy Kawasaki Takes Over Daytona Supercross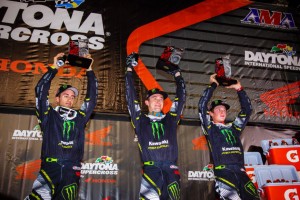 It was nearly a perfect day and night for the Monster Energy Kawasaki and Monster Energy/Pro Circuit/Kawasaki teams at Daytona International Speedway as KX dominated the Daytona Supercross. Starting in qualifying, Kawasaki held down the top-three spots in the 250SX class as well as the top-two spots in the 450SX class. In the night show Blake Baggett and Martin Davalos each won a 250SX heat race while Ryan Villopoto and Discount Tire Racing/TwoTwo Motorsports Dean Wilson also swept the 450SX heats. In the Main events it was a Baggett who grabbed the 250SX win with his teammates Adam Cianciarulo and Davalos filling out the podium. In the 450SX main, Villopoto returned to his winning ways, leading wire-to-wire to grab his third win of the year.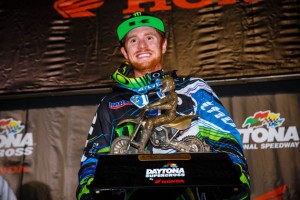 King of the Beach
For the fourth time in five years, Villopoto has hoisted the winner's trophy at the Daytona Supercross, dominating both his heat and the main event. Villopoto rocketed to the holeshot and then never looked back as he cruised to the win with a margin of victory of more than 12 seconds. The Monster Energy Kawasaki team had Villopoto's KX450F dialed in as he set the fastest lap of the race more than one-and-half seconds faster than his closest competitor. With the win, Villopoto also extended his championship points lead to 28.

"Daytona is always a little special," said Villopoto. "The track is always one of the most difficult we race on all year. Tonight the dirt was softer than it usually is, which made for some big ruts and made it a little difficult."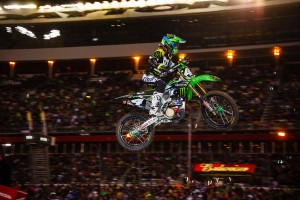 First of the Season
Baggett came into Daytona looking to grab his first win of the season, and the veteran rider knew the supercross-motocross hybrid track would be a great spot to get on top of the podium. Baggett was fast all day and a crash in the second practice didn't slow him down. In his heat race, the California native made quick work of his competition and in the main event, he grabbed the lead from Davalos on the second lap and pulled away for his second career win at Daytona.

"Tonight was a good race for me," said Baggett. "There is something about racing at Daytona that I really like, I wish we had more races here. The track was difficult but I knew I had the speed to win tonight."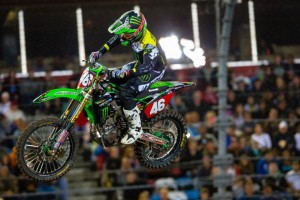 Hometown Hero
Growing up in the shadows of Daytona International Speedway, Cianciarulo was primed for the event on Saturday night. Coming in riding a giant wave of momentum, the 17-year-old rider was looking to win his third race in four supercross starts. The pressure of racing at home didn't affect Cianciarulo as he was leading his heat race, when on the final lap he had a mechanical issue that saw him drop to fifth. With a bad gate choice for the main event, the Florida native jumped out of the gate well and was battling for a top spot. He patiently worked his way around his teammate Davalos and held on for the runner-up finish.

"I was able to get out of the gate decent and tried to make a move super early in that first corner, but it didn't quite work out for me,"said Cianciarulo. "I just tried to get around Martin then tried to ride consistent laps, because obviously it's Daytona and a really tough track. I tried to ride smart. Blake had everyone tonight so I wanted to get as many points as possible."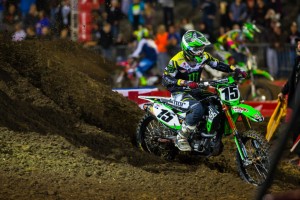 Riding at the Front
On loan from the Monster Energy/Pro Circuit/Kawasaki team, Wilson came to Daytona with another week of riding the TwoTwo Motorsports Kawasaki KX450F under his belt and he showed speed from the opening practice. In the final qualifying, it was the Scottish born Wilson at the top of the scoring pylon and after getting a great start in his heat, Wilson held off James Stewart for six laps to grab his first career 450SX heat race win. In the main event, Wilson got another great start and settled in behind Villopoto for 14 laps. Wilson would eventually finish in seventh.

"Tonight is a good start for how I want to ride in the 450SX class," said Wilson. "I feel really comfortable on the bike and to get the heat race win felt really good. Riding up front with these guys is tough but it felt really good to be up there and I want to be up there next week."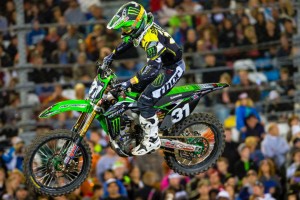 East Coast Proof
Since even before the 250SX Eastern Region season kicked off in Dallas, the Monster Energy Kawasaki team has been unstoppable. Saturday night's podium sweep marked the sixth straight win for the team. Since Dallas, the team has won every heat race and main event as well as posting the fastest time in qualifying.

Source: Kawasaki Racing

Dual-Podium For Red Bull KTM Factory Team At Daytona Supercross
[caption id="attachment_30926" align="alignright" width="300"]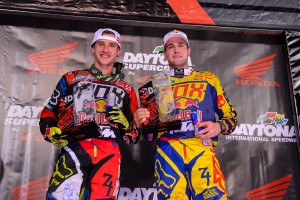 Photo: Simon Cudby[/caption]

Red Bull KTM Factory Team riders Ken Roczen and Ryan Dungey both scored a podium finish at the tenth round of the Monster Energy Supercross Series held at Daytona International Speedway.

Ryan Dungey put together a solid heat race finishing fourth in the first 450SX heat to transfer into the main event while teammate Ken Roczen was able to pull off a third place finish in heat number two.

"The track was very soft today and it caused a lot of ruts to form", stated Roczen. "It made for a challenging race but it was exciting with such a huge crowd cheering us on."

[caption id="attachment_30929" align="alignleft" width="300"]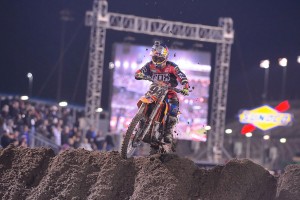 Photo: Simon Cudby[/caption]

In the main event, Dungey leaped off the line on his KTM 450 SX-F to a decent start rounding the first corner in fourth position. Roczen was a few spots back sitting in eighth. Within the first lap, Dungey moved into third while Roczen picked up two spots moving up to sixth.

Roczen continued to charge forward making as many passes as he could manage in the opening laps to not lose time to the lead riders. On the fourth lap he was able to move around Andrew Short to pick up fifth place. Two laps later, Roczen reeled in Malcolm Stewart and passed him over the wall jump to take over fourth position. Once in fourth he began to close in on the third place ride of his teammate, Dungey.

At the halfway point the two Red Bull KTM teammates found themselves in a three-man train with Dean Wilson battling for second position. On lap thirteen, Roczen was able to take an outside line in the corner before a rhythm section to make the pass on his teammate. Dungey did not fall off the pace and continued to stay on the tail of Roczen. Two laps later, Roczen and Dungey both pressured Wilson until he buckled and both riders moved into a podium position. The two teammates held their positions and went on to finish second and third respectively for the night.

[caption id="attachment_30927" align="alignright" width="300"]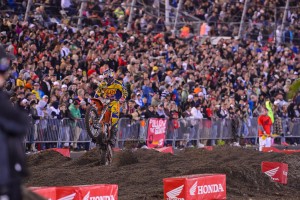 Photo: Simon Cudby[/caption]

"They did quite a bit of work to help the track, but it was still really tough", stated Dungey. "I spent a lot of time trying to get around Wilson tonight but was finally able to make the pass. I'm glad to be back on the podium."

Roczen stated, "I had to fight my way through the pack tonight. It was a lot of work but the track was actually pretty fun and I am really happy with a second place finish."

BTO Sports/KTM rider Andrew Short put in his best finish of the season landing a fifth place result. His finish put three KTM's inside the top five. The points earned tonight helped Short move up two positions in the overall standings to sixth place. Dungey sits second overall in the standings after ten rounds, while Roczen is just one point back in third.

Next Round: March 15, 2014 - Detroit, MI

Source: KTM North America

RCH Soaring Eagle Team Has Homefield Advantage At Daytona Supercross
Josh Hill Hits A Tough Block, Broc Tickle Takes One Step Closer To A Podium
[caption id="attachment_30967" align="alignright" width="300"]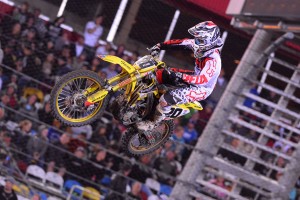 Photo: Simon Cudby[/caption]

The Daytona Supercross round was held on a home field for the RCH Soaring Eagle Supercross Team, literally. Team principal Ricky Carmichael built the track and hosted his Amateur SX Championship on the track held in the infield of the "World Center Of Racing" Daytona International Speedway. Broc Tickle #20 and Josh Hill #75 headed south immediately following their season-best showing at the Indy SX last weekend looking forward to building on the momentum in Florida.

Rainy weather during the week saw the team testing mud tires and wet weather set-ups at Carmichael's compound on Monday and Tuesday just in case Daytona turned out to be a mudder. However race day dawned warm and dry, perfect conditions. The personal instruction from the Greatest Of All Time (as RC is known in racing circles) really paid off for Josh Hill as he qualified 7th overall, just a hairsbreadth off the fastest qualifier of the day, Dean Wilson. Teammate Tickle also posted a top-20 time in afternoon qualifying (top 40 fastest make it into the evening racing program, the rest park their bikes and head to the grandstands).

Heat #1 on the hybrid outdoor national/indoor Supercross track that is uniquely Daytona saw Tickle take a terrible start, but by lap #2, he had moved into 7th and even drew some TV time from Fox Sports live broadcast as he battled with Justin Brayton. Speaking of TV time, the evening broadcast began with Carmichael taking his RCH Soaring Eagle Suzuki on a lap around the tough track... how often do you get a tour of the race track from the saddle of the guy who built it? "Things started out really rough for me and I struggled with qualifying and the Heat," said Tickle. Brayton never "let Broc bye" so Tickle was headed to the Semis.

Heat #2 was Hill's turn to finish in 7th and move to the Semis as well. Hill grabbed a great start in 5th, just one position out of qualifying and battling with James Stewart's younger brother, Malcolm most of the race as they chased Andrew Short for the final qualifying position. This was the first time the Stewart brother's ever raced 450s together, so the human interest angle was there when "Mookie" qualified, but that meant Hill had to head to the Semi.

[caption id="attachment_30966" align="alignleft" width="300"]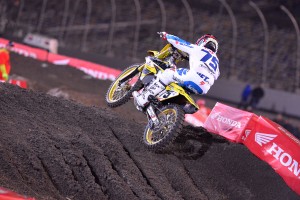 Photo: Simon Cudby[/caption]

Consisting of 16 riders battling for 5 laps to see the top 5 advance to the main, 450 Semi #2 saw both Soaring Eagle Suzuki's squaring off against each other as Tickle had the #3 gate pick and Hill had the #4 slot. "We had a chance to test and prepare for this and I thought we had a couple of great days," Carmichael told the TV viewing audience from the Fox broadcast booth. "Josh is riding good but Broc is off the mark today... which is weird to me since Broc has had a great couple of weeks the last couple of Supercross rounds." Both RCH riders had the TV cameras focused on them at the line for the start of Semi #2 as RC was talking and then during the course of the Semi... great plugs for sponsors Shift and Fox as well as Soaring Eagle and Sycuan. Speaking of sponsors, Soaring Eagle even featured the team in a TV ad that aired just before the start of the 250cc Main event.

Both riders got a good jump on the start as Hill was 6th and Tickle 7th, however Hill went on an immediate charge, slashing his way to 3rd with the first few turns. By the start of the second lap, Tickle starts riding more fluidly and moves into 4th. "He was mad at himself after qualifying... I tried to help him and give him as much advice as I good," said Carmichael of Tickle. Some of what RC had to say must have sunk in as Tickle ripped off some of the fastest laps of the heat races. Although he couldn't quite catch his hard-charging teammate Hill, Tickle finished 4th and Hill had 3rd to easily transfer to the Main event. "Great turn-around for RCH Racing's Broc Tickle... nice, bud," offered an elated Carmichael.

The 450 Main was a mixed bag for the RCH Soaring Eagle Suzuki Team as Tickle took one step closer to SX glory and Hill took a tumble. Tickle finished a career best fourth place on the 450, while Hill had a Main event he would rather not talk about. "Crashes and run ins with tuff blocks hampered my night," said Hill. "I rode great, but the black cloud just seemed to follow me to Daytona. Looking forward to Detroit were I want to put the Soaring Eagle Suzuki on the box in front of our great sponsors."

[caption id="attachment_30968" align="alignright" width="300"]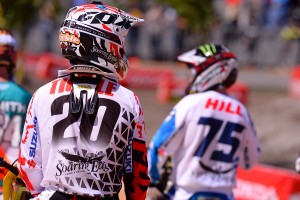 Photo: Simon Cudby[/caption]

"The track was brutal," added Tickle. "It was really demanding and I knew the Main was going to be about being consistent and hitting your marks. I started around 10th on the first lap, but I rode my lines and passed a couple of people early to get into 7th. When Malcolm Stewart and Justin Barcia came together and went down, I went up into 5th"!

Fast qualifier Dean Wilson was struggling toward the end, so Tickle took another spot with three laps to go to finish in 4th overall for the night. "I'm super pumped! The team worked awesome together today and I got more comfortable for the Main," he explained. "I'm looking forward to this week and next weekend in Detroit."

Co-owner Carey Hart was stoked to see Tickle turn it around. "Awesome work tonight by Broc Tickle and the whole RCH Racing crew! Thanks everyone!" RC added, "I'm really impressed with the turn-around Broc had and how he rebounded from what had not been a very good day. I'm happy for him and the team... everyone's hard work has paid off the past three weeks."

The RCH Racing Soaring Eagle Team pits were also featured in the TV broadcast from Daytona this week. A huge Bike Week crowd saw the action at the Suzuki Holeshot Experience proving to be very popular. The team probably signed more autographs in Daytona than they have at the last three races combined! Vacationeers also appreciated the opportunity to win an all-expense paid trip to the Soaring Eagle Luxury Resort. Sierra Merchant was swamped with people signing up for the Soaring Eagle trip. From the beach to the Motor City, next week the RCH Racing Soaring Eagle team heads back indoors to Ford Field in Detroit for Round 11 on March 15.

About RCH Racing Soaring Eagle:
RCH Racing is in its second season of the partnership between Ricky Carmichael and Carey Hart to campaign the Feld Motor Sports® 2014 Monster Energy AMA Supercross, an FIM World Championship season. Ricky Carmichael merged his Suzuki relationship and technical development with the established five year marketing giant of Hart & Huntington Racing in 2013. The RCH Racing Soaring Eagle Team continues its partnerships with Suzuki, Fox, Dodge, Sycuan Casino, Yoshimura and Bel-Ray. Stay up to date on all RCH Racing Soaring Eagle news, follow us on Instagram and Twitter @RCHRacing and on Facebook at www.facebook.com/hartandhuntington.
Source: RCH Racing Soaring Eagle

James Stewart Fights On Despite Daytona Damage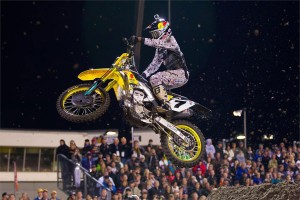 Yoshimura Suzuki Factory Racing's James Stewart is unsurpassed when it comes to rising to the occasion as at round 10 of the 2014 AMA/ FIM World Supercross Championships at Daytona International Speedway in Daytona Beach, Florida he turned in an amazing ride after his bike was damaged at the start.

Florida native Stewart was eager to race the challenging, motocross-style track at Daytona, and enjoyed two good practice sessions and a solid heat race where he finished second. In the Main Event, however, Stewart got off the line in a tight group of riders when one went down. In the melee, Stewart's bike sustained damage and he pulled into the pits. After a quick fix, he returned to the race and turned flawless laps on his Yoshimura Suzuki RM-Z450 to finish 18th.

James Stewart:
"Daytona was not good, as far as results go. I came around the first corner and a rider was down. I swerved out of the way but his handlebar caught my header pipe. I didn't know what the problem was, so I rode about a lap. I thought my bike was blowing up so I pulled into the pits and my Yoshimura Suzuki guys saw the header pipe was smashed in. They fixed it and I got back on and I rode really, really good. Fitness-wise, I felt unbelievable. This might be the best ride I've had all year but I finished 18th. There was just nothing I could do; these things happen. But overall I feel good and I feel confident. All we can do at this point is win some races and make some things happen. Now I'm looking forward to Detroit and getting back to winning."
Yoshimura Suzuki Factory Racing's next event is the 11th round of the 2014 AMA/ FIM World Supercross Championships on Saturday, March 15th at Ford Field in Detroit.



Source: Team Suzuki

Daytona Overview And Point Standings
2014 AMA Supercross Daytona Image Gallery (Click for full size images)


Overall Results - Supercross Class Race Time: 22:22.387






























































































































































































| Pos. | # | Rider | Bike | Interval | Best Time |
| --- | --- | --- | --- | --- | --- |
| 1 | 1 | Ryan Villopoto | Kawasaki KX 450F | 20 Laps | 1:04.127 |
| 2 | 94 | Ken Roczen | KTM 450 SX-F Factory Edition | +12.632 | 1:05.728 |
| 3 | 5 | Ryan Dungey | KTM 450 SX-F Factory Edition | +16.835 | 1:05.550 |
| 4 | 20 | Broc Tickle | Suzuki RM-Z450 | +25.423 | 1:06.190 |
| 5 | 29 | Andrew Short | KTM 450 SX-F Factory Edition | +28.041 | 1:06.361 |
| 6 | 23 | William Hahn | Honda CRF 450 | +29.306 | 1:06.281 |
| 7 | 15 | Dean Wilson | Kawasaki KX 450F | +32.379 | 1:05.378 |
| 8 | 44 | Matthew Goerke | KTM 450 SX-F Factory Edition | +32.972 | 1:07.001 |
| 9 | 10 | Justin Brayton | Yamaha YZ450F | +34.555 | 1:06.651 |
| 10 | 33 | Joshua Grant | Yamaha YZ450F | +41.621 | 1:06.918 |
| 11 | 21 | Cole Seely | Honda CRF 450 | +54.812 | 1:07.263 |
| 12 | 51 | Justin Barcia | Honda CRF 450 | +1:01.957 | 1:06.066 |
| 13 | 38 | Phillip Nicoletti | Yamaha YZ450F | 19 Laps | 1:06.620 |
| 14 | 800 | Mike Alessi | Suzuki RM-Z450 | +05.867 | 1:07.546 |
| 15 | 75 | Joshua Hill | Suzuki RM-Z450 | +07.706 | 1:07.260 |
| 16 | 68 | Chris Blose | Honda CRF 450 | +33.215 | 1:09.725 |
| 17 | 77 | Jimmy Albertson | Honda CRF 450 | +36.633 | 1:10.444 |
| 18 | 7 | James Stewart | Suzuki RM-Z450 | +44.050 | 1:05.974 |
| 19 | 415 | Nicholas Schmidt | Honda CRF 450 | +48.891 | 1:07.647 |
| 20 | 606 | Ronnie Stewart | Suzuki RM-Z450 | 11 Laps | 1:09.585 |
| 21 | 34 | Malcolm Stewart | Honda CRF 450 | 9 Laps | 1:06.136 |
| 22 | 27 | Nicholas Wey | Kawasaki KX 450F | 6 Laps | 1:08.002 |
Rider Point Standings - Supercross Class ( Race 10 of 17 )


Ryan Villopoto - 209

Ryan Dungey - 181

Ken Roczen - 180

James Stewart - 157

Justin Brayton - 155

Andrew Short - 125

Justin Barcia - 118

Chad Reed - 111

Broc Tickle - 111

William Hahn - 108

Manufacturer Point Standings - Supercross Class ( Race 10 of 17 )


Kawasaki - 225

KTM - 219

Suzuki - 190

Honda - 164

Yamaha - 155

Overall Results - Supercross Lites East Class Race Time: 19:13.109
| Pos. | # | Rider | Bike | Interval | Best Time |
| --- | --- | --- | --- | --- | --- |
| 1 | 4 | Blake Baggett | Kawasaki KX 250F | 15 Laps | 1:04.202 |
| 2 | 46 | Adam Cianciarulo | Kawasaki KX 250F | +16.748 | 1:04.894 |
| 3 | 31 | Martin Davalos | Kawasaki KX 250F | +17.117 | 1:05.352 |
| 4 | 36 | Blake Wharton | Honda CRF 250 | +17.457 | 1:05.493 |
| 5 | 32 | Justin Bogle | Honda CRF 250 | +18.117 | 1:05.846 |
| 6 | 19 | Jeremy Martin | Yamaha YZ250F | +18.790 | 1:07.237 |
| 7 | 96 | Matthew Bisceglia | Honda CRF 250 | +19.796 | 1:07.467 |
| 8 | 42 | Vince Friese | Honda CRF 250 | +20.495 | 1:08.299 |
| 9 | 30 | Kyle Cunningham | Honda CRF 250 | +20.845 | 1:07.915 |
| 10 | 78 | Matthew Lemoine | Kawasaki KX 250F | +27.101 | 53.388 |
| 11 | 47 | Kyle Peters | Honda CRF 250 | +27.661 | 42.224 |
| 12 | 56 | James Decotis | Honda CRF 250 | +28.331 | 42.724 |
| 13 | 52 | Cole Thompson | KTM 250 SX-F | +37.284 | 41.744 |
| 14 | 55 | Alex Martin | Yamaha YZ250F | +37.934 | 1:07.993 |
| 15 | 62 | Mitchell Oldenburg | Honda CRF 250 | 14 Laps | 1:09.161 |
| 16 | 49 | Gavin Faith | Honda CRF 250 | +01.459 | 1:08.691 |
| 17 | 60 | Jackson Richardson | Honda CRF 250 | +01.459 | 1:09.095 |
| 18 | 99 | Justin Starling | Honda CRF 250 | +02.918 | 1:10.142 |
| 19 | 57 | A J Catanzaro | Honda CRF 250 | +03.598 | 1:09.701 |
| 20 | 91 | Jacob Baumert | Kawasaki KX 250F | +04.267 | 1:10.289 |
| 21 | 212 | Auston Albers | Suzuki RM-Z250 | +04.597 | 1:10.641 |
| 22 | 410 | Jace Owen | Honda CRF 250 | +05.276 | 1:09.655 |
Rider Point Standings - Supercross Lites East Class ( Race 4 of 9 )


Adam Cianciarulo - 94

Martin Davalos - 87

Blake Baggett - 79

Justin Bogle - 72

Vince Friese - 61

Blake Wharton - 51

Cole Thompson - 48

Kyle Cunningham - 45

James Decotis - 43

Matthew Lemoine - 37

Manufacturer Point Standings - Supercross Lites Class ( Race 10 of 17 )


Kawasaki - 224

Honda - 205

KTM - 179

Yamaha - 140

Suzuki - 12