The Same But Different: LS2 FT2 And CR1 Full Face Helmet Comparison
Chaparral Motorsports
|
March 3, 2014
[caption id="attachment_30854" align="alignright" width="300"]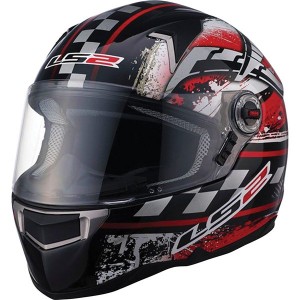 LS2 CR1 FF396[/caption]

Identical in shape and sharing many of the same features, it's not until you get up close and personal with [mageProductLink sku="371-396-5001" title=""]LS2 Helmet"s CR1 FF396[/mageProductLink] and FT2 FF396 Full Face helmets that you realize that these two motorcycle helmets were designed for two different types of riders. Both helmets are comprised of a lightweight, aerodynamic tri-composite fiberglass shell that splits through the wind with ease creating little turbulence or buffeting. Both helmets feature high-quality foam cheek pads that have been precision cut with LS2's 3D Laser Technology to provide an exact fit and all day riding comfort. Located at the front inside of the chin bar is LS2's AirGO built-in pump system that allows users to quickly and easily pump air into the cheek pad area with a push of their finger or thumb for a more tailored and secure fit.

Users of the CR1 and FT2 helmets can manage the temperature inside the helmets with the multiple airflow intake vents and exhaust port. Both helmets feature three intake ports (two at the forehead and one at the chin) that simply slide open or closed and one large main exhaust port at the rear of the helmet allows for full airflow from front to back to help push warm air out of the helmet. In the case of extreme heat or prolonged use, the interior features a moisture wicking, removable, technical fabric liner that resists odor and bacteria and can be washed as necessary.

For those that like to switch out face shields frequently, both the FT2 and CR1 come equipped with the scratch and fog resistant Fog Fighter Face Shield which can easily be removed by the ShortShift Tool-Less Quick Release mechanisms at the sides. Riders will also appreciate the broad range of peripheral vision the large eye port offers.

When it comes to differences between the helmets there are very few but it's those key characteristics that set the two helmets apart making them ideal choices for two discerning riders.

[caption id="attachment_30855" align="alignright" width="300"]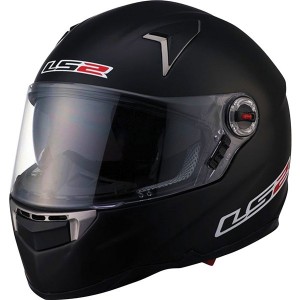 LS2 FT2 FF396[/caption]

The [mageProductLink sku="371-396-2001" title=""]Ls2 FT2 FF396[/mageProductLink] is optimized more towards the long haul touring rider and/or the local commuter scooter rider with features like a drop down sun shield and quick release/adjustable chin strap. The Full Eclipse Drop Down Sun Shield can be deployed or retracted with a flip of the thumb or finger. The shield offers long distance riders the ability to easily adjust from daylight to lowlight riding without having to stop the bike to take out/put away sunglasses or fuss with putting sunglasses on or taking them off while riding. For scooter riders the shield offers bright light protection without having to carry additional eyewear on an machine already limited on storage options. LS2 offers replacement shields in dark smoke, light smoke, or HiViz. The quick-release chin strap makes for easy and convenient attachment for those that like to get their helmet on/off fast. With the multi-adjustment strap users can cinch the helmet to their head and then simply unbuckle the strap with the press of a finger.

For the street bike racer or sport bike rider that is more into lightweight performance over fancy features, there's LS2's CR1 Full Face Motorcycle helmet. By eliminating the sun shield and quick release strap, the CR1 weighs in at a little more than one-half pound lighter than the FT2. While it may seem miniscule, that half pound could mean the difference of first place and second place at the track. Instead of the quick release strap, the CR1 has the traditional double "D" ring style strap for a safe and secure attachment whether on the track, at the drag strip, or stunting the streets. In fact, to prove its performance capabilites, LS2 recently signed Moto GP rider Yonny Hernandez. Yonny will be wearing a CR1 aboard his Pramac Ducati for the Moto GP season.

Both the LS2 CR1 and Ft2 helmets are DOT and ECE certified so no matter which you choose you'll be riding with top quality protection on your head.