Stay Warm And Dry With The Firstgear Waterproof Heated Jacket
Chaparral Motorsports
|
March 3, 2014
Although it may seem like winter is flying by, there are still weeks of frigid weather in front of us - not to mention the surprise cold fronts that frequently come about in the spring. While these weather patterns are a natural part of the calendar year, they can throw a serious wrench in any plans for extensive riding.

If you love to cruise the open road during the slightly colder months, then you may want to invest in a product such as the [mageProductLink sku="351-2737" title="Firstgear Waterproof Heated Jacket"]Firstgear Waterproof Heated Jacket[/mageProductLink]. Before you make a final decision, however, you should consider whether heated gear is right for you, as well as which pieces of equipment can make the biggest difference.

Why Heated Gear?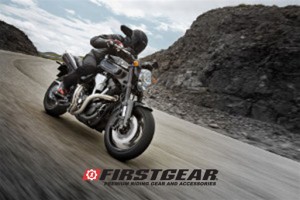 The benefits associated with heated motorcycle accessories are numerous. It's one of the best and easiest ways to stay warm while on a motorcycle. By plugging into the bike's power source, you can be comfortable for hours. Most of the gear has been designed to work with other pieces of apparel, making these products a smart investment for anyone who prioritizes comfort as they ride.

You will likely be able to find anything from vests to socks that come equipped with technology that can keep you warm no matter what the weather is like. One of the most significant investments a rider can make is purchasing a heated jacket, as this piece of equipment can be used in a variety of conditions to keep an individual safe, dry and warm.

Before deciding which one of these objects to invest in, however, you must first know the most sought-after qualities that you should be including on your list of must-haves.

What To Look For
There are many factors that need to be considered when shopping around for heated motorcycle gear. One of the most important aspects is the power source for the gear. For example, some items connect directly with the motorcycle battery, ensuring that as long as the bike has life, the accessories will as well. Others use a separate battery pack, which is useful for people who may get up and move around frequently during their trip, or those who would rather not take away from the bike's power.

Because some of the products may need to be connected to the motorcycle, you should make sure you are purchasing an item that will work seamlessly with your machine. Installation should be relatively easy, and you should be able to mount the connector for the most security possible. Additionally, the products come with different wattages, so you'll want to choose an option that has the optimal power level for your personal preferences.

About The Firstgear Waterproof Heated Jacket
[mageProductLink sku="351-2737" title=""]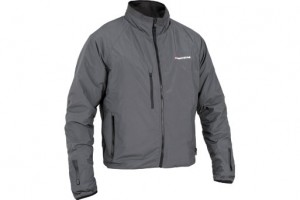 [/mageProductLink]When you've finally decided that a heated motorcycle jacket is the right investment, you should turn your attention to the Firstgear Waterproof Heated Jacket. This form-fitting jacket is made from a Gelanots fabric shell that is primed to retain heat and is tailored for both men's and [mageProductLink sku="351-2755" title="Firstgear Waterproof Women's Heated Jacket"]women's fit[/mageProductLink]. This exterior is also waterproof, so if you suddenly find yourself besieged by rain or snow, you won't have to worry about getting too cold to continue riding.

Created to be lightweight and flexible, this Firstgear jacket contains heating panels in the front, upper back, lower back, sleeves and collar - ensuring all-over warming. The collar has also been lined with fleece to eliminate moisture and trap heat. While you can purchase the jacket on its own, it does come with special plugs to connect to gloves and pants, allowing you to add to your collection later on without a problem.

Additional bonuses such as an included zipper pouch for storage, two-year manufacturer's warranty and reflective panels for safety complete the package, which can be ideal for any year-round rider.