2014 AMA Supercross Indianapolis Race Results
Chaparral Motorsports
|
March 3, 2014
Ryan Dungey Wins Indianapolis Supercross
[caption id="attachment_30801" align="alignright" width="300"]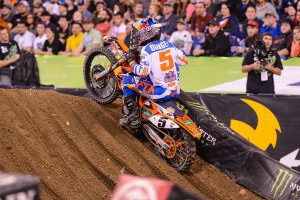 Photo: Simon Cudby[/caption]

Red Bull KTM Factory rider Ryan Dungey took his first 450SX win of the season at the ninth round of the Monster Energy Supercross Series held at Lucas Oil Stadium in front of a packed crowd. His dominate win moved him to second overall in the championship point standings.

Ryan Dungey was on the gas from the first practice through the final checkered flag. He turned the fastest qualifying time in the first timed practice which earned him the first gate pick in his heat race. He and his teammate, Ken Roczen, were placed in the same heat. When the gate dropped, Dungey came around the first corner in third position while Roczen sat about mid-pack.

On his KTM 450 SX-F Dungey spent the first half of the heat race reeling in Justin Brayton. He made a pass to take over second position at the three lap mark and then began to chase the lead ride. Dungey charged forward and came within two bike lengths of the lead rider before the checkered flag. His second place result earned him an easy transfer spot to the main event. Meanwhile, Roczen struggled to find his rhythm in the heat race and finished fifth just one spot away from qualifying.

Roczen returned to the track for the semi race. He easily pulled the holeshot and went on to lead every lap of the semi to earn a transfer spot in the main event.

[caption id="attachment_30806" align="alignleft" width="300"]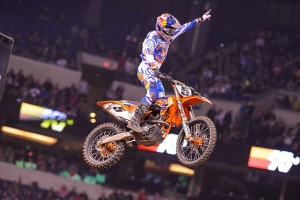 Photo: Simon Cudby[/caption]

Dungey continued his good fortune in the main event where he pulled a second place start behind holeshot winner Mike Alessi. Roczen had a good jump but got pinched off by Ryan Villopoto, Josh Hill and James Stewart. The four riders ended up colliding and all crashed around the first corner. Roczen had to start from the back of the back and spent the first half of the race making passes to move toward the top ten.

Out front, Dungey used the first four laps to determine where to make a pass for the lead. He was able to do it on a big sweeping turn before the sand section. He made a clean pass to take over first place. Once in the lead, Dungey was never challenged for the remaining laps and went on to take his first win of the season by a margin of seven seconds.

"This win was a long time coming", stated Dungey. "It feels so good to finally be on the top step. The track was really tough tonight. It was very soft and technical with a lot of big ruts. We are only halfway into the season and I'm finally gaining some points toward the championship. My goal is to remain consistent as you never know what can happen with eight rounds remaining. I want to give a big thanks to the entire Red Bull KTM Factory Team for their hard work."

[caption id="attachment_30803" align="alignright" width="300"]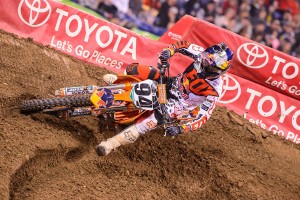 Photo: Simon Cudby[/caption]

Back on the track, Roczen had worked his way up to ninth place by the thirteenth lap of the race. He then made another pass for eighth place on Justin Brayton but the pass would be short lived as Roczen made a mistake in a rhythm section moments later resulting in an over the bars crash. Roczen walked away from the crash but was clearly shook up. He pulled off after the incident and did not finish the race.

"I hit the ground pretty hard after my crash off the start when I got caught-up with Villopoto", stated Roczen. "I pushed hard for the next few laps, but then I cased a triple in a rhythm section which sent me flying over the bars. I feel really beat up and am disappointed to not finish the race but am thankful I am okay and will be back to race Daytona."

Heading to the tenth round of the season, Dungey has jumped up to second overall in the point standings while Roczen remains third overall despite not finishing the Indianapolis Supercross.

Next Round: March 8, 2014 - Daytona Beach, FL

Source: KTM North America

RCH Soaring Eagle Team Rolls Into Indy Ready
Broc Tickle Delivers Best SX Finish, Top 10 For Josh Hill Despite A Dead Last Start
[caption id="attachment_30827" align="alignright" width="200"]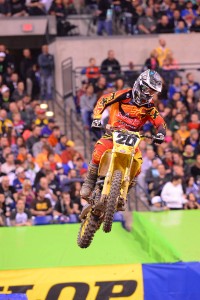 Photo: Simon Cudby[/caption]

The RCH Soaring Eagle Supercross Team rolled into the home of the Indianapolis 500 ready to race. Although the Indy 500 is billed as the "greatest spectacle in racing", the passionate SX fans packed into the Lucas Oil Dome were treated to arguably the best race of the season. Broc Tickle #20 demonstrated real professionalism after last week's "incident" and the entire team was ready to race rather than talk about what happened in the past.

"I know its racing, but I think it was a little overboard," Tickle told Racer X Films during the week. "I feel like I regrouped really well and I am really looking forward to Indy and the Eastern tracks." See the whole interview here.

Both of RCH Soaring Eagle Suzuki's were flying in qualifying, easily turning lap times inside the top 10. Broc was 8th fastest in the afternoon sessions and Josh was literally a fraction of a second behind his teammate 55.491 vs. 55.646. Just about a second slower than the fast lap set by another Suzuki rider, James Stewart. Good showing given just how soft and rutted the track was. "Days like today when the conditions are rutty as they were at the Indy SX is when I miss racing," tweeted team principal and widely acknowledged as "The Greatest Of All Time" Ricky Carmichael. "My favorite conditions!"

[caption id="attachment_30829" align="alignleft" width="200"]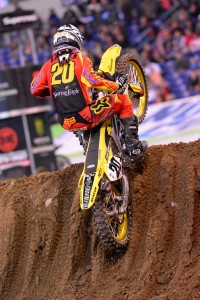 Photo: Simon Cudby[/caption]

Heat #1 saw Tickle get a 5th place start, but last week's winner Ken Roczen dropped him to 6th. and then #1 plate holder Ryan Villopoto got by, as did Dean Wilson, ensuring that BT#20 would have to race again in the semi. "Today was rough until the main," said Broc. "I struggled with the track and flowing throughout the heat race and the semi. We tried different stuff throughout the night, but for the main, we went back to my base set-up."

Heat #2 was Josh Hill's turn to hit adversity. Josh was going against a deck stacked with the day's fastest qualifier, James Stewart. Despite the stiff competition, Josh was running in 6th at the end of the first lap, but only the top four make it directly into the main event. He dropped back to 7th with two laps to go, bounced back into 6th at the checkered flag, but still too far back to catch a top 4 transfer spot.

450 Semi #1 saw Suzukis battling for the top spots, with Tickle lining up next to Weston Peick, who took the holeshot with Tickle in hot pursuit. Meanwhile Hill's choice of the inside gate position backfired big time. The Fox Sports broadcast team even showed how bad Josh was shut out in ultra slow-motion - it offered a great look at the sponsors' logos, but it was not the start that Josh wanted, obviously.

[caption id="attachment_30833" align="alignright" width="200"]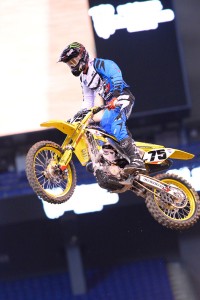 Photo: Simon Cudby[/caption]

Tickle moved into second, however Hill put a clean pass on his teammate with two laps to go and starts chasing privateer Peick for the semi win. By the time the checkers drop, the top three riders have gapped the rest of the field by more than 10 seconds showing just how much speed the Suzukis have. Best race of the year for both teammates, and not too shabby for Suzuki to win both Heat races (Alessi and Stewart) as well as to fly in formation 1-2-3 in the first semi.

Unfortunately Hill's earlier speed was for naught as he was caught up in a first turn crash with Roczen and fellow Suzuki rider James Stewart. While teammate Tickle was winning the war of attrition as riders like Roczen and Pieck retired with damaged bikes, Hill had his work cut out for him! Despite being caught up in the carnage Hill put in an amazing ride, After being dead last for the first five laps, Hill eventually hooked up with James Stewart and the two of them knifed through the pack, clocking some of the fastest lap times of the race as he kept charging to a top 10 finish.

"Made some big strides today... with my bike, my health and most importantly, my attitude," said Josh after his amazing charge. "Coming from dead last all the way up to 9th was good. But the fact that I actually had fun doing it is great!"

[caption id="attachment_30832" align="alignleft" width="200"]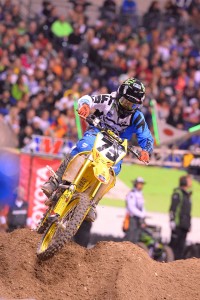 Photo: Simon Cudby[/caption]

Speaking of great, 5th is Broc's best 450 Supercross finish. "I got off to an okay start... around 10th, and knew I needed to be solid for the full 20 laps," explained Tickle. "I rode smart and smooth. Meanwhile guys were making mistakes and I started picking them off." Broc worked his way up to 4th, but defending champ Ryan Villopoto got by him on lap 13 of 20. "I latched onto RV and stayed right behind him for the rest of the race. Tonight turned around... I got my best 450 main event result after we started the night chasing settings."

Moving forward, Tickle says, "I'm looking forward to building on this result. I can't thank everyone in the RCH Soaring Eagle crew enough for all their hard work. It's paying off!" The payoff is also showing in the series points standings as Tickle holds a well-deserved top 10 and Hill holds onto 13th place despite missing three races.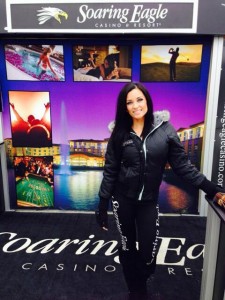 Don't miss any of action at RCH Racing Soaring Eagle Team pits before each Supercross race. Fans are treated to everything from the Suzuki Holeshot Experience to team autograph signings. Some lucky winner also gets an all-expense paid trip to the Soaring Eagle Luxury Resort every week! Come by the rig and meet @SierraMerchant to enter the getaway to @SoaringEagleResort. Next week the RCH Racing Soaring Eagle team heads outdoors to the beach... Daytona Beach during Bike Week for Round 10 on March 8.

Source: RCH Soaring Eagle

James Stewart Fights Back At Indy Supercross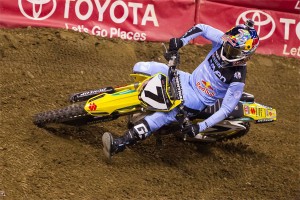 Yoshimura Suzuki Factory Racing's James Stewart demonstrated true grace under pressure at round nine of the 2014 AMA/ FIM World Supercross Championship at Lucas Oil Stadium in Indianapolis on Saturday night.

Stewart rallied after another rider collided with him just off the start, charging through the field on his Yoshimura Suzuki RM-Z450 to finish a well-earned seventh place.

Stewart's day in Indianapolis started out on a positive note, with the Yoshimura Suzuki rider posting the fastest qualifying time during the day's practice sessions. Then, he went on to dominate all-comers on the rutted, challenging track to take his sixth heat-race win of the season.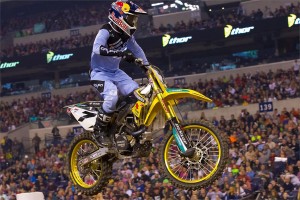 "My heat race went pretty good," said Stewart. "I was able to get out front on my Yoshimura Suzuki RM-Z450 and put some good laps into it. After the heat, I knew the track was going to be gnarly in the Main Event as it was super-rutted."

Despite the demanding nature of the Indianapolis track, Stewart was feeling confident going into the 20-lap Main: At the start, he got a good launch but within seconds, another rider hit him from behind and he went down. Undaunted, Stewart got up, dusted himself off and rejoined the fray almost dead last. Despite this, he gave 100 percent and picked off the competition one-by-one and finished a solid seventh place.

James Stewart:
"I was right there in, I think, a top-five start and then, boom, I was on the ground. Everything was all twisted up - I tried to fix my handlebars as good as I could, but they were still pretty bent - and I had to try to get back. I just fought my way up, and for the first half of the race, I was struggling. Then everybody started coming back and I was able to catch up to seventh. Obviously, it wasn't what we wanted but I did everything I could. I'm all right, I'm healthy and I'm looking forward to going to Daytona and racing in a Florida town. I feel good, I feel very fast and super-confident, and we'll get it next weekend."
Yoshimura Suzuki Factory Racing's next event is the 10th round of the 2014 AMA/ FIM World Supercross Championships on Saturday, March 8th at Daytona International Speedway in Daytona Beach, Florida.



Source: Team Suzuki

Rockstar Energy Racing Has A Night To Forget In Indy
[caption id="attachment_30804" align="alignright" width="300"]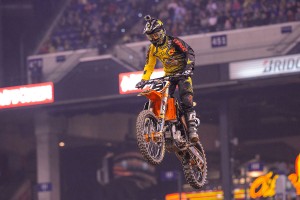 Photo: Simon Cudby[/caption]

Indianapolis Supercross was a night and day difference from the track surface at the first two East Coast rounds. Every corner, jump face and landing was riddled with ruts the entire width of the tack. The two whoop sections were so destroyed and treacherous, it was a challenge for the riders to even keep their feet on the pegs without having them ripped off. It was certainly the polar opposite of the hard packed tracks in Arlington and Atlanta.

Ivan Tedesco had his worst night of the year since joining the team at Anaheim 1. After having a tough go in practice, which was not an uncommon occurrence for nearly every rider on the day, he missed qualifying for the main in both his heat and semi. Then immediately after the gate drop in the LCQ, the evening was over for Tedesco. He came together with another rider and was quickly sucked up into his rear wheel. While that sounds like a terrible place to be, it was much better than being hooked up with his cartwheeling bike. His KTM 350 SX-F tumbled end over end in spectacular fashion. Ivan was very lucky to not get badly hurt.

Ivan Tedesco:
"Crazy night for me. Track was super gnarly and I struggled all day. I ended up in the LCQ and on the start got sucked up in another bike. That ended my night. I feel lucky to have walked away unscathed."
[caption id="attachment_30805" align="alignleft" width="300"]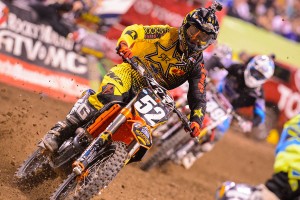 Photo: Simon Cudby[/caption]

The excessive difficulty of the track may have gotten to Cole Thompson a bit. He was a bit tentative all day in practice and seemed to be missing the aggression needed to deal with a track of that nature. He was however able to pull it together for his qualifier and move directly into the main. Then in the main he was able to make it through 15 laps without going down, which was an accomplishment in itself. As the checkers waived he extended his streak of top ten finishes to 3 for 3.

Cole Thompson:
"Finished 9th place tonight. Tricky track with lots of lines, made for tough racing. I stayed on two wheels but couldn't make the passes happen quick enough. On to Daytona now, looking forward to another week of hard work and putting in a strong finish next weekend."
The team heads to Daytona, FL next week to face another completely different animal of a track. Suspension settings will be vital when moving to what is more like an outdoor than any other Supercross and will certainly be very rough. Tedesco will thank his lucky stars that he is uninjured and Thompson will continue to work towards a top 5 finish.

Source: Rockstar Energy Racing

Indianapolis Overview And Point Standings
2014 AMA Supercross Indianapolis Image Gallery (Click for full size images)


Overall Results - Supercross Class Race Time: 18:23.650






























































































































































































| Pos. | # | Rider | Bike | Interval | Best Time |
| --- | --- | --- | --- | --- | --- |
| 1 | 5 | Ryan Dungey | KTM 450 SX-F Factory Edition | 20 Laps | 54.078 |
| 2 | 3 | Eli Tomac | Honda CRF 450 | +06.926 | 54.687 |
| 3 | 21 | Cole Seely | Honda CRF 450 | +12.217 | 54.647 |
| 4 | 1 | Ryan Villopoto | Kawasaki KX 450F | +15.472 | 55.270 |
| 5 | 20 | Broc Tickle | Suzuki RM-Z450 | +18.055 | 55.715 |
| 6 | 29 | Andrew Short | KTM 450 SX-F Factory Edition | +30.040 | 55.635 |
| 7 | 7 | James Stewart | Suzuki RM-Z450 | +42.102 | 55.432 |
| 8 | 10 | Justin Brayton | Yamaha YZ450F | +43.163 | 55.687 |
| 9 | 75 | Joshua Hill | Suzuki RM-Z450 | +45.541 | 55.672 |
| 10 | 15 | Dean Wilson | Kawasaki KX 450F | +49.745 | 56.171 |
| 11 | 23 | Wil Hahn | Honda CRF 450 | +51.264 | 55.585 |
| 12 | 33 | Joshua Grant | Yamaha YZ450F | +1:03.575 | 55.504 |
| 13 | 27 | Nicholas Wey | Kawasaki KX 450F | 19 Laps | 58.179 |
| 14 | 68 | Chris Blose | Honda CRF 450 | +10.966 | 57.812 |
| 15 | 800 | Mike Alessi | Suzuki RM-Z450 | +16.721 | 54.586 |
| 16 | 11 | Kyle Chisholm | Yamaha YZ450F | +22.496 | 57.172 |
| 17 | 77 | Jimmy Albertson | Honda CRF 450 | +53.253 | 59.265 |
| 18 | 374 | Cody Gilmore | Kawasaki KX 450F | 18 Laps | 58.562 |
| 19 | 415 | Nicholas Schmidt | Honda CRF 450 | +03.028 | 58.054 |
| 20 | 606 | Ronnie Stewart | Suzuki RM-Z450 | +41.720 | 59.434 |
| 21 | 94 | Ken Roczen | KTM 450 SX-F Factory Edition | 13 Laps | 55.326 |
| 22 | 40 | Weston Peick | Suzuki RM-Z450 | 10 Laps | 55.625 |
Rider Point Standings - Supercross Class ( Race 9 of 17 )


Ryan Villopoto - 184

Ryan Dungey - 161

Ken Roczen - 158

James Stewart - 154

Justin Brayton - 143

Chad Reed - 111

Justin Barcia - 109

Andrew Short - 109

Wil Hahn - 93

Broc Tickle - 93

Manufacturer Point Standings - Supercross Class ( Race 9 of 17 )


Kawasaki - 200

KTM - 197

Suzuki - 172

Honda - 149

Yamaha - 143

Overall Results - Supercross Lites East Class Race Time: 13:36.113
| Pos. | # | Rider | Bike | Interval | Best Time |
| --- | --- | --- | --- | --- | --- |
| 1 | 46 | Adam Cianciarulo | Kawasaki KX 250F | 15 Laps | 53.846 |
| 2 | 31 | Martin Davalos | Kawasaki KX 250F | +05.347 | 53.430 |
| 3 | 32 | Justin Bogle | Honda CRF 250 | +08.653 | 54.427 |
| 4 | 96 | Matthew Bisceglia | Honda CRF 250 | +11.490 | 54.442 |
| 5 | 4 | Blake Baggett | Kawasaki KX 250F | +12.766 | 55.096 |
| 6 | 42 | Vince Friese | Honda CRF 250 | +16.508 | 55.761 |
| 7 | 56 | James Decotis | Honda CRF 250 | +18.980 | 55.233 |
| 8 | 78 | Matthew Lemoine | Kawasaki KX 250F | +20.411 | 55.616 |
| 9 | 52 | Cole Thompson | KTM 250 SX-F | +22.939 | 55.785 |
| 10 | 30 | Kyle Cunningham | Honda CRF 250 | +27.705 | 56.572 |
| 11 | 55 | Alex Martin | Yamaha YZ250F | +33.898 | 55.021 |
| 12 | 47 | Kyle Peters | Honda CRF 250 | +48.148 | 56.871 |
| 13 | 62 | Mitchell Oldenburg | Honda CRF 250 | +1:06.630 | 58.027 |
| 14 | 57 | A J Catanzaro | Honda CRF 250 | 14 Laps | 58.098 |
| 15 | 60 | Jackson Richardson | Honda CRF 250 | +01.346 | 57.697 |
| 16 | 99 | Justin Starling | Honda CRF 250 | +08.675 | 57.339 |
| 17 | 620 | Brad Nauditt | Honda CRF 250 | +12.637 | 58.601 |
| 18 | 410 | Jace Owen | Honda CRF 250 | +32.338 | 58.103 |
| 19 | 19 | Jeremy Martin | Yamaha YZ250F | +34.346 | 56.825 |
| 20 | 36 | Blake Wharton | Honda CRF 250 | 13 Laps | 55.323 |
| 21 | 977 | Paul Coates | Yamaha YZ250F | 10 Laps | 59.655 |
| 22 | 49 | Gavin Faith | Honda CRF 250 | 4 Laps | 57.825 |
Rider Point Standings - Supercross Lites East Class ( Race 3 of 9 )


Adam Cianciarulo - 72

Martin Davalos - 67

Justin Bogle - 56

Blake Baggett - 54

Vince Friese - 48

Cole Thompson - 40

James Decotis - 34

Blake Wharton - 33

Kyle Cunningham - 33

Mitchell Oldenburg - 30

Manufacturer Point Standings - Supercross Lites Class ( Race 9 of 17 )


Kawasaki - 199

Honda - 187

KTM - 171

Yamaha - 125

Suzuki - 11