Hit The Mark With Vega Touring Boots
Chaparral Motorsports
|
February 26, 2014
Few things thrill like the prospect of cruising the open road on a motorcycle. Unfortunately, before you can take advantage of the extensive pavement laid out before you, you have to make sure you have all of the gear necessary to stay safe. While helmets and gloves are typically among the first purchases made, the footwear worn by riders can be overlooked. Boots play an integral part in the safety and protection of an individual, especially when on a touring motorcycle, so it is essential that a rider takes the time to find just the right pair.

[mageProductLink sku="039-2500-108" title="Vega Touring Boots"]Vega Touring Boots[/mageProductLink] could be the solution. However, before deciding on the right investment, you must thoroughly examine all of your needs to determine which option is the best bet.

Shopping For Touring Boots
Sifting through the many options available for touring boots isn't necessarily an easy task. Not only are there different products on the market, but riders also have to first figure out exactly what they're looking for in footwear before they can come to a final decision.

One of the most significant factors is the protection offered by a pair of boots. The exterior has to be tough enough to withstand the wear and tear of normal footwear while also showing strength against the heat and scratches it is exposed to on a bike. It should also act as a shield for your foot, ankle and shin, as these areas are susceptible to injury in the event of an accident.

Comfort and flexibility are other qualities that should be considered. There is a good chance you'll be wearing these boots for hours on end, so it is important that they don't cause discomfort or take your attention away from the road. Mobility is also key, as you need to be able to function as normal on the bike, and having boots that restrict your motion could result in problems if you aren't careful.

The Vega Touring Boots
[mageProductLink sku="039-2500-108" title=""]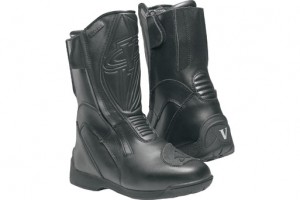 [/mageProductLink]Luckily for riders, the Touring Boots from Vega hit the mark when it comes to providing many of the most appealing footwear features. Although you may have a certain look or set of must-have characteristics in mind, products such as the Vega Touring Boots probably boast enough of those qualities to cause you to consider them for your purchase.

To start, the touring boots offer exemplary protection. Made from leather, the material on the outside of the footwear is waterproof, ensuring that they can be worn in all kinds of weather conditions and won't be affected if a surprise shower puts a damper on an adventure. They have also been constructed in the traditional touring style, making it easy for riders to break in a new pair of boots and adjust to the products.

As full-length boots, the footwear provides plenty of protection for a rider. They measure in at 10 inches in height, which brings the top of the boots up to the mid​-calf. That area of the boot is adjustable, so you can customize the perfect fit. A padded footbed and contour-formed sole ensure that the Vega Touring Boots are comfortable, but at the same time, the rubber sole has been made tough to prevent it from wearing down too quickly. These motorcycle boots are available in sizes 8 to 13 for men, as well as sizes specifically made for [mageProductLink sku="039-2550-105" title="Vega Touring Women's Boots"]women[/mageProductLink].

Available in black, these Vega Touring Boots are capable of meshing well with any existing motorcycle accessories or apparel. While they do have a distinct look, they would not be too out of place among casual wear, which provides some leeway for riders who find themselves making pit stops throughout their travels.