Biker's Spring Break: Daytona Bike Week Bound
Chaparral Motorsports
|
February 21, 2014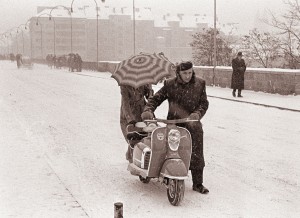 If there ever was a time when motorcyclists needed to head south for some relaxation in the sun and sand it would be now. After getting hammered by a flurry of harsh winter weather Harley-Davidson and cruiser riders all across the country-especially those who have been caught up in the voracity of a Polar Vortex-have been itching to wheel their motorcycles out of hibernation and put rubber to the road. For many the month of March is often the kick off to the riding season as they find respite amongst the palms and salty breeze of Daytona Beach during Bike Week.

For those of you lucky enough to sneak away from work to partake in biker's spring break below is some gear and accessory recommendations to help make the most out of your trip.

Weather your Leather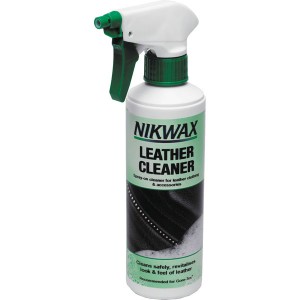 We all have our favorite leather motorcycle jacket or riding boots that have provided years of service, and chances are that riding gear could use some TLC in the form of a good cleaning or conditioning. As you start prepping for your trip, take some time to give your leather jacket, gloves, boots, and chaps some attention. Nikwax has a host of products that can help revitalize your motorcycle riding gear making it look refreshed, feel soft and supple to the touch, and restore moisture protection. The Nikwax Leather Cleaner is an easy-to-use spray-on product that will work on all your leather apparel, accessories, and even saddlebags. The cleaner is a water-based product that will remove dirt and debris and revitalize the look and feel without removing the original water repellency. If you've noticed your motorcycle chaps just haven't been working as well as they used to in the rain it could be because they've lost their ability to repel water. With Nikwax's Leather Restorer you can help prevent your gear from wetting-out while also conditioning your leather. Applying a couple sprays every so often can also help prolong the life of your leather motorcycle gear and accessories. Your motorcycle boots take a lot of abuse, but with proper care and maintenance they can last a really long time. Applying Nikwax's Conditioner For Leather will help reduce stiffness, keep your boots comfortable and flexible, and add a layer of water protection while still keeping the leather breathable.

Hey Chappy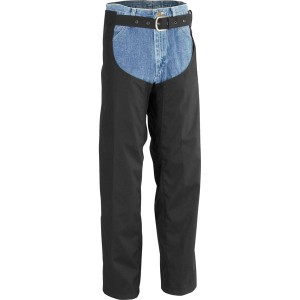 While many Harley or cruiser motorcycle riders may just like the look of wearing motorcycle chaps, they are actually a very useful piece of riding apparel that serves many purposes. Chaps can help add another layer of protection between you and the road in the event of a low side slide, act as rain gear for your legs and deflect road debris like small rocks that can really sting when they hit your legs. They can also keep your jeans clean from bugs, dirt, and grime so you don't look like a slob when you get off the bike. River Road has an assortment of men's motorcycle chaps as well as women's chaps in standard black leather or brown distressed leather for those that like the vintage look. If you want something other than leather, [mageProductLink sku="309-4005" title=""]River Road's Kinetic Chaps[/mageProductLink] are made from heavy-duty abrasion resistant nylon.

By the way, did you know there's a trick to folding your motorcycle chaps so they don't make a mess of your saddlebags? Check out this video:


Who Brought Rain to the Beach?!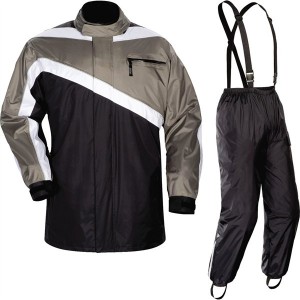 If you've ever been to Daytona Bike Week then you know how questionable the weather can be. Sure you're at the beach and it's supposed to be spring break, but that doesn't mean Mother Nature doesn't have a sense of humor. It will most likely be warm, humid, and partly cloudy a few days out of the week-if not all week. If the rain does come it will probably hit later in the afternoon. But when the wet stuff does hit your want to make sure you're prepared with some motorcycle rain gear because a Daytona drizzle can turn into a downpour in an instant. Tour Master is known for making quality motorcycle apparel and its riding gear is no exception. [mageProductLink sku="03-84850" title=""]Tour Master's Defender Two-Piece Rain Suit[/mageProductLink] is a good choice because, well, you get the pants and jacket together. The jacket and pants are made from waterproof polyurethane with a nylon shell and features a polyester mesh lining for breathability. This motorcycle rain gear is great because it offers safety in low-light conditions with reflective piping and the seat panel in the pants have high-density nylon for added strength and minimal slipping.

Protect your Dome
Wearing a motorcycle helmet is always a smart choice but we understand that many people like the option of not wearing one. Well, Florida is one such state where you can choose not to wear a motorcycle helmet. There is a caveat to this however, you have to be at least 21-years-of-age and you have to carry at minimum a $10,000 medical insurance policy. Now, if you are riding in or out of Florida through Alabama or Georgia you have to wear a motorcycle helmet. Since you're going to be at/around the beach you'll want to enjoy the salty air and warm sun, so we suggest a half helmet or a 3/4 helmet.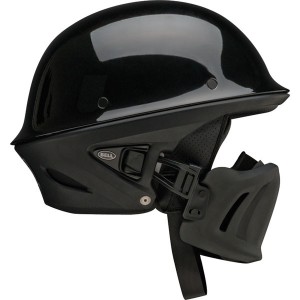 Bell's new [mageProductLink sku="650-7000792" title=""]Rogue Half Helmet[/mageProductLink] has been getting a lot of press because of its unique style. It's basically a half helmet with a detachable muzzle. The muzzle is secured by magnets making it quick and easy to install/take off and can be adjusted for a better fit. The cool thing about the muzzle is that it can provide additional protection if you get caught in a Daytona rain storm. If you want to completely remove the muzzle assembly you can do so with the quick detach system, but with its menacing design we'd say keep it on and wallow in all the attention you'll get. Another cool feature is that the Rogue has speaker pockets so that you can rock out as you cruise down Main St. or Mary McLeod Bethune Blvd.

If you want a little more protection than a halfie then you're going to want to check out the [mageProductLink sku="364-1239" title=""]Cyber U-6 Open Face Helmet[/mageProductLink]. A throwback to the old days of motocross, this open face motorcycle helmet features a sculpted shell design, shorty visor, and vents at the forehead to keep you cool in the Daytona humidity. Running around with one of these 3/4 motorcycle helmets on your head will give you great peripheral vision to check out all the beach side scenery and allow you to easily chat with your buddies as to where the next pit stop will be.

So Many Bags, So Many Choices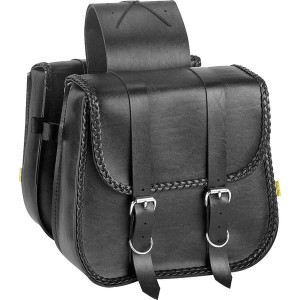 If you're going to make the most of your trip and ride all the way to Daytona then you're going to need somewhere to store all your clean clothes and gear. There are many choices when it comes to motorcycle luggage. If you're a super light packer or are just going for the weekend you could probably get way with just a backpack. But for an extended length of time or if you plan on buying a bunch of souvenirs then you're going to need more storage room. If your bike didn't come with motorcycle saddlebags you can add a set of hard saddlebags or some throw over leather saddlebags. Willie and Max offers a huge assortment of saddlebag sizes and styles including slant and studded. For those that want just a clean and simple saddlebag setup you might want to check out [mageProductLink sku="310-8107" title=""]Willie and Max's Standard Braided Saddlebag SB230[/mageProductLink]. Featuring more of a rectangle shape with a taller length than width, the adjustable yoke on these bags allow you to fit them over the rear of most Harley-Davidson and cruiser style motorcycles. The bags are constructed of synthetic black leather, feature braided trim and shiny chrome buckle accents, and measure in at 10-1/2-inches wide x 11-1/2-inches tall x 4-inches deep-providing plenty of storage for a week's worth of clothes.

Not everyone is into the look of saddlebags. Or maybe you already have a set of saddlebags on your motorcycle but still need more storage? If that's the case, then a sissybar bag is what you need. Saddlemen has a great selection of sissybar bags. Available in leather or textile styling, Saddlemen's bags range from overnighter size to everything-including-the-kitchen-sink size. Sissybar bags are great because they are highly portable and are easy to get on and off the bike. One thing to keep in mind when perusing Saddlemen's sissybar bags is that any bag with the designation BR in the name means it was designed to be utilized as a backrest between the sissybar and the rider to provide additional back support for long road trips. The [mageProductLink sku="356-3515-0096" title=""]EX2200 Drifter Deluxe Sissy Bar Bag[/mageProductLink] from Saddlemen is a rather large bag that offers a huge main compartment with an adjustable shelf to help keep your gear organized. For convenience it has two large zippered openings on either side allowing easy access to you gear. There is also a host of smaller external pockets for storing items like sunglasses, keys, sundries, and other miscellaneous items. For additional storage this bag also comes with a top roll bag that securely attaches to the main bag. The adjustable sissybar system allows the EX2200 to be mounted to any size or style sissybar.

Spider's Web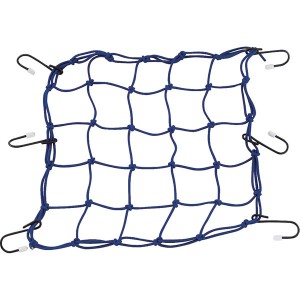 One very useful item that every biker should carry with them is a cargo net like [mageProductLink sku="310-60500" title=""]Powertye's Stretch Cargo Net[/mageProductLink]. Small and easy to store when not in use, you'll be amaze the uses you can find for one of these things. You can securely carry everything from an extra helmet, your jacket, rain gear, or use it to secure a trash bag over your sissybar bag for an impromptu rain cover. This expandable net measures 15 inches x 15 inches and has six hooks that can be removed and adjusted as needed. Like a spider's web once your gear is in this net it won't be coming out until you let it out.

Totally Tubular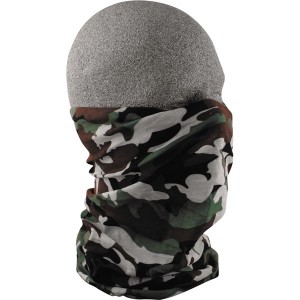 Versatility is the name of the game with Zan Headgear's Motley Tube. Simple in design but high functionality the tube can sit around your neck to protect you from getting sun burned or wind chapped, or you can pull it up over your mouth and nose for protection against wind, rain, and road debris when riding with an open face motorcycle helmet. The tube is made of stretchable, breathable, wind-resistant, moisture wicking polyester. And due to its versatile design you can use it as a head wrap, bandana, scarf, helmet liner, or beanie. Zan offers the Motley Tube in an assortment of colors and patterns to fit your style, as well as offers a 50-percent fleece/50-percent polyester version to provide additional warmth when riding in cold weather. This is one item that can come in very handy both on and off the bike.

Cruise-in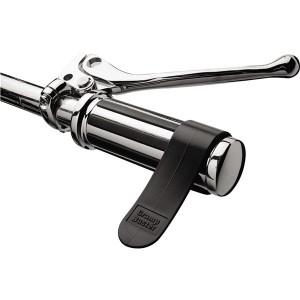 Anyone that has been on a long distance motorcycle ride knows that after a couple hundred miles your throttle wrist can get pretty sore. An electronic motorcycle cruise control is a great luxury but not all motorcycles can be equipped with one, plus they can be very expensive. But don't fret there's a cheaper and easier way to save your wrist on long rides. The Crampbuster is more of a motorcycle throttle control as it doesn't lock the throttle in position but allows you to control the throttle with the palm of your hand rather than continually having to grip and turn the throttle. The Crampbuster is designed to work with full rubber or partial rubber grips and is easy to install as it simply slips over the end of the throttle and grips in place for a secure fit without slipping. There are several different designs with a long skinny tail or a short fat/wide tail to suit your needs, and there's different versions to fit standard 1-1/8-inch diameter throttles/grips or 1-1/2-inch diameter throttle/grips.

High-Def Memories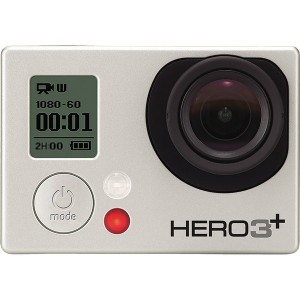 You're going to want to capture your Bike Week experience with a camera and there is no better way to do so than with a GoPro. A [mageProductLink sku="342-4227" title=""]GoPro Hero 3+ Silver Edition[/mageProductLink] is a great investment because you can mount it to your motorcycle handlebars or helmet and use it to capture 1080p high-def video of your road trip. Or you can carry it around and take high quality 10meg still images. The wide angle lens ensures you capture a broad spectrum so you don't miss out on any of the action. These things are nearly indestructible and with the waterproof case you won't have to worry about killing the camera if you drop it in the ocean or hot tub. One of the best features about the Hero 3+ Silver Edition is its Wi-Fi capability. By purchasing the Wi-Fi remote or downloading the Wi-Fi app you can remotely control the camera. From your parade down Main St. to your gentle cruise around The Loop, there are so many GoPro accessories and mounts available you'll be amazed at all the different videos and images you can create. And the quality is so good it will have people thinking you actually know what to do with a camera.

How Tired are your Tires?
You won't be getting too far or enjoying your trip if your cruiser tires aren't in good shape. If this is going to be the first time taking your bike out since you stored it for the winter you should give your tires a good once over. Check to make sure they are properly inflated or haven't lost too much pressure since the last time you checked them. Look for cracks in the sidewalls, abnormal wear, punctures, and make sure there is a sufficient amount of tread. When checking tread wear look for the tread indicators on the tire or use a ruler to measure the tread depth to help you determine if you're in need of some new rubber. You'll typically find you go through two rear tires to one front tire. Everyone has their preferences on tire brands and designs. Some people like to just go with the stock replacement tire that came with their motorcycle while others might want something more specific for the type of riding they mostly do i.e. canyon carving or two-up touring.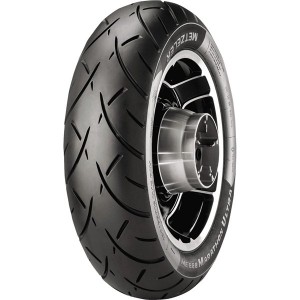 For those looking for an upgrade for their Harley bagger tires Metzeler's ME888 Marathon tires have been specifically designed for custom touring motorcycles and are available in all the popular sizes. The tires have been developed with compounds that offer better abrasion resistance and deliver higher mileage. The profile is shorter to provide a wider and shorter footprint area for reduced wear and increased stability while the tread pattern has been optimized with inclinations in the groove walls to help improve wear regularity and performance consistency. The ME888s offer great high and low speed stability, smooth handling, and excellent wet weather performance.

If it's a good quality replacement tire you seek Michelin's Commander II is a good choice. Available in both radial and bias ply options to suit your needs or desires, the tires are made with Amplified Density Technology, creating a highly dense and more rigid tire casing that helps deliver excellent feedback and handling. The rear tires in both options feature Aramid tread plies to help resist centrifugal growth, providing excellent stability and predicable handling even at highway speeds. Also, the rubber compound in these tires has been formulated for remarkable wet/dry road grip without compromising durability or longevity.

Daytona Bike Week is a great time and the perfect way to kick off the riding season. While the area might not have the greatest or most scenic motorcycling roads, you'll be surrounded by thousands and thousands of like-minded partying bikers who are just happy to be out in the sun and on two wheels. It's nearly impossible to have a bad time.

Oh, and one last suggestion, be sure to check out the Rockabilly sounds of The Razorback's at the Bank on Main St. These guys are by far the best band in the area during Bike Week.