Riders Beware: Law Maker Doesn't Want You On The Roads
Chaparral Motorsports
|
February 19, 2014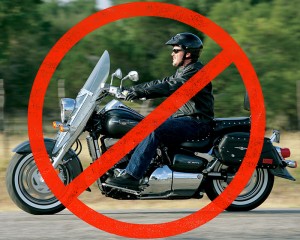 Motorcyclists and bike riders in Suffolk County beware! According to Suffolk County Legislator, Thomas Barraga, you are not welcome to partake in enjoying the roads in this area. "I have lived in West Islip most of my life and my personal feeling is that no one who lives in our hamlet or for that matter in Suffolk County should ever ride a bicycle or motorcycle," Barraga wrote in response to a letter he received from 17-year-old Mathew Cutrone, whose mother had been struck by a vehicle while riding her bicycle.

In his letter Cutrone explained that his mother was struck by a driver who claimed he didn't see her. His mother was wearing a helmet and obeying all bike laws of the road. Thankfully she survived, however, she did end up with a broken scapula. Aside from making Mr. Barraga aware of the incident, the point of Cutrone's letter was asking for some kind of call to action on the part of the legislator in the form of a bike lane or signage in the area.

Mr. Barraga continued his response with, "I cannot tell you how many constituents over the years have told me that they are taking up bicycling for pleasure and exercise. I have told them not to do so but they usually do not listen - 90 percent of those people eventually were hit by an automobile, many like your mother with serious physical injuries."

The Legislator backed his statements with "I have heard the suggestion of bicycle lanes and additional signage but unfortunately this would do little to solve the problem. Suffolk County is a suburban automobile community--drivers expect to see other drivers on the road not bicyclists and motorcyclists. Even in those areas outside of Suffolk County where a portion of the road is for bicyclists --they still get hit by motorists. Signage has limited effects -- there are currently 135 signs between Motauk Highway and Sunrise Highway on Higbe Lane and Udall Road -- most of them are ignored by drivers."

If you do ride a motorcycle in this area we highly suggest you make sure you are equipped with proper riding gear like wearing a [mageProductLink sku="231-0011-y-s" title=""]hi-viz motorcycle jacket[/mageProductLink] or vest, and a motorcycle helmet. Also, be sure your motorcycle headlight and taillights are in working order, and keep a vigilant watch in your motorcycle mirrors for approaching vehicles.