2014 AMA Supercross San Diego Race Results
Chaparral Motorsports
|
February 10, 2014
James Stewart & Suzuki Win San Diego SX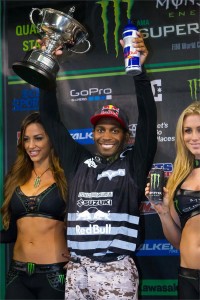 Yoshimura Suzuki Factory Racing's James Stewart captured his first win of the 2014 AMA/ FIM World Supercross season at round six of the series at Qualcomm Stadium in San Diego, California on Saturday night.

Stewart dominated, racing his Yoshimura Suzuki RM-Z450 to his 46th-career Supercross victory and moving-up yet another position in the overall championship points.

The San Diego race weekend was a good one overall for Stewart: After posting the fastest qualifying time during the day's practice sessions, he went on to turn-in a rock-solid performance in his heat race and finish second. In the night's Main Event, Stewart got a good start and took the lead before the end of lap one. After that, he set a competitive pace and led all 20 laps to take victory.

Said Stewart: "I felt like I was riding good. This win has been six weeks coming, but I finally got a good-enough start and the Yoshimura Suzuki RM-Z450 got me up-front on the first lap. I felt great and, about halfway through the race, I felt even better. I just kept feeling stronger and stronger as the race went on. I have to hand it to the Yoshimura Suzuki team; they've been fighting for me. Now, hopefully we can build on this momentum as we head into Dallas. We'll keep on fighting and keep on believing - and hopefully do it again."

Yoshimura Suzuki Factory Racing's next event is the seventh round of the 2014 AMA/ FIM World Supercross Championships on Saturday, February 15th at AT&T Stadium in Arlington, Texas.



Source: Team Suzuki

Monster Energy/Pro Circuit/Kawasaki's Justin Hill Races to First Career Supercross Victory in San Diego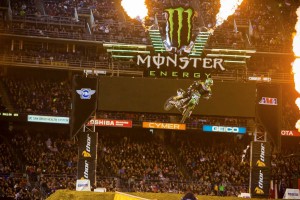 Monster Energy/Pro Circuit/Kawasaki's Justin Hill earned his first career Monster Energy Supercross victory on Saturday night at Qualcomm Stadium in San Diego. Hill rode smooth all day and withstood the pressure of leading late in the race to capture his first victory on his KX250F. Hill took over the lead when Dean Wilson crashed on the second lap and damaged his bike. After some quick work in the mechanics' area to get back out on track, Wilson finished 21st.

Monster Energy Kawasaki's Ryan Villopoto battled with the leader all night on the tough technical track and finished in second place, leaving California with the series points lead. His teammate Jake Weimer had a crash in practice and was unable to race after chipping a bone in his wrist and having his shoulder pop out. Weimer will be evaluated this week to find the full extent of his injuries.

Feels Like the First Time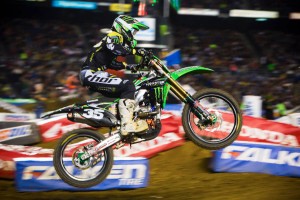 Hill has been riding strong all season and even led laps at Oakland, and on Saturday night he was able to cross the finish line ahead of everyone and feel the joy of winning a supercross race. Hill learned a lot the first time he led a race in Oakland and he put those lessons to good use in San Diego leading 14 laps en route to his victory.

"This is just an awesome feeling," said Hill. "Wow, I'm so excited right now to get the win. The track was difficult and I knew I had to stay focused the entire race. I was so focused I missed the white flag so I thought I still had another lap to go when I got the checkers. Tonight has just been amazing."

Points Leader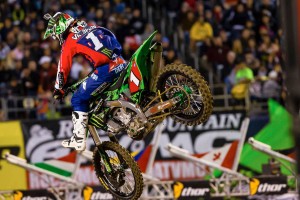 All day long Villopoto and all of the riders battled a technical track that was poised to force mistakes. In the main event, the Washington native rocketed out of the starting gate and nearly grabbed the holeshot. As they crossed the line on the first lap RV was sitting in second and keeping pressure on the leader. For the entire 20-lap main event, Villopoto stalked the leader and was able to pull up right to his rear fender on multiple occasions. But with the deteriorating dirt it was nearly impossible to find a spot to make a pass. With his runner-up finish, Villopoto extends his points lead to nine markers.

"The track was really tough to find a spot to make a pass," said Villopoto. "We had a good race and I was right on James the whole time but catching him is one thing and passing him is another. I think we were both riding the track to its maximum and if I pushed any harder it could have meant a mistake. Right now we have the points lead as the series heads East and I'm going to keep racing and hold on to this red number plate."

Hard Work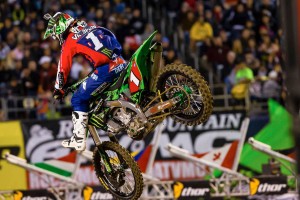 Wilson was looking to ride the momentum of his win last week in Anaheim, and he looked to be on pace after winning his heat race. The Scottish rider looked good all day on the track and in the main event, he got a good start and was able to lead the first lap. After a crash on the second lap where his bike was landed on, he had to go to the mechanics' area and his team quickly removed a broken front brake disc so he could continue.

"Tonight is disappointing," said Wilson. "After last week's win, I thought we would be in a better position but the crash really set me back. My guys did a great job fixing the bike so I could get back out, but in supercross, anytime in the mechanics area is just too much to overcome."

New Lines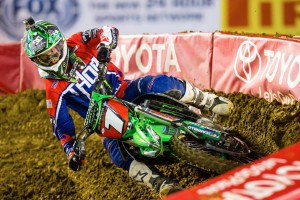 As the main event progressed, Villopoto was looking for any advantage he could get to get around the leader. One spot where he was doing something different was after the big double. Most riders would stay inside on the left hand turn but Villopoto started railing the outside and tripling out of the corner.

"I'm not sure if that line was any faster, but it felt a little more secure," said Villopoto. "The inside was getting more slick as the race went on and it looked like if you were too aggressive you might make a mistake. I started taking the outside and tripling because I felt I could stay aggressive and charge."

Troop Salute
With the San Diego round serving as a Military Appreciation Supercross the Monster Energy Kawasaki team showed their support with a special graphics scheme. Both riders also displayed their support through themed gear and patches. Also Villopoto, Weimer, Wilson, Hill and Darryn Durham visited with former service members at Operation Homefront on Friday before the race.

Traveling Band
Monster Energy Supercross heads to Texas next Saturday, with the Dallas event marking the first Eastern Regional race. A fresh crop of faces will be racing in the 250SX class including Blake Baggett, Adam Cianciarulo and Martin Davalos for the Monster Energy/Pro Circuit/Kawasaki team.

Source: Kawasaki Racing

Red Bull KTM Factory Riders Finish 3rd And 4th At San Diego Supercross
[caption id="attachment_30596" align="alignright" width="199"]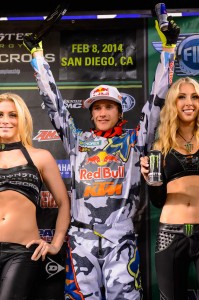 Photo: Simon Cudby[/caption]

Red Bull KTM Factory riders Ken Roczen and Ryan Dungey finished 3rd and 4th respectively at the sixth round of the Monster Energy Supercross 450SX Series held at Qualcomm Stadium.

The Red Bull KTM duo remained close throughout the day constantly matching each other's practice times. It was Ken Roczen who turned the fastest lap in the first timed practice followed closely by teammate Ryan Dungey. In the final practice, Roczen and Dungey both earned times within the top three to garner a great gate pick for the heat races.

On his KTM 450 SX-F Roczen was placed in the first 450SX heat where he pulled a massive holeshot and took the early lead. Roczen went on to pull a seven second lead in the six lap heat before taking the win and earning the top gate pick for the main event.

[caption id="attachment_30592" align="alignleft" width="199"]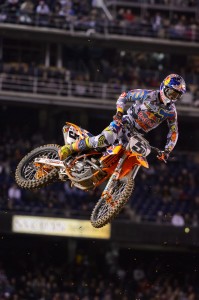 Photo: Simon Cudby[/caption]

His teammate, Dungey, matched his result in the next heat also taking the win. Dungey started in 4th at the gate drop and capitalized on a crash by the lead riders in the second corner to move into the lead. He maintained the lead through the remainder of the heat to earn the second gate pick in the final.

When the gate dropped for the main event, Dungey leaped out front and rounded the first corner in 4th place while Roczen was a few spots back in 6th. On the second lap, Dungey made a mistake in a rhythm section and nearly crashed. He was able to bounce back from the mistake but lost two positions in the process. That mistake allowed Roczen to move ahead of Dungey and into 4th place. Roczen then began to close the gap on the 3rd place ride of Chad Reed.

Meanwhile, Dungey was in a battle of his own with Justin Barcia for 5th position. The two riders remained close until Barcia crashed on lap nine allowing Dungey to take the position. At the same time, Roczen was able to make an inside pass on Reed to take over the podium position. In the remaining laps, Reed and Dungey began to close in on Roczen and try to pressure for the podium position. The three-way battle went through to the final lap where Reed tried to make a move on Roczen that resulted in a crash. Dungey was able to avoid the fallen bike of Reed and move into 4th place while Roczen went on to land on the podium with a 3rd place result.

"I had a few struggles tonight", commented Roczen. "Overall, I am really happy to be on the podium. It is important to be consistent in the championship hunt and every podium finish helps toward the point standings."

Next Round: February 15, 2014 - Arlington, TX

Source: KTM North America

Jason Anderson Reclaims Sole Possession of Red Plate in San Diego
[caption id="attachment_30595" align="alignright" width="300"]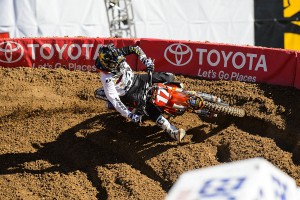 Photo: Simon Cudby[/caption]

Rockstar Energy Racing made the short trip south from Corona to the last west coast stop in San Diego, before the series heads east. They entered the race in a rare tie for first place in the 250 championship after some huge positives and some minor negatives. If it wasn't for the team's ability to constantly overcome, they wouldn't be in the title conversation. Saturday proved to have the ups and downs all mixed into one night and in the end, they left with the points lead. They continue to do what it takes to be a championship caliber program.

In the final race in Anaheim one week ago, Jason Anderson had his worst finish of the season due to an unforeseen circumstance out of his control. He had to claw his way back and was fortunate enough that his effort netted him enough points to share the red plate with Cole Seely. He had no doubt however that he would be the only one running red leaving SD.

As practice concluded, that's exactly what he was on track for. He posted the fastest qualifying lap time of the 250's and was right in the mix with the fastest 450's once again. Then along came the evening's hiccup. Just a short distance beyond the starting gate, Anderson clipped bars with another rider and went down hard.

[caption id="attachment_30590" align="alignleft" width="300"]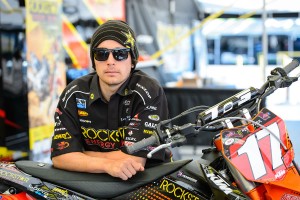 Photo: Simon Cudby[/caption]

Anxiety was high as he didn't just pop right up like normal. He was a bit slow to rise and remount his KTM 250 SX-F. The tension diminished as he took off and began his trek towards qualifying position. He was able to get as high as 6th place avoiding the LCQ.

While it's a relief to make it into the main out of the heat, he still had a poor gate pick compared to his closet rivals. Fortunately he was able to get a very good jump and his starting position was as good as could be expected. JA went to work again, moving towards the front in nearly no time at all.

This particular track was the most technical thus far in 2014, and one of the shortest. This meant lappers were really going to come into the equation almost immediately. Jason was closing in on the leader, Justin Hill, and had a couple close calls moving by the lapped riders. He chose wisely to back it down and settle for 2nd place as opposed to taking the chance of throwing away points and maybe even the championship. He made the right decision and heads into the break with a 4 point lead.

Jason Anderson:
"Weekend was good, I guess I just did damage control ya know. I had a good practice and then my qualifier was rough and I had a little digger ten feet out of the gate. Then I ended up salvaging a 2nd in the main. I could have won but I was just really nervous with points on the line. I was good until I almost hit a tuff block. Then I decided 2nd was good. "
[caption id="attachment_30593" align="alignright" width="300"]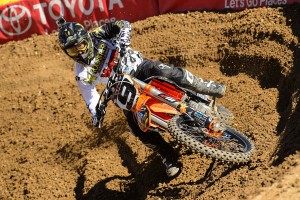 Photo: Simon Cudby[/caption]

Ivan Tedesco has been doing everything he can during the week and on the weekends to improve and be a consistent top ten guy. After getting his best result of the season with a 10th at A3, he worked really hard midweek prior to San Diego. Sometimes that can be a bad thing, however. An athletes body always needs time to recover when running at such a high level all the time.

Sometimes, training, testing and practicing can just be overdone. That was the case for Tedesco this past weekend. He was just kind of run down and off all day. You need to be at the top of your game in Supercross, even more so on such a tough track.

While Ivan struggled in practice, he did improve in the heat and semi which has been a consistent occurrence thus far this year. Nearly qualifying in the heat and qualifying easily in the semi, avoiding the LCQ. He just couldn't quite stay on his rhythm in the main however. He made his way as high as 10th, poised for his second consecutive top ten. After a few mistakes however, he settled into a pace to avoid going down and stay healthy going into Dallas.

Ivan Tedesco:
"Weird track this weekend. I kind of fought it all day. Didn't ride good in practice. I was a little better in the races but in the main event I just couldn't really get into a flow. I knocked it back a notch and ended up 13th. It's not where I wanna be but it's another week down. We're gonna work on it and try to be better next week."
The team will now switch things up and put the west coast on hold for now. Anderson will enjoy only a couple days off, then will begin testing for outdoors. Ivan will take things a bit easier this week and allow himself to recover and be stronger on race day. Joey Savatgy is still recovering from his practice crash earlier in the year and will be replaced by fill in rider Cole Thompson. Cole has been testing on the 250 for few weeks after a couple races on the 350 in the beginning of the season. Davi Millsaps will begin riding this week and will work to return to Supercross as soon as he can.

Source: Rockstar Energy Racing

Dean Ferris Top Ten Again
[caption id="attachment_30591" align="alignright" width="199"]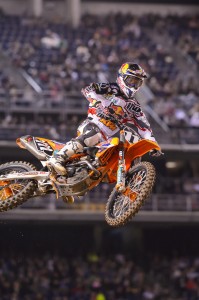 Photo: Simon Cudby[/caption]

Red Bull KTM Factory rider Dean Ferris earned a top ten finish at the sixth round of the Monster Energy Supercross West 250SX Series held at Qualcomm Stadium.

The factory team's Australian rookie Dean Ferris continued his run of consistently picking up points in the 250-class West Coast Championship with a tenth place in the Qualcomm Stadium in San Diego.

Ferris had a hard crash in the final practice session resulting in an injured thumb. He was then placed in the first 250SX heat where he earned a third place start at the gate drop. He got pushed back in the second corner and dropped to eighth place. At the end of the six lap race he was able to move up two positions to finish the heat in sixth place qualifying into the main event.

On his KTM 250 SX-F Ferris got a mid-pack start in the main event and struggled throughout the fifteen lap main due to his thumb injury. "It hurt pretty bad after my practice crash, but I knew this was the last race before the break so I wanted to try and get some points", commented Ferris. The Australian rider managed to finish tenth at the end of the race to maintain tenth position in the series point standings. Now with a break in the west series he will get his injury repaired in order to return 100% healthy for the next round in his championship in April.

Next Round: April 5, 2014 - Houston, TX

Source: KTM North America

San Diego Overview And Point Standings
2014 AMA Supercross San Diego Image Gallery (Click for full size images)


Overall Results - Supercross Class Race Time: 16:00.602






























































































































































































| Pos. | # | Rider | Bike | Interval | Best Time |
| --- | --- | --- | --- | --- | --- |
| 1 | 7 | James Stewart | Suzuki RM-Z450 | 20 Laps | 47.228 |
| 2 | 1 | Ryan Villopoto | Kawasaki KX 450F | +01.311 | 47.436 |
| 3 | 94 | Ken Roczen | KTM 450 SX-F Factory Edition | +08.543 | 47.301 |
| 4 | 5 | Ryan Dungey | KTM 450 SX-F Factory Edition | +11.363 | 47.866 |
| 5 | 40 | Weston Peick | Suzuki RM-Z450 | +27.937 | 48.171 |
| 6 | 51 | Justin Barcia | Honda CRF 450 | +29.655 | 47.656 |
| 7 | 3 | Eli Tomac | Honda CRF 450 | +32.841 | 47.876 |
| 8 | 20 | Broc Tickle | Suzuki RM-Z450 | +35.693 | 48.331 |
| 9 | 10 | Justin Brayton | Yamaha YZ450F | +36.331 | 48.293 |
| 10 | 29 | Andrew Short | KTM 450 SX-F Factory Edition | +40.908 | 48.658 |
| 11 | 75 | Joshua Hill | Suzuki RM-Z450 | +54.885 | 48.547 |
| 12 | 22 | Chad Reed | Kawasaki KX 450F | 19 Laps | 47.566 |
| 13 | 9 | Ivan Tedesco | KTM 350 SX-F | +42.936 | 49.497 |
| 14 | 800 | Mike Alessi | Suzuki RM-Z450 | +45.882 | 49.353 |
| 15 | 44 | Matthew Goerke | KTM 450 SX-F Factory Edition | +47.134 | 49.425 |
| 16 | 42 | Vince Friese | Honda CRF 450 | +47.690 | 49.176 |
| 17 | 27 | Nicholas Wey | Kawasaki KX 450F | +52.993 | 49.626 |
| 18 | 11 | Kyle Chisholm | Yamaha YZ450F | +1:05.806 | 49.631 |
| 19 | 56 | James Decotis | Honda CRF 450 | +1:12.516 | 50.398 |
| 20 | 38 | Phillip Nicoletti | Yamaha YZ450F | +1:16.835 | 49.718 |
| 21 | 68 | Chris Blose | Honda CRF 450 | +1:39.094 | 50.606 |
| 22 | 102 | Matt Moss | Suzuki RM-Z450 | 9 Laps | 49.200 |
Rider Point Standings - Supercross Class ( Race 6 of 17 )


Ryan Villopoto - 126

Ken Roczen - 117

Chad Reed - 111

James Stewart - 105

Justin Brayton - 98

Ryan Dungey - 94

Justin Barcia - 89

Andrew Short - 72

Weston Peick - 53

Wil Hahn - 52

Manufacturer Point Standings - Supercross Class ( Race 6 of 17 )


Kawasaki - 142

KTM - 125

Suzuki - 116

Yamaha - 98

Honda - 89

Overall Results - Supercross Lites West Class Race Time: 12:11.073
| Pos. | # | Rider | Bike | Interval | Best Time |
| --- | --- | --- | --- | --- | --- |
| 1 | 35 | Justin Hill | Kawasaki KX 250F | 15 Laps | 48.092 |
| 2 | 17 | Jason Anderson | KTM 250 SX-F | +05.736 | 47.976 |
| 3 | 34 | Malcolm Stewart | Honda CRF 250 | +11.677 | 48.528 |
| 4 | 21 | Cole Seely | Honda CRF 250 | +18.704 | 48.728 |
| 5 | 87 | Shane Mcelrath | Honda CRF 250 | +35.340 | 49.025 |
| 6 | 50 | Jessy Nelson | Honda CRF 250 | +45.963 | 49.334 |
| 7 | 89 | Michael Leib | Honda CRF 250 | +50.407 | 50.256 |
| 8 | 84 | Scott Champion | Yamaha YZ250F | 14 Laps | 51.087 |
| 9 | 66 | Jake Canada | Honda CRF 250 | +03.956 | 50.651 |
| 10 | 111 | Dean Ferris | KTM 250 SX-F | +07.848 | 51.301 |
| 11 | 83 | Dakota Tedder | Kawasaki KX 250F | +11.286 | 52.244 |
| 12 | 565 | Preston Mull | Yamaha YZ250F | +23.826 | 52.833 |
| 13 | 65 | Zackery Freeberg | | +27.479 | 52.938 |
| 14 | 37 | Cooper Webb | Yamaha YZ250F | +33.982 | 49.288 |
| 15 | 830 | Ruben Alanis | KTM 250 SX-F | +36.905 | 54.012 |
| 16 | 737 | Valentin Teillet | Kawasaki KX 250F | +39.587 | 52.679 |
| 17 | 97 | Topher Ingalls | Honda CRF 250 | +1:03.544 | 51.591 |
| 18 | 973 | Jean Marrone | Suzuki RM-Z250 | 13 Laps | 54.682 |
| 19 | 222 | Chris Howell | Yamaha YZ250F | +24.742 | 53.636 |
| 20 | 397 | Brandon Scharer | Suzuki RM-Z250 | +41.029 | 52.878 |
| 21 | 15 | Dean Wilson | Kawasaki KX 250F | 12 Laps | 49.876 |
| 22 | 143 | Michael Horban | KTM 450 SX-F | 6 Laps | 54.387 |
Rider Point Standings - Supercross Lites West Class ( Race 6 of 9 )


Jason Anderson - 131

Cole Seely - 127

Justin Hill - 107

Dean Wilson - 98

Cooper Webb - 92

Malcolm Stewart - 89

Jessy Nelson - 76

Shane Mcelrath - 71

Zach Osborne - 69

Dean Ferris - 63

Manufacturer Point Standings - Supercross Lites Class ( Race 6 of 17 )


KTM - 131

Honda - 129

Kawasaki - 124

Yamaha - 98

Suzuki - 11