Metzeler ME888 Marathon Ultra Touring Tires Go To Great Lengths
Chaparral Motorsports
|
February 6, 2014
Outfitting a motorcycle starts from the ground up, and that is never more true than when you're trying to invest in the right motorcycle accessories for a touring bike. Spending an extended amount of time on a motorcycle, especially for touring purposes, means you need motorcycle tires that will give you the biggest advantage on the roads.

The [mageProductLink sku="335-0305-0294" title="Metzeler ME888 Marathon Ultra Front Tire"]Metzeler ME888 Marathon Ultra Tires[/mageProductLink] can prove to be a wise investment in this regard. Like the name implies, these tires were made to handle extremely long distances with ease, and just a simple installation can drastically upgrade the riding experience of anyone on a touring bike.

Made For Touring Bikes
[mageProductLink sku="335-0306-0310" title=""]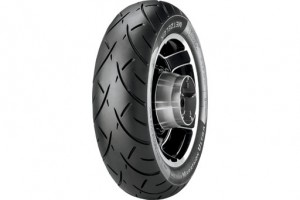 [/mageProductLink]When of the major benefits of the [mageProductLink sku="335-0306-0310" title="Metzeler ME888 Marathon Ultra Rear Tire"]Metzeler ME888 Marathon Ultra Tire[/mageProductLink] is that it has been designed to handle the extensive mileage that frequently goes along with touring. Also known as the "Triple 8," these tires are made for the front and rear wheels of a bike and have enough advantages to show they are a worthy investment.

Perhaps an even bigger benefit of the ME888 is that they are suitable for custom bikes. The ability to work with a variety of machines is important, especially among those who love to make their bikes their own, and these tires can mesh with almost any kind of touring motorcycle. In fact they are also available with a [mageProductLink sku="335-0305-0385" title="Metzeler ME888 Marathon Ultra Wide White Wall Front Tire"]wide white wall[/mageProductLink] to give your ride that classic splash.

The Features
[mageProductLink sku="335-0306-0412" title=""]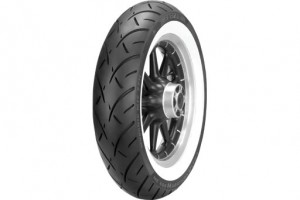 [/mageProductLink]Technology utilized in the creation of the Metzeler ME888 Marathon Ultra Tire focused on producing high-quality performance throughout the life of the gear. The end result is a tire that is more than capable of having smooth handling at high and low speeds, and the stability offered is top-notch.

A new tread design improves the even wear of the tire, which in turn allows a rider to use the tires over greater distances and for a longer amount of time. In addition to the extended use, you can also be sure the tire will perform well throughout the entirety of its life.

That upgraded tread is placed on a tire that is of a slightly different shape than some of its peers. This profile has a wider and shorter footprint area, reducing the area that is constantly in contact in the road and limiting the wear that takes place on the tire. Increasing the mileage is helped by this change, and the shape also contributes to a more stable and secure riding experience.

Another alteration is the X-Ply carcass profile, which helps prevents overheating regardless of the type of riding or outside temperature. With all the updates focused on providing a long-lasting ride, you can be sure these tires offer a high level of performance.

Ready For American Roads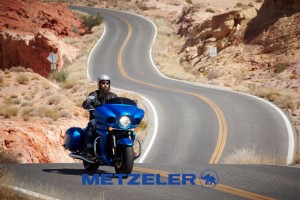 A unique aspect of the Metzeler ME888 Marathon Ultra Tire is that, while it was developed in Germany, Metzeler's home country, it was created specifically for the roads of America. After all, motorcycling varies across the globe, and it is natural to think that the demands and extent of riding in the U.S. may be different than it is abroad. With Metzeler's workers and engineers keeping the needs and wants of American riders in mind, they were able to produce a touring tire that is capable of handling all kinds of obstacles.

This ME888 tire is available in multiple sizes for use on a variety of bike types. Riders can choose from options such as the 130/90-16, 150/80-16 and 180/65-16. All three of these come with a reinforced sidewall for added strength and are tubeless. While that last quality may make it a bit more difficult to install, many find that the trade off of improved performance is worth it.