Heidenau K60 Scout Tire Provides Long-Term Quality
Chaparral Motorsports
|
January 29, 2014
Shopping for a dirt bike tire takes time. So does searching for the right street bike tire. When these two tasks are combined into one as a rider goes on the hunt for the perfect dual sport gear, it can be downright daunting. That seems natural - after all, a dual sport tire needs to be able to handle a wide variety of challenges and must be suitable for dirt bikes and street bikes.

Dual Sport Capabilities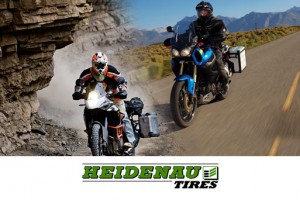 In many cases, shopping for a dual sport tire forces an individual to make decisions about riding style. Choosing the right product will frequently come down to what type of motorcycling a rider prefers and anticipates taking part in, which could range from anything like zipping along wet surfaces to cruising on different types of terrain. Individuals shouldn't have to pigeonhole themselves into a certain brand of riding, so finding tires that offer prime dual sport qualities is important.

The right dual sport tire will be able to handle on- and off-road riding. This means balancing tread patterns, materials, thickness, width and similar characteristics to achieve the best of both worlds.

The K60 Scout Tire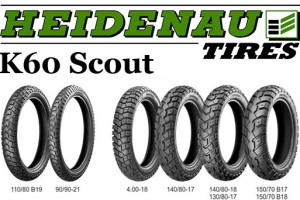 One product that is ready to meet your needs in the [mageProductLink sku="338-k601108019" title="Heidenau K60 Scout Front Tire"]Heidenau K60 Scout Tire[/mageProductLink]. Known as a complete 50/50 tire, the K60 is one of the best in the world for striking the right balance between off-roading and street riding, and it's easy to see that was at the forefront of the creation of this tire.

Using a chevron-style tread pattern, the K60 is adept at digging into tightly packed surfaces for a strong grip. That is ideal for anything from sand and pavement to water and mud, as it enables a rider to dig into a surface while also keeping the rubber compound in contact with the route. It is also excellent in wet conditions, as the grip is well suited to latching onto even the slickest of pavement.

Unlike similar items, this product has an extensive life expectancy to go along with its superior traction - a combination that is tough to find in the dual sport world. As a tubeless tire, it fits closely to the wheel and retains air well, contributing to the extensive usage of the K60.

Designed to fit many different kinds of motorcycles, the [mageProductLink sku="338-k061308017" title="Heidenau K60 Scout Rear Tire"]Heidenau K60 Scout Rear Tire[/mageProductLink] is available for purchase in a variety of sizes. These include 130/80-17, 140/80-17, 150/70B-17, 4.00-18, 140/80-18, and 150/70B-18; while the front is available for sizes 110/80B-19 and 90/90-21. In addition to size, riders must also choose an item that is rated for a given speed. The 140/80-17 is H rated and can handle a pace up to 130 mph, and the 140/80-18 is H rated for a maximum of 112 mph. The remaining versions are T rated for speeds up to 118 mph.

About Heidenau
As a German company, Heidenau probably doesn't get all of the attention it attention it deserves in the U.S. Still, the Germans have a strong reputation for off-roading, so the options released by this brands warrant a close look. The K60 tire is at the front of the pack of Heidenau's products, and it is definitely a dual sport tire that you should consider if you're looking for something to take your riding experience to the next level. Made with high-quality materials and capable of dominating everything from high speeds to tight cornering, the Heidenau K60 Scout Tire is one of the top choices on the market and has earned a ranking among the best possible accessories for adventure riding.