2014 AMA Supercross Oakland Race Results
Chaparral Motorsports
|
January 27, 2014
Ryan Villopoto Races To Second Monster Energy Supercross Win
Jason Anderson Uses Patented Last-Lap Move To Win Third 250SX Class Race Of The Season
[caption id="attachment_30456" align="alignright" width="300"]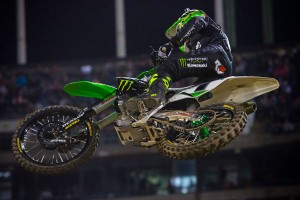 Monster Energy Kawasaki's Ryan Villopoto won his second Monster Energy AMA Supercross race of the season.[/caption]

Monster Energy Kawasaki's Ryan Villopoto won his second Monster Energy AMA Supercross, an FIM World Championship, race in front of 47,339 fans at O.co Coliseum. Rockstar Energy Racing's Jason Anderson captured his third win in four races in tonight's Western Regional 250SX Class Main Event.

Factory Metal Works/Honda's Vince Friese led the field of 450SX Class riders through turn one to win the Nuclear Cowboyz® Holeshot Award with Toyota/Yamaha/JGRMX's Justin Brayton on his back wheel. On the opening lap, Villopoto and Discount Tire Racing/TwoTwoMotorsports' Chad Reed took over the number one and two positions respectively.

Yoshimura Suzuki's James Stewart started a charge on Lap 4 to take over fourth place, and on Lap 7, he secured third place. Stewart made one last pass on Reed for second place, where he would finish just 4.2 seconds behind Villopoto. Reed finished third.

[caption id="attachment_30451" align="alignleft" width="300"]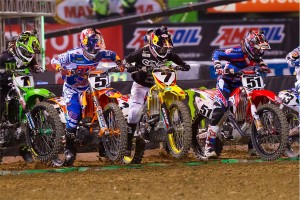 James Stewart, Ryan Dungey, Ryan Villopoto, and Justin Barcia about to take off.[/caption]

"The track was really one-lined tonight," said Stewart. "I had to take some chances out there to move through the field."

"It feels good to be up here tonight," said Villopoto from the podium. "We have put in a lot of work at the test track, and I have a great team behind me and a great bike under me. I hope I can carry this momentum into Anaheim next weekend."

Villopoto moved into the points lead and Reed moved into second place, seven points behind Villopoto.

Monster Energy/Pro Circuit/Kawasaki's Dean Wilson edged out his teammate Justin Hill for the Nuclear Cowboyz Holeshot Award in the Western Regional 250SX Class Main Event. Hill quickly moved into the lead and by the end of the opening lap, Anderson moved into second place with Wilson assuming third place.

[caption id="attachment_30439" align="alignright" width="200"]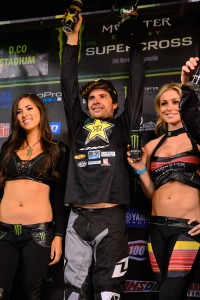 Jason Anderson - for the third time this season - made a pass on the last lap to move into the lead and eventual win - Photo: Simon Cudby[/caption]

Hill and Anderson traded places on lap six, and while the two jockeyed for position in a corner, Wilson passed Anderson for second place and a few turns later, he passed Hill for the lead. Anderson tracked down Hill on the following lap to moved into second place.

Anderson - for the third time this season - made a pass on the last lap to move into the lead and eventual win. Wilson finished a season-best second place and Hill finished a career-best third place.

"I have been working very hard, and everything was coming together tonight, but my bike stalled," said Wilson. "I have always had the speed, but I have yet to put it together."

"I can't believe I keep pulling these off; three wins in four races is huge," said Anderson. "I hope to come away with the number-one plate at the end of the season. I wanted to be in attack mode tonight, but I also wanted to keep it on two wheels."

Troy Lee Designs/Lucas Oil/Honda's Cole Seeley came into tonight race with the points lead but dropped to second place as Anderson now moved into the number-one position in season standings and has a six-point lead.

Monster Energy Supercross heads to Anaheim next Saturday, February 1 for the third and final race at Angel Stadium.

About Feld Motor Sports
Feld Motor Sports, Inc. is the world leader in specialized arena and stadium-based motor sports entertainment. Feld Motor Sports productions include Monster Jam®, Monster Energy Supercross, AMSOIL Arenacross and Nuclear Cowboyz®. Feld Motor Sports is a division of Feld Entertainment, the world's largest producer of live family entertainment. For more information on Feld Entertainment, visit www.feldentertainment.com.
Source: Feld Motor Sports

Monster Energy Kawasaki's Ryan Villopoto Wins In Oakland And Regains Monster Energy Supercross Points Lead
[caption id="attachment_30455" align="alignright" width="300"]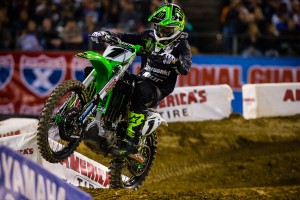 Ryan Villopoto dominated in Northern California on Saturday in Oakland.[/caption]

Monster Energy Kawasaki's Ryan Villopoto dominated in Northern California on Saturday in Oakland, setting the fastest lap time in qualifying, winning his heat race and leading every lap on his way to his second straight Monster Energy Supercross win at O.co Coliseum. His teammate Jake Weimer charged through the field after some early trouble to finish ninth and Discount Tire Two Two Motorsports Chad Reed put his KX450F back on the podium finishing third.

Monster Energy/Pro Circuit/Kawasaki's Dean Wilson and Justin Hill put on a show at the front of the field in the 250SX main event with Wilson rocketing to the holeshot and Hill taking the lead on the first lap. Wilson would take back the top spot on lap 7 and he would stay out front until a problem on the last lap saw him drop to second. Hill held on for third earning his first career podium.

Dominant
After losing the championship lead and the familiar red backgrounds that come with the honor, Villopoto was determined to get back to the top. He started early in the week at the test track continuing to customize his KX450F to fit him and his riding style and the work during the week paid off. The Washington native set the fastest time in qualifying, then went on to lead every lap of his heat race. In the main event, Villopoto was center stage and left everyone chasing the #1 on the back of his jersey as he made an aggressive pass just after the split section and never looked back. The Champ led all 20 laps and became the first multiple time winner this season.

"It feels great to get the win tonight," said Villopoto. "I feel like we did last season. My whole Monster Energy Kawasaki team is putting in a lot of work at the test track so we can get the best possible setup on the bike. We made a few changes this week including the triple clamp and the results show the hard work is paying off. I feel like we are just starting to hit our stride."

First Podium

[caption id="attachment_30437" align="alignleft" width="300"]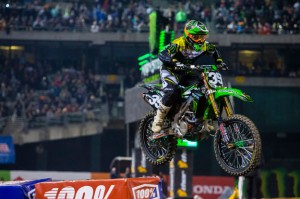 Justin Hill held on for third, earning his first career podium.[/caption]

Hill posted the best supercross result of his career in Oakland finishing third and on the podium for the first time. After getting the lead on the first lap, Hill made some small mistakes and eventually fell back to third.

"Tonight is really bittersweet," said Hill. "Being on the podium for the first time is awesome, but I know I can race with the top guys and win out here too. Once I got into the lead I started to get a little nervous and I made some mistakes, but overall I thought I rode pretty well. I know I can win out here and tonight was a stepping stone for me."

Proving Himself
Reed was determined to show his win last weekend wasn't just a one-off run as the Australian rider launched out of the gate in the 450SX main and ran near the front for the entire race. Reed placed his Two Two Motorsports KX450F on the podium for the third time this season riding a consistent pace right behind the leaders to finish third.

"I want to show these young guys out here that I've still got it," said Reed. "I've been working hard and we have been able to get the bike to work well. The bike may even be working better than me right now but I'm putting in the laps and we are seeing some great results."

Almost

[caption id="attachment_30438" align="alignright" width="300"]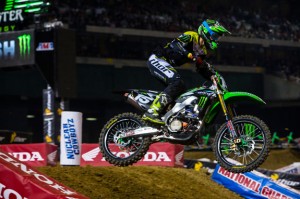 Dean Wilson stayed out front until a problem on the last lap saw him drop to second.[/caption]

After getting the holeshot, Wilson fell back a little but he was able to regain the lead from his teammate on the seventh lap. Once he grabbed the lead he started to gap the field with consistent lap times but a problem on the last lap forced him to miss some of the obstacles and he lost the lead. He quickly got things sorted and pressured the leader but with only one lap to go, there wasn't enough time to make the pass.

"I'm disappointed with tonight's result," said Wilson. "I was riding strong and I set the fastest lap in qualifying and won my heat race. I know I can win out here and it is tough to keep getting back up. I'm going to work hard to get the win next week in Anaheim."

Always Working
After the champagne was sprayed on the podium, Villopoto and his team got right back to work, heading out onto the track to take a look at the whoops section to see how they could improve for the next event. Rather than rest on his three consecutive titles, Villopoto is determined to out work and out race everyone in the field.

3rd Time's The Charm
For the third time this season Monster Energy Supercross returns to Angel Stadium in Anaheim. With the Southern California drought conditions along with a dirt surface that has been abused by Monster Trucks and dirt bikes, the show should be a great one as everyone will be looking for traction.

Source: Kawasaki Racing

James Stewart Fights Back To Oakland SX Podium
[caption id="attachment_30453" align="alignright" width="300"]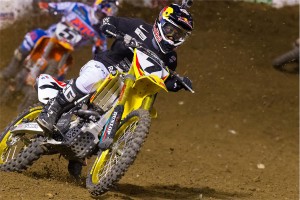 James Stewart turned in an outstanding performance at round four of the 2014 AMA/ FIM World Supercross Championship[/caption]

Yoshimura Suzuki Factory Racing's James Stewart turned in an outstanding performance at round four of the 2014 AMA/ FIM World Supercross Championship at O.Co Coliseum in Oakland, California on Saturday night.

After finally getting over the cold that has plagued him for the last few rounds, Stewart raced his Yoshimura Suzuki RM-Z450 to second place and picked-up his second podium-finish of the season.

Stewart came into the weekend having won twice before in Oakland. Feeling healthy and confident, he qualified second fastest and then holeshot his heat race and took the win. In the 20-lap Main Event, Stewart overcame a rough start and worked his way through the field and by the race's half-way point, he'd moved into a podium position and then was awarded the 'Progressive Pass of the Race' when he overtook for second place. Although he considered making a late-race charge, he decided to hold tight and finish on the podium.

James Stewart:
"The race at Oakland was good. I pulled the holeshot in the heat race and got the win. Then we went back and made some changes to the Yoshimura Suzuki RM-Z450 before the Main Event. But then I blew the start so I had to make some passes and take some chances. I slowly made my way up and got around most of the guys one-by-one. I was closing-in on the lead little-by-little and then almost crashed in the whoops and decided that finishing second would be OK. I wanted to be smart and be there every weekend. I'm happy with two seconds in a row. I felt good and it showed in the Main Event, but we'll keep on working towards getting the win at Anaheim 3."
Yoshimura Suzuki Factory Racing's next event is the fifth round of the 2014 AMA/ FIM World Supercross Championships on Saturday, February 1st at Angel Stadium in Anaheim, California.



Source: Team Suzuki

Ryan Dungey Finishes 4th At Oakland Supercross
[caption id="attachment_30449" align="alignright" width="300"]
Ryan Dungey finished 4th at the fourth round of the Monster Energy Supercross Series - Photo: Simon Cudby[/caption]

Red Bull KTM Factory riders Ryan Dungey and Ken Roczen finished 4th and 6th respectively at the fourth round of the Monster Energy Supercross Series held at Oakland Coliseum.

Roczen was placed in the first heat race where he got a great jump out of the gate to round the first corner in 3rd place. He battled with Ivan Tedesco for the first lap before moving around him to fill the 2nd place position. He rode a steady pace and finished the heat in 2nd to easily qualify to the main event.

Dungey was placed in the second 450 SX heat. Dungey started the race in 4th position and battled Wil Hahn for 3rd throughout the heat. He was unable to make the pass but held on to take 4th to transfer to the main event.

[caption id="attachment_30448" align="alignleft" width="300"]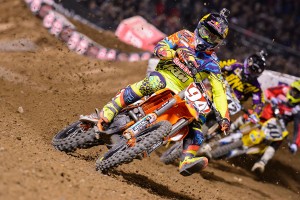 Ken Roczen finished the night in 6th place - Photo: Simon Cudby[/caption]

When the gate dropped for the 450 SX main event, Dungey launched off the line to a 6th place start while Roczen was a few positions back in 9th. By the fourth lap, Dungey had moved up to 4th position while Roczen had moved up two spots to sit in 7th.

The next lap, Dungey began to battle with James Stewart for the 4th place position. The two riders actually hit a few times during their battle but managed to stay up and charge forward. Stewart was able to move around Dungey to take the position but through the battle they both reeled in Justin Brayton. On lap eight, Stewart and Dungey both passed Brayton which moved Dungey to 4th once again. Meanwhile, Roczen moved into 6th place after Justin Barcia crashed. Roczen spent the remainder of the race chasing down Brayton. With two laps to go, Roczen was able to move around to move into 5th. Unfortunately, Roczen made a small mistake on the final lap and lost the position back to Brayton. Out front, Dungey managed to close the gap on Chad Reed for 3rd position on the final lap but was unable to gain the position and finished 4th for the evening.

"Of course, I would have liked to finish on the podium," remarked Dungey. "The top three were riding really good tonight, and unfortunately, I wasn't able to move up. I am looking forward to the next Anaheim race and hope to get closer to getting a win."

Next Event: Anaheim III - February 1, 2014

Source: KTM North America

RCH Soaring Eagle Gets Grounded At Oakland Supercross
Tough Break For Josh Hill, Broc Tickle Gets Jammed
[caption id="attachment_30445" align="alignright" width="200"]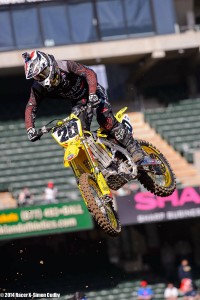 Broc Tickle was scheduled for the semi, but had to pull out due to lingering issues from Anaheim - Photo: Simon Cudby[/caption]

The RCH Racing Soaring Eagle team was ready for the Oakland Supercross... more than ready. His Anaheim 2 heat race win and top 10 finish in the main had #75 Josh Hill raring to go. After getting taken out in a crash last week, #20 Broc Tickle was coming off a night in Anaheim that he would rather forget... actually given how hard he hit the ground, it is a wonder he could remember anything from the race.

Qualifying in Oakland's infamous "black hole" (as Raider Nation refers to the stadium) went well as Hill was 10th and 11th in the two sessions and within tenths of a second of top qualifier Ryan Villopoto. Tickle was able to bounce back, literally, from last week's crash finishing 13th in session #1 and just behind his teammate in 12th in the second session. But bad luck in both heat races bit the RCH Soaring Eagle teamsters. In the first heat race Justin Barcia sent Broc on the long walk back to the pits by going "Bam Bam" on him.

In the second heat race, a top 10 start in heat race was wasted when Hill hit the ground hard. He tried to switch up his lanes at the last minute and it didn't go well for him, as Jenny Taft told the Fox Sports TV viewing audience. When he could shake the cobwebs off, Josh realized he had broken his collarbone. As Josh's Dad Monte Hill said, "The highs are extremely high and lows are very low."

[caption id="attachment_30443" align="alignleft" width="200"]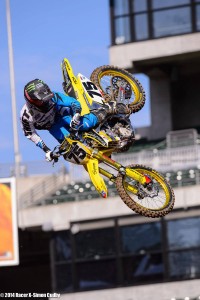 Josh Hill went down in his heat, and realized he had broken his collarbone - Photo: Simon Cudby[/caption]

Frustration was Josh's immediate reaction. "I felt great all day, and had the speed I needed. I just made a mistake in the heat coming through the pack," says Josh. "I'm not in too much pain. More than anything, I'm just frustrated that I'm going to have to miss a couple races."

Just when it looked like things couldn't get any worse, Tickle couldn't make the starting line for the semi and was listed as a "DNS" (Did Not Start) like his teammate Hill. The lingering effects of the hard crash in Anaheim were aggravated by the incident with Barcia, but it was a jammed wrist that had the doctors concerned and Tickle was scratched.

"I got off to a decent start in my heat and felt the best I have all night," explains Broc. "Barcia knocked Weimer down in a berm in front of me and I got on the gas to try and miss his bike, but clipped it and crashed. I sprained my left wrist and my pointer finger. It swelled up really quickly, so we made a decision as a team to pull out on racing tonight."

Broc was bummed by the bad luck, but will do what it takes to be ready for Anaheim 3. "The last two weeks have been tough. Last week's crash set me back this week. I did therapy every day and rode a little Thursday," he says. "I was sore, but I knew I could come to Oakland and get through it. Practice was tough today and it showed... My ribs are really sore but with each practice session I started feeling better and I knew adrenaline would help me push through it in the races. I'm really bummed and I want to be out there battling. I want to be at 100% and be where I was before my crash last week physically. Going to get therapy this week and do anything I can to get back to 100%."

Looking to overcome the bad breaks in Oakland, the RCH Racing Soaring Eagle team returns to Southern California for Round 5 on "Superbowl Saturday" February 1. From the Suzuki Hole Shot Experience to the team autograph signing at 3pm, the RCH Racing Soaring Eagle pit is the place to be at Anaheim 3. Fans can even win a 3 night/4 day all-expenses paid getaway to Soaring Eagle Casino & Resort on the spot!

About RCH Racing Soaring Eagle:
RCH Racing is in its second season of the partnership between Ricky Carmichael and Carey Hart. Ricky Carmichael merged his Suzuki relationship and technical development with the established five year marketing giant of Hart & Huntington Racing in 2013. The RCH Racing Soaring Eagle Team continues its partnerships with Suzuki, Fox, Dodge, Sycuan Casino, Yoshimura and Bel Ray. Stay up to date on all RCH Racing Soaring Eagle news, follow us on Instagram and Twitter @RCHRacing and on Facebook at www.facebook.com/hartandhuntington.
Source: RCH Racing Soaring Eagle

Jason Anderson Brings the Red Plate Back Home
[caption id="attachment_30440" align="alignright" width="300"]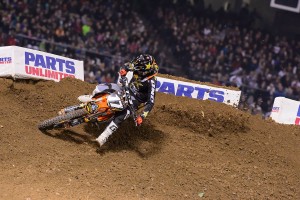 Jason Anderson picked up his 3rd win to take the red plate back - Photo: Simon Cudby[/caption]

There was no controversy this weekend and no question who is the man to beat in the 2014 West Coast 250 Championship. That is none other than Rockstar Energy Racing's Jason Anderson who picked up his 3rd win in 4 races and put the red plate back where it belongs, on the number 17.

Jason Anderson was definitely not happy the Saturday night after A2 when he learned of his penalty docking him 2 positions. However not unlike a Professional Quarterback in the NFL, you have to have short memory when adversity strikes and simply move forward. By Monday morning Jason was at the test track, back on his program and preparing for the short trip north to the bay area with the past behind him. It was evident in practice that his focus on the championship was unwavered.

Anderson and Dean Wilson were blazing fast in practice. In fact the duo posted lap times quicker than any of the 450's. The stage was clearly set for a battle between them. Jason once again claimed victory in his heat race for the 4th consecutive time this year, in as many attempts. Exiting the first turn in the main event, both were near the front and fell in behind Justin Hill.

The three front runners engaged in a fierce battle for the lead with nobody wanting to relinquish any ground. Finally Anderson moved by Hill, but also left the door open for Wilson who suddenly moved straight from 3rd to 1st. JA got in behind him and they began to negotiate lappers. He closed the gap considerably and got right on Wilson's rear tire who then experienced some sort of brief minor hiccup that looked to be mechanical. It was just enough to let Jason by and claim the last lap win again! It has become clear that the #17 can never be counted out of any race.

Jason Anderson:
"Weekend was good. I had another last lap pass annndd (laughs) it was awesome. 3 wins on the season so far and you can't beat that. I just need to stay in it and keep doin my thing."
[caption id="attachment_30447" align="alignleft" width="300"]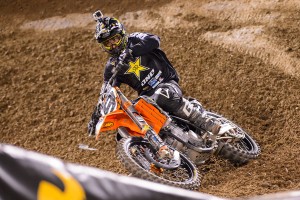 Ivan Tedesco definitely put in a lot of laps on the track in the O.Co Coliseum - Photo: Simon Cudby[/caption]

Ivan Tedesco definitely put in a lot of laps on the track in the O.Co Coliseum. 3 practices and 4 races to be exact. For the first time this season he was forced to go to the LCQ. He looked to be qualifying easily out of the semi, until near the end of the qualifier he caught his foot on the face of the finish line double sending him sideways and tumbling to the ground.

Fortunately he was unharmed in the incident, but unfortunately he missed getting into the main by one position. He then won the last chance qualifier easily. Tedesco certainly had enough laps to have the track dialed but facing him was the 20 lap main event and he was going to be lined up way on the outside.

He squeezed around turn one safely but was near the back. He worked his way up through the field but began to run out of steam in the waning laps. He was able to match his best finish of the season however and through everything overcome on the day, that shows his continued progression to return to form.

Ivan Tedesco:
"The day went ok. Practice was a little rough the same as it has been the past few weekends. It's taking me a little while to get used to the tracks. It gets better every time I go out there. I got plenty of track time tonight going to the LCQ. I put it in the main and got another bad start. I just clicked off as many laps as good as I could and I ended up 12th. It's getting better and we'll keep workin at it."
The team will now prepare for the final trip of the year to Angel Stadium in Anaheim. Anderson who now has a 6 point lead will look to extend it, Tedesco will shoot for the top ten once again and also try to cut the gap to 10th in overall points, which he coincidentally sits 10 points out of.

Source: Rockstar Energy Racing

Dean Ferris Earns 10th Overall At Oakland Supercross
[caption id="attachment_30435" align="alignright" width="300"]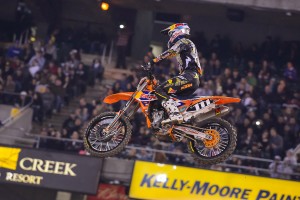 Dean Ferris earned 10th overall at the fourth round of the 250 SX Monster Energy Supercross Series - Photo: Simon Cudby[/caption]

Red Bull KTM Factory rider Dean Ferris earned 10th overall at the fourth round of the 250 SX Monster Energy Supercross Series held at Oakland Coliseum.

Ferris got off to a decent start in the second 250 SX heat where he rounded the first corner in 4th place. Over the course of the six lap heat, he dropped a few positions, but was able to cross the finish line in 7th to transfer to the main event.

In the main event, Ferris launched off the line to a 9th place start. Ferris maintained his pace and held 9th position despite an all-race battle with Jake Canada until the final two laps. During a battle with Canada on the final lap, Ferris made a mistake in a rhythm which allowed Canada to make a pass. The mistake cost Ferris one position and he crossed the checkered flag in 10th position.

A big congrats goes out to Rockstar Energy KTM Racing rider Jason Anderson who secured his third win of the season at Oakland to earn back the point leader red number plate. Now four rounds into the Supercross series, Ferris sits 10th overall in the series point standings.

Next Event: Anaheim III - February 1, 2014

Source: KTM North America

Oakland Overview And Point Standings
2014 AMA Supercross Oakland Image Gallery (Click for full size images)


Overall Results - Supercross Class Race Time: 18:40.181






























































































































































































| Pos. | # | Rider | Bike | Interval | Best Time |
| --- | --- | --- | --- | --- | --- |
| 1 | 1 | Ryan Villopoto | Kawasaki KX 450F | 20 Laps | 55.228 |
| 2 | 7 | James Stewart | Suzuki RM-Z450 | +04.235 | 55.459 |
| 3 | 22 | Chad Reed | Kawasaki KX 450F | +07.047 | 55.273 |
| 4 | 5 | Ryan Dungey | KTM 450 SX-F Factory Edition | +09.886 | 55.900 |
| 5 | 10 | Justin Brayton | Yamaha YZ450F | +17.465 | 55.871 |
| 6 | 94 | Ken Roczen | KTM 450 SX-F Factory Edition | +19.933 | 56.041 |
| 7 | 51 | Justin Barcia | Honda CRF 450 | +37.061 | 55.830 |
| 8 | 23 | Wil Hahn | Honda CRF 450 | +38.121 | 56.576 |
| 9 | 12 | Jacob Weimer | Kawasaki KX 450F | +43.339 | 56.862 |
| 10 | 29 | Andrew Short | KTM 450 SX-F Factory Edition | +50.161 | 57.251 |
| 11 | 33 | Joshua Grant | Yamaha YZ450F | +52.833 | 57.609 |
| 12 | 9 | Ivan Tedesco | KTM 450 SX-F | +54.692 | 57.315 |
| 13 | 800 | Mike Alessi | Suzuki RM-Z450 | +59.644 | 57.603 |
| 14 | 42 | Vince Friese | Honda CRF 450 | 19 Laps | 57.803 |
| 15 | 27 | Nicholas Wey | Kawasaki KX 450F | +01.111 | 57.984 |
| 16 | 44 | Matthew Goerke | KTM 450 SX-F Factory Edition | +16.053 | 58.240 |
| 17 | 11 | Kyle Chisholm | Yamaha YZ450F | +24.714 | 58.404 |
| 18 | 77 | Jimmy Albertson | Honda CRF 450 | +26.342 | 58.909 |
| 19 | 415 | Nicholas Schmidt | Honda CRF 450 | +41.420 | 59.076 |
| 20 | 56 | James Decotis | Honda CRF 450 | +45.451 | 59.118 |
| 21 | 82 | Kyle Partridge | Honda CRF 450 | +56.996 | 59.083 |
| 22 | 40 | Weston Peick | Suzuki RM-Z450 | 11 Laps | 57.107 |
Rider Point Standings - Supercross Class ( Race 4 of 17 )


Ryan Villopoto - 84

Chad Reed - 77

Ken Roczen - 75

Ryan Dungey - 75

Justin Brayton - 71

James Stewart - 66

Justin Barcia - 56

Andrew Short - 49

Wil Hahn - 43

Jacob Weimer - 37

Manufacturer Point Standings - Supercross Class ( Race 4 of 17 )


Kawasaki - 95

KTM - 83

Suzuki - 75

Yamaha - 71

Honda - 56

Overall Results - Supercross Lites West Class Race Time: 14:11.241
| Pos. | # | Rider | Bike | Interval | Best Time |
| --- | --- | --- | --- | --- | --- |
| 1 | 17 | Jason Anderson | KTM 250 SX-F | 15 Laps | 55.969 |
| 2 | 15 | Dean Wilson | Kawasaki KX 250F | +02.029 | 56.223 |
| 3 | 35 | Justin Hill | Kawasaki KX 250F | +09.507 | 56.002 |
| 4 | 21 | Cole Seely | Honda CRF 250 | +14.031 | 56.702 |
| 5 | 16 | Zach Osborne | Honda CRF 250 | +33.158 | 56.731 |
| 6 | 89 | Michael Leib | Honda CRF 250 | +37.955 | 57.994 |
| 7 | 50 | Jessy Nelson | Honda CRF 250 | +42.691 | 57.706 |
| 8 | 87 | Shane Mcelrath | Honda CRF 250 | +44.758 | 57.987 |
| 9 | 37 | Cooper Webb | Yamaha YZ250F | +49.937 | 58.115 |
| 10 | 111 | Dean Ferris | KTM 250 SX-F | +50.650 | 59.144 |
| 11 | 66 | Jake Canada | Honda CRF 250 | +1:05.463 | 58.520 |
| 12 | 84 | Scott Champion | Yamaha YZ250F | 14 Laps | 59.292 |
| 13 | 83 | Dakota Tedder | Kawasaki KX 250F | +02.224 | 59.114 |
| 14 | 737 | Valentin Teillet | Kawasaki KX 250F | +10.642 | 59.987 |
| 15 | 97 | Topher Ingalls | Honda CRF 250 | +18.386 | 1:00.465 |
| 16 | 34 | Malcolm Stewart | Honda CRF 250 | +22.909 | 58.139 |
| 17 | 142 | Cole Martinez | Kawasaki KX 250F | +32.283 | 1:00.735 |
| 18 | 397 | Brandon Scharer | Suzuki RM-Z250 | +38.819 | 1:01.190 |
| 19 | 830 | Ruben Alanis | KTM 250 SX-F | +46.083 | 1:02.078 |
| 20 | 416 | Austin Burns | Honda CRF 250 | 13 Laps | 1:01.906 |
| 21 | 574 | Brian Burns | KTM 250 SX-F | +30.837 | 1:03.591 |
| 22 | 360 | Aaron Siminoe | Kawasaki KX 250F | 8 Laps | 1:00.152 |
Rider Point Standings - Supercross Lites West Class ( Race 4 of 9 )


Jason Anderson - 93

Cole Seely - 87

Dean Wilson - 72

Zach Osborne - 69

Cooper Webb - 65

Justin Hill - 64

Malcolm Stewart - 54

Jessy Nelson - 49

Shane Mcelrath - 42

Dean Ferris - 42

Manufacturer Point Standings - Supercross Lites Class ( Race 4 of 17 )


KTM - 93

Honda - 87

Kawasaki - 74

Yamaha - 65

Suzuki - 3