The Single Life: Polaris' New Sportsman Ace
Chaparral Motorsports
|
January 22, 2014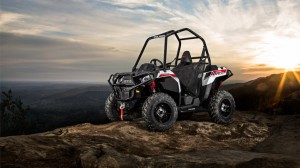 Take one part Polaris Sportsman and subtract one part Polaris RZR and you get the company's newest off road machine the Sportsman Ace.

With the single seat Sportsman Ace, Polaris is carving a new segment into the powersports off road market. A hybrid machine mixing the compact nimbleness and agility of a quad with the comfort and protection of a UTV, the Ace may just be the hole card Polaris needs to up the ante on its competition. Outfitted with a Pro-Star, four-stroke, single cylinder engine producing approximately 32 peak horsepower and running at a dry weight of 835 pounds, the power-to-weight ratio is ideal for entry-level to novice rider and just enough to satiate the high-speed antics of intermediate and advanced riders. Coming in at 48-inches wide the Ace will allow riders the ability to tackle trails that may have been off limits to their other machines-opening a whole new world of off-road excitement.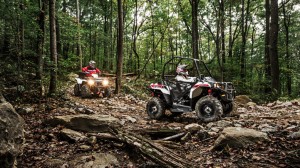 When it comes to aggressive action resulting in loose traction the Ace kicks in with its On-Demand True All-Wheel Drive. No need to push any buttons or flip any switches the system eliminates the guesswork by automatically selecting two-wheel or four-wheel drive. This allows riders to drive the machine up, over, around, and through just about any terrain or obstacle without having to worry about what drive mode they should be in. Ground clearance comes in at just over 10 inches with the aid of 25-inch off road tires, 8-inch wide fronts and 10-inch wide rears. High performance rear shocks can be easily dialed in for optimum ride comfort with easy to adjust pre-load adjusters. With its independent rear suspension offering 9-1/2-inches of travel riders can climb, jump, or tackle the toughest of trails. Situating the rider in the center of the machine combined with a relatively compact 61-1/2-inch wheelbase, the Ace offers a stable center of gravity and an easy to handle machine that will enable quick handling tight turns.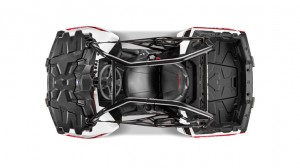 Even though the Ace may look like a mini side-by-side with its roll bar, side nets, and steering wheel it's still a ATV Sportsman at heart and capable of being quite the little worker bee. Featuring a 1,500 pound towing capacity, 1-1/4-inch standard hitch receiver, along with its front and rear storage the Ace can be packed up and haul like a mule. Up front the mighty machine has an integrated storage box while the rear cargo area features a Lock and Ride storage box, built-in rack extenders, and tie-down rails making it easy to carry up to 350 pounds of gear.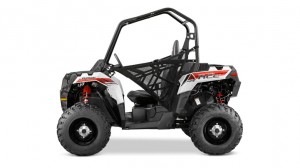 What off-road enthusiasts young and old will really like about the Ace is the open cockpit design. No need to climb or throw a leg over, simply just unhook the net and slid into the high back seat. Riders can get more comfortable with the machine with 4-inches of seat travel, sliding the seat forward or backward, or adjusting the height/angle of the steering wheel as needed. Once situated in the Ace, riders will feel the confidence and safety of a UTV with safety nets and full roll cage; and will love the tight, swift, and lively maneuverability that's typically associated with a quad.

The Sportsman Ace has a starting MSRP of $7,499 and is currently only available in white. Capitalizing on the off-roaders desire to trick out and customize their machines, similar to its offerings for its RZR line Polaris already has a long list of parts and accessories for the Ace such as [mageProductLink sku="2878284" title=""]brush guards[/mageProductLink], [mageProductLink sku="oem-2878751" title=""]Lock and Ride windshields[/mageProductLink], roofs, as well as storage bags.

With no one to stand in its way, the single seat Sportsman Ace will likely burn up the trails and blaze a new path for off-road enthusiasts - especially if Polaris starts to pump out larger displacement options. For ATVs and UTV enthusiasts it's a mash-up of the best of both worlds.



Images: Polaris.com