Off-Road Racing: Five Things To Consider Before The Flag Drops
Chaparral Motorsports
|
January 16, 2014
Off-road, rally, and enduro racing are some of the more grueling activities you can put yourself through. They wear on you both mentally and physically, and can put some real abuse to whatever machine (dirt bike, quad, or UTV) is propelling you across the rocks, sand, ruts, switchbacks, and natural terrain jumps. Some people race to try and attain the glory of being number one while others compete just for the satisfaction of accomplishing a tough course. There are many races and events all across the globe that draw competitors from near and far to test their riding/driving skills, determination, stamina, and perseverance. Some of the more popular races/series that come to mind are the Dakar Rally, Score Baja 1000 and 500, Best in the Desert, and the King of the Hammers, just to name a few. The Dakar Rally is currently running (January 5th through the 18th) in South America and is covering more than 3,000 miles across three countries Argentina, Bolivia, and Chile'. On a more local level (United States being considered local comparatively) the King of the Hammers will be taking place in Johnson Valley, California, January 31st through February 8th. In honor of the running of these two-off road events we thought we'd go over some of the gear, parts, and accessories to consider when prepping yourself and your motorcycle, ATV, or UTV for something like an extreme off-road race or excursion.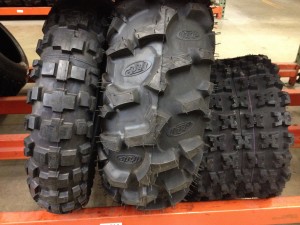 1. Too many tires:
No matter if your tackling the course on two wheels or four, you're not going to get too far without a good set of tires. There are so many tire brands and options to choose from it can be dizzying. From motorcycle off road tires, UTV sand tires, ATV mud tires, to hard compound, soft compound with varying tread patterns and knob sizes you could spend days, if not weeks, trying to sort it all out. When it comes to choosing motorcycle tires for your race you can cut through some of the mess if you know what you're up against (i.e. what kind of terrain and obstacles you'll be encountering). Topographic maps, aerial photos, and even some pre-race free riding (if possible) will help you determine what type of tires to choose. If through your research you find there are going to be large portions of the course running through mud or soft soils then you'll probably want to look at a set of tires with a spread out tread pattern and taller knobs. If the course entails crossing rocks, gravel, and hard compact surfaces think about getting dirt bike tires with smaller knobs that are spaced closely together. Then there's the Goldilocks scenario where you go right in the middle with medium sized knobs if you're going to be hitting a little bit of everything.
For the moto guys a middle of the road tire you might want to consider is the [mageProductLink sku="331-8202" title=""]Dunlop 908[/mageProductLink]. A good all-around off-road tire that'll get you through, over, and around a wide range of obstacles and terrain, the 908 is a rugged tire that will provide good longevity, traction, and performance. Optimized for speed, and high-horsepower machines, the D908 is a street legal DOT tire designed specifically for enduro racing with a heavy duty casing to handle hard jolts and bumps, reinforced tread blocks, and a wide open tread pattern around the shoulder to provide extra traction in sand and mud.
For the quad guys looking for a good all-around tire, [mageProductLink sku="368-2406" title=""]Maxxis' Razr2[/mageProductLink] comes to mind. A strong carcass and 6-ply rating makes this tire durable enough to withstand hardcore abuse, while the increased lug depth and aggressive tread pattern provides increased skid and traction control for loose cross country or desert conditions, good cornering ability, and will excel in intermediate to muddy terrain.
If you're a RZR or Can-Am Maverick enthusiast a couple of tires that might interest you would be [mageProductLink sku="337-3655" title=""]ITP's Blackwater Evolution[/mageProductLink] tire and the [mageProductLink sku="578-mc301014" title=""]EFX MotoClaw[/mageProductLink]. With a super tough 8-ply rating, the Blackwater provides additional safety and reliability with its sidewall armor that helps protect the tire from penetration. Outfitted with strong lugs built to withstand wear and tear, this tire is a great performer in intermediate to hard terrain and can handle ruts, rocks, woods, desert, and light mud situations. Another option to check out is the EFX MotoClaw. Comprised of a strong rubber compound and radial carcass, the MotoClaw was designed with heavy duty lugs that have been adequately spaced to provide a smooth ride while also gripping, grabbing, and climbing over or through just about whatever you put in its path.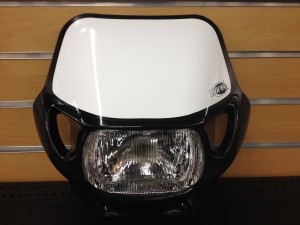 2.Get Lit:
Every race and organization has different rules and regulations when it comes to setting up your race vehicle, but one common requirement you'll find is lighting. Most race organizations require your motorcycle, ATV, or UTV to have some kind of headlight and for good reason. While the race may not call for night time driving you never know what might happen, you could break down or worse get lost, leaving you stranded in the middle of nowhere as night sets in. Lighting isn't just for your safety and visibility but for the safety and visibility of others. Headlights, spotlights, and even floodlights can help bystanders, other racers, or race officials see you as you traverse the course ensuring people stay out of your way just as much as you stay out of the way of others. Dirt bike owners might find [mageProductLink sku="257-3026" title=""]Acerbis' DHH Headlight[/mageProductLink] very useful as it will not only help shine your path it is also D.O.T. certified making your bike one step closer to being highway legal for both on-road as well as off-road use. The DHH is outfitted with a number plate/small wind screen for some additional protection from dirt and debris and comes equipped with a high/low bulb and a third European running light. It features a 12-volt, 35-watt headlamp bulb and a 4-watt running light that's protected behind a high impact protective lens. Quad riders looking for ATV lights should take a look at [mageProductLink sku="18203-41" title=""]Rigid Industries' SR-Q2 Driving Lights[/mageProductLink]. Sold in pairs, these driving lights feature six ultra-bright LED lights in each lens to project a more concentrated beam and provide visibility at greater distances while still acting as a medium flood light. The LED offers 50,000+ hours lifespan and have been built to withstand the abuses associated with off-roading situated in durable cast-aluminum housings and come with over-sized heat sinks which keep the temperature down and allow the LED's to run cooler and brighter.
For UTV drivers who really want to brighten their ride the Totron DE Series 40-inch Double Row Epistar LED Spot/Flood Light Bar will do the trick. At nearly four-feet long, by mounting this UTV light bar to the top of your RZR XP1000 with its two rows of intensely bright LEDs you'll be hard to miss on the course.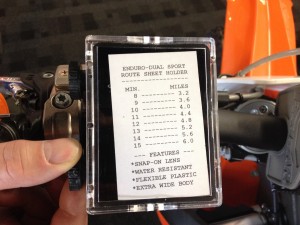 3.Mount Up:
Chances are before you hit the trail you're going to want to bolt some accessories to your ride. For dirt bike riders one of the most important accessories you're probably going to need is a roll chart holder. You need to know where to go along the race and [mageProductLink sku="2212-0017" title=""]Moose Racing's Trophy Roll Chart Holder[/mageProductLink] is ideal for keeping tabs on the race route. This unit is proudly made in the USA, features a durable, impact-resistant, water-tight case and is wide enough to hold charts up to 2-3/8 inches wide. This motorcycle roll chart comes with the mounting hardware and features two easy-to-grip knobs to easily scroll through the route.
For those that don't have one, an on-board computer like the [mageProductLink sku="356-5370" title=""]Trail Tech Striker[/mageProductLink] can be a very handy tool for ATV riders. This ATV computer provides a wealth of information such as current speed, average speed, maximum speed, current engine temperature, maximum engine temperature, odometer, trip distance, accumulated rider time, along with a host of diagnostic readings such as input voltage, maintenance and lubrication reminders.
While your Can-Am Maverick 1000 might have come with a standard 3-point style seat belt, more than likely that won't get you past race inspection. Most race organizations call for a heavy-duty, five-point, fast release latch type of harness with anti-submarine strap, as well as shoulder and seat belt straps, amongst other specifications. [mageProductLink sku="103-a115231" title=""]Pro-Armor's Five Point Seat Belt[/mageProductLink] Harness features non-sewn pads and has been SFI approved for most racing sanctions. This UTV harness features a five-point, H-style set up with 3-inch shoulder and lap straps. It has an adjustable sternum strap, a mesh pocket on one side to hold the free flash light that comes with it and a water resistant cell-phone pocket on the other side. All mounting and latching hardware is made from heavy duty materials for easy installation, longevity, and durability.

4.Armor All:
You never know what you'll come across when out on the course, so it's always best to prepare your ride for the worse. For motorcycle riders you'll definitely want to outfit your bike with some kind of hand guards. [mageProductLink sku="277-bbbhg151bu" title=""]Barkbusters' VPS Universal Hand[/mageProductLink] guards are a smart choice because they serve two purposes, the will protect your hands from banging into rocks or trees when riding through tight situations and will help protect your brake and/or clutch lever from breaking in the event of a crash. Made to fit most 7/8-inch handlebars, these motorcycle handguards come with a hardened aluminum backbone that is secured by two mounting points making for extra tough rigidity. The variable height wind deflector makes it easy to adjust for additional protection in extreme weather conditions like pelting rain and hail.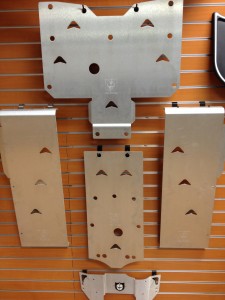 ATV and UTV guys are typically concerned with the undercarriage of their machines, as they should be. When bombing across the course there are plenty of instances where rocks, stumps, and other objects can cause serious damage to vital components and potentially take you out of a race. From UTV a-arm guards to differential skid plates and ATV mid chassis armor, all of these items are designed to take the hits so your engine case, drive/steering components, and vital fluid lines don't have too. Made of strong yet lightweight aluminum that has been precision formed, outfitting your ride with something like Pro Armor chassis armor or UTV skid plates can add peace of mind come race day.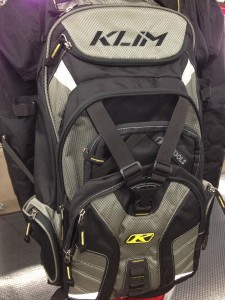 5.Gear Up:
These days there are two pieces of gear that pretty much all race organizations require for rider/driver safety; a helmet and eye protection. But there are a few other items you might want to make sure you have such as a backpack/hydration pack, some tools, and even a dust mask. Some races require you to carry at least a day's worth of food and water with you in the event that you get lost or stranded. There are plenty of companies that make backpacks that cater specifically to off-roading. One backpack to consider is the [mageProductLink sku="261-4012-000-000" title=""]Klim Krew Pak Hydration Pack[/mageProductLink]. This backpack is loaded with a ton of easy to reach pockets to store everything from energy bars in its side pockets, extra goggles in the fleece-lined top pocket, to additional clothing and larger items in the main compartment. The three-liter hydration reservoir is capped with an extra-tough 48-inch long drink tube that is pinch resistant and offers a high flow rate. Some really cool aspects of this backpack are the removable tool pouch with elastic organization straps to keep your tools secure, external shovel blade storage and side shovel handle storage with adjustable security strap in case you need to dig out of a tough situation, and the highly reflective piping to help you be seen when riding at night or low light conditions.
If you break down you're probably going to be on your own so you'll want to ensure you have some tools to handle minor repairs. CruzTools offer a variety of kits like its [mageProductLink sku="315-4008" title=""]Roadtech M3[/mageProductLink] Tool Kit that's packed with an assortment of tools to handle a variety of situations. This is really convenient because it can roll up tightly and easily be store in a backpack or secured to your ride without taking up too much additional space or adding a ton of excess weight. You'll definitely want to go through the kit and swap out some of the items for tools that are specific to the fitment of fasteners on your ride. Cruz also offers a motorcycle fender mount tool kit as well as a fanny pack tool kit as well. Tire spoons, extra tubes, or flat repair kits are also a few items you should consider adding to either your backpack or storage compartment on your UTV.
Lastly, and this is really more of a personal preference type of item, but a dusk mask can really make a world of difference when racing across dusty trails or sandy dunes. Sure your helmet and goggles will keep a majority of debris out of your face and eyes but by donning something as simple as a [mageProductLink sku="038-2501-1546" title=""]hanky[/mageProductLink] or [mageProductLink sku="309-0935" title=""]balaclava[/mageProductLink] under your helmet you can provide additional protection from getting sunburned, wind chapped, and cotton mouth/dried out nostrils from dirt and dust. In cold weather situations a neoprene full face balaclava will help keep your ears and nose warm while in extreme heat conditions a hanky can be soaked in water and wrapped around your neck to help keep you cool.

There is a ton more motorcycle gear and ATV parts or UTV accessories that could be covered to complete a comprehensive checklist of items you should consider before heading out for an off road race. Hopefully this list will help get you started and get you thinking about other items you might want to get your hands on.