Yamaha Factory Racing: 2014 Dakar Rally Stage 11
Chaparral Motorsports
|
January 16, 2014
Despres Takes Second on Stage 11 of Dakar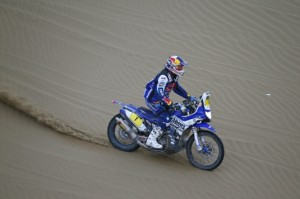 Yamaha Factory Racing's Cyril Despres enjoyed another day battling at the front of the lead group of riders today on stage 11 of the 2014 Dakar Rally. The exhausting ride covered 605km of timed special stage featuring every kind of terrain, from dunes to rios. The five-time Dakar winner opened the piste for 400km before dropping slightly to finish just 2mins 31secs behind Marc Coma in first. The result keeps Despres in sixth in the standings, now 23mins 22secs from third.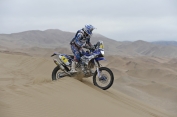 Teammate Olivier Pain was also on form, completing the 11th special stage in third position behind Despres, 5mins 28secs from the front. The result moves the Frenchman closer to a possible Dakar podium. Sitting in fourth in the overall standings he is now just 13mins 44secs from third.

The last of Yamaha's Factory Racing riders, Michael Metge, had a better day than yesterday, staying on the course and avoiding any navigational errors to finish the special in 11th and keep 13th overall in the standings.

A little further back from the factory riders the Yamaha's WR450 is delivering impressive results in the hands of Venezuelan rider Nicolas Vagnoni. With just two stages remaining, Vagnoni continues to lead the G2 marathon class.



Cyril Despres - Yamaha Factory Racing

"Six hours 38 minutes - that's a long day's racing and in 605 kilometres of special we had pretty much everything - climbs, descents, sand, pistes, rios - the lot. I was hoping to get pulled along by Barreda but unfortunately he crashed heavily and destroyed his navigation gear, so I ended up opening the piste again - this time for 400 kilometres. And inevitably when you open its difficult to pull back time. Tomorrow I start behind Marc and I think there's a strong chance I'll end up opening again. He's pretty comfortably installed in the lead and if he pulls over and lets me pass he'll be helping his team mate Viladoms."
Olivier Pain - Yamaha Factory Racing

"I think if I was actually holding third place I'd be a lot more stressed. In my current situation I've got nothing to lose. I'm not worrying about holding my position and that's very liberating - I feel good in my head and good on the bike. Today I made up a little bit of time, but although the special was very long, there was nothing in it that allowed you to make the difference. Plus Viladoms is putting up a hell of a fight! Tomorrow there'll be more dune crossings going to Copiapo, and with it more possibilities. The important thing for me is not to have any regrets at the end of this, to know that I did everything I could to try and finish on the podium."
Michael Metge - Yamaha Factory Racing

"If I'd done this special last year I'd have been completely exhausted at the end of it. But this year, with my new fitness regime, I feel pretty good, despite almost 7 hours on the bike. And now 'the boss' has 'suggested' that I ride the static bike for 20 minutes to aid recuperation. I can't complain - he's just done the same!"


Dakar Rally 2014 Stage 11: Antofagasta to El Salvador Results

1. Marc Coma, ESP (KTM) 6:36:08

2. Cyril Despres, FRA (Yamaha) 6:38:59

3. Oliver Pain, FRA (Yamaha) 6:41:36

4. Jordi Viladoms, ESP (KTM) 6:42:01

5. Joan Barreda, ESP (Honda) 6:44:20

6. Helder Rodrigues, PRT (Honda) 6:45:31

7. Juan Pedrero Garcia, ESP (Sherco) 6:45:58

8. Stefan Svitko, SVK (KTM) 6:49:33

9. Jakub Przygonski, POL (KTM) 6:50:48

10. Ivan Jakes, SVK (KTM) 6:50:55

11. Michael Metge, FRA (Yamaha) 6:53:10



Dakar Rally 2014 Overall Standings after Stage 11

1. Marc Coma, ESP (KTM) 48:24:41

2. Joan Barreda, ESP (Honda) 49:17:17

3. Jordi Viladoms, ESP (KTM) 50:32:37

4. Oliver Pain, FRA (Yamaha) 50:46:21

5. Helder Rodrigues, PRT (Honda) 50:55:16

6. Cyril Despres, FRA (Yamaha) 50:55:59

7. Jakub Przygonski, POL (KTM) 51:08:36

8. Daniel Gouet, CHL (Honda) 51:49:16

9. Stefan Svitko, SVK (KTM) 52:11:13

10. David Casteu, FRA (KTM) 52:32:37

13. Michael Metge,FRA (Yamaha) 53:38:15

Source: www.yamaha-racing.com