Yamaha Factory Racing: 2014 Dakar News Stage 7
Chaparral Motorsports
|
January 13, 2014
Despres Back in the Top Ten as 2014 Dakar Enters Bolivia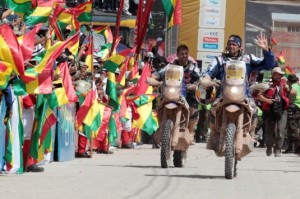 After a challenging end to the last stages before the rest day of the 2014 Dakar Rally, Yamaha Factory Racing's Cyril Despres has broken back into the top ten today as the event entered Bolivia for the first time.

The day's ride, from Salta in Argentina to Uyuni in Chile, marking the start of the second marathon stage of the rally, saw the start of the special moved 103km due to weather conditions affecting the piste the day before. Despres was a strong contender throughout, leading the stage at times before eventually finishing in third, 05m35s behind the leader. The result moves him up into the top ten again, putting him in tenth position overall.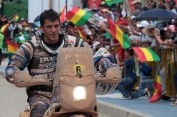 Olivier Pain was the next official Yamaha rider in the day's stage results, taking ninth position. The result keeps the Frenchman in sixth in the overall standings. Third Yamaha factory Racing rider Michael Metge came home in 17th today to hold 14th overall on the standings.

The riders will spend the night away from the main bivouac in their own small camp before returning tomorrow night after part two of the special.

The return to action in the quad class saw another strong day for the three Yamaha Raptor 700cc riders at the front of the field. A shuffle of the top three sees Chile's local hero Ignacio Casale climb from third to now lead the standings, Uruguay's Sergio Lafuente drops from the top spot to second and Polish rider Rafal Sonik drops to third.

Cyril Despres - Yamaha Factory Racing

"I made sure to breathe in deeply on a couple of ridges, because it's true that when you go on the attack you feel that the altitude affects you a bit physically. A nice special, not too difficult, but with lots of technical, fun parts. I'm always wary when I see mud because you never know what lurks beyond a puddle. If the water is brown, you can't see whether it's 20cm or 50 cm deep, so it's easy to fall. Of course, it's not easy to drive in the mud and fill the radiators and air inlets with filth, but no worries, we'll clean it up."


Dakar Rally 2014 Stage 7: Salta - Uyuni Results

1. Joan Barreda, ESP (Honda) 3:28:41

2. Marc Coma, ESP (KTM) 3:32:44

3. Cyril Despres, FRA (Yamaha) 3:34:16

4. Juan Pedrero Garcia, ESP (Sherco) 3:35:38

5. Jakub Przygonski, POL (KTM) 3:37:37

6. Jeremias Israel Esquerre, CHL (Speedbrain) 3:38:45

7. Helder Rodrigues, PRT (Honda) 3:39:38

8. Mario Patrao, PRT (Suzuki) 3:40:08

9. Oliver Pain, FRA (Yamaha) 3:40:18

10. Jordi Villadoms, ESP (KTM) 3:40:38

17. Michael Metge, FRA (Yamaha) 3:47:12



Dakar Rally 2014 Overall Standings after Stage 7

1. Marc Coma, ESP (KTM) 26:40:44

2. Joan Barreda, ESP (Honda) 27:18:58

3. Jordi Villadoms, ESP (KTM) 27:56:47

4. Alain Duclos, FRA (Sherco) 27:57:19

5. Jeremias Israel Esquerre, CHL (Speedbrain) 28:20:13

6. Oliver Pain, FRA (Yamaha) 28:31:26

7. Jakub Przygonski, POL (KTM) 28:35:36

8. Helder Rodrigues, PRT (Honda) 28:49:02

9. David Casteu, FRA (KTM) 29:04:34

10. Cyril Despres, FRA (Yamaha) 29:06:57

14. Michael Metge, FRA (Yamaha) 30:16:49

source: www.yamaha-racing.com