Johnny Campbell Racing Withdraws From SCORE International Baja Racing For 2014
Chaparral Motorsports
|
January 13, 2014
[caption id="attachment_32724" align="alignright" width="300"]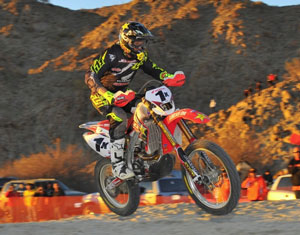 JCR/Honda 2013 SCORE - Photo: Mark Kariya[/caption]

Johnny Campbell Racing, Inc (JCR) the most dominate motorcycle Off-Road racing team to compete in Baja, Mexico, is officially announcing its withdrawal from SCORE International Baja racing for 2014.

Honda has enjoyed participating in Baja competition for over 51 years. Within Honda's rich Baja racing history racers like Dave Ekins, Al Baker, Bruce Ogilvie, Chuck Miller, Johnny Campbell, Steve Hengeveld, Robby Bell, Kendall Norman, Quinn Cody, Colton Udall, Timmy Weigand and others have amassed over 23 victories in the most grueling Off-Road race in the world. Johnny's personal record of 11-Overall wins plus 6 as a team owner and manager total an astounding 17-consecutive Baja 1000 victories for Honda, a record that is likely to never be equaled. The JCR/Honda team will be taking on a new set of exciting challenges that will be announced in the near future.

"With so much success over the past two decades of Baja motorcycle racing, the time has come for us to search out new opportunities and a new set of goals. JCR/Honda has had an amazing experience working with SCORE International and an even better experience living the Baja dream. The extraordinary fans, the great sponsors and supporters all have made this lifestyle a gift I truly cherish.

I have been honored to carry on the legacy of my great mentor - the late Bruce Ogilvie - who's passion for Baja and this program has been carried on through the spirit of this team. The biggest thing that has made JCR and Honda so successful in Baja racing is the JCR/Honda race support crews, they are the backbone of this program. Without the selfless sacrifices of the pit captains and crews we would be nowhere. If just one crew person is not in the right place at the right time, the wins and championships would not have been obtainable. I sincerely thank each and everyone who has stood hand in hand with myself and the JCR/Honda team through the decades of dominance. Our new direction will be announced shortly. I have no doubt this will be an amazing year."

With absolute respect to all,
Johnny Campbell
Source: JCR/Honda