Motoz Tractionator Tires Are Ready To Handle Anything
Chaparral Motorsports
|
January 7, 2014
There may come a time when motorcycle riders are faced with unknown conditions and demanding scenarios. When you find yourself in one of these precarious situations, you're going to want to know every aspect of your motorcycle is functioning at a high level and is capable of meeting all of the challenges on the road. This is especially true when you're on a dirt bike, as the trails and diverse landscapes you will likely encounter require a flexible tire.

When deciding on which motorcycle tire to install on a dirt bike, one option that needs to be considered is the [mageProductLink sku="909-090-100-21" title="Motoz Tractionator Desert H/T Hard Terrain Front Tire"]Motoz Tractionator Desert H/T Hard Terrain Tire[/mageProductLink]. This Department of Transportation-approved product is available for use in mostly dry conditions on hard-packed surfaces and can be found in front tire size 90/100-21 and [mageProductLink sku="909-110-100-18" title="Motoz Tractionator Desert H/T Hard Terrain Rear Tire"]rear tire[/mageProductLink] sizes 110/100-18, 130/90-18, 140/80-18, and 110/90-19.

Conquer All Types Of Land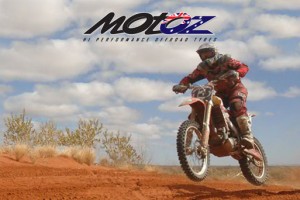 One of the best qualities of the Motoz Tractionator Desert H/T dirt bike tire is that it's capable of handling all kinds of terrain. It has been primarily designed for hard landscapes, but that encompasses a wide variety of surfaces and situations. Whether you're crossing deserts, sandy surfaces, concrete or any other type of land, this Motoz product may be the perfect choice.

Even extreme temperatures don't have to play a role. The Motoz tire has been used in all types of desert racing, including in regions like Morocco and Baja, proving that it can meet the demands of even the most rigorous courses. A special rubber cushion zone that has been installed on the tire acts as a heat sink, which in turn cools the item down when the outside temperature gets too high. This simple feature can dramatically extend the life of a motorcycle tire, increasing the value of the investment.

It has also been M rated for speeds up to 81 mph, and is street legal, having been approved by the DOT for highway use.

Safety As A Priority
[caption id="attachment_30150" align="alignright" width="300"][mageProductLink sku="909-110-100-18" title=""]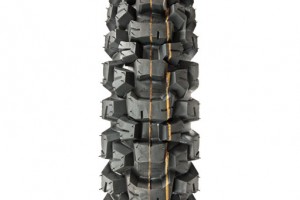 [/mageProductLink] The unique tread of the Motoz Tractionator Desert H/T Hard Terrain Rear Tire helps compress the terrain for extra traction.[/caption]



This Motoz tire has been made from 100 percent natural rubber, which increases the elasticity of the item. Its heavy-duty construction utilizes a densely woven ply cord, and combined with the thicker side walls, results in a strong, flexible option for all kinds of dirt bikes.

The tread is a large part of the increased safety of this Motoz tire. Its unique tread design, called Terrapactor, is ideal for traversing different elevations, getting out of holes and handling tight angles. That is also part of the reason the tires are so ideal for hard-packed surfaces, as the deep treads can grip the land, regardless of whether it's sand or concrete. Additionally, the shock absorption of these tires is key, and it can help make for a more comfortable ride in any location.

Save Time And Money
[mageProductLink sku="909-090-100-21" title=""]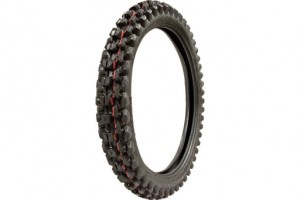 [/mageProductLink]Motoz understands that, as a motorcycle rider, your time is valuable. Whether you're in a hurry to win races, make it home before nightfall or simply want to reach a destination faster, you are likely trying to get where you're going quickly and efficiently. That's why many riders will appreciate the makeup and installation of this tire, as it has been designed for quick installation, fast service times and use over great distances.

You'll be able to push aside worries about tire punctures, as the Motoz product has a number of features that aim to reduce the instances of flats or holes. The carcass of the tire is surrounded by a thick layer of rubber, including under the tread and on the sidewalls, which is resistant to damage. These areas have also been optimized to protect the rim of the tire, which cuts down on the odds of a flat.