Yamaha Factory Racing: 2014 Dakar News Stage 3
Chaparral Motorsports
|
January 7, 2014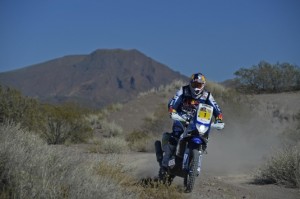 Yamaha Riders Impress on First Dakar Marathon Stage
The first of the 2014 Dakar Rally Marathon stages saw Yamaha Factory Racing's Cyril Despres make up valuable time today with an impressive ride on his Yamaha YZ450F machine to close the gap to the front. The five-time Dakar winner's experience and race craft saw him make short work of the day's timed riding, finishing in second position, 4m'41s behind the leader. The result moves him up the overall standings from eighth to second, now just 13m'04s behind the current Rally leader. The special was reduced in distance at the last minute to 243km to avoid unstable terrain at the start of the route.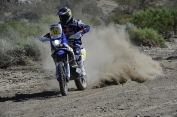 As part of the marathon stage, the riders are unaided tonight in their own bivouac and are responsible for the maintenance of their own bikes before continuing tomorrow.

Fellow Yamaha Factory Racing rider Olivier Pain also improved from yesterday, Pain took tenth place on the Special stage to move up to eighth place in the rally standings, 36m33s from the top. Michael Metge made a big improvement from yesterday, the Frenchman's training with Despres clearly paying off on the long Special stage. Metge came home in 16th to move up to 15th overall.

Yamaha Netherlands Verhoeven rider Frans Verhoeven was forced to retire from the Dakar Rally today, the Dutch rider falling and breaking his elbow on the special stage. Having ridden carefully and defensively since the Rally began, Verhoeven was caught by surprise by a boulder at low speed, causing the fall.

Cyril Despres - Yamaha Factory Racing
"Today's special has to go straight into the Top 5 most stunning specials I have done in 13 years of racing rallies - and in that time I've been to some pretty amazing places! As announced, the recent rains had really cut up the first part of the special and the riding was far from easy. Then at kilometre 299 we came to this incredible 3km climb. It was a really, really hard to get up and I can only begin to imagine how many riders will go out of the race at that point - and it's not just the amateurs who are going to struggle. Then after that we rode for about 60km on stunning tracks over a series of mountain ridges, as beautiful as they were difficult to navigate. Towards the end I came up behind and past both David Casteu and Marc Coma. All in all an excellent day that more than makes up for yesterday's disappointments."
Olivier Pain - Yamaha Factory Racing
"A really spectacular special, climbing to an altitude of over 4000m - not every day you ride in places like that. From the point of view of the overall rankings not too bad either. It could have been even better if I hadn't struggled to find the right piste at the end, something which must have cost me between 5 and 10 minutes. This evening there isn't too much to do on my Yamaha YZ450F Rally, though we'll all have to manage the second part of the marathon stage and I have no doubt they'll be a few more upsets before we get to Chilecito tomorrow evening. These kind of stages are a big reminder that rally-raid is as much about patience as it is about speed and I intend to keep repeating that to myself over the days to come."
Michael Metge - Yamaha Factory Racing
"This morning I started off really slowly, perhaps too slowly, and then found an optimum pace using the 'berms' left by the riders in front of me so as to keep my speed as constant as possible and stay off the brakes. The big positive from today was the route designed by David Castera, which was just amazing. Today we went to places you could only ever go on a motorcycle, preferably a trials bike, and it was a unique experience. And just to top it all, Cyril and I have very little to do to the bikes. We'll do our road books now and then change the oil when it cools down a little."
Frans Verhoeven - Yamaha Netherlands Verhoeven
"Just after the famous climb up on the ridges, I was riding with Farres, taking it steady in second gear, when I hit something, went over the bars and broke my left elbow. As you can imagine I'm extremely disappointed. Somehow it seems unjust, as from the very start I have ridden defensively, with the objective of being consistent and not taking any risks. I suppose you have to be philosophical about these things but this evening it is very difficult for me to accept I'm out of the race."
Dakar Rally 2014 Stage 3: San Rafael to San Juan Results
1. Joan Barreda, ESP (Honda) 3:47:03
2. Cyril Despres, FRA (Yamaha) 3:51:44
3. Marc Coma, ESP (KTM) 3:53:59
4. Alain Duclos, FRA (Sherco) 3:57:54
5. David Casteu, FRA (KTM) 3:58:20
6. Chaleco Lopez, CHL (KTM) 4:03:39
7. Gerard Farres Guell, ESP (Gas-Gas) 4:03:53
8. Stefan Svitko, SVK (KTM) 4:06:09
9. Jakub Przygonski, POL (KTM) 4:07:15
10. Oliver Pain, FRA (Yamaha) 4:07:37
16. Michael Metge, FRA (Yamaha) 4:28:47

Dakar Rally 2014 Overall Standings after Stage 3
1. Joan Barreda, ESP (Honda) 9:56:44
2. Cyril Despres, FRA (Yamaha) 10:09:48
3. Marc Coma, ESP (KTM) 10:10:40
4. Alain Duclos, FRA (Sherco) 10:13:22
5. Chaleco Lopez, CHL (KTM) 10:15:23
6. David Casteu, FRA (KTM) 10:19:00
7. Jordi Viladoms, ESP (KTM) 10:31:17
8. Oliver Pain, FRA (Yamaha) 10:33:17
9. Jakub Przygonski, POL (KTM) 10:34:38
10. Stefan Svitko, SVK (KTM) 10:36:53
15. Michael Metge, FRA (Yamaha) 11:03:05

source: www.yamaha-racing.com