2014 AMA Supercross Anaheim 1 Results
Chaparral Motorsports
|
January 6, 2014
Rookie Ken Roczen Wins Opening Race Of Monster Energy Supercross In Anaheim
Last-Lap Pass Gives Jason Anderson The Win - 250SX Class Victory
[caption id="attachment_30106" align="alignright" width="300"]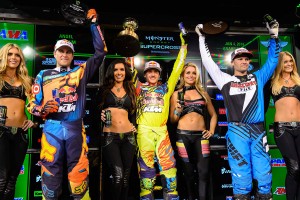 2014 AMA Supercross Anaheim 1 Winner's Podium - Photo: Simon Cudby[/caption]

In front of 45,050 Supercross fans inside a sold-out Angel Stadium, rookie Ken Roczen won the opening race of Monster Energy AMA Supercross, an FIM World Championship, aboard his Red Bull KTM. In dramatic fashion, Rockstar Energy Racing's Jason Anderson captured the opening race of the Western Regional 250SX Class.

Three-time Monster Energy Supercross Champion Ryan Villopoto came out swinging in the 450SX Class Main Event, piloting his Monster Energy Kawasaki to the Nuclear Cowboyz Holeshot Award. On Villopoto's back wheel through the first turn was Roczen, followed by Toyota's/Yamaha/NFab/JGRMX's Josh Grant.

Yoshimura Suzuki's James Stewart moved into third place on Lap 10, passing Red Bull KTM's Ryan Dungey. While leading on Lap 9, Villopoto crashed and handed the lead to Roczen, also allowing Discount Tire Racing/TwoTwo Motorsports' Chad Reed and Dungey to move into second and third place, respectively. Villopoto remounted in fifth place.

On Lap 12, Stewart passed Reed for second place and chipped away at Roczen's lead, ultimately closing in on his rear wheel. While attempting to get alongside Roczen in the whoops, Stewart suffered a race-ending crash. On Lap 16, Dungey secured second place as he passed Reed.

"This is insane," said Roczen. "I got off to a good start and was holding on really tight. When there were four laps to go, I realized that I could win."

[caption id="attachment_30113" align="alignleft" width="300"]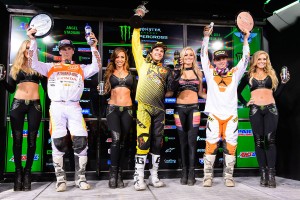 2014 AMA Supercross Anaheim 1 Lites West Winner's Podium[/caption]

Roczen was joined on the podium by Dungey, giving KTM a 1-2 sweep, and Reed. Villopoto recovered to finish fourth.

Anderson grabbed the Nuclear Cowboyz Holeshot Award and held down the lead in the 250SX Class Main Event until Lap 4 when Troy Lee Designs/Lucas Oil Honda's Cole Seely moved into the lead. On the same lap, Monster Energy/Pro Circuit/Kawasaki's Dean Wilson moved into the third spot.

Wilson and GEICO Honda's Zach Osborne traded places near the halfway point of the race and the duel did not stop, lasting several subsequent laps. In the second-to-last turn on the last lap, Anderson passed Seely and rode to the second win of his career.

"The pass was [risky] on Cole (Seely)," said Anderson. "I didn't want to be dirty but I had to put it in there, and I am glad it worked. I look forward to riding into Phoenix with the red number-one plate. This is only my second career win, so it is big for me."

Anderson and Seely were joined Osborne on the podium, who eventually made his way past Wilson on Lap 12.

Monster Energy Supercross heads to Phoenix's Chase Field next Saturday, January 11.

Source: Feld Motorsports

Red Bull KTM Factory Team Tops Podium At Supercross Season Opener
Ken Roczen and Ryan Dungey Finish 1-2
[caption id="attachment_30109" align="alignright" width="300"]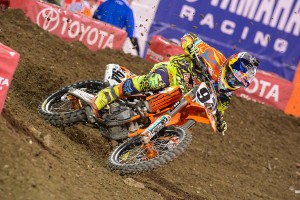 Ken Roczen took his first 450 Supercross win in the season opener - Photo: Simon Cudby[/caption]

In an amazing opening round, Red Bull KTM Factory Team rider Ken Roczen took his first 450 Supercross win while his teammate, Ryan Dungey, finished in the runner-up position at Angel Stadium in front of the sold out Monster Energy Supercross crowd.

Roczen and Dungey looked impressive to fans throughout the entire day as both riders turned practice times inside the top five to qualify with a great gate pick in their heat races. It was Roczen who was placed in heat one where he earned a seventh place start. He moved as high up as third in the opening laps of the heat before dropping to fifth. Under the new format, only four riders transfer from each heat, so unfortunately, Roczen's fifth place result sent him to the semi.

Dungey was up next in the second 450 Supercross class heat where he earned a sixth place start off the line. On the second lap, he moved into fifth place. A lap later, he secured fourth and was able to hold on for the remaining laps to qualify into the main event.

Roczen then reappeared on the gate for the semi. He took the holeshot in his semi and went on to lead every lap to easily pick up a transfer spot in the main event.

[caption id="attachment_30108" align="alignleft" width="300"]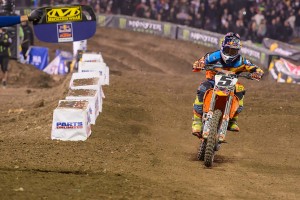 Ryan Dungey finished in the runner-up position at Angel Stadium - Photo: Simon Cudby[/caption]

When the gate dropped for the main event, Roczen launched his KTM 450 SX-F Factory Edition motorcycle off the line to secure a second place start while Dungey was a few spots back in seventh. Ryan Villopoto led the race early on with Roczen in tow. The two riders remained close for the opening laps while the remainder of the pack battled it out behind them. Dungey moved quickly in the beginning laps to move his KTM into the top five. Right before the halfway point Dungey was able to pass Josh Grant to move into fourth. Meanwhile, Villopoto and Roczen were tightening their battle. As they came out of a rhythm section into a left-handed corner, Villopoto overshot the turn and crashed, allowing Roczen to take over the lead. At the same time, Dungey began a battle that would last the next eight laps with Chad Reed and James Stewart for a top three spot.

As the crowd began to rise to their feet, the train of Stewart, Reed and Dungey began to close on the lead ride of the rookie 450 rider, Roczen. On the fourteenth lap, Stewart crashed through the whoops while trying to gain on Roczen. The crash destroyed his bike and put him out of the race. His departure allowed Roczen to stretch his lead while also moving Reed to second and Dungey into third. With three laps to go, Dungey caught and made a pass on Reed to takeover second behind his teammate. Roczen held strong and led the remaining laps to clinch his first-ever 450 career Supercross win with Dungey finishing second behind him.

"This is an amazing feeling," remarked Roczen. "Not only to get my first win but to get it at the opening round is amazing. I have been working very hard during the off-season and I am so glad the hard work has paid off. Congrats to my teammate, Ryan Dungey, it is great to share this moment on the podium with him."

Roczen and Dungey will head to the next round sitting first and second in the overall point standings.

Next Event: Phoenix, AZ - January 11, 2013

Source: KTM North America

James Stewart Positive After Anaheim SX Get-Off
[caption id="attachment_30104" align="alignright" width="300"]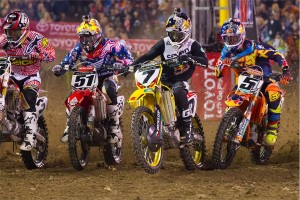 James Stewart was in top-form at Saturday's season-opening round of AMA/ FIM World Supercross Championship[/caption]

Yoshimura Suzuki Factory Racing's James Stewart was in top-form at Saturday's season-opening round of AMA/ FIM World Supercross Championship at Angel Stadium in Anaheim, California, charging from mid-pack to challenging for the lead in the closing stages.

Although Stewart suffered a spectacular high-speed get-off - and was unable to finish the race - the incident occurred after he'd turned in 16 flawless laps and was preparing to take the lead on his Yoshimura Suzuki RM-Z450.

"This weekend was just the first round," said Stewart. "Definitely, I didn't want to go out like that, but at the same time, I felt like this was the best I've been riding in years and this was the best I've felt on a motorcycle in years, so I'm confident and healthy; and I feel good on the Yoshimura Suzuki RM-Z450."

[caption id="attachment_30105" align="alignleft" width="200"]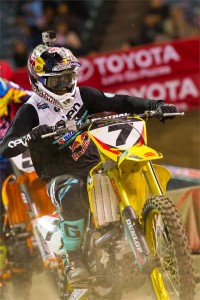 "I'm happy, the Yoshimura Suzuki team stepped it up again and I'm really proud of my guys and where we are." - James Stewart[/caption]

The much-anticipated Anaheim event started out on a positive note with Stewart posting the fastest lap times in the first 450 class practice session. In his heat race, he got the holeshot and led the first few laps before finishing second. In the 20-lap Main Event, Stewart overcame a poor start and worked his way through the field and into the top five. He captured the 'Progressive Pass of the Race' award when overtaking third position and then moved into the runner-up spot. Unfortunately, he went down in one of two gnarly whoop-sections as he was about to make a bid for the lead with just four laps remaining.

"All day went pretty good and I was able to get second in my heat race," said Stewart. "In the Main Event, I was late off the gate and I was pretty far back. But I made my way up on the Yoshimura Suzuki RM-Z450 and it got better and better as the race went on. I felt stronger and stronger and my lap times started going down. I could see that I was starting to pick-it-up and make time on the guys up front. I went to make a pass in the whoops - they'd been taking people out all night - and I kind-of got caught out. But I'm happy, the Yoshimura Suzuki team stepped it up again and I'm really proud of my guys and where we are. And now we're just going to continue to get better as we head to Phoenix."

Yoshimura Suzuki Factory Racing's next event is the second round of the 2014 AMA/ FIM Supercross Championship on Saturday, January 11th, at Chase Field in Phoenix, Arizona.



Source: Team Suzuki

Rockstar Energy Racing's Jason Anderson Victorious In Season Opener
[caption id="attachment_30112" align="alignright" width="300"]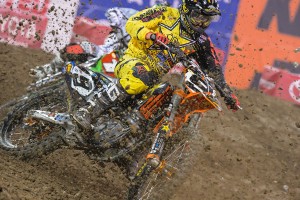 Ivan Tedesco had a good start, but his bike was damaged in a collision and had to drop from the race.[/caption]

Rockstar Energy Racing must have some sort of magic on their side when it comes to the opening round of the season at Anaheim 1. After Davi Millsaps picked up the unforeseen victory in dramatic fashion in 2013, Jason Anderson continued what can be hoped to be a tradition in similar form at 2014's inaugural round.

Heading into Phoenix once again, the team has a rider carrying the coveted red plate. This continued success did not come easy however. With the complete changing of OEM's to KTM during the offseason, it required a lot of work from everyone involved. Virtually starting over creates a necessity for hours of research from the crew and an equal amount of effort from the riders in regards to testing on the bikes. Clearly they are moving in the right direction.

It was no secret that Ivan Tedesco was coming into the 2014 season a little behind the eight ball with very little time to prepare for the kick off. After an injury to Millsaps, Ivan was brought in to fill his absence only a few short weeks ago, and this coming after an extensive layoff from racing. Tedesco has a lot going for him, however, that led to the decision to bring him to the team. His ability to test motorcycles and give technical feedback after riding several different motorcycle brands throughout his career was key among them. He is also a very positive role model for youngsters Anderson and Joey Savatgy and will not shy away from helping them grow. IT is a very well liked racer by the fans, which is always important as well.

One thing that is known is that practicing and racing are two very different animals. Considering the hurdles he had to overcome entering A1, he did not have a bad day to build off of, although the main event certainly didn't go as planned. He clearly got more comfortable throughout the day and put himself into the main event successfully. Unfortunately after a good start, he was hit hard in a corner by another rider and went down. Due to the contact, his bike was damaged to a point where he could not continue.

Ivan Tedesco:
"Day was a little rough for me, in practice I was a little off, a little notchy all day. I couldn't really expect too much though. I've only been on the bike for three weeks and haven't raced in 2 years. I'm kind of just taking it for what it is and I know where I'm at now and can work on things to try and do better next weekend."
[caption id="attachment_30103" align="alignleft" width="300"]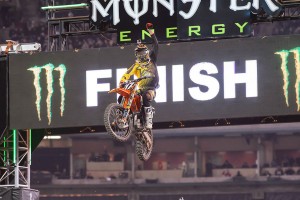 Jason Anderson picked up his first victory of the season in dramatic fashion.[/caption]

Jason Anderson is definitely seeing his hard work pay off. He has been nothing but 100% focused and committed during the offseason. Jason surely didn't come into the opener under the radar however as he is a clear contender for the 250 West title. He did not disappoint. He was running a blistering pace throughout the day. In fact, after qualifying practice 1 there were only 3 riders in the 58 second lap time range, the two top 450 riders, and Jason. He was the only 250 rider to break that mark and was nearly a full second faster than his nearest competitor.

In his heat race he made things simple, holeshot to a win. Wire to wire. The main event proved to be a little more adverse however. JA was able to take the start once again but relinquished the lead a few laps later. The next several laps the two leaders remained close enough to throw a blanket over as they completely dropped the rest of the field. It was going to be close until the end with one of the two capturing the win. Jason had something going for him in this situation.

Although a 250 main is only 15 laps, Anderson trains by doing 25. It's no doubt that this type of effort is a key to success. He will always be strong throughout the duration of the race. He made an aggressive pass stick with only a couple corners remaining and collected his first of many checkered flags of the season.

Jason Anderson:
"My day was good from start to finish. Got my first career heat win and my second career main event victory. Dude, I'm happy! I don't think you could do any better than that. The only thing I lost was second practice!"
Anderson will go into Phoenix with the points lead and will look to extend it. Tedesco will continue to improve and race himself into shape and will be back to form soon.

Davi Millsaps will continue to rehab his injured knee and the hope is he will return fairly early in the Supercross season. Joey Savatgy, who is also recovering from injury, is trying to return to racing by the 250 East Championship's kick off. Joey was slated to ride a 350 in the West, so his spot will be filled by Cole Thompson, who will begin racing next week.

Source: Rockstar Energy Racing

Dean Ferris Earns 14th In Debut Supercross Race
[caption id="attachment_30111" align="alignright" width="300"]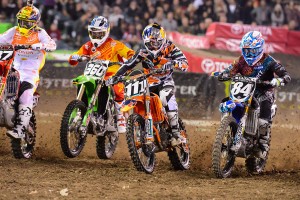 Dean Ferris got a great jump and came on strong throughout all laps - Photo: Simon Cudby[/caption]

Red Bull KTM Factory rider Dean Ferris earned 14th overall in his first-ever career Monster Energy Supercross race held at Angel Stadium.

Ferris was recently signed to the Red Bull KTM Factory Team in December of 2013 as the West 250 SX team rider. Ferris is new to the Supercross circuit but adapted well in his first showing.

Ferris was placed in the first 250 SX heat race where he earned a great start rounding the first corner in 3rd position. Ferris dropped a few positions in the next laps but was able to finish the race in 8th position to take a qualifying spot in the main event.

[caption id="attachment_30110" align="alignleft" width="300"]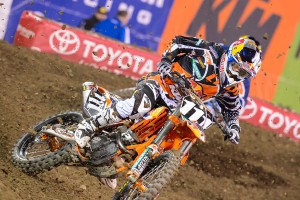 Dean Ferris earned 14th overall in his first-ever career Monster Energy Supercross race - Photo: Simon Cudby[/caption]

In the main, Ferris got a great jump and came out of the first corner in 7th overall. He made a few mistakes early on that cost him a few positions but remained strong throughout all laps. At the end of the fifteen lap main event he was sitting in 14th place where he finished for the evening.

"Tonight was a great learning experience. Luckily, I was able to get two decent starts (my heat and my main event). I am very new to Supercross racing so every week will continue to be a learning experience that I can improve upon. I am very grateful to the Red Bull KTM Team for giving me this opportunity and am looking forward to working toward a top ten finish," remarked Ferris.

A big congratulation goes out to Rockstar Energy KTM rider Jason Anderson who earned the holeshot in the 250 SX main event and went on to take the win aboard his KTM 250 SX-F race machine. Anderson will hold the points lead as the riders head to round two next week.

Next Event: Phoenix, AZ - January 11, 2014

Source: KTM North America

Anaheim 1 Overview And Point Standings
2014 AMA Supercross Anaheim 1 Image Gallery (Click for full size images)


Overall Results - Supercross Class Race Time: 19:43.636






























































































































































































| Pos. | # | Rider | Bike | Interval | Best Time |
| --- | --- | --- | --- | --- | --- |
| 1 | 94 | Ken Roczen | KTM 450 SX-F Factory Edition | 20 Laps | 58.464 |
| 2 | 5 | Ryan Dungey | KTM 450 SX-F Factory Edition | +03.186 | 58.490 |
| 3 | 22 | Chad Reed | Kawasaki KX 450F | +09.288 | 58.684 |
| 4 | 1 | Ryan Villopoto | Kawasaki KX 450F | +13.886 | 58.342 |
| 5 | 51 | Justin Barcia | Honda CRF 450 | +20.668 | 58.506 |
| 6 | 10 | Justin Brayton | Yamaha YZ450F | +23.633 | 58.995 |
| 7 | 33 | Joshua Grant | Yamaha YZ450F | +30.078 | 58.848 |
| 8 | 20 | Broc Tickle | Suzuki RM-Z450 | +34.112 | 59.458 |
| 9 | 29 | Andrew Short | KTM 450 SX-F Factory Edition | +41.795 | 1:00.002 |
| 10 | 12 | Jacob Weimer | Kawasaki KX 450F | +45.116 | 1:00.213 |
| 11 | 23 | Wil Hahn | Honda CRF 450 | +49.698 | 1:00.210 |
| 12 | 800 | Mike Alessi | Suzuki RM-Z450 | -1 Lap | 1:00.355 |
| 13 | 102 | Matt Moss | Suzuki RM-Z450 | +26.729 | 59.911 |
| 14 | 415 | Nicholas Schmidt | Honda CRF 450 | +46.308 | 1:02.732 |
| 15 | 82 | Kyle Partridge | Honda CRF 450 | -2 Laps | 1:02.498 |
| 16 | 40 | Weston Peick | Suzuki RM-Z450 | +03.630 | 58.606 |
| 17 | 7 | James Stewart | Suzuki RM-Z450 | -5 Laps | 58.101 |
| 18 | 75 | Joshua Hill | Suzuki RM-Z450 | -9 Laps | 1:00.446 |
| 19 | 77 | Jimmy Albertson | Honda CRF 450 | -14 Laps | 1:02.764 |
| 20 | 44 | Matthew Goerke | KTM 450 SX-F Factory Edition | -17 Laps | 1:00.773 |
| 21 | 9 | Ivan Tedesco | KTM 450 SX-F | DNF | |
| 22 | 42 | Vince Friese | Honda CRF 450 | DNS | |
Rider Point Standings - Supercross Class ( Race 1 of 17 )


Ken Roczen - 25

Ryan Dungey - 22

Chad Reed - 20

Ryan Villopoto - 18

Justin Barcia - 16

Justin Brayton - 15

Joshua Grant - 14

Broc Tickle - 13

Andrew Short - 12

Jacob Weimer - 11

Manufacturer Point Standings - Supercross Class ( Race 1 of 17 )


KTM - 25

Kawasaki - 20

Honda - 16

Yamaha - 15

Suzuki - 13

Overall Results - Supercross Lites West Class Race Time: 14:44.951
| Pos. | # | Rider | Bike | Interval | Best Time |
| --- | --- | --- | --- | --- | --- |
| 1 | 17 | Jason Anderson | KTM 250 SX-F | 15 Laps | 58.693 |
| 2 | 21 | Cole Seely | Honda CRF 250 | +00.425 | 58.418 |
| 3 | 16 | Zach Osborne | Honda CRF 250 | +18.168 | 59.329 |
| 4 | 15 | Dean Wilson | Kawasaki KX 250F | +19.585 | 59.305 |
| 5 | 37 | Cooper Webb | Yamaha YZ250F | +19.931 | 59.344 |
| 6 | 35 | Justin Hill | Kawasaki KX 250F | +26.989 | 59.403 |
| 7 | 45 | Darryn Durham | Kawasaki KX 250F | +36.430 | 1:00.085 |
| 8 | 34 | Malcolm Stewart | Honda CRF 250 | +38.423 | 59.296 |
| 9 | 50 | Jessy Nelson | Honda CRF 250 | +48.443 | 1:00.215 |
| 10 | 61 | Austin Politelli | Yamaha YZ250F | +51.183 | 1:01.322 |
| 11 | 89 | Michael Leib | Honda CRF 250 | +53.447 | 1:00.829 |
| 12 | 66 | Jake Canada | Honda CRF 250 | +57.633 | 1:00.837 |
| 13 | 83 | Dakota Tedder | Kawasaki KX 250F | +1:01.555 | 1:01.518 |
| 14 | 111 | Dean Ferris | KTM 250 SX-F | +1:02.977 | 1:01.843 |
| 15 | 71 | Zachary Bell | Honda CRF 250 | -1 Lap | 1:01.092 |
| 16 | 87 | Shane Mcelrath | Honda CRF 250 | +00.623 | 1:00.941 |
| 17 | 737 | Valentin Teillet | Kawasaki KX 250F | +20.884 | 1:03.286 |
| 18 | 65 | Zackery Freeberg | Honda CRF 250 | +27.655 | 1:03.253 |
| 19 | 84 | Scott Champion | Yamaha YZ250F | +35.455 | 1:03.156 |
| 20 | 97 | Topher Ingalls | Honda CRF 250 | +43.159 | 1:03.588 |
| 21 | 142 | Cole Martinez | Kawasaki KX 250F | +51.708 | 1:04.400 |
| 22 | 565 | Preston Mull | Yamaha YZ250F | -2 Laps | 1:04.026 |
Rider Point Standings - Supercross Lites West Class ( Race 1 of 9 )


Jason Anderson - 25

Cole Seely - 22

Zach Osborne - 20

Dean Wilson - 18

Cooper Webb - 16

Justin Hill - 15

Darryn Durham - 14

Malcolm Stewart - 13

Jessy Nelson - 12

Austin Politelli - 11

Manufacturer Point Standings - Supercross Lites Class ( Race 1 of 17 )


KTM - 25

Honda - 22

Kawasaki - 18

Yamaha - 16