Yamaha Factory Racing News: 2014 Dakar Rally Stage 1
Chaparral Motorsports
|
January 6, 2014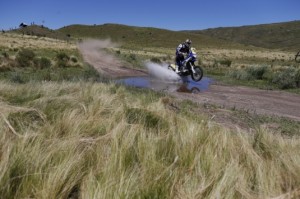 Cyril Despres Takes Third in Argentina as Dakar 2014 Begins
The long winter wait is finally over as the 2014 Dakar Rally got underway today in South America. Defending champion Cyril Despres took third place on the first special stage of the rally, coming in 1 min 40 secs behind the lead on his first Dakar stage as a Yamaha Factory Racing rider. As the first rider on to the stage Despres had no tracks to follow and so set the route for the following riders.

Despres' support rider Michael Metge and Olivier Pain were the next Yamaha Factory Racing riders in the rankings, Metge taking eighth on his opening day and Fellow Frenchman Pain taking 16th. Dutch Yamaha Netherlands Verhoeven rider Frans Verhoeven eased his way in to the 2014 Dakar, taking a careful ride in to 18th position to kick off his challenge.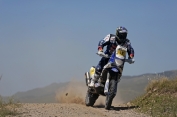 The first timed action of the 2014 Dakar saw the riders tackle a 180km special stage in the Córdoba region of Argentina. Starting in Rosario, the riders first had to tackle a 405km connection before competing in the 180km timed special. They then had a further 204km connecting ride to wrap up the day in San Luis.

Cyril Despres - Yamaha Factory Racing
"When your alarm clock goes off at 02.40 in the morning you know the Dakar has really started! And in true Dakar tradition that was followed by 404km of liaison, before we got to the 180km special. Opening the piste it took me a while to find my pace and then about 50km from the end, coming out of a canyon, I saw a dust trail behind me and thought to myself, 'ah yes, Marc is back' and accelerated a little. In the great scheme of things the finishing position isn't of much importance, but it is good to know that I'm up to speed and overall it was a good day for myself and my team, on our first Dakar special together."
Michael Metge - Yamaha Factory Racing
"To be really honest I was a little bit nervous this morning sitting on the start line waiting to be flagged away. Happily I quickly settled down and not long after that really start to enjoy myself over the fast, twisty tracks. Hats off to 'The Boss', he really knows how to set up a motorcycle. I think in general we tend to ride with the suspension too firm, but with Cyril's settings the bike felt both comfortable and safe. In the end I got past three riders and am pretty happy with how the whole day turned out."
Olivier Pain - Yamaha Factory Racing
"The first day and a good warm up stage - twisty, slippery, with plenty to catch you out. Not the kind of day to take any risks and so I took it easy from start to finish. Overall it meant not a great finishing position, but in terms of time, under 7 minutes is nothing. Tomorrow looks like much more my kind of stage. I might get a little bit held up over the first part of the special but I reckon I should be able to make up some time over the dunes at the end."
Frans Verhoeven - Yamaha Netherlands Verhoeven
"A long day - over 11 hours in the saddle! The special was fast, with no room to run off the track, so I took it pretty easy and rode at my own pace. In the middle of the special, at an altitude of around 2000 meters, I lost a little time but pulled some back at the end. This evening I'm just a couple of places behind Olivier and more importantly only 7 minutes behind the leader, so overall I'm reasonably satisfied."
2014 Dakar Rally Overall Standings after Stage 1
1. Joan Barreda, ESP (Honda) 2:25:31
2. Marc Coma, ESP (KTM) 2:26:08
3. Cyril Despres, FRA (Yamaha) 2:27:11
4. Alain Duclos, FRA (Sherco) 2:27:27
5. Paulo Goncalves, PRT (Honda) 2:27:56
6. Chaleco Lopez, CHL (KTM) 2:28:55
7. Juan Pedrero Garcia, ESP (Sherco) 2:29:18
8. Michael Metge, FRA (Yamaha) 2:30:04
9. Sam Sunderland, GBR (Honda) 2:30:04
10. Alessandro Botturi, ITA (Speedbrain) 2:30:19
16. Olivier Pain, FRA (Yamaha) 2:32:18
18. Frans Verhoeven, NED (Yamaha) 2:32:29

Source: www.yamaha-racing.com