Cool Down With Joe Rocket Phoenix 5.0 Vented Textile Jacket
Chaparral Motorsports
|
January 3, 2014
Investing in the right motorcycle jacket is a quick and easy way to turn an ensemble from boring to safe and attractive. The outerwear has been around for some time, but the technology has evolved dramatically in recent years, and the result is a range of products that offer excellent protection as well as a unique look.

When it comes to selecting the right motorcycle gear, the [mageProductLink sku="225-851-4" title="Joe Rocket Phoenix 5.0 Vented Jacket"]Joe Rocket Phoenix 5.0 Vented Textile Jacket[/mageProductLink] is one item that should be considered.

The Benefits
[mageProductLink sku="225-851-4" title=""]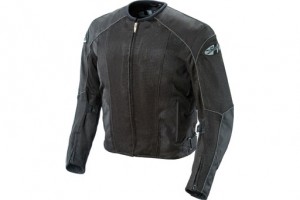 [/mageProductLink]This Joe Rocket jacket comes with a variety of features that many riders will enjoy. It's made from a polyester mesh shell, with RockTex fabric reinforcing key areas, and the ventilation present throughout allows the fabric to breathe, regulating the temperature. A removable waterproof liner is also included, keeping riders dry while adding extra warmth when necessary.

Protection is key with this Joe Rocket product. The jacket has a removable spine pad, as well as a pocket for an optional spine protector. Additional padding and armor around key areas such as the shoulders and elbows are also included. A reflective stripe finishes off the look and increases the visibility of a rider, no matter what the surrounding conditions may be like.

On top of those features, the Joe Rocket jacket also has a few smaller touches that are ideal for practical use. A pocket designed for eyeglasses and a clip for keys can keep those essential items secure, while a zipper for attaching motorcycle pants and elastic sleeve adjusters are also built in for maximum comfort and protection.

Fit Your Personality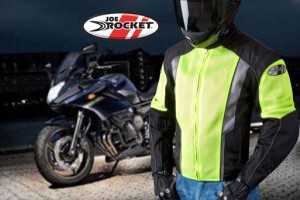 One of the cool things about the Joe Rocket Phoenix 5.0 Vented Textile Jacket is that it comes in a range of colors, which can suit all of the different personalities riders may have. Standard combinations such as red and black, white and black, gray and black and pure black are matched with yellow, green, blue, orange and a two-toned silver combination. For those requiring more from their riding gear, the Phoenix even comes in [mageProductLink sku="225-851-4602" title="Joe Rocket Phoenix 5.0 Hi-Viz Vented Jacket"]Hi Visibility[/mageProductLink] yellow/black.

Each of those colors is available in a variety of sizes, including tall options, that are designed to perfectly fit different body types. You can plan for additional motorcycle apparel, inclement weather and other forms of protection without sacrificing your favorite outerwear. This flexibility is a hot commodity for many - especially when kept at such an affordable price - and certainly adds to the value of the Joe Rocket Phoenix 5.0 Vented Textile Jacket.